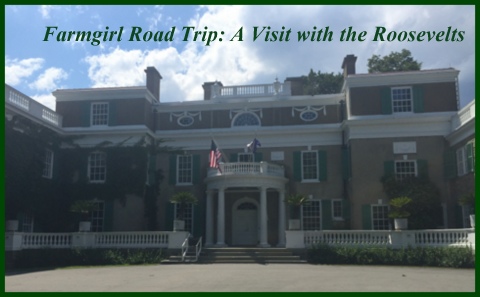 When I was a child, my parents and teachers first sparked my lifelong interest in history, especially American history. I've always hoped my daughter would share that passion. My family and I have visited some amazing historical places all over the world, but the road trip we took recently to visit the home of Franklin D. Roosevelt and to our nation's first US presidential library in Hyde Park, New York, is one of the most interesting and memorable places we've ever been.
Mention New York, and people immediately visualize New York City, but there's also many rural areas in New York State. The National Historic site of FDR's birthplace, home and resting site, as well as the FDR Presidential Library and museum (http://www.nps.gov/hofr/index.htm and http://www.fdrlibrary.marist.edu/), are located by the Hudson River in the scenic town of Hyde Park, New York. Hyde Park is close enough for my family to take a day trip, so we decided to visit for our last road trip before school started.
When we arrived, we decided to first take the guided tour of Springwood, FDR's historic home, maintained by the National Park Service. Our tour guide was wonderful; he was entertaining and personable while telling us the history behind the stunning estate and the great man who called it home.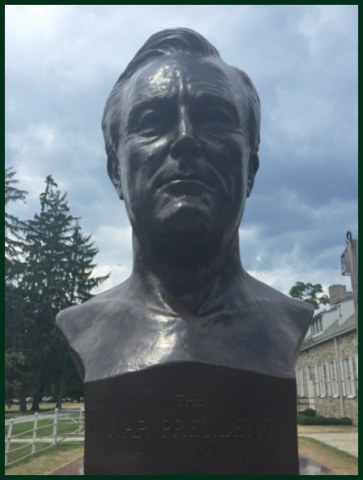 We walked through the front door, crossing the same threshold that many great figures in history had walked through. The property was purchased by Roosevelt's father, and is the home where FDR was born.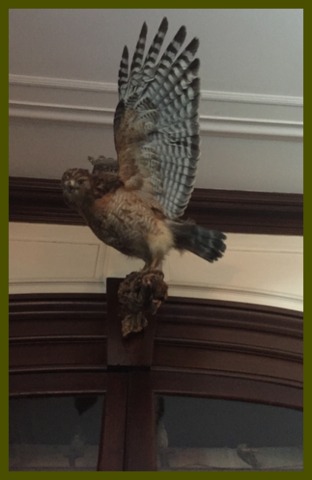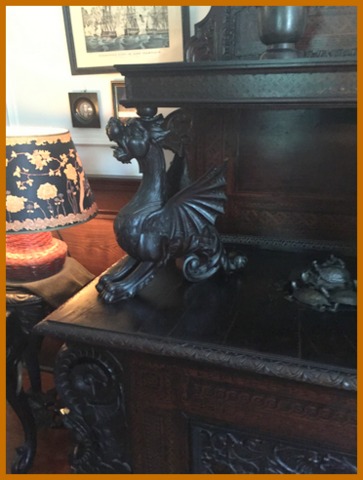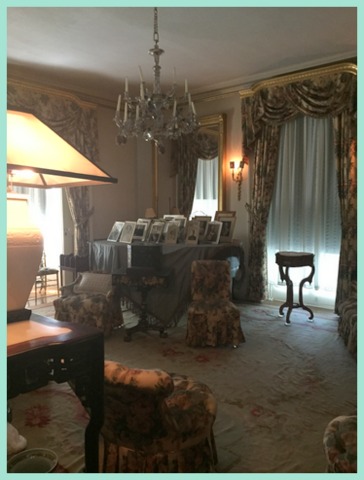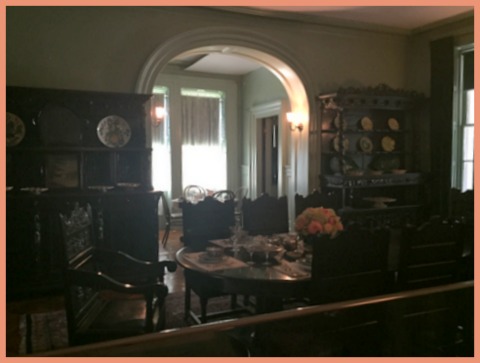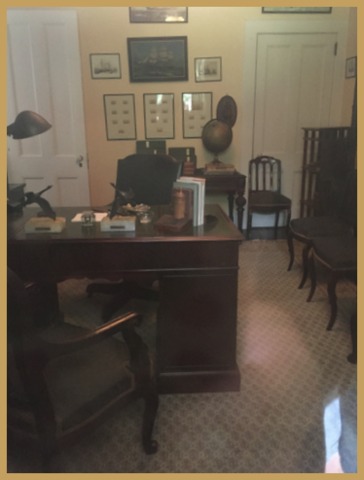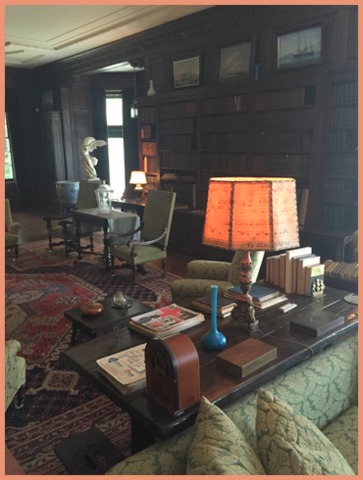 Touring the home and learning its history, one can't help but visualize the Roosevelt family and their day to day life there. We saw some of FDR's collections, his library, dining room, and "The Snuggery" – the cozy, charming room FDR's mother, Sara used for breakfast and tasks such as giving the servants orders for the day or bill paying.
President Roosevelt was strong and athletic before paralysis occurred in his legs when he contracted polio as an adult at age 39. FDR would retire to the upstairs of the home, using his great upper body strength, by pulling a rope to operate the elevator.
Upstairs, we viewed rooms such as the bedroom that President Roosevelt was born in, and his and Eleanor's private chambers. I enjoyed also seeing personal items such as family photographs and art.
The grounds outside the estate and library were beautiful; the rose garden breathtaking.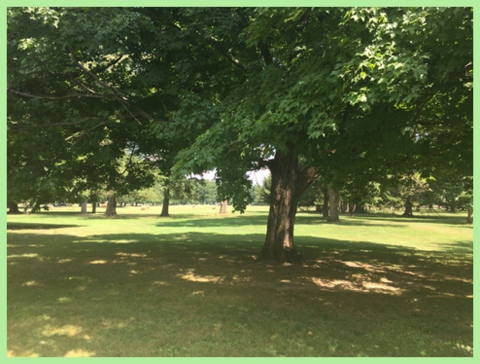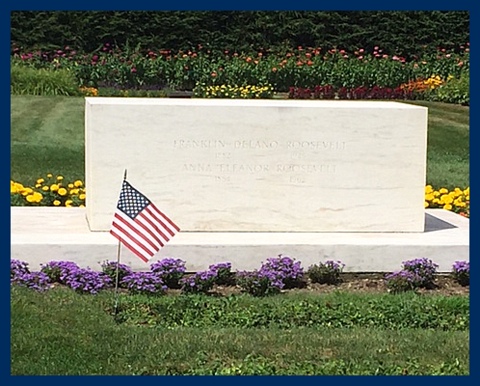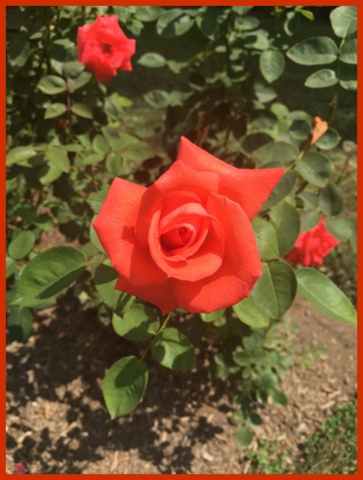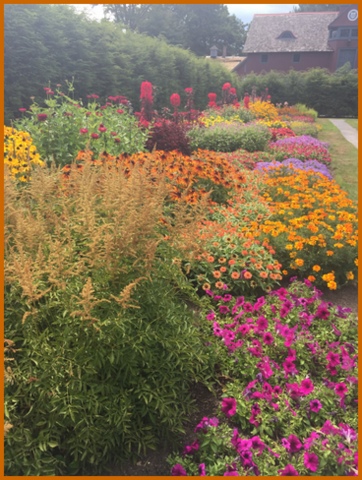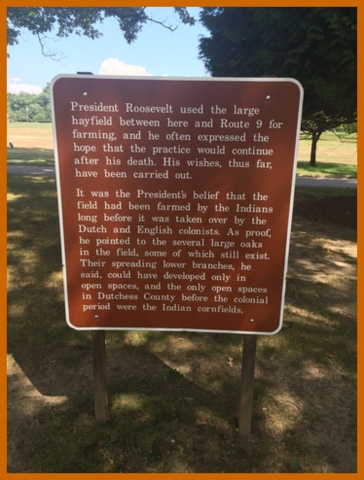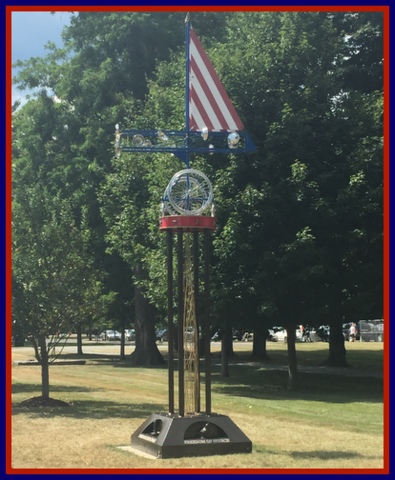 Next, we decided to tour the self-guided tour of the FDR presidential library, part of the National Archives and Records Administration. From outside, it did not look to be as large as it is on the inside. What historical treasures are seen here!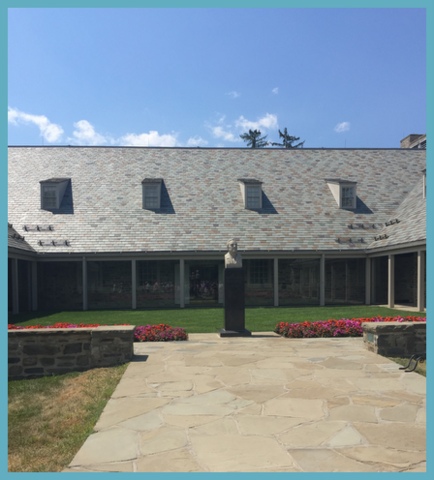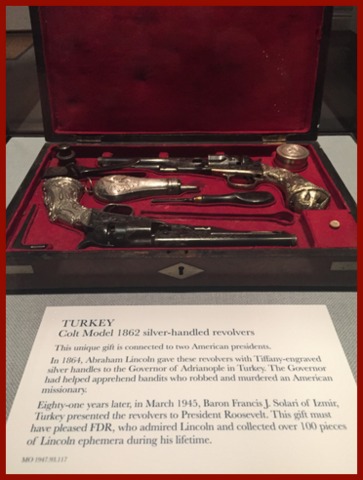 When we would think we had seen it all, we would find more to view. There were things to see like letters from people such as Albert Einstein or heads of state, priceless items from all over the world, memorabilia from the war, and personal effects of the President and First Lady. At one interactive display, there was a lever to lift, illustrating how heavy President Roosevelt's leg braces had been. The weight was astounding! There were places to sit a spell while watching short movies about FDR and his years as president, and rooms set up to illustrate what American homes would have looked like during that era. At one display, while listening to one of Roosevelt's Fireside Chats being broadcast, I couldn't help but think of  my grandparents, imagining them listening to the original broadcast, and what they were thinking at the time.
There was more to see than we'd realized. Before we knew it, time had flown by, we'd spent the entire day, and it was almost closing time.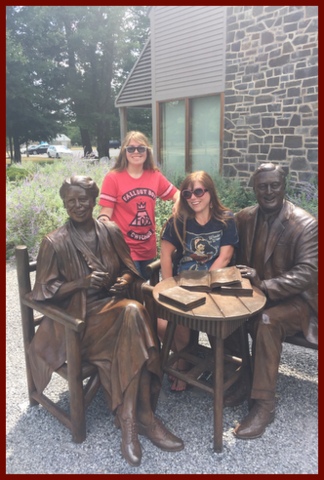 Because a joint ticket is offered by the National Park Service and National Archives for touring both the FDR home and FDR presidential library and museum for only $18 for adults, we were pleasantly surprised that we spent an educating and entertaining family day for under $40 (children under 15 are free). If you have a fourth grader or fourth grade level home schooler, check out https://www.everykidinapark.gov/, and get free admission for your family. We were also pleased that our thirteen year old daughter was so engaged. She couldn't wait to meet this school year's history teacher, and find out if she would get to learn more about President Roosevelt.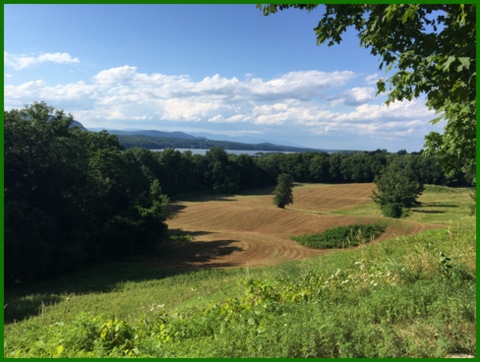 Next time we visit Hyde Park, we also hope to tour Roosevelt's "Top Cottage" (his retreat from the bustle of Springwood, and Eleanor's home, "Val-Kill", as we ran out of time.
The home of Franklin D. Roosevelt and Presidential Library is somewhere all ages can enjoy, and we can't wait to visit again.
 Until Next Time…Farmgirl Hugs, Nicole