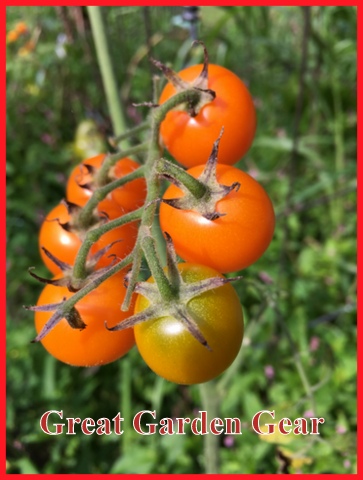 School's started, summer's winding down, and New England's prettiest season, fall, will be here soon. However, there's still work to be done outside no matter where you live! With so many gadgets out there, sometimes it's hard to know what works and what doesn't! We gardeners can easily end up with a shed full of tools we don't use. I've compiled a list of my most favorite garden gear I found this season.
When it comes to gardening, there's gadgets and tools in all price ranges. Do you need all of them? No, but some do make life easier. Invest in good tools, take care of them, and they'll last. Unfortunately, this year I lost my trowel and needed to replace it (even with the bright red handle, I still put it down and lost it). At our local Home Depot, I found a tool that works as a trowel and more: the Ames Planter's Pal Multi-Purpose Garden tool. I can easily cut through bags of mulch, chicken scratch, or garden twine, and the markings double as a guide for seed depth. It also cuts through tough weedy stems with the side blade (makes me feel like a farmgirl "Crocodile Dundee"). It's definitely worth the $10.00 price tag. (http://www.homedepot.com/p/Ames-Planter-s-Pal-Multi-Purpose-Garden-Tool-2332100/202518510 ).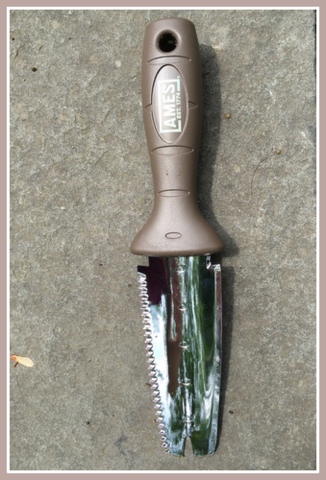 While I was there, I also treated myself to some new Landscaping gloves by Miracle-Gro brand. (https://www.google.com/shopping/product/17436507922017111179?lsf=seller:8740,store:9322504406507118808&prds=oid:15270680327630994000&q). I was looking at more expensive gardening gloves a friend recommended, but I like these better and at a third of the price ($6.98). I love the breathable, mesh-like material (like on sneakers) because my hands don't get sweaty and sticky. I also love the size -"S-M" fits my small hands! When working with sharp gardening tools, I don't need a too-big, floppy glove getting in my way.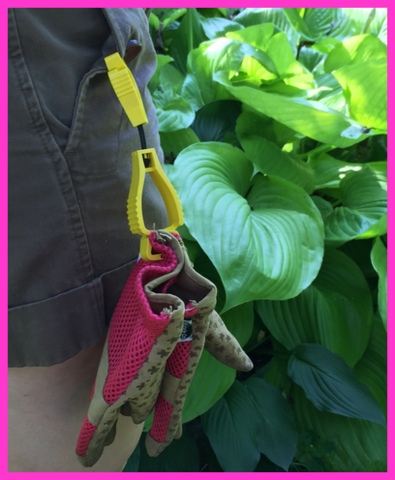 I had to buy gloves because I'd lost my other pair! That won't happen now! Advanced Master Gardener and author, Lorraine Ballato always has great advice (check out her book on how to make self-watering containers at http://successfulselfwateringcontainers.com).  Lorraine introduced me to this ingenious little contraption called a "glove guard" from Gardeners Edge – http://www.gardenersedge.com/product.aspx?p=GG . It clips to your belt, pocket, or apron to hold your gloves. They easily come off and on when you need them to, yet stay safe from being lost when you don't. This is one of those "why didn't I think of that" products, and at $7.00, it's a bargain (grab friends to order twelve or more and get a  discounted price of $5.29).
Lorraine also got me "hooked" on the CobraHead weeder and cultivator. This strong, easy tool has a scalpel-like edge and a cobra-shaped head  that quickly and easily weeds, cultivates, plants, harvests, and edges. It's not overly heavy but durable, and if I could only have one tool for gardening, this would be it. Find this super tool at http://www.cobrahead.com/.
I admit, I've just never fussed too much over my "turf". We mow the grass, trim the edges, and that's about it. However, the last few years I've found it impossible to ignore the plantain weeds that have spread all over my yard! It was a back-breaking battle to pull them. Recently, I invested in an upright weeder made by Fiskars brand that pulls the whole weed, root and all (it also works on dandelions). One, two, three – the weed is gone, and I never have to stoop or bend!
When I passed my Master Gardener mid-term this year, my dad treated me to a good pair of Pruning Snips, also by Fiskars brand. I love them – and use them indoors and out on all of my plants. With their thin, sharp blades they precisely snip what I want with ease. I make sure to disinfect and dry them before moving from one plant to the next (to keep from spreading disease) and before storage. Find both tools at your local garden store or at www.fiskars.com.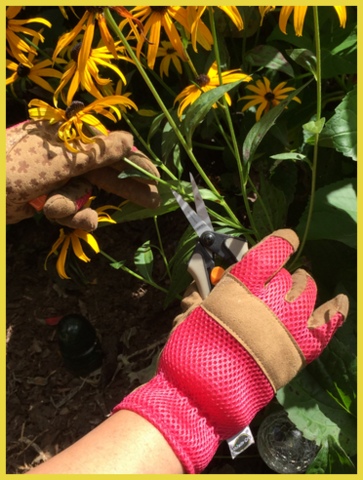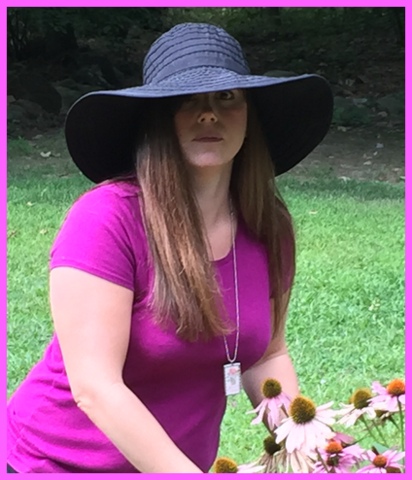 We've had a great summer, and I was outside for much of it! Not only do I love to garden, but I love being by the water. While I wear sunscreen, the best protection is a good hat,but I find some hats hot. If a hat makes me too warm, I won't wear it (a lot of good it does me in the closet). This year, I invested in a big, beautiful black hat that's lightweight and comfortable, shields my face and shoulders when gardening, and also looks chic at the beach. The fabric of my "sewn ribbon hat" by Sun 'N' Sand Accessories is cool, yet has a "dressy" look – cute enough to wear out.  This one's so adorable, I've also worn it "in town" a few times, pinning on a vintage brooch to dress it up. I found my hat at a local store, but you can find it and many more, reasonably priced hats at the manufacturer's website  www.shopsunnsand.com.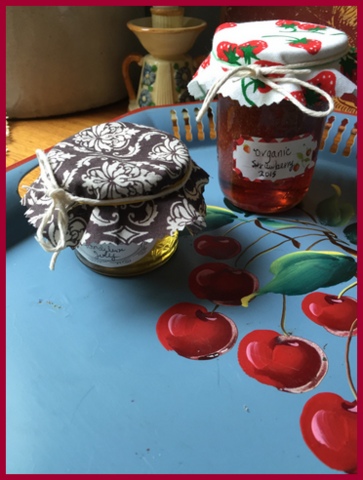 The next several weeks I'll be harvesting, putting the garden to bed and canning. The flowers and garden are starting to wane, but having the right tools keeps my gardening spirit from doing the same.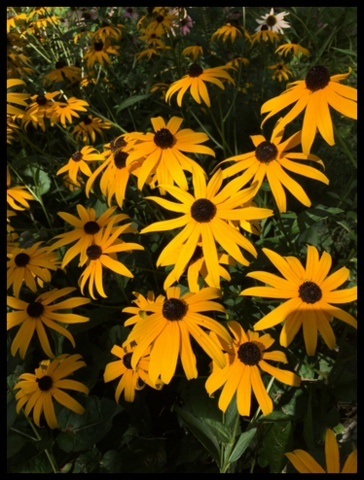 Do you feel you're losing a little steam in the yard and garden, too? Will you pick up a new gardening "treat" or do you have a favorite you'd like to share? Talk to me in comments!
Until Next Time…Farmgirl Hugs, Nicole