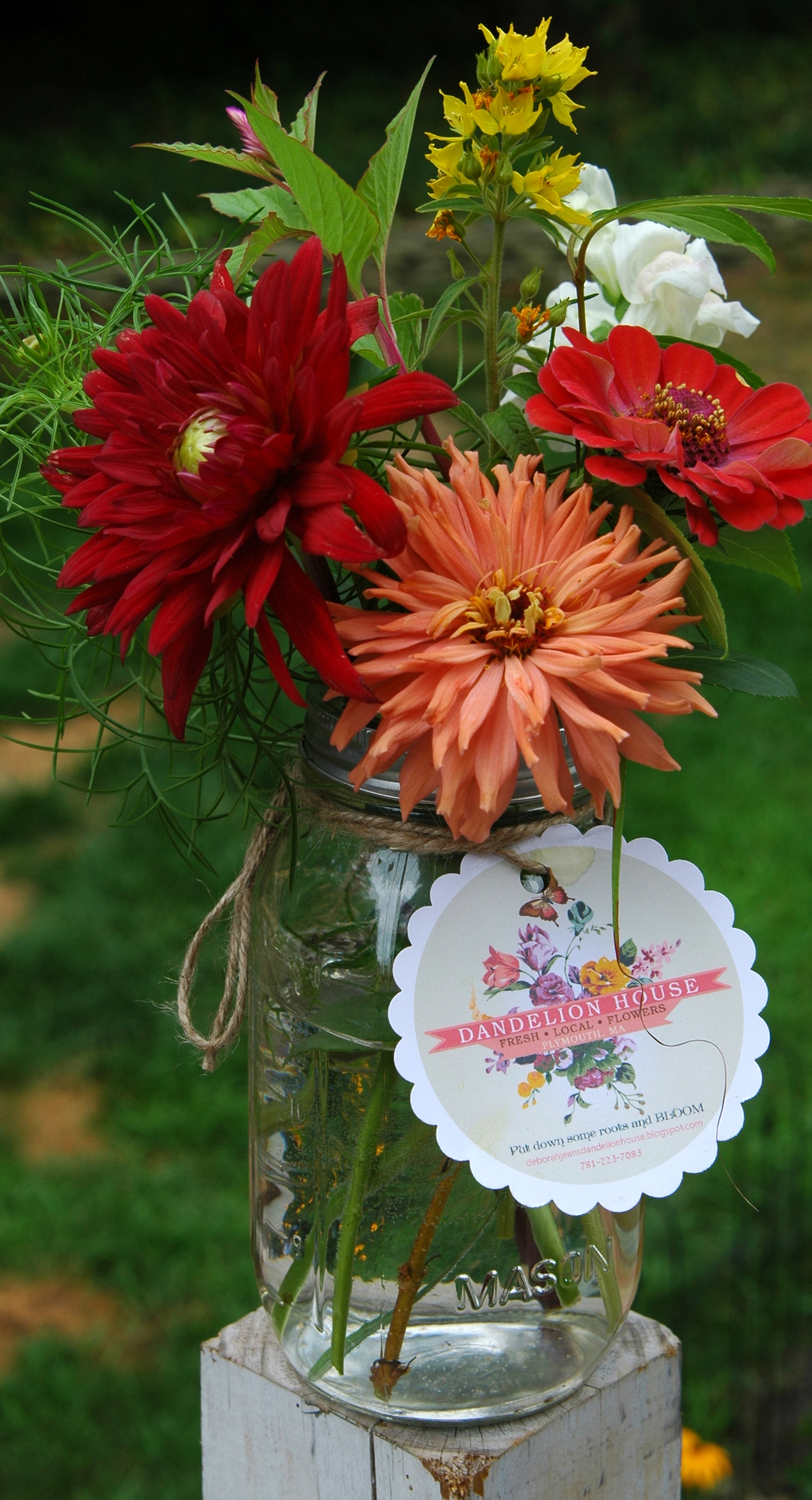 Dear sisters,
Accomplished. Relieved. Satisfied. Useful. Happy. Tickled. Motivated. Inspired. Fulfilled. Refreshed. Relieved. Just a few words ( OK, more than a few) to describe how I felt AFTER our debut at the Farmers Market Last Week. Why was I so darned nervous anyway? Firsts are always a little nerve wracking aren't they? I'm usually fine with diving in and trying new things so I'm not sure why I had such a severe case of the butterflies the week before our first day at the Farmers Market. So many questions ran through my head the prior week and the nightmares about running out of flowers to cut haunted me right up until my daughter and I put the last tag on bouquet # 22 in the wee hours or the morning on market day. Thank goodness for my daughter. She brought her sweet, talented calming self out to the cutting table and as soon as I saw how much fun she was having making bouquets too I knew it was going to be a great day! She spotted butterflies in the garden and told me they were bringing us good luck!
She has a simple, yet elegant way of putting flowers together, where I tend to stuff a little of this and that into the jar until it makes me smile. Once we got into a rhythm I finally started to relax and enjoy the process of just being outside together in the quiet, early morning hours preparing for what we hoped would be a fun day with friendly people surrounded by great food, music and plenty of mid-summer sunshine.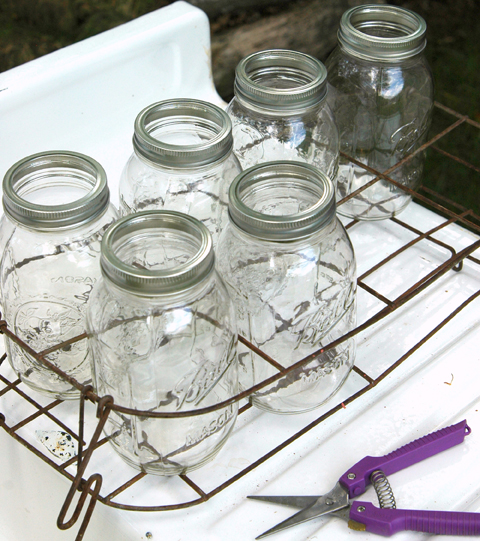 We started with 2 cases of 32 Oz Mason Jars for creating our Grab n Go bouquets and plenty of fresh-cut flowers.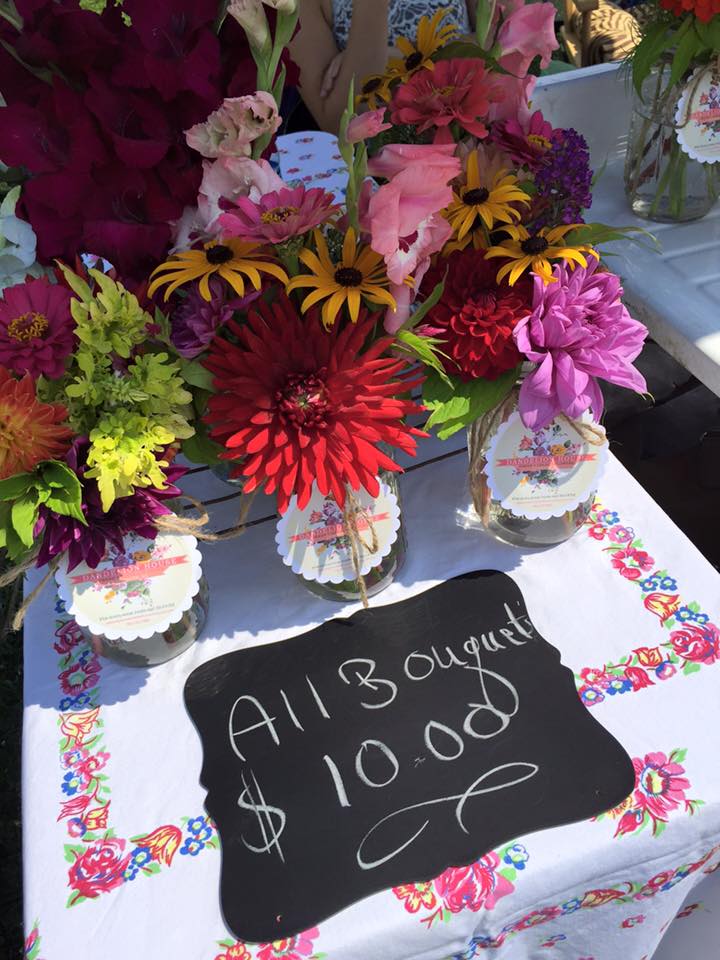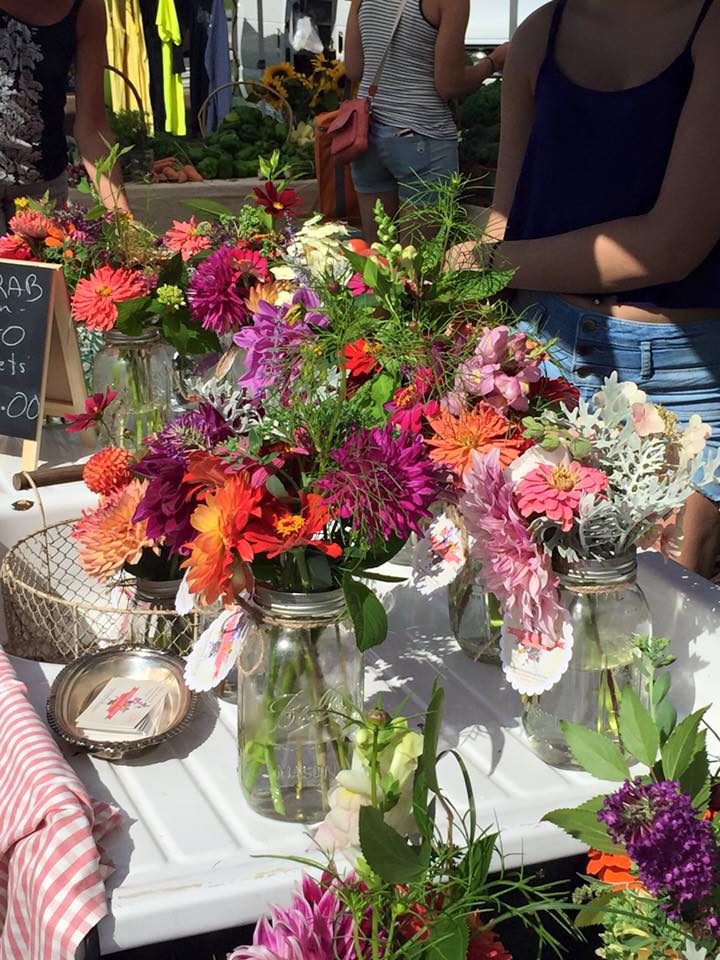 It's always best to cut your flowers before they are awash in sunlight or later in the evening after the sun goes down. They stand a better chance of avoiding shock which results in wilted flowers which may or may not recover.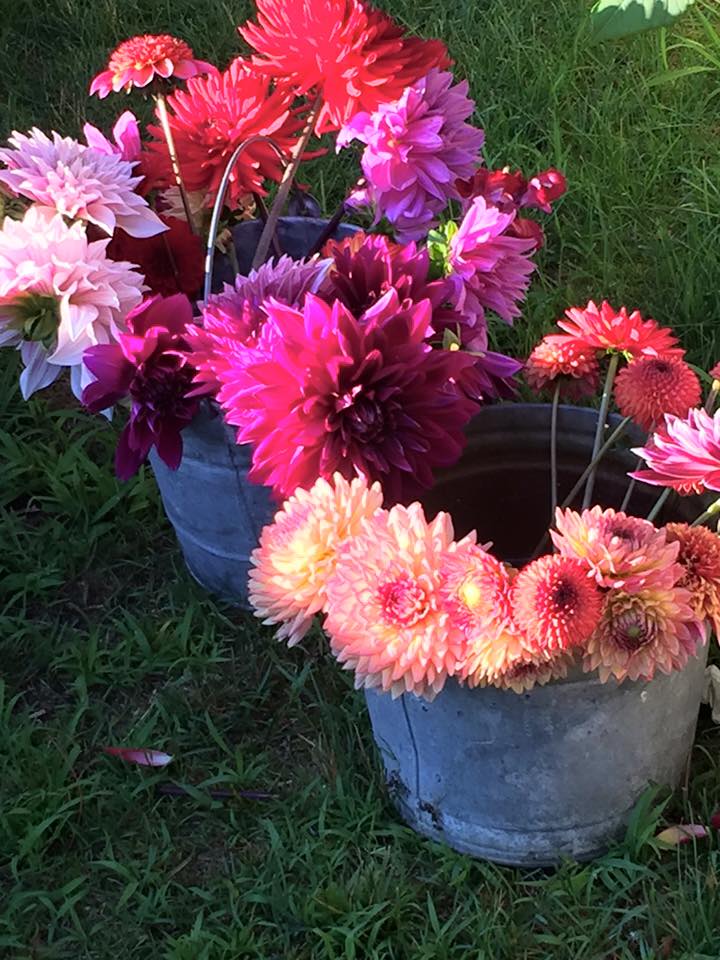 There are so many colors and petal choices with dahlias. This year I was drawn to soothing rich, deep purples, soft, pale feminine pinks and peaches and warm sunny orange, reds and yellows.
We're getting great feedback about our logo, and our crazy vintage sink display. It's definitely stirring up some nostalgic memories for our customers. People bring up their grandmothers kitchens and gardens all day long.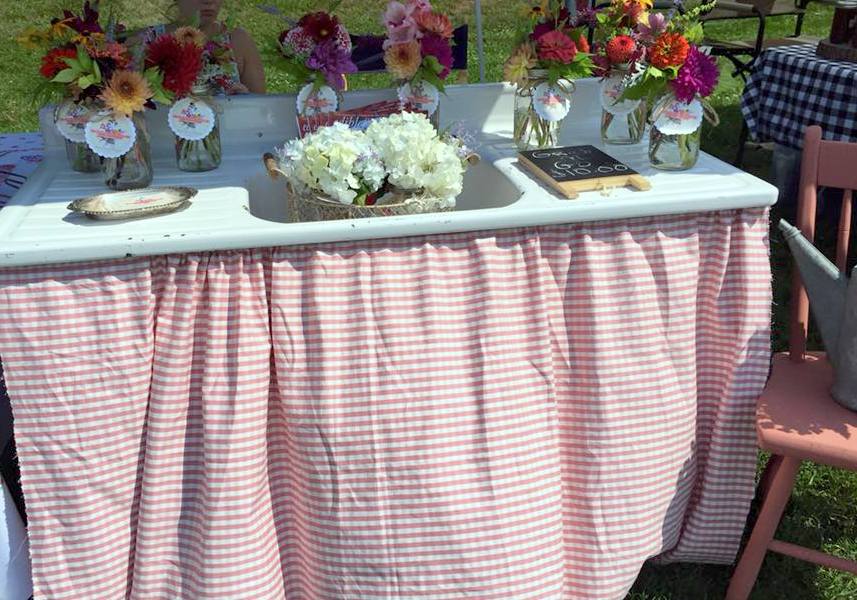 Everyone has been very welcoming and genuinely happy to have us there with our backyard blooms!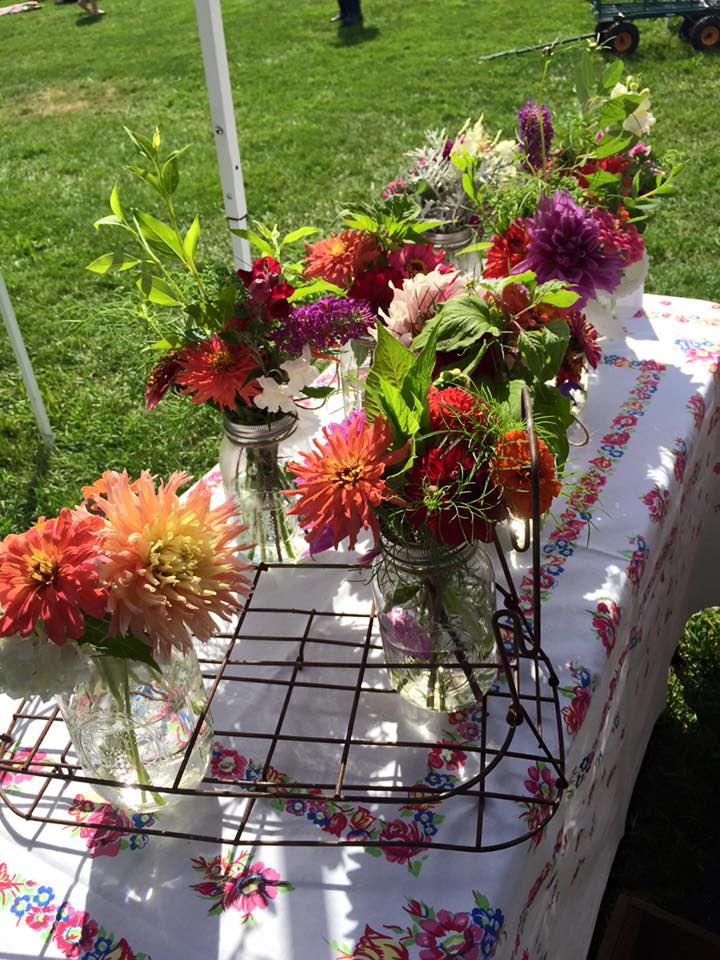 So far sales have been positive. We've done two markets in a row and each time we sold half of our inventory.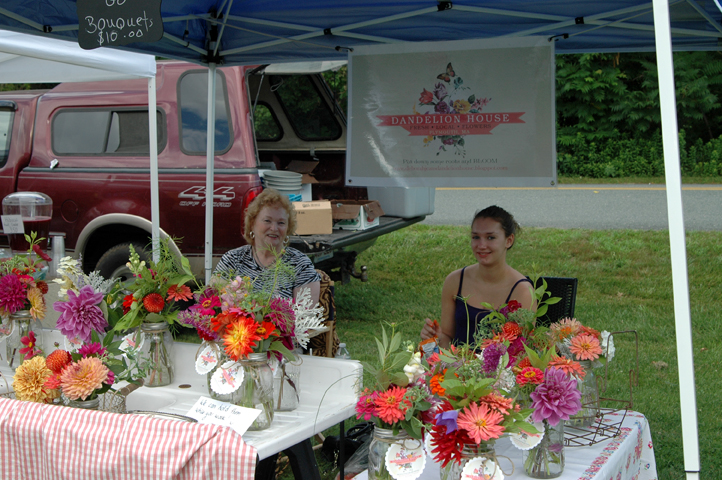 It's not all about the earnings though. Us girls ( that's my sweet mom, Joy next to Nicolette ) are having fun meeting the other vendors and seeing old friends there too. It's ALL good!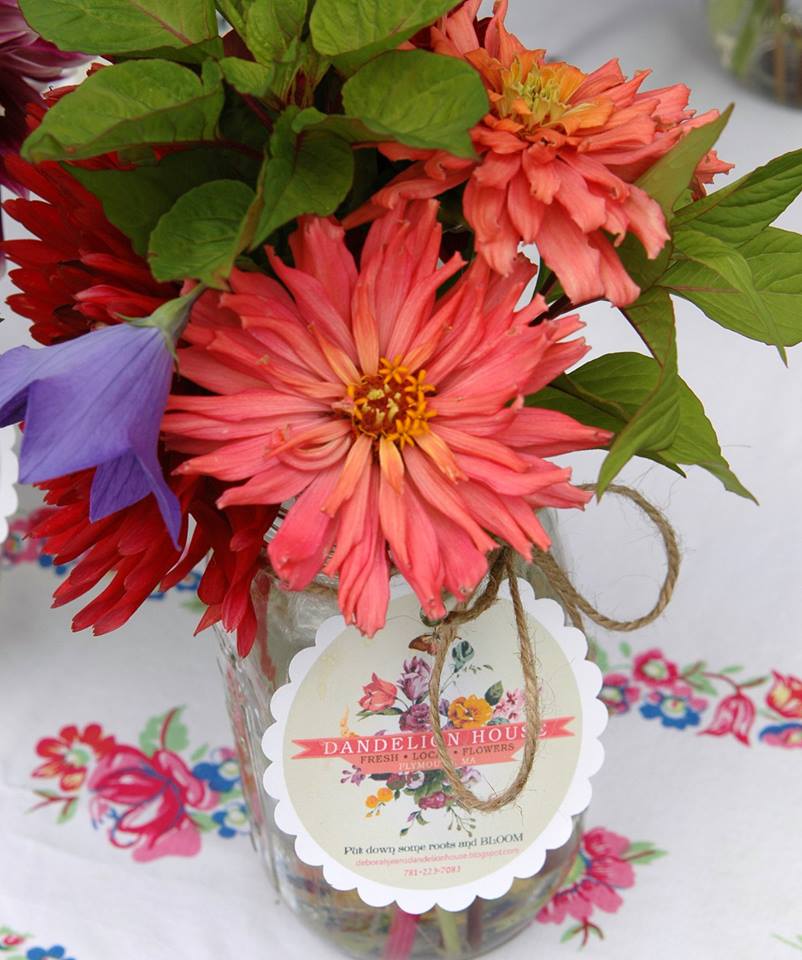 Our favorite sale happened yesterday when a young girl all of 13 or 14 approached our booth. I thought for sure she had been sent over by her mother or father to purchase flowers. ( most folks stop by on the way out so they can carry the jars right to the car ). Turns out she had some birthday money she was itchin' to spend on herself. We had 15 jars of mixed blooms and one beautiful bunch of about 10 deep purple gladiolus to choose from. She studied the flowers and settled on the gorgeous glads. I've learned a lot about being a vendor at the Farmers Market but the best lesson so far I learned from that very wise young lady. The earlier you start buying yourself flowers, the happier you'll be! What are YOU waiting for? Go out and grab a bunch of local blooms! You'll just feel better, I promise!
Here's to the joys of summer!
Until our next shoreline visit~ Keep Blooming!
Beach Blessings and Much Love
Deb, the beach farmgirl
# 1199