Farmlife has provided me with more opportunities to think about things. I spend a considerable amount of time using the muscles in my arms or legs, rather than my head. That leaves my head muscle "available." Available to ponder and contemplate and think things through. Like, when I shovel the manure out of the barn-thinking time! Or when I drive the tractor through the hayfield-thinking time! Or when I weed-eat-thinking time! If you've hung out with me for any period of time here, you know that PEACE is one of my quests. For me, for the tiny corner of my world, and for the whole world.
Yesterday I weeded the garden with PEACE on my mind. So little PEACE this days. Even on Facebook and Twitter and the grocery store and the church: no peace. I came inside, borrowed my daughter's colored markers, and wrote this. My 3 Secrets to Peace.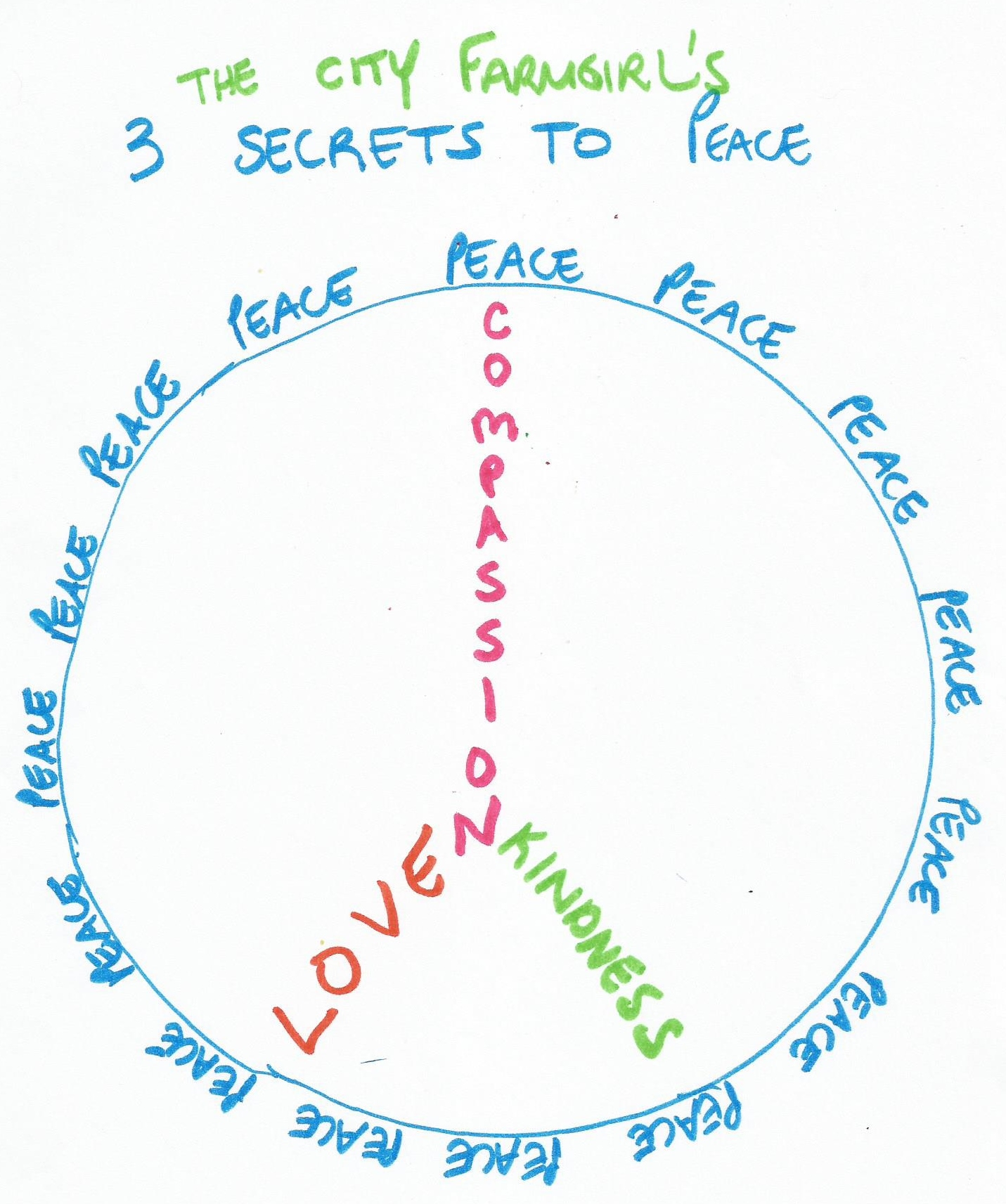 Here are three keys to peace:
COMPASSION
LOVE
KINDNESS
Compassion, Love, and Kindness to the earth and all its inhabitants. All of them. That includes the people you think are wrong; who believe differently than you; who look differently than you. Yikes, IKR. It also includes you, yourself. It is sometimes easier to show compassion, love, and kindness to others than to yourself.
TO SELF.
Okay, so now how does ONE learn to BE compassionate, loving, and kind to self?
Again, there are three secrets. They all happen in slow mo.
Slow, outdoor Walk.
Slow, Hot Tea.
Slow, Hot Bath.
WALK
TEA
BATH
Something popped up on my Facebook feed the other day. Newsflash! Being outside in nature improves one's mood. I didn't need Facebook or a researcher to tell me that. Outside is healing. Today, walk away your _____________. You fill in the blank. Maybe it is diabetes, sadness, high blood pressure, stress, apathy. Walk slowly. Walk outside. Walk.
Hot tea is also a wonderful way to take special care of yourself. A tea ceremony is so much more than gulping down a cup of tea in a hurry while you rush off somewhere. Take time. This is a ritual, a ceremony. A craft that focuses on the now. Look it up and have one. Just for you. Here's one.
Or, maybe just put the kettle on and sit down with a quiet cup of tea.
And finally, a hot bath. Pour epsom salt and baking soda into the running water. These will help pull out toxins while you bathe. Linger. Relax.
TO OTHERS.
How does ONE learn to BE compassionate, loving, and kind to other people. You know, the ones who get on your nerves the most. In my neck of the woods, there is a fair amount of division between people about social issues these days.
What if?
What if everyone put away their need to be RIGHT, to be correct, and instead just showed each other massive amounts of loving kindness? Equally, to everyone. What would that look like? Peaceful, that's what.
A quote often attributed to Mother Theresa, but is actually Dr. Kent Keith's:
"People are illogical, unreasonable, and self-centered. Love them anyway."
Martin Luther King, Jr.:
"Darkness cannot drive out darkness, only light can do that, Hate cannot drive out hate, only love can do that."
So here are three secrets to creating compassion, love, and kindness towards others.
SMILE WHEN YOU ENCOUNTER OTHERS
LISTEN TO WHAT THEY SAY, with your mouth closed and your mind open
PRAY FOR THEM, SEND POSITIVE THOUGHTS AND LIGHT THEIR WAY EVERY SINGLE DAY
TO THE EARTH.
And finally, what 3 things can we do to show compassion, love, and kindness to the Earth? Here are 3 of my favorites.
TREAT ANIMALS WITH CARE
GROW A GARDEN
LIMIT USE OF CHEMICALS
What do you think? What are your ideas for sowing peace in you, in your little corner of the world, and in the whole world?
These 9 THINGS are all so simple and easy to do. What would we, our little corners of the world, and the whole world look like if we cultivate peace.
Now, I'm headed out this morning to clean out the chicken house. I'm happy to report that I finally have PEACE in my chicken house. Perhaps they have been listening to the PEACE TALKS that I give them whenever I feed or water or collect eggs. "Now, Girls, And Rooster, if you want to continue to live on my farm….." I guess this morning's thinking time will be hot and smelly; it is going to be a scorcher today. Oh well, should be a goooooooooood, productive session. I'll keep you posted.
Until next time, Friends, savor the flavor of life.
And practice peace.
The City Farmgirl in the Country, Rebekah