.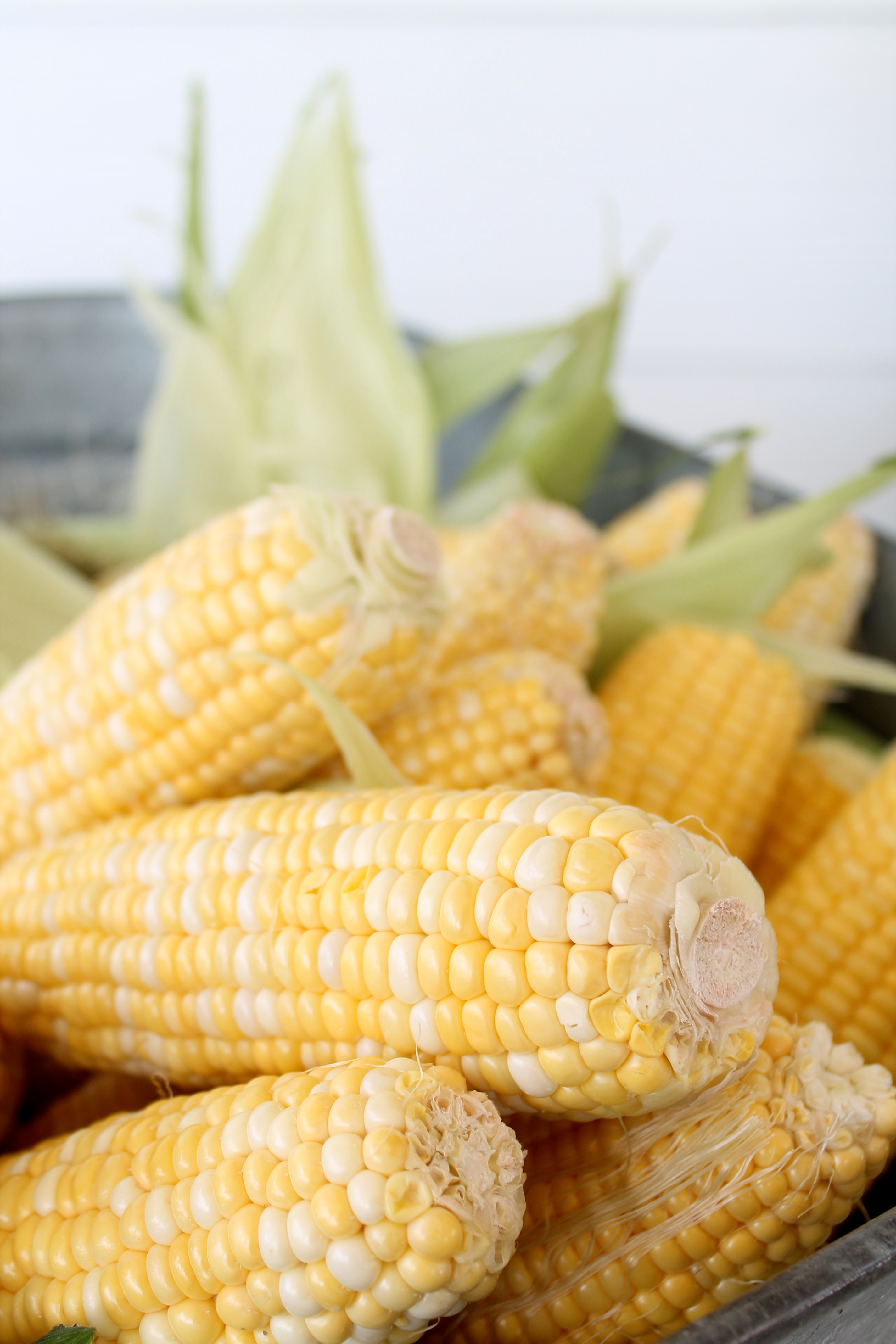 Fresh picked corn in my old washtub. 
.
One of my favorite things about having a big garden is putting up the produce for the winter.
.
An outdoor picnic table is perfect for a messy job like this!
.
The problem is that canning (for me, anyway) is a hot and messy job.  When my husband and I were building our house and living in our travel trailer I had no choice but to set up a little canning station outside on my picnic table.  And I discovered that I love it.
.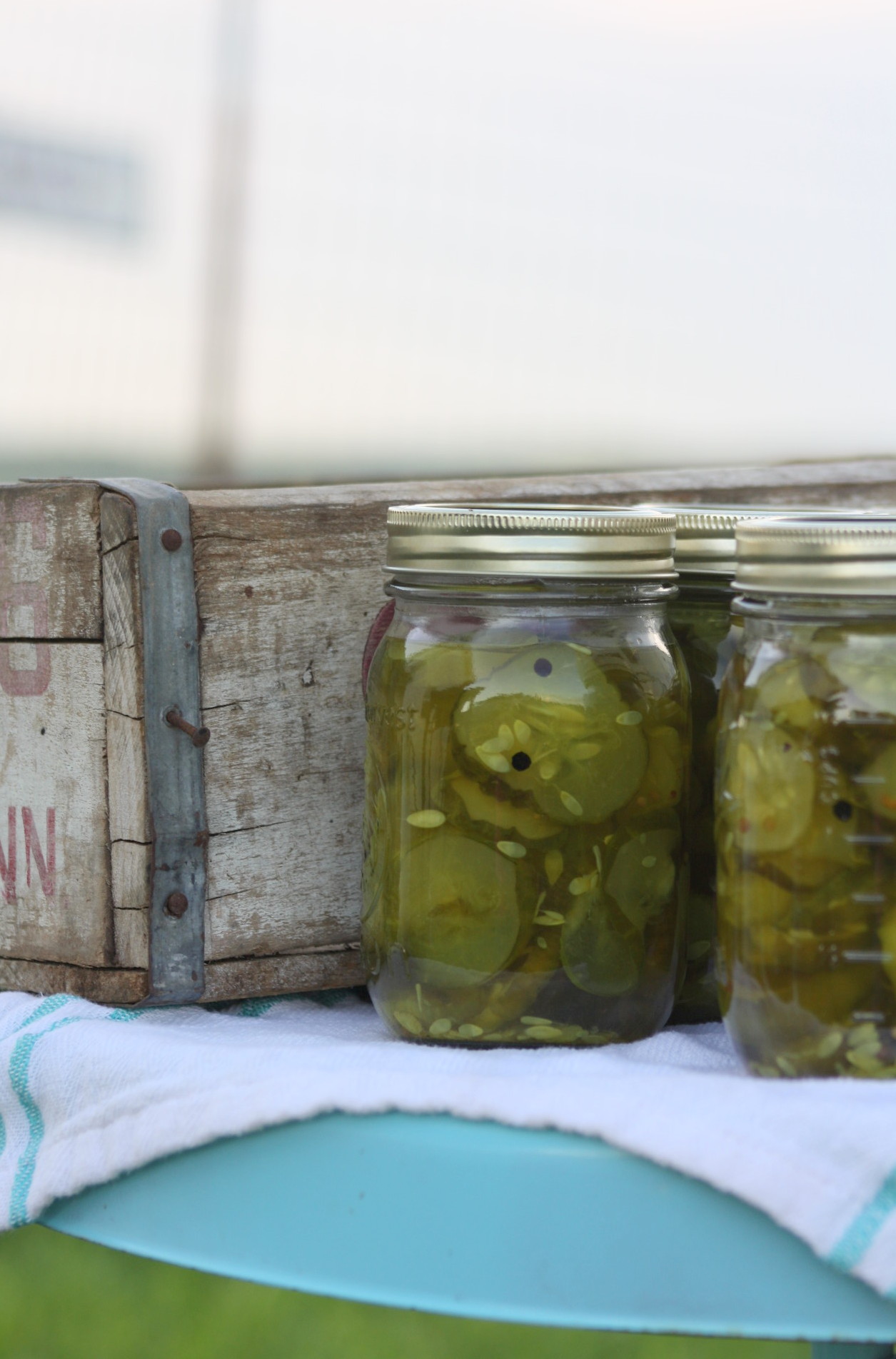 Fresh canned pickles, cooling on the porch. 
.
So for the last couple of summers my back porch has become my outdoor canning kitchen!  And I absolutely love canning outdoors.
.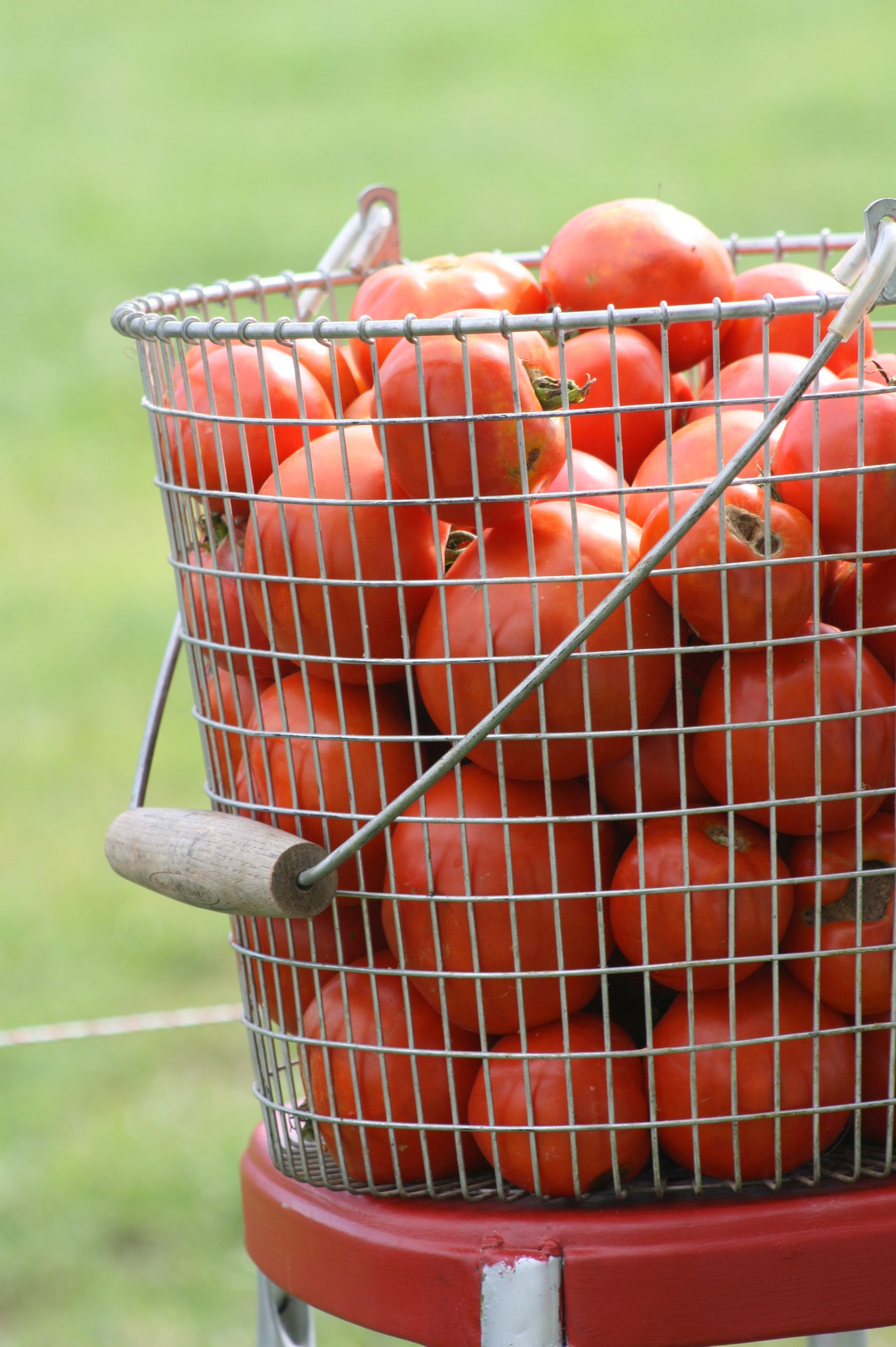 My basket of tomatoes straight from the garden to the porch.
.
Even though my set-up is country simple at best, I thought I would share with you the few things that I have discovered that make it work!
.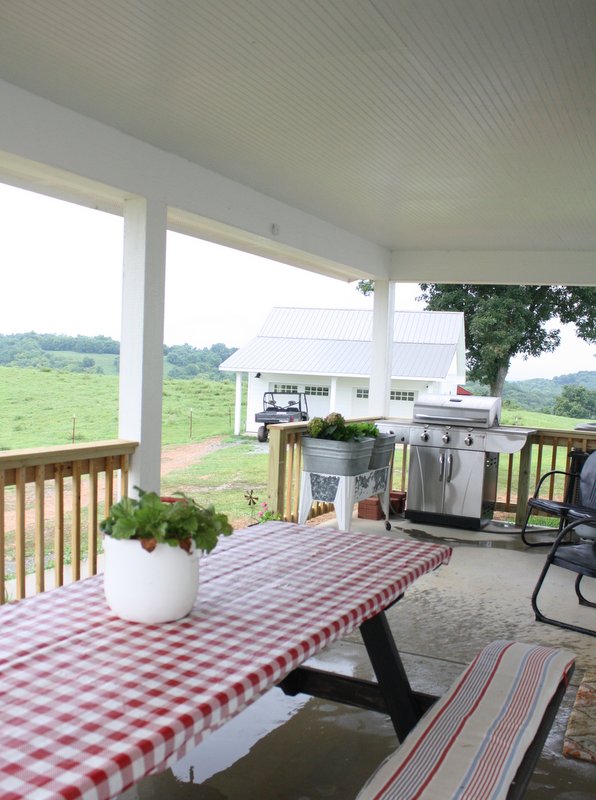 A good table.  I have a wooden picnic table on my porch that I keep covered with a nice vinyl tablecloth that I scrub down with soap and water.  I also spray down and clean the concrete floor too.  
.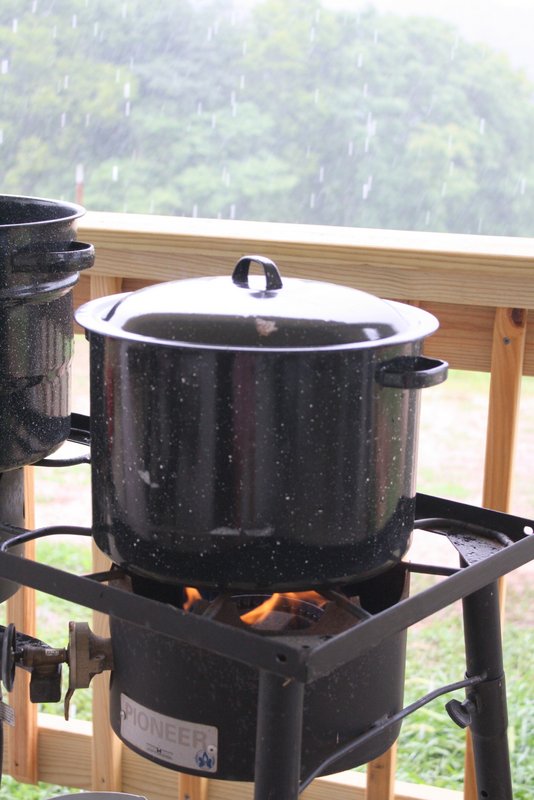 .
A two-burner propane camp stove.  Mine is not an expensive one but it has a very high BTU output so water boils fast.  It has nice sturdy legs on it, but yet is easy to move back out of the way when I'm through.  A two burner is really handy since no matter what you are canning, you will almost always need two burners.  (And yep, it was raining today while I was canning on my porch!)
.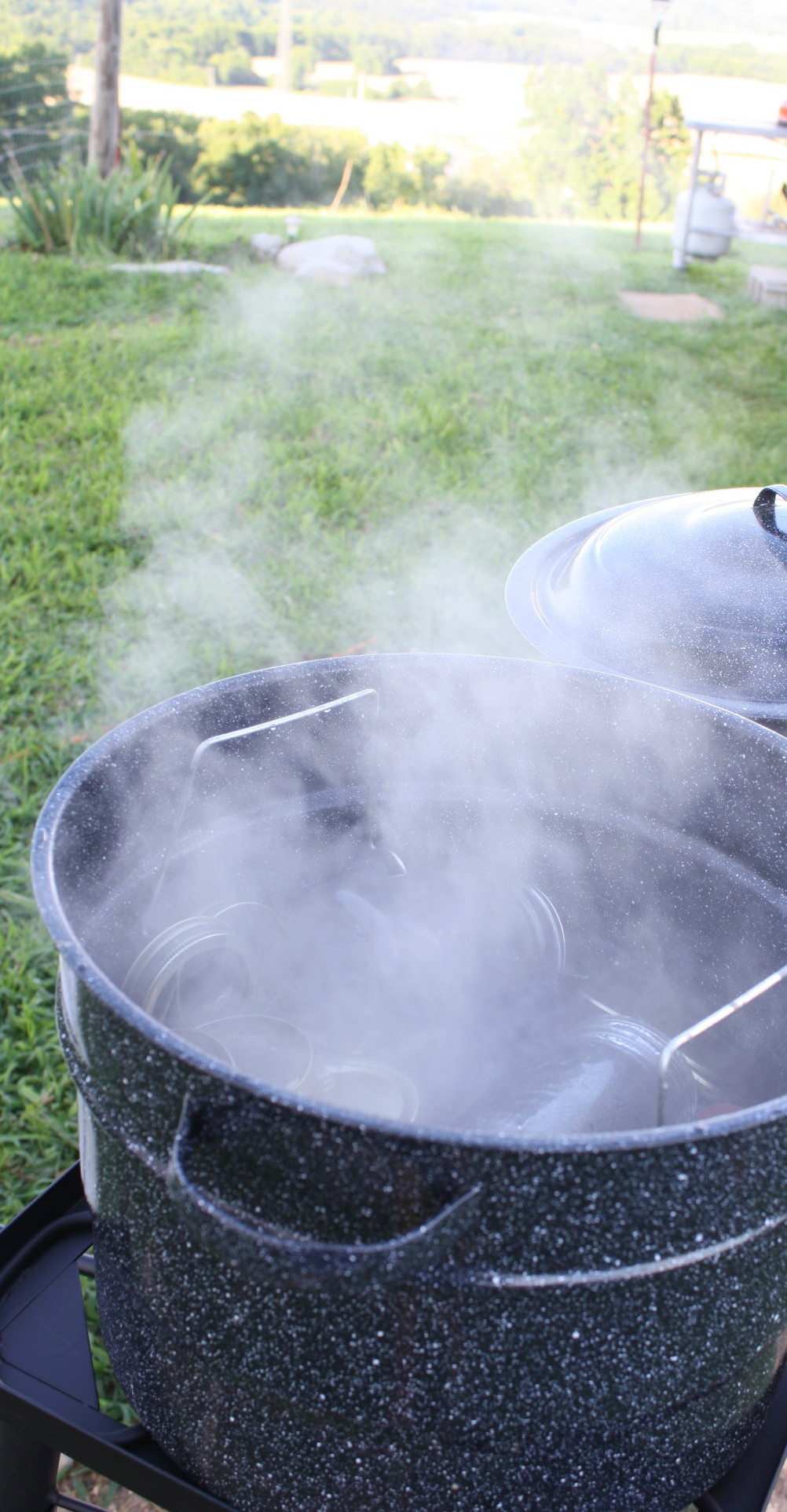 .
Large kettles.  I use the old original enamelware kettles.  They have great handles, they come with lids, they are huge, and honestly I love them because I can just store them outside right on my camp stove!  (Obviously, I scrub them down with soap and water before use!)
.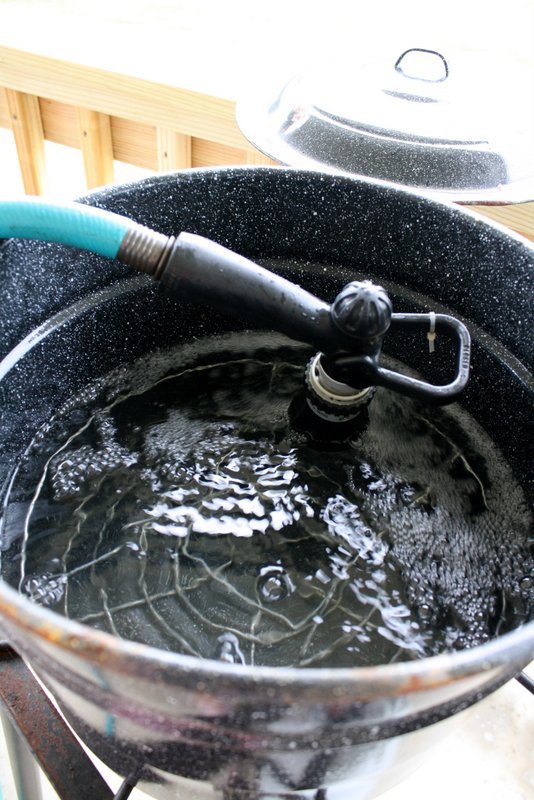 .
Water.  You need to have water handy.  I would love to have an antique enamel sink on my porch all set up with running water.  But until then, I use the garden hose with a spray nozzle on it!  It works just fine!
.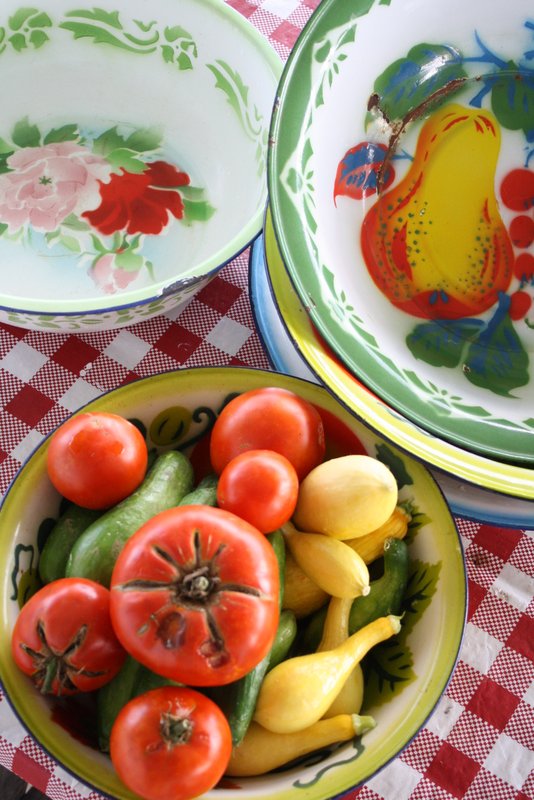 .
Enamelware bowls.  The reason I love enamelware so much is because I don't have to worry about it breaking.  And the old enamelware bowls are huge, so they hold a lot of produce.  I use both large bowls and the huge platters.  (I use mine for picking veggies in the garden too.)
.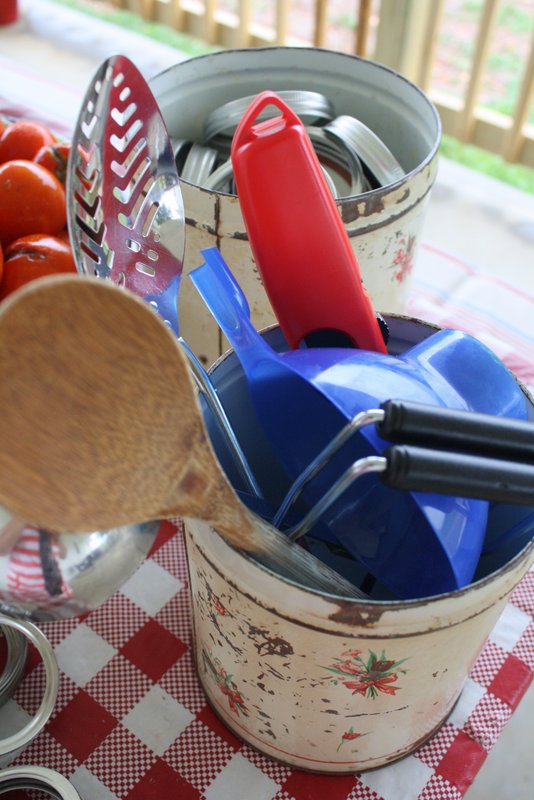 .
Canning tools. I like to store mine in a container that I can bring from the house to the porch easily.  An old canister works great for this.  After I wash everything up when I am done, they go right in the top shelf of my pantry, ready for next time.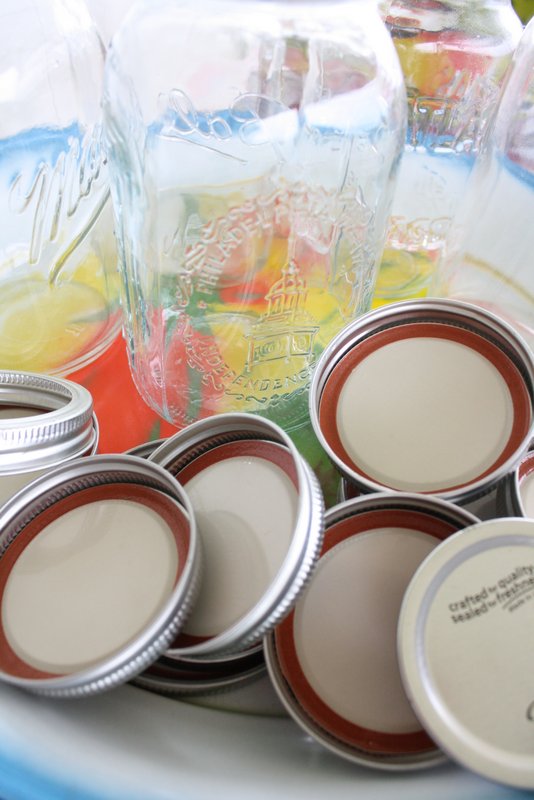 .
Clean, sterile jars and lids.  I do not buy new jars.  I have jars I use year after year.  Some of my favorites are the vintage Ball Liberty jars!  However, more and more I am doing a lot of my canning in pint jars simply because it is handier for just the two of us.
.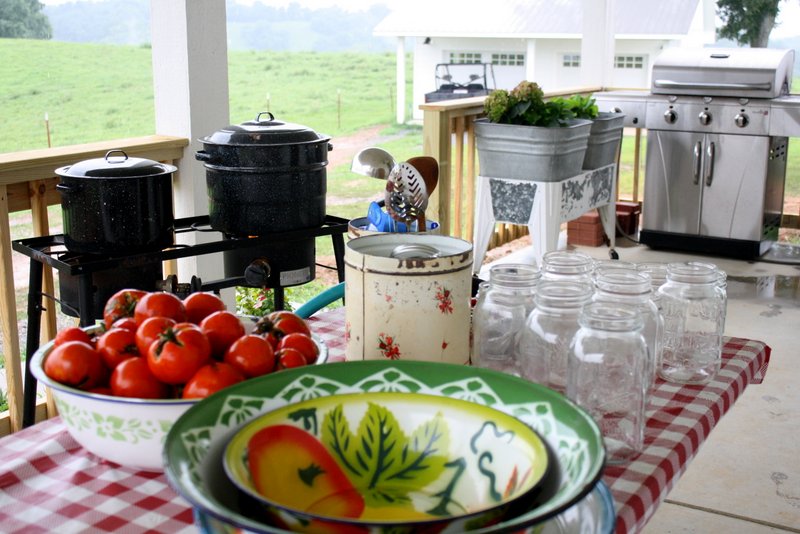 .
Now, I'm ready to go.  Because I've got everything ready at my fingertips, it hardly takes anytime to do my canning.
.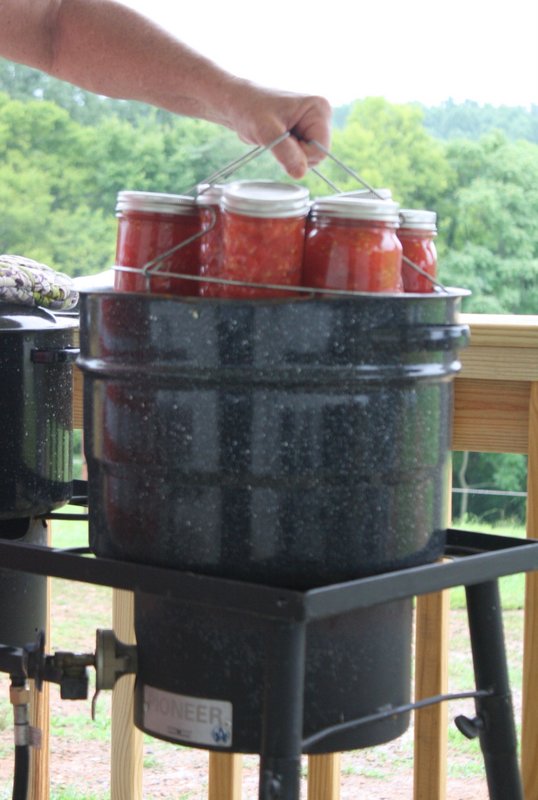 .
And when I put the jars in for their 45 minute boiling hot water bath, I can carry my dishes inside to my clean and cool kitchen!  It only takes a few minutes to wash everything and put it away and there is no canning mess in the kitchen.
.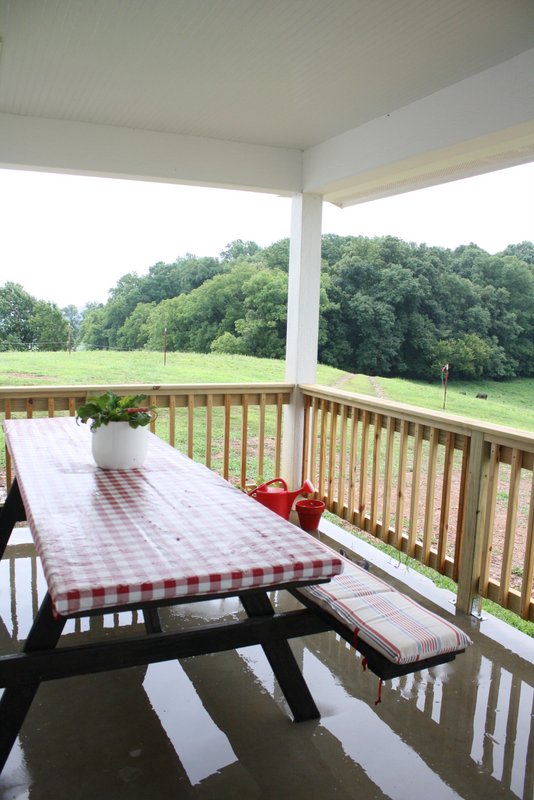 .
Then I take the garden hose and spray down my table outside.
.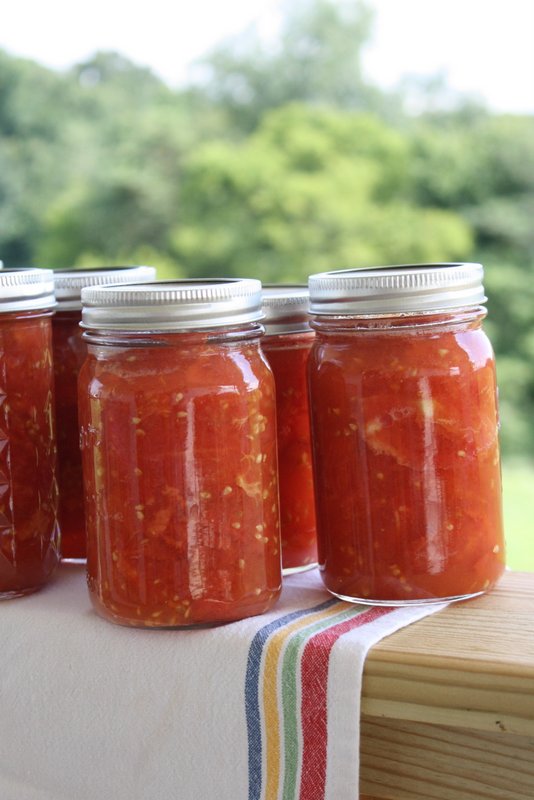 .
A few reasons to have an outdoor canning kitchen:
I would far rather be outside listening to the birds and watching my cows than stuck in the kitchen any day!
Cleaning up the "kitchen" is a breeze.  Grab the hose and spray it down!
The high output propane burners boil water super fast and they accommodate very large kettles.  There is no time standing in front of a hot stove waiting for water to boil.  You can also adjust the legs so that the stove is the height you need.  Because I am short, dealing with those large kettles on the stove top is very difficult.
And it is just plain fun to turn your porch into a canning kitchen – even for just an hour or two!
.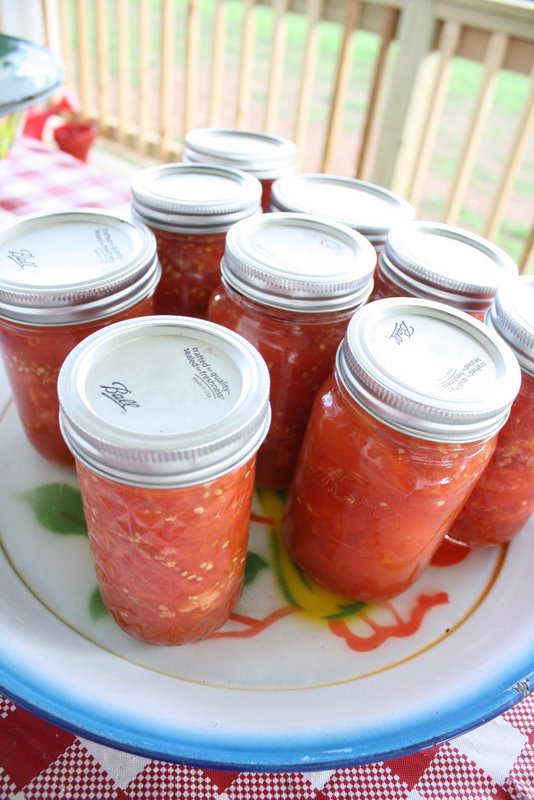 .
So…. I have to admit.  A couple years ago when I first started canning outside I really thought I had invented something.  Come to find out there are a lot of folks that can outside and some people have an amazing outdoor set up.  I'm dying to know if you do your canning and preserving outside?
.
And do you call it "canning", "preserving", or "putting up"?!    Here in the South I hear "putting up" the most!
.
Happy Summer!  We're in the thick of it here in middle Tennessee and I love it.
.
Until our gravel roads cross again… so long.
.
Dori