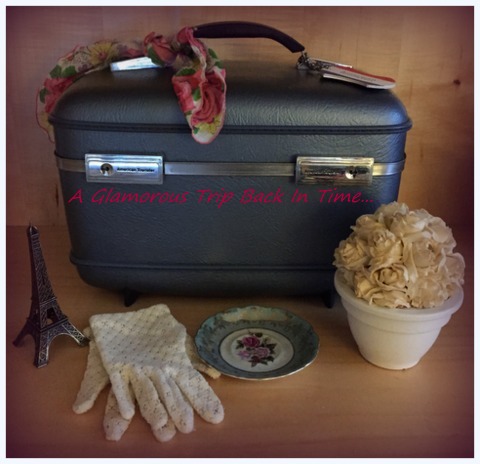 Farmgirls re-purpose! I  love finding new uses for vintage and antique items from the forties, fifties and early sixties, when things were meant to be aesthetically pleasing as well as made to last! My latest re-purposed "treasures" harken to an era when traveling by plane and train was a glamorous occasion!
I was thrilled to find a set of vintage hard suitcases recently. The seller's mother came to America from Germany in 1947, and purchased the set in Manhattan to move to Connecticut. The cases are hard and sturdy, a beautiful robin's egg blue.
I'm a knitter. Not only is it one of my favorite pastimes, but I've been teaching knitting and crochet for years. Like any passionate crafter, I have several projects going simultaneously, as well as a stash of yarn beginning to take on a life all its own. One suitcase now holds a crochet project, while the other holds extra yarn, utilizing wasted space under my coffee table, in the playroom. Sturdy, vintage hard cases could hide all sorts of things in almost any room.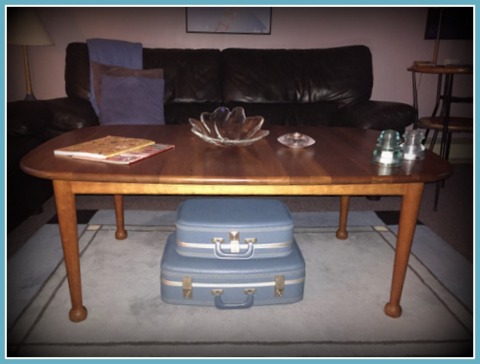 I also found a vintage, silvery-blue train case to use as my go-to knitting bag, after seeing my friend Andrea carry one for knitting. My train case holds several knitting projects, while the tray easily organizes all the little tools like stitch markers.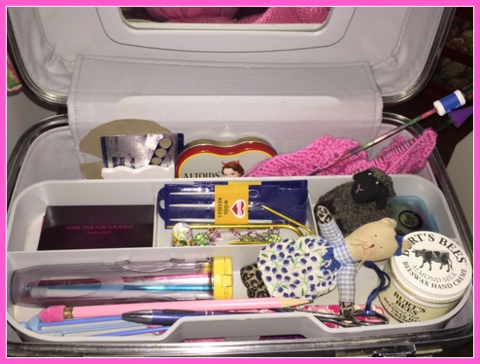 The case is easy to transport, holds more projects than a tote bag can, and is way more durable. The one I found was in really good shape. To clean years of grime and bring back the shine, I used a little homemade glass cleaner, a Mr. Clean Magic Eraser, and an old toothbrush for the crevices. (Always test anything you use to clean a case in an inconspicuous spot first). I've seen train cases adorably "glammed up", but my case from the 1950's was in such good shape I didn't feel it needed anything other than cleaning (and a vintage hankie – tied on for a farmgirl touch). I get smiles wherever I go with it.
My friend Andrea's mother, Brenda Clinton, was a flight attendant fifty-two years ago. Like many young women of the time, Brenda received her first train case from her parents as a special birthday gift when she was a teen. Matching pieces would be added on other occasions. Andrea uses that train case as a decor piece with hidden storage. Typical luggage sets were wood with leatherette, and nothing had wheels!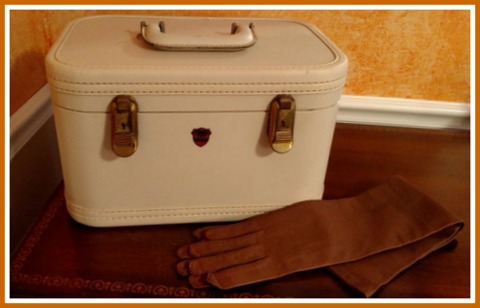 Brenda says when she was a stewardess, travelers would never have dreamed of traveling in casual attire. Everyone dressed up to fly. Flying was a special event, and to serve as a flight attendant was considered a glamorous profession, if you met the requirements. Women had to be 5'2" to 5'9" with weight in proportion to height. If you went over the weight limit, you were grounded until you lost the weight. No matter how thin you were, a girdle under your uniform was required, and you wore white gloves. Merle Norman consultants paid by the airline came in to teach hair (kept at a certain length) and makeup, and your makeup and summer and winter uniforms were provided by the airlines. You just had to provide your shoes (heels, of course), and they had better be shiny! The uniforms included a hat, a symbol of authority.
Despite the regulations women had to follow, it was still a sought-after profession. Women could not be married, either, and Brenda remembers several of her friends having two phone lines in order to keep their jobs after marriage: one for the household, and one for the airline.
Brenda says the planes were full of luxury and glam, too. She flew on DC6 planes, holding 64 passengers, and DC7 planes, which were a little larger with a lounge so passengers could play cards. Both planes were propeller-types. There was also the Viscount, a turbo prop plane. One could tell it from other planes by its high shrill sound.
Silver wings were earned when you graduated. Once, Brenda was late and was going to miss a flight from Newark, New Jersey. The airline arranged for her to be ferried via helicopter to Manhattan, where they landed on the Pan-Am building to pick up more passengers en-route to Newark!
Later on, the Supreme Court ruled that men should also be allowed to serve as flight attendants. Travel's changed in many other ways, as well. Vintage suitcases and train cases are no longer useful or handy for travel, but certainly useful for things like crafts or storage, and a fun way to decorate!
Have you re-purposed vintage luggage? Tell me how!
Until Next Time, Farmgirl Hugs, Nicole