Random 1. Maybe we should finally name our farm.
We have been here two and a half years. It is time.
Everyone said, "A name will come to you."
It hasn't.
My husband and I were like that when we had a baby too.
We couldn't come up with the name at the hospital. Abigail? Contessa? Rose? Victoria? The head nurse said, "You need to name the baby girl before you take her home. It is a paperwork nightmare if you don't." We thought and we thought and we thought. We did NOT want a paperwork nightmare. Anna? Lillian? Sadie? Trudie? How about earthy names, like Willow? Sage? Snowe? Fern? So much pressure. The head nurse came in my room and said, "How long have you known you were having a baby? Like, 9 months? You should have thought about this before NOW." Oh, be quiet, Head Nurse.
Anyway, it is probably time for us to name the farm.
Random 2. We have an asparagus patch in the middle of the hayfield.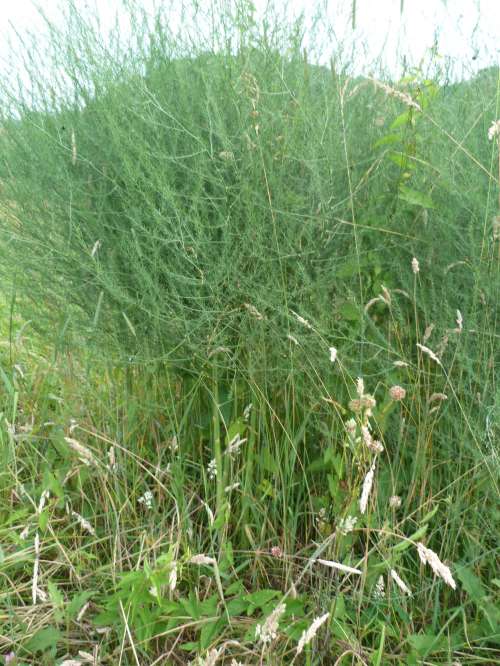 "Well, that's random," a friend said recently when I pointed it out to her. Yeah, it is. That's what started this whole post. The word stuck in my head. Random. I kinda like it. But no. I do not want to name my farm Random Farm.
Random 3. I went to a band concert at the local high school. This was written on the wall in the girls' bathroom stall.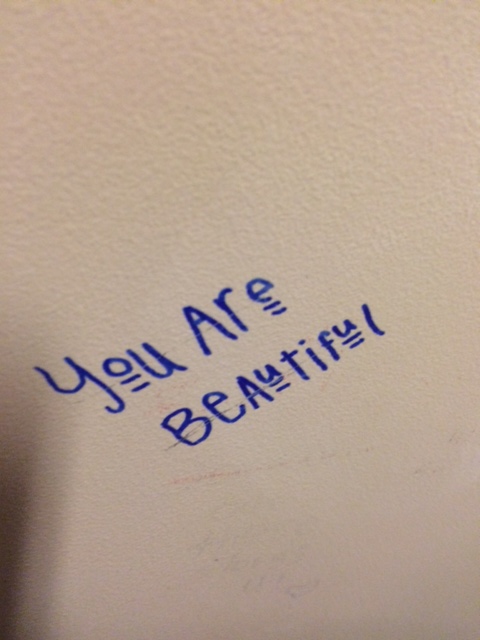 This is NOT what was written on the girls' bathroom wall when I was in high school. Seeing this gave me HOPE for this generation.
Random 4. I have been asked about my chicken loss to predators. I haven't blogged about it because I haven't had any predator loss. ZERO. But I have them under maximum security. They are in a pen enclosed with wire. And this is the door to their coop at night. I really like the "Night Guard." It is solar powered and blinks a red light at night. The red blinking light is supposed to look like a big predator at night. Animals like raccoons, opossums, coyotes are supposed to stay away, thinking it is something bigger than them. And, notice ALL the locks. I also lock it from the inside. Nope, no body is getting in there!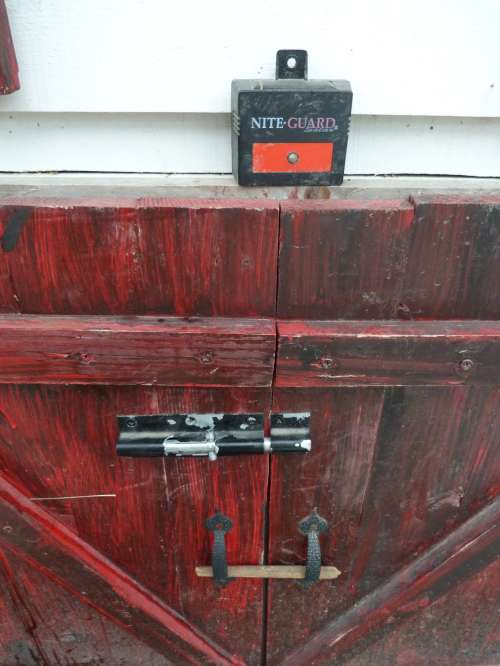 Random 5. However, I have lost chickens due to illness. Two have died. It was horrible. Ugh. And now, I currently have an injured one. She hurt her foot a couple of days ago. I don't know how. I am keeping her separated during the day, but put her in with her friends at night.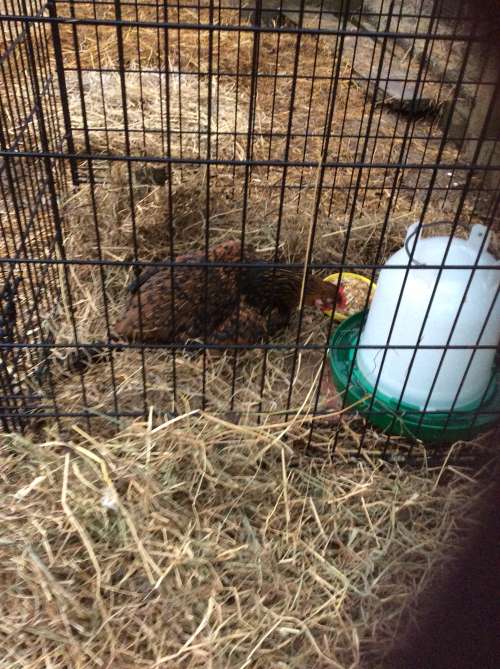 Random 6.
Birds of a feather really do flock together. When I purchased my flock, I ordered an assortment of rare breed chickens from Murray McMurray Hatchery. (totally recommend them, by the way.) I received several chicken breeds in twos. This injured chicken is Lola, a Red Cap Chicken. I also received another Red Cap Chicken whom we named Lotta. Lotta has been worried SICK about Lola. When Lola was first injured, she could not jump up into the chicken house when they all went to roost. Do you know who was hanging out with her? Lotta. She was like, "Come on. We've got to go. Get up. What's the matter with you? Come on…" Or, so I imagine. Lotta is never very far away from Lola. Same with the other pairs. They roost next to each other at night and hang out together during the day.
Random 7. Speaking of my chickens, looky what I found this morning.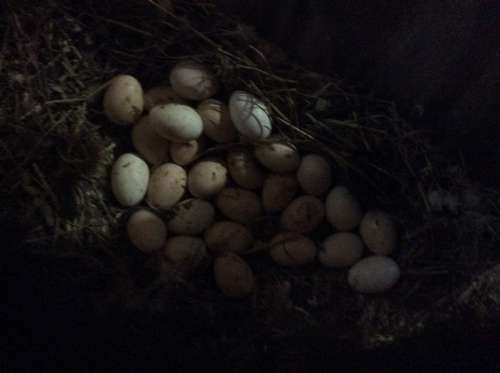 A stash of 27 eggs. They were hidden in the chicken house. I've been wondering! I've gotten one egg a day for several weeks now. I just figured they were taking the winter off. Confound. I guess I have to throw all these away.
Random 8.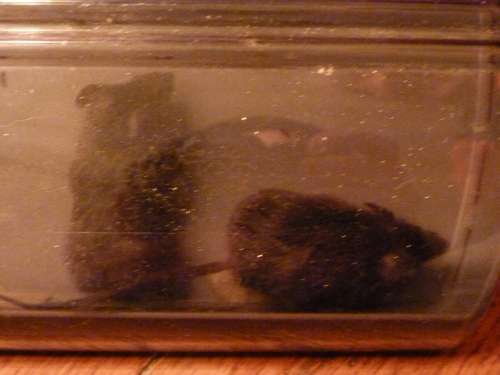 We have mice in our house. We caught 3 the other night. Here they are in the (live) trap. This explains a lot. A lot. A. LOT.
Random 9.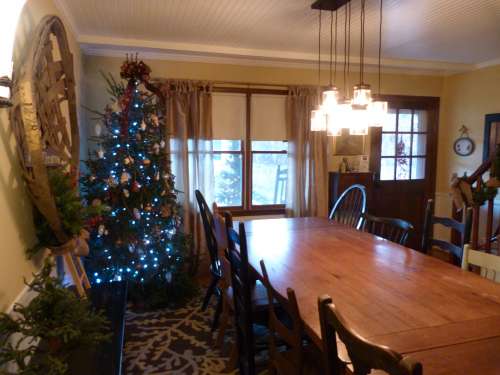 When I bought this table many years ago, I bought all matching chairs to go around it. Then, when I started planning a party for Christmas, I came up with the idea of ditching the matching chairs and bringing in all the chairs I could find. I went to the garage, the barn, the storage house. I gathered all the old chairs I had. I'm really liking it. Home-y-er. And yes, that's the tobacco basket I found in the barn hanging on the wall. I just gave it a good cleaning before I brought it in.
Random 10.
Polly's (our Polish Chicken) Shadow in the Snow.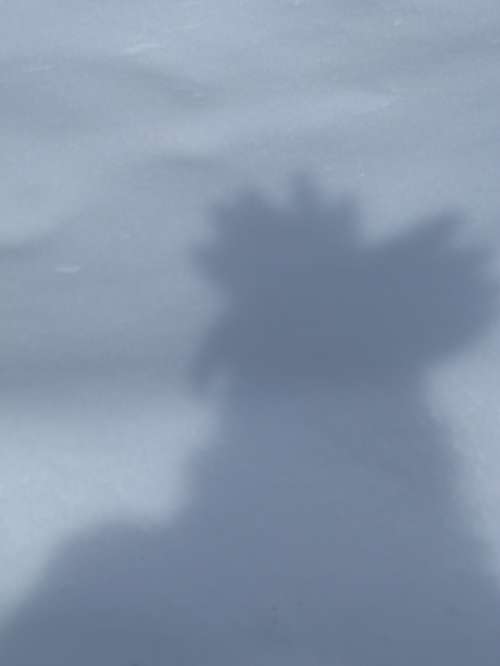 Random 11.
I don't know what to say about this. It's just so random. That is the tiny plastic baby that came in a King Cake. It looks like the wasp is eating it. The baby's hand is gone. I just don't know. Totally weird.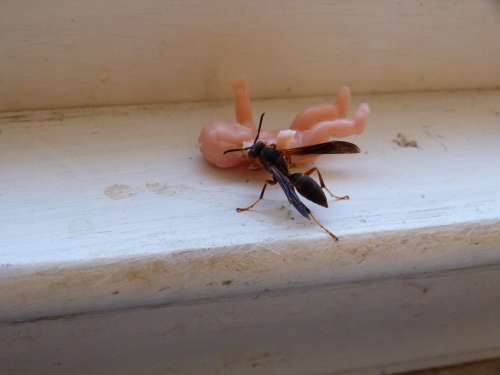 .
Random 12.
I took this photo last year, about this time, in February. This year has been mild and not snowy. Yesterday it was in the mid-60s. I want snow. I want snow. I want snow.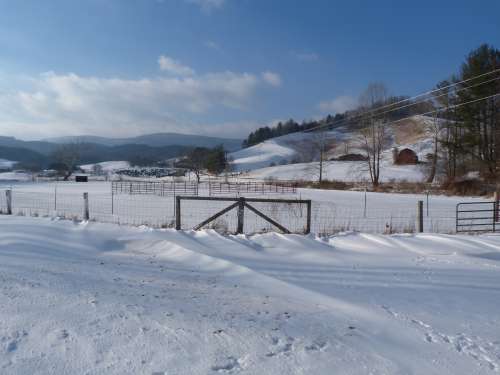 Random 13. However, I must say. In this area of the country, hay is scarce. So the lack of snow this year could be seen as a GIFT. You see, there was a late freeze last year and it messed with everybody's hay crop. I paid $50 for this round bale of hay. I don't like round bales. I like square bales. But "you get what you get and don't pitch a fit." (Learned that from my daughter's kindergarten teacher.) I am just happy to have some hay. Next year, I'm figuring out a way to harvest the hay that grows on our farm. Our farm with no name.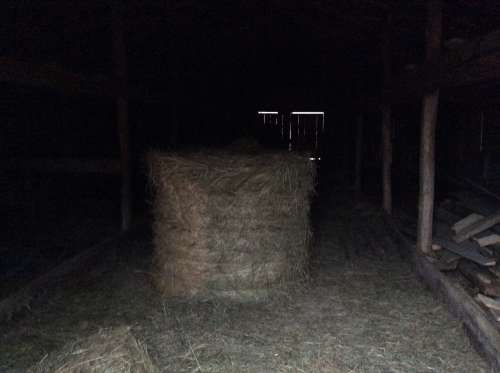 Random 14. This is Banjo. He's super cute and super stubborn. Half pony, half miniature horse. My husband babies him. He looks mad here, but he's not. He's hilarious and goofy and sweet.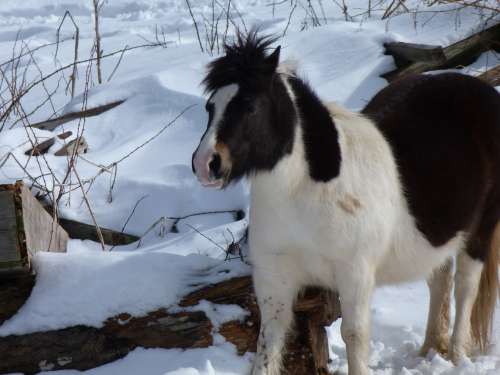 Random 15. Save the monarchs!! This is a milkweed pod in my milkweed patch I keep for the monarchs. This picture reminds me of that saying, "They tried to bury us. They didn't realize we were seeds." Love that.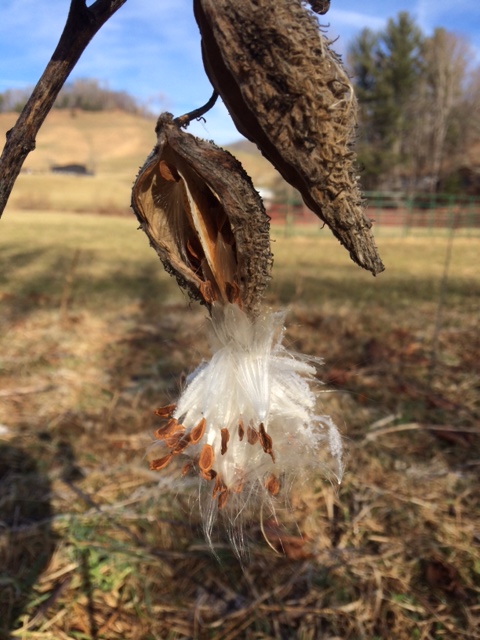 Random 16.
Who's to say why you fall in love? (Valentine's Day is right around the corner, you know.)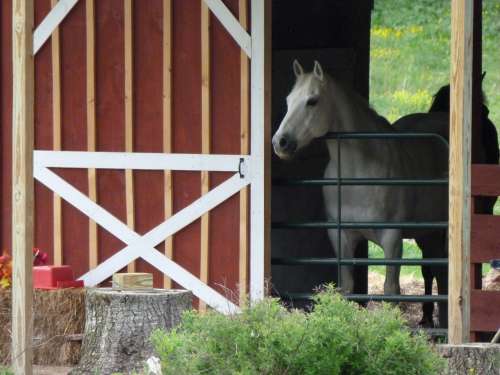 This is Merlin, the horse I love with every fiber of my being. Sure, I love all our horses, of course, don't get me wrong. But Merlin? He is my Soul Horse. He is THE ONE.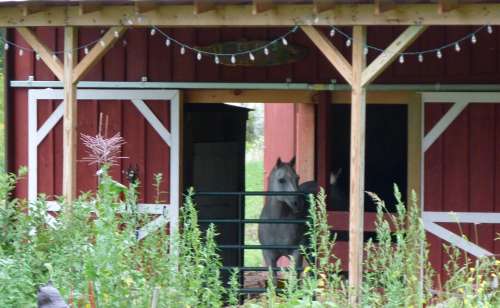 That plaque above him says "Merlin's Barn."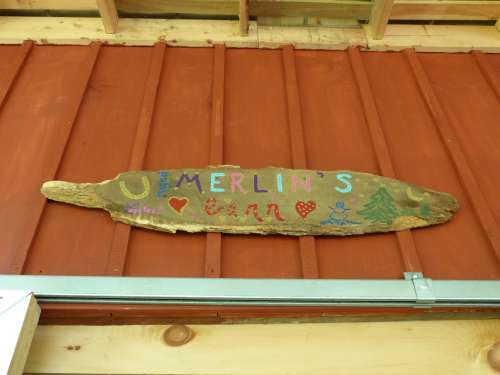 I know when I have posted about him before, many of you have contacted me to offer help and advice and to tell me what you think about me and Merlin and the person who sold him to me. I know many of you seasoned horse-people believe the match is all wrong because I'm a newbie and fearful and he's bold and vivacious and moody. I appreciate your trying to help me, really. I appreciate it big time. I love to hear what you (who know way more than I do about horses) think about us.
But. I have to say this: Merlin was supposed to come here, to me. He needed to come here. He needed the freedom and independence farm living has given him. He needed  time to recover from being a lesson horse. From being under-appreciated. From being messed with by young-uns all day long. He needed to be loved. He needed to trust. He needed to stretch his legs and run at full speed. He needed to experience what it was like to go where-ever he wanted to go, not just where someone told him to go. He needed to sow some wild oats. To experiment. When he came here, he was not wild. This farm made him wild. And bold. And vivacious. And I'm okay with that. I don't want him to be bored or depressed. He lived in a 12×12 stall for many years. I'm lucky enough to have lots of land and pasture. I want to share that with him and let him lead a life close to that of a natural horse. I don't want him to be spirit-less. I like him spirit-full. That's just me. I honor your various opinions about horse care. These are mine.
And, I think the world of the woman who sold him to me. I am thankful every single day that she allowed me to buy him. If she had thought he was too much horse for me, she would never have allowed him to come to me. There were plenty of other interested buyers. And look what I would have missed out on. I might have wound up buying a dull, personality-less, boring horse that would do whatever I told him to.
I would not have my Soul Horse.
Do you understand? At all? What I'm saying?
Merlin has taught me more about horses and herd dynamics than any other horse in my pasture. Merlin has taught me about me.
Yes, he may be too much horse for me to ride today, but he is the perfect horse for me today in every other way. And one day, I shall ride him too. But even if I never planned to, he's got my heart. Big time. That's the way LOVE goes, right. Through thick or thin. Good times and bad. He's here forever. No matter what.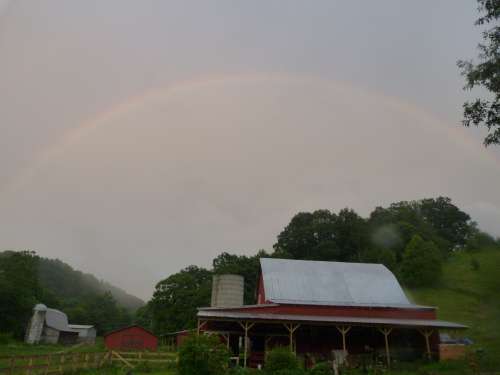 Random 17.
And this is me and Merlin, matching. His halter; my bracelet (in the middle.) haha. I know, I know. How obnoxious I am. Merlin just rolls his eyes at me.
As does my husband. And my daughter. And probably, my instructor.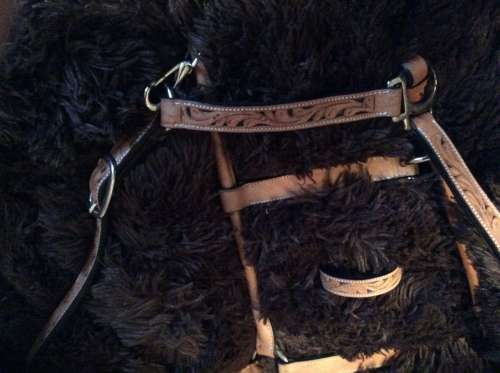 Random 18.
I took this pic of our farm with my phone one day last year. And then forgot about it.
Love the clouds, blue sky, green pastures. And red barn.
Just makes me smile.
And actually gives me a bit of ———–spring fever. gasp.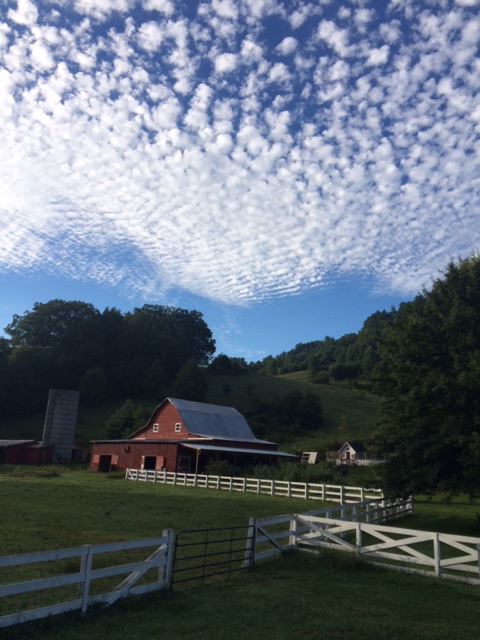 And Random 19.
My old bear, Seddy, with a message for us all.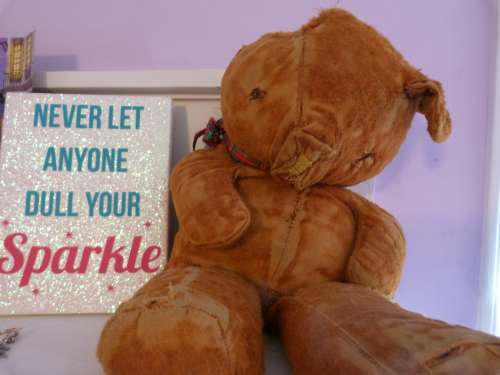 Anything RANDOM going on in your life? Tell it!
Until next time, Friends, savor the flavor of life!
Lots of love, The City Farmgirl (done moved to the Country), Rebekah