I've been twisting and shouting too much if you ask me.
I'm quite conflicted about the whole affair. You know, should he stay or should he go? Da-da-daaaa-da-da. We talked about this a few posts ago, remember? My barn snake. Some of you said–keep him! Others said–get rid of him! I was full-on conflicted about this snake. Until Saturday evening. Well, let me back up for a minute.

You see, now that I've got the chickens safely nestled into a chicken house and run, it was time to turn our attention to the horse barn. The horse barn, as far as we know, is the oldest outbuilding on the farm. Throughout the years, it was used to house and milk dairy cattle, to hang tobacco for drying and for storing all matter of things, like equipment and every single feed sack that was ever brought onto this farm. Ever. We think it was built before 1920.
Here's what it looked like when we moved here. This is the front.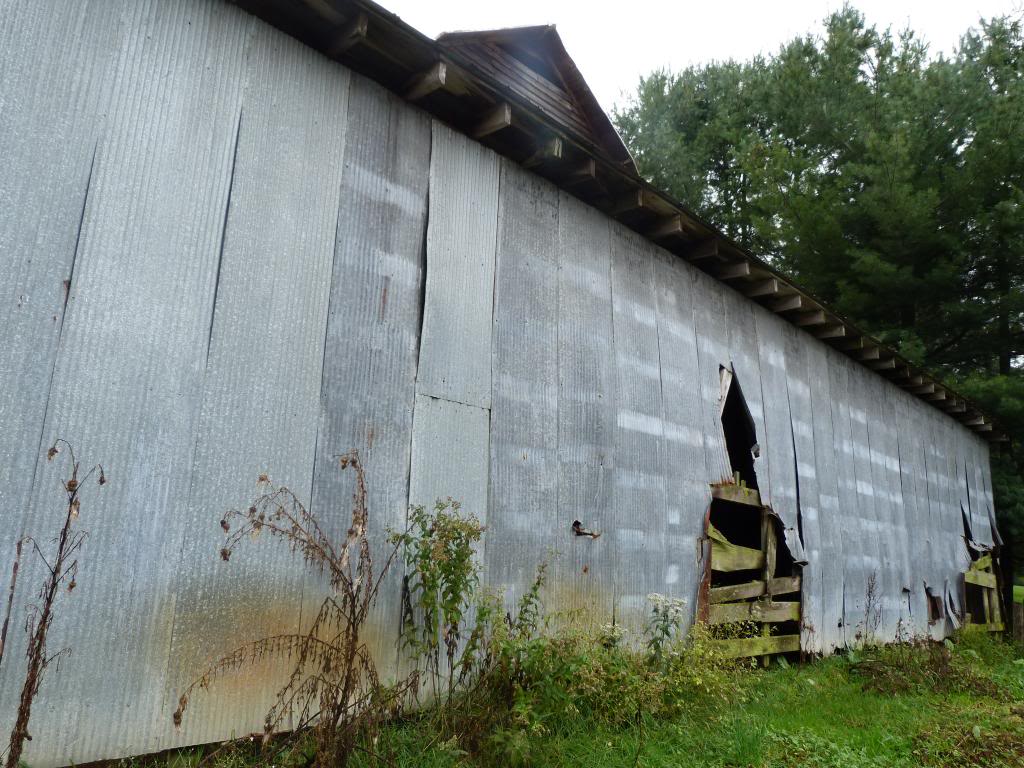 This is the side.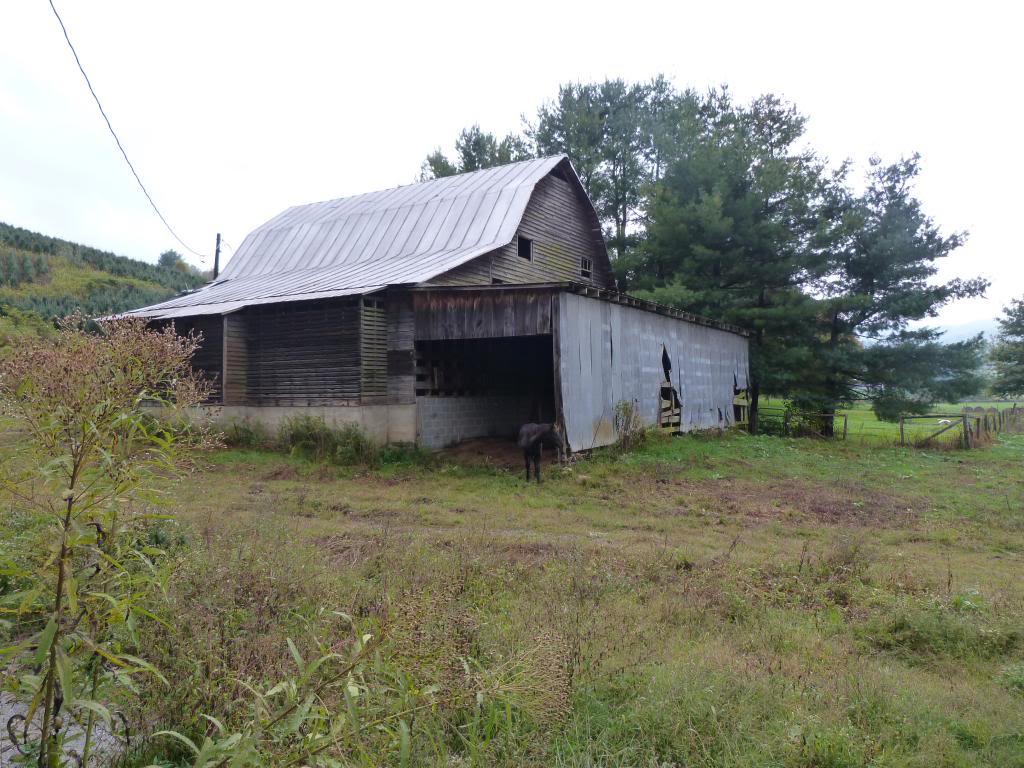 Yep, that's a corn crib to the left of this opening. Too cool.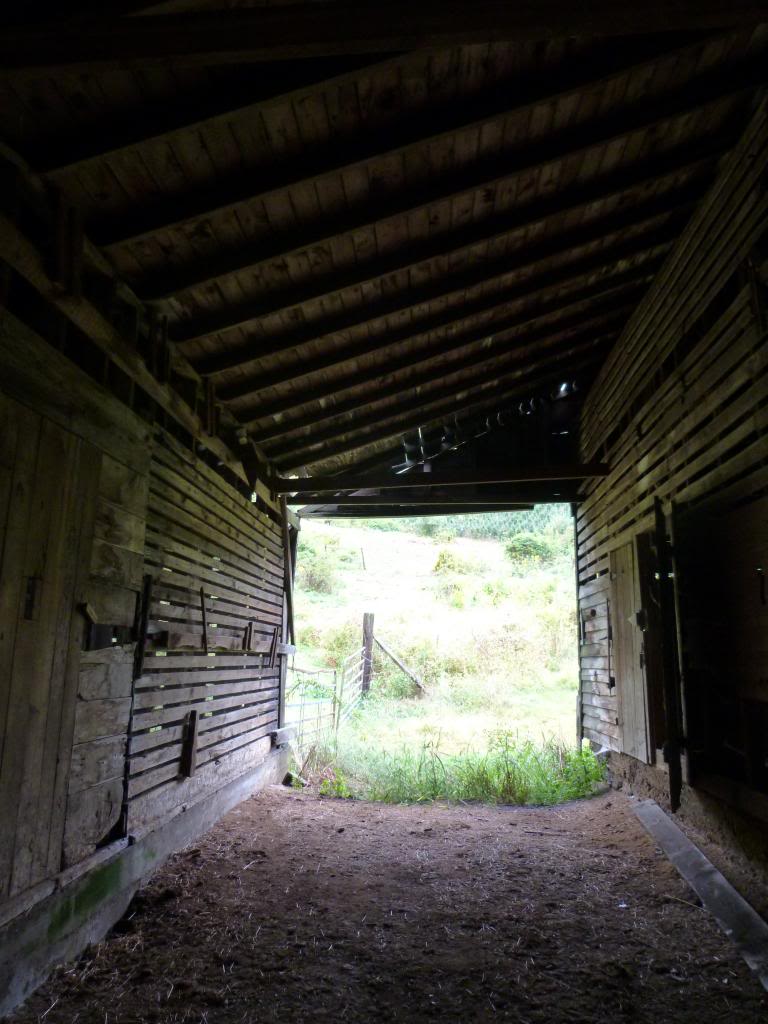 One of the bays.
Last year, we cut the "natural" holes in the front metal siding bigger so the horses could move in and out of them. They weren't our horses, but seeing such magnificent creatures living in such terrible conditions ON MY FARM bothered me. Cause, that's just me.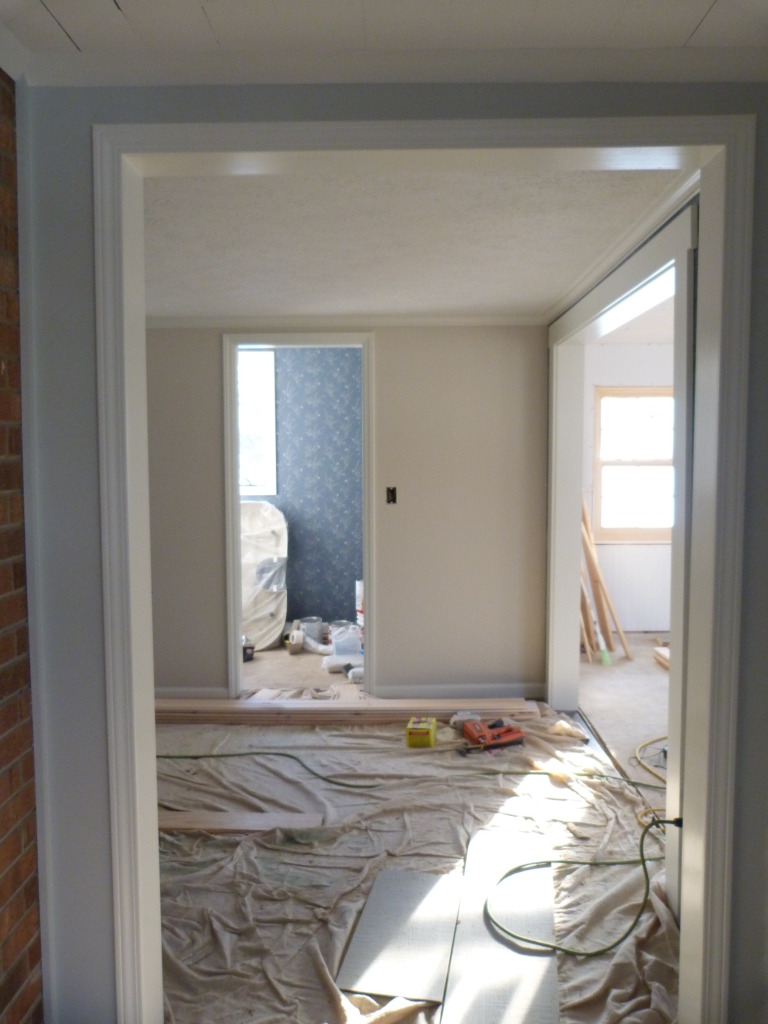 Then we replaced some of the rusty, yucky metal siding. I nailed old wood on the inside just to keep the snow and winter breezes out of the barn.
But, alas. It didn't look much better. So now we've decided to do a renovation of the horse part of the barn.
So we began the horse barn project.
AND. I knew when I bought this old farm that there were snakes around. Every old outbuilding had at least one snake skin hanging from the rafters. In fact, I told the house inspector to be on the lookout for evidence of snakes in my house. He found none.Which, of course, allowed me to live and sleep in the house, so we bought it.
Since we moved here, I've seen snakes down by the mountain creek, but never close to me. Until we began renovation of the old barn. I guess we have stirred up the snakes.
We had seen a black snake around every now and then and yes, quite frankly, it was freaking me out. I no longer felt comfortable sticking my hand into a "loaf" of hay, or under the saddle cover, or on a shelf in the barn that was higher than eye level. I had stopped going in the barn at night. Too scared. Every black cord, every black lead rope, every black metal band caused me to jump.
I want barn cats, but so far my husband will not agree. He, with good reason, believes the barn cats will wind up in our bed and become bed cats. So, so far I am stuck with the snake.
A friend told me the other day that he had seen our black barn snake and that it was not just a regular black snake. It is a black racer, he said. And then he told me something that gave me chills, "You'uns need to be careful because a black racer will stand up on its tail and chase you." Oh really? Holy crap. And then he added these three words to the already horrifying tale: "Like a cobra." That's just what I need, a snake that lives out my nightmares: raises up and chases me all over the farm on its tail. "Like a cobra" "Like a cobra" "Like a cobra": I kept hearing his words in my head.
"I know where it's living, too," he said. "In that pink cat house in the barn." Really? My cat, Gracie, has a pink house with a fuzzy pink pad inside. She didn't show any interest in it when we moved here. Instead, she sleeps on the top bunk of the doll bunk bed beside the window in my daughter's room. So, the pretty pink cat bed, with the fuzzy pink pad inside was put in the barn. A black snake now lives there. OMG.
A worker on the barn told me he had also seen the snake. "It's very friendly," he said, "it might have been a pet at some point. Maybe there was a boy who lived here before you." Oh great. Well, I guess that figures since it is enjoying the pink fuzzy pet bed.
I was talking about the black snake to some old timers. "They're good to have around a barn," one older man said, "They keep the pois-ness ones away." "Yeah, well, they bite too," I said.
"Nah, they don't," he corrected me, "They have velvet for teeth."
"VELVET TEETH? Wow!" I couldn't believe it, but kinda liked the image. For some reason it made me think of all that Elvis velvet artwork sold on the side of the road, so I mentioned that and laughed. "Oh. I meant to say Vel-cro," he said.
Vel-cro was okay too. Better than the fangs in my imagination.
Here's the only picture I've captured of the snake. That gate behind him is a 6 foot gate, so that shows you how long he is. And under that board, where he is headed, is the pink cat house. Now I know that is where he was going.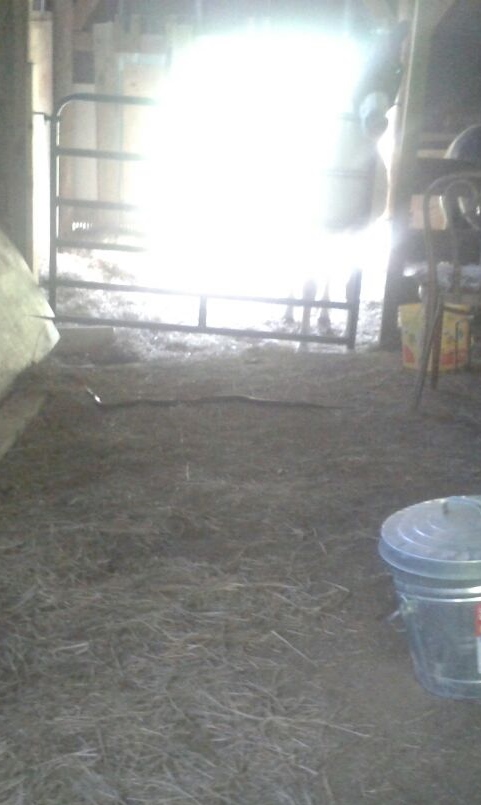 So any way. Saturday night I was gathering wood to burn on a bonfire. We are STILL trying to get rid of the pile of pine rubbish in our yard from cutting down those 12 large pine trees beside the barn. I leaned down and picked up a stick and it was the snake! I slung it away from me and started running and lo and behold I stepped on it and it came up and hit my ankle. I thought it had tried to bite me, and I screamed bloody murder.
I THOUGHT I WOULD DIE. I screamed and squealed louder than I probably ever have in my life. SHOUT!!
I ran as fast as my legs could carry me. I was totally freaked out. I could not accept what had just happened. I had picked up a long, black snake. I had slung a long, black snake. I then stepped on a long, black snake. And then a long, black snake hit my leg. People. Tell me it was just a horrible, horrible dream. I ran and I screamed. And then I fell. And I twisted my knee. TWIST!!
But I tell you. I felt no pain. I got up and I ran as fast as I could to the house to find my husband. I was about to have a heart attack.
He calmed me down and I went to take a bubble bath. To rid myself of the snake cooties. And to try to relazx. And then I made a cup of hot tea. But I could not sleep that night, just thinking about that snake and seeing that snake in my hands.
And the next day, Sunday, I went to church. And I thanked God that I didn't have a heart attack when I picked up that snake by accident. But the weird thing. On the way out of the church, we all heard a loud clunk and come to find out an elderly woman had fallen on the floor at the back of the sanctuary. We think she had a heart attack on the way out of the church. Some things make no sense whatsoever. Don't even try.
When I got back home, I was outside (not close to the barn, btw) and I stumbled and fell again and twisted my knee again. With no adrenaline shooting through my body, I felt the pain immediately. My knee blew up like a balloon. I'm now doing what the medical experts on the Internet tell me to: RICE: rest, ice, compress, and elevate. I wonder how the snake is faring. I wonder if I injured him when I stepped on him while I was running away like a crazy woman. I wonder if he is following the Internet doctors' advice as well?
My question is still: Does the snake have to go? Or will I make peace with it now that I've handled it and lived to tell the tale? Will he spend the winter in my cat's pink house in the barn? Will I relocate him? I don't know, Y'all. I just don't know. These are questions I don't have the answer to. He eats the mice that ruin my stuff in the barn. I know, I know. But I also know that it has freaked me out every time I go into the barn. My reins are black. My lead rope is black. My saddle is black. Electric cords are black. Metal bands are black. I have freaked out so many times THINKING I saw the snake. I really am leaning towards the snake needing to be relocated. Don't ask me exactly how that happens.
But I do know how the barn project is progressing. What do you think so far?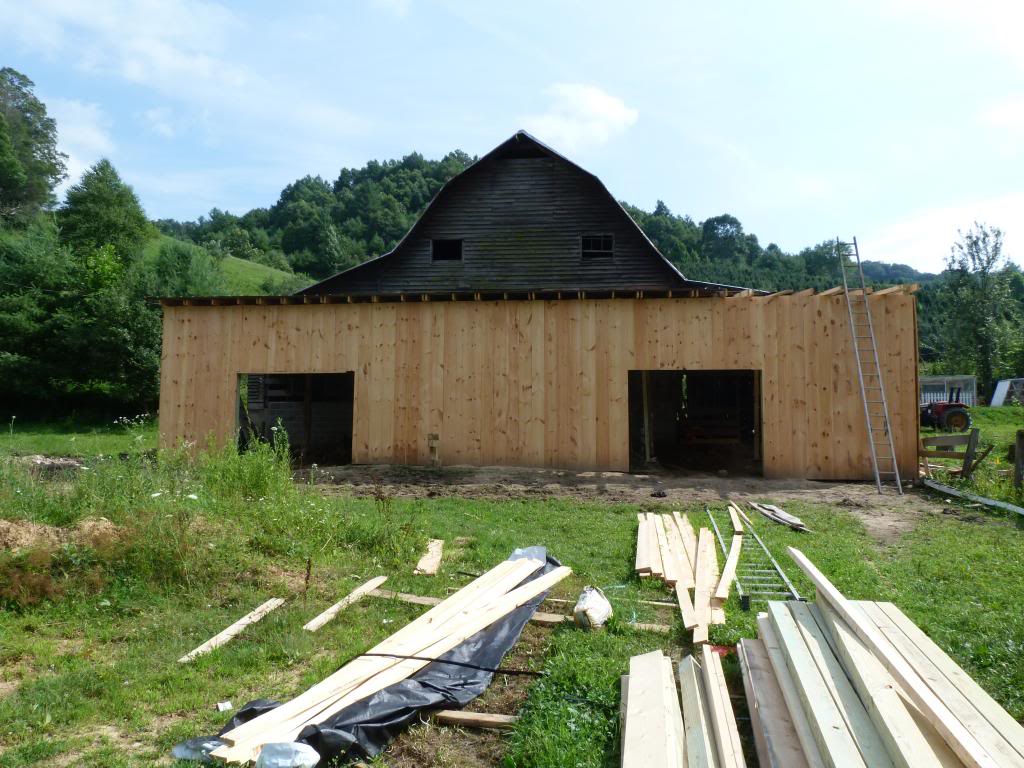 YAY! Getting there!
I can't decide whether to paint it red or white. Any thoughts?
I'm thinking that I want to make a "barn quilt" to hang on the front in between the doors. I was thinking about hanging it sideways, in a diamond shape. Here's a terrific website on barn quilts: http://barnquiltinfo.com/
I thought I'd have a Christmas themed quilt since we have a Christmas tree farm. Or a Great White Horse, since my Horse rules this farm. But I don't know. Any ideas? What should I put on there? (Don't say black snake, please don't say black snake….)
Until next time, Friends, savor the flavor of life!
Lots of love, The City Farmgirl, Rebekah, Twister and Shouter