"The best remedy for those who are afraid, lonely or unhappy is to go outside, somewhere where they can be quite alone with the heavens, nature and God….I firmly believe that nature brings solace in all troubles."
What do you do when you feel that way? Afraid, lonely, unhappy? How do you make things better? Hey-if you feel any of those things right now, don't read this post.
Go to see this video instead. Put it on full screen and then watch.
http://www.ted.com/talks/louie_schwartzberg_nature_beauty_gratitude.html
And after you watch it, come back here and we'll visit for a while. And then let's follow Anne Frank's advice and go outside. Let's get up from this computer and head to the door, if only for a few minutes.

Did you watch that video? It's a huge wow, isn't it? I never thought before about the dance of the flowers, the movement of their opening. Just wow for the whole thing, the images of nature he captured.
I enjoyed the advice from the speaker, Benedictine monk Brother David Steindl-Rast:
Learn to respond as if it were the very first day of your life and the very last day.
Begin by opening your eyes and be surprised that you have eyes to open.
Look at the sky.
Look at the faces of people we meet. Each one has an incredible story behind their face.
Open your heart to the incredible gifts that civilization gives to us.
Everyone whom you met on this day will be blessed by you: By your eyes, by your smile, by your touch, by our presence.
Let the gratefulness overflow into the blessing all those around you.
Encounters with nature always touch me deeply, create a gratefulness in my being. Sure, I talk a lot about dancing in this meadow…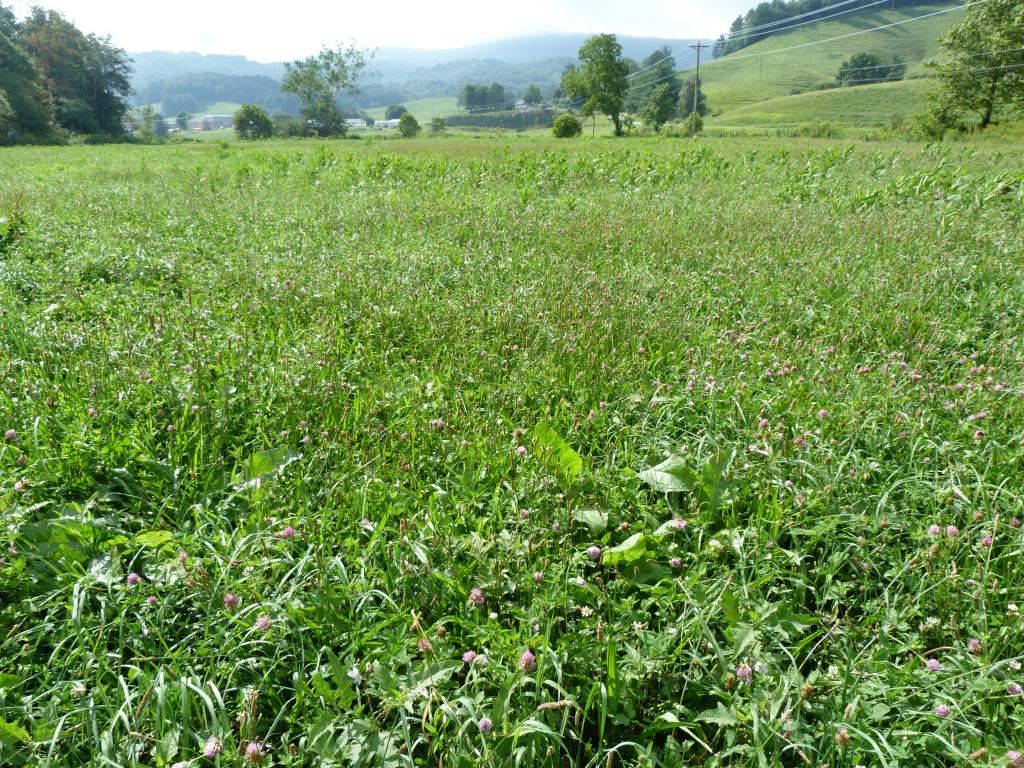 But my most profound encounters with nature are still, quiet, silent, reflective, alone. You want to bring me to tears with emotion? Set me by a campfire on a chilly summer's night, with thousands of fireflies flitting through the night, the moon lighting the night, and the stars twinkling all around. I'll get quiet on you. Does that happen to you? You feel closer to God and the universe in certain settings?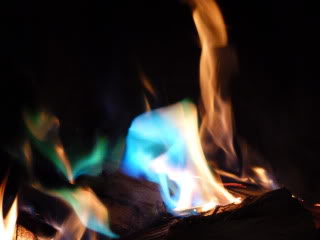 MAPLE LEAVES.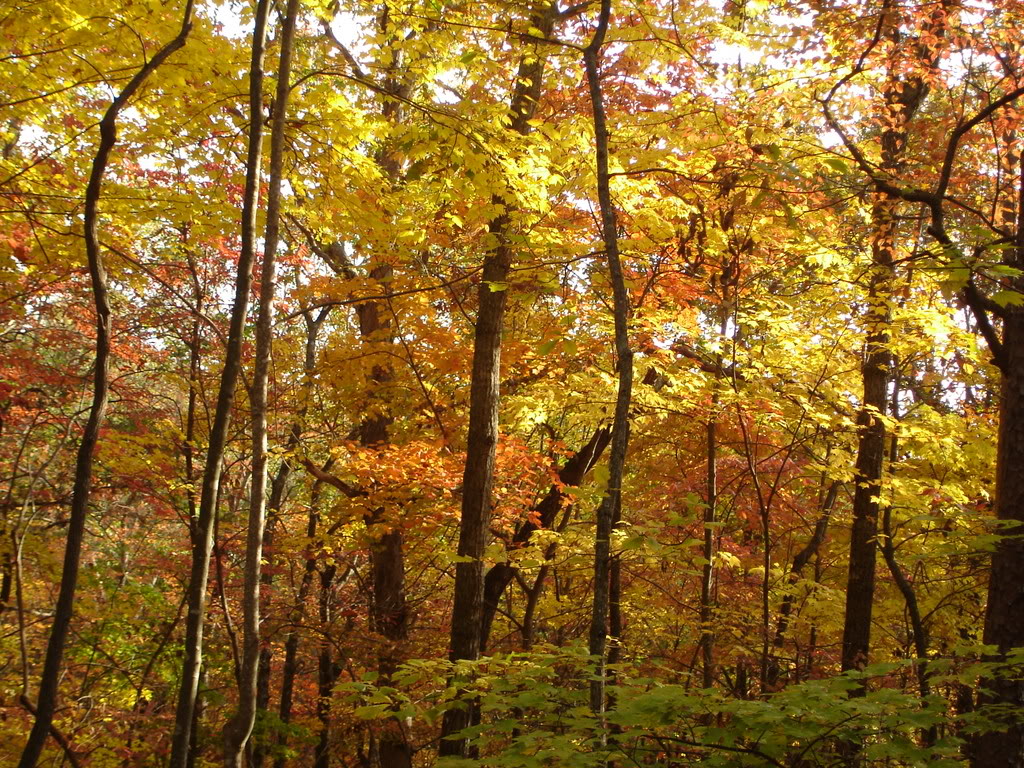 Some of my most vivid childhood memories are being outside. Scuffling through fallen maple tree leaves on a school playground, argyle knee socks and my older sister's hand-me-down saddle oxfords. I can smell the crisp air just remembering. Every season brings a different aroma in the air, have you noticed that? Autumn is probably my favorite when it comes to aroma.
DOG. Strudel is laying on a chair close-by, HER chair. Just now, her legs and feet started twitching, dreaming about being outside, I bet. Chasing a chipmunk or squirrel through the yard. Taking care of animals is taking care of nature. I love this child. When she came to live with me, she saved me.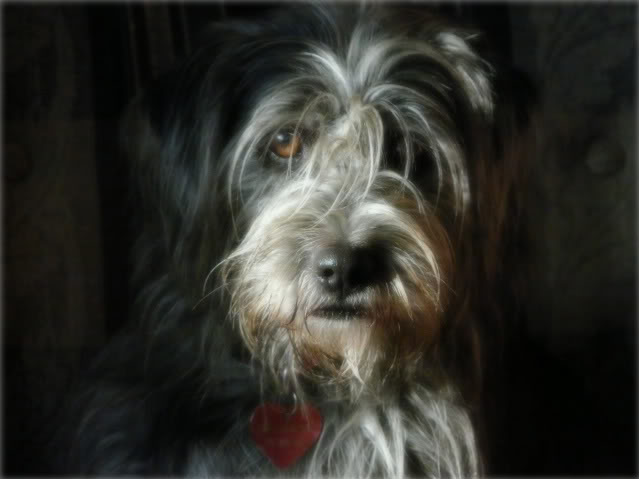 FAMILY CAMPING. Camping trips with my family were awe-inspiring experiences. We loaded up into the car, pop-up tent behind, and headed somewhere interesting. The Smoky Mountains. Washington DC. Florida to see relatives. We spent our days outside, the pop-up tent was 1960's era: just for sleeping. We scouted the woods for kindling, firewood, signs of wildlife.  My brother is just 15 months older, so we had a big time goofing around and doing nothing important. No agenda, no worries, no cares. Just us and a creek or woods to explore. I was always felt a tiny bit uncomfortable at night in that tent. Would a bear visit our campsite again? Would I have to go to the bathroom in the middle of the night and get outside alone? Were werewolves real? Or Big Foot? I knew, though, that my father could handle anything that came along.
MY PLOT OF LAND. I remember clearly one project at school that was very meaningful. It was called "My Plot of Land." We were required to block off a small piece of land, something like 5 feet by 5 feet. We marked it off and then went to sit it in every day for a period of time. We took our notebook and a pencil and we sat there and wrote essays, poems, stories about what we saw, heard, felt, believed. I wish I could find my old notebook from that. I bet I have it somewhere as I HAVE NEVER THROWN ANYTHING AWAY. EVER. Just ask my husband.
COWS. Some of my favorite memories are going out to my father's family's farm with my Dad to feed the cows on cold winter days. That's really when my desire to not eat cows developed.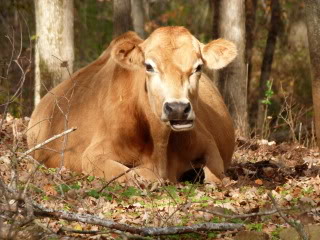 I enjoyed being in the field, in the hay barn, on the back of the tractor. I'd beg my Dad to let me ride in the back of the truck and sometimes he would. To this day, I will never turn down the chance to ride in the back. Ever. Here's my Grandfather's, then my Father's truck. I hope to ride in the back of it again one day.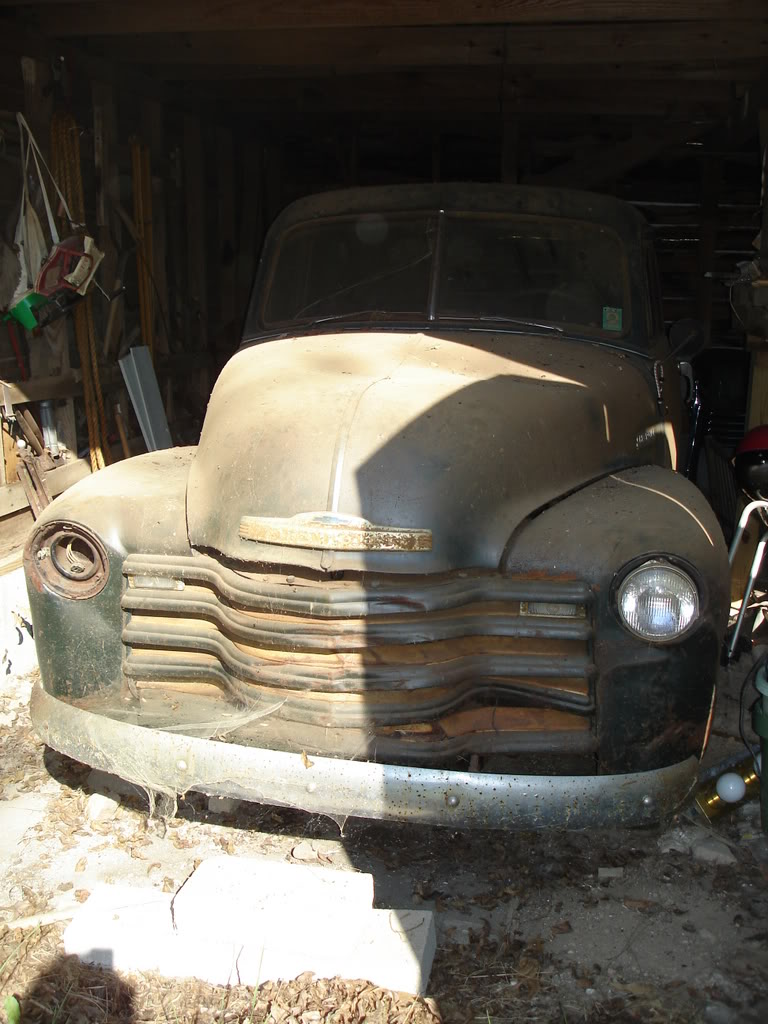 I had a hard time enjoying nature in the last place we lived. It was loud with traffic, busy with development, full of people. I think that way of life made me appreciate even more this one.
LAUDS. Here, at this farm in the country, it is different. I love to get my cup of coffee and head outside. There is a path that I enjoy walking with my dog, Blue. It leads up the hill behind and house and provides such peace to me. Morning prayer. Lauds.
There's always something new to see.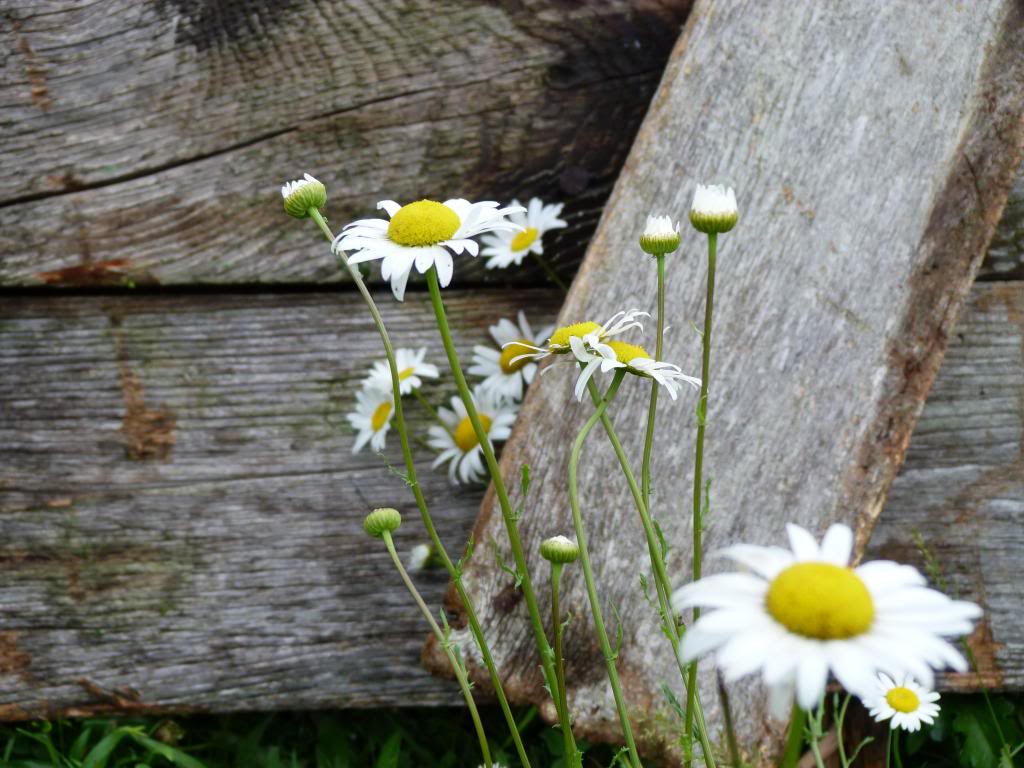 CHICKS. These days, I'm heading to the chicken house for that Morning Prayer. I don't think I will ever tire of seeing those chicks, who were born less than three months ago, jump out that coop door the first thing every morning. They are exuberant and thrilled and excited about the day. (I'm still hoping one of my hens turns out to be a rooster.)
PARENTS. My Dad and Mom came up to visit and my Dad built my chicks a fabulous roost in the chicken house.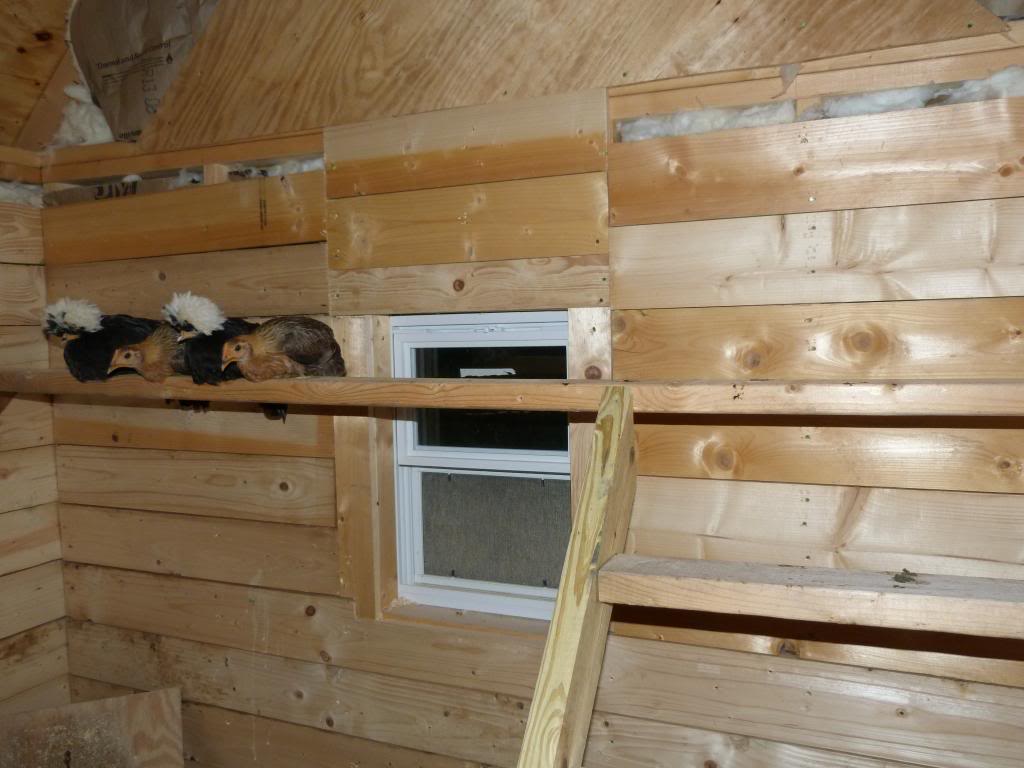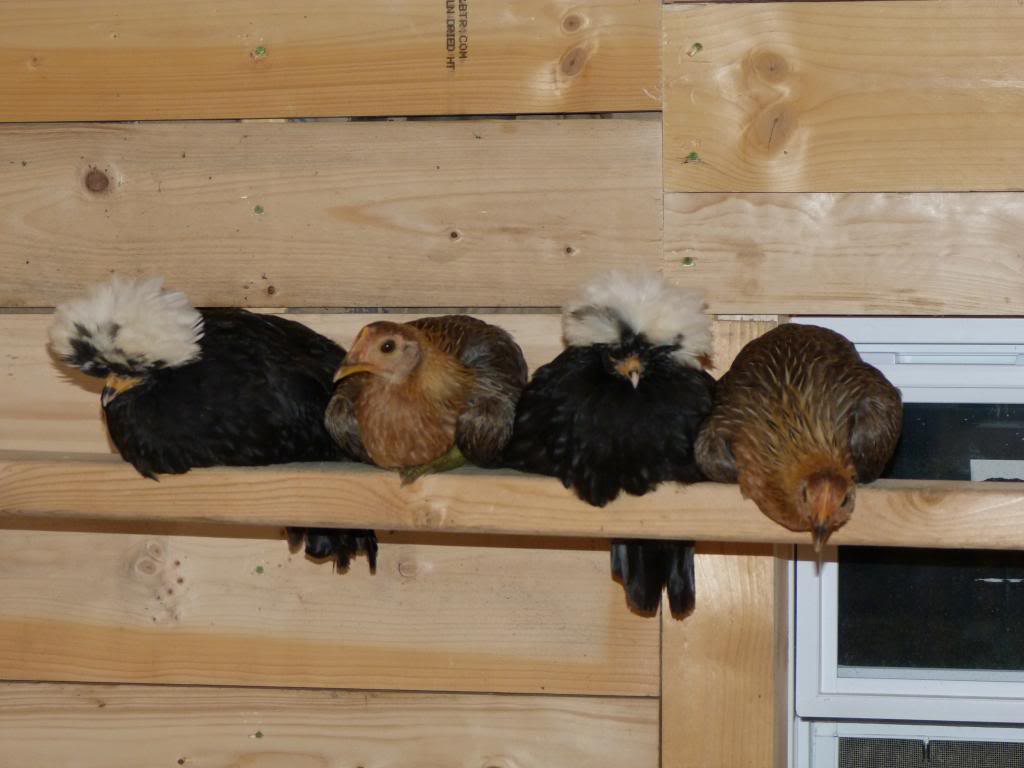 WAGONS. I'd like to do this some time. A wagon train comes in front of the house every now and again. Does that count as connecting with nature? It does to me.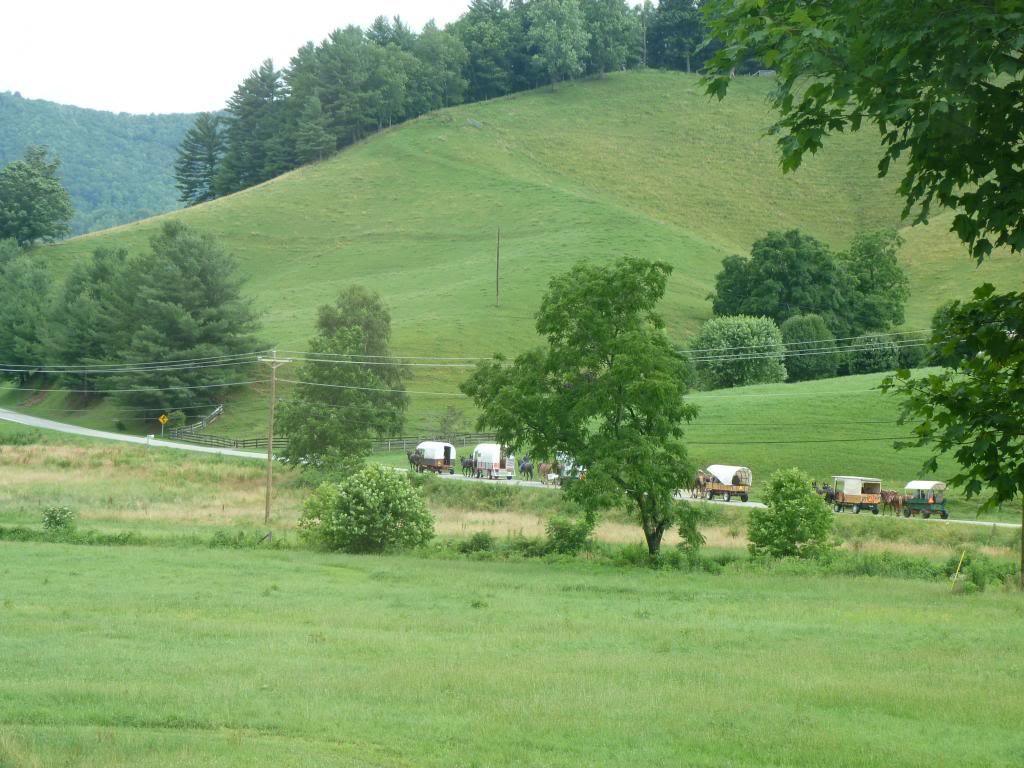 ASHLEY. My horse trainer and instructor (I call her my horse whisperer) said to me, "Why don't we plan a camping trip with the horses ? We could stay a couple of nights on a trail."
Here was my reply: "Do you know who you are talking to?! I'm not that person. I dream of being that person, but I'm not there yet."
I want you to know that I'm working on it. Yes, I want to be able to sleep in the woods with my horse. I do indeed want to be that person. One day. One day for sure I'll get there.
"Everybody needs beauty as well as bread, places to play in and pray in, where nature may heal and give strength to body and soul."
John Muir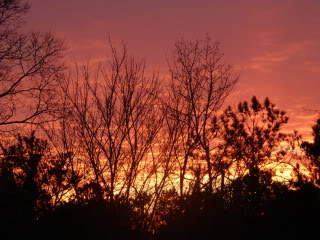 Let's try to open our eyes and see.
I find that some people drag me down and others pick me up. I want to be the picker upper for those I encounter. I'm going to try harder to BE the blessing.
Talk to me. Then, let's head outside.
Until next time, Friends, savor the flavor of life!
Lots of love, The City Farmgirl, Rebekah