This spring, I'm stuck like glue to my Farm.
And I'm okay with that.
Don't ask me to go on an overnight hiking trip. Don't invite me to make a presentation at a conference. Don't even ask me out to lunch right now.
Because I'm stuck like glue to this Farm. There is so much going on, I can't slip away even for a little while.
I was stuck like glue even BEFORE this morning. But now. Oh my!
I'm sitting in my retro '70s bathroom with a plastic tub full of chicks. I'm not going anywhere! I'm in LOVE. I'm a new CHICKEN MOM and in LOVE.
I ordered an "Ornamental Layer" collection of 15 hens from Murray McMurray Hatchery in Iowa. Here's what they say about the collection on their website:
"We are now offering a special combination of chicks from our Rarest of Rare Assortment and Top Hat Special which will be FEMALE BABY CHICKS! Nothing like this is available anywhere else in the world! Imagine buying such things as Cochins, Campines, Red Caps, the exotic Polish varieties, and many many more in pullets only. Best of all: you can buy this ORNAMENTAL LAYER COLLECTION and save money! We are putting a special price on these female baby chicks much lower than what you'd have to pay to get them individually. We guarantee you at least 8 different kinds in each order of 25. If you are short of space, or don't like to hear roosters crowing but still want the most unusual of the world's exotic poultry breeds, try our ORNAMENTAL LAYER COLLECTION.The supply of these is limited so please order them as early as possible."
I was SOLD!
Plus, I ordered one Black Jersey Giant because my daughter had seen that breed of chicken at the local feed and seed and thought it was adorable. And, the hatchery also sent a bonus bird, so I've got 17 chickies in my bathroom. If you had told me 2 years ago that I'd be living out in the country on a farm in a dreamy old farmhouse sitting in a tiny '70s bathroom babysitting new baby chickens, I would not have believed you!
As is my habit, I didn't read the directions fully on this chicken order. I ordered for shipment on 4/22, or so I thought. I figured they'd ship out on Monday morning and be here around Wednesday. I got an email on 4/21 Sunday morning at 5:00 am saying my birds had shipped. WHAT?!
As I reviewed the information in the McMurray catalogue, I saw that they ship out on Sunday, taking the babies to the airport in a box and that most people receive their babies on Monday morning. !!
So on Sunday, then, I got my hubs to help me set up the brooder, the place that will be home for the babies for a month or so. We don't know what we're doing, but Hubs is very smart and very handy. (And very handsome too, so what a package, right!) I emptied my plastic bin full of the tablecloths and Hubs cut the lid. He then built a frame and we were going to put some 1/4 inch mesh on the top. We know we have some somewhere in our garage! Couldn't find it!
When I finally read ALL the directions, I learned that we needed to hang the brooder lamp 18″ from the floor of the brooder. This was a challenge. What could we use? Hubs finally located a heavy duty clamp with a hook and we moved the brooder beside the undersink cabinet. We hung the clamp on the door and hung the lamp from the clamp. That will work until we need to raise the temperature.
Precious birds. I have no idea what kinds of chickens these are. There are two with a yellow puff on top of each of their heads, like a pom-pom hat. Very cute. There is one yellow bird with fluff on her legs and a black and yellow one with fluff on her legs. I am really liking the mystery, surprise element of this collection.
All I can say is this: I'm scared to death. It's tough when you are ignorant to the way of the BIRD and are raising them. I'm trying to remember that their REAL mama had a smaller brain than I do~so, perhaps, I can pull this off.
We got the call from the Post Master that "THEY" had arrived while I was driving my daughter to school at about 7:25. I went by the PO on my way back home. My drive home is curvy one, up and down and around mountains, so I went extra slowly. I didn't want the babies stumbling all over each other in the box. They were so noisy. Cheep, Cheep, Cheep, Peep, Peep, Peep. I didn't know that I'd be picking them up this morning, so Blue the Dog was with me. He was very interested in the noisy box in the front seat. I called Hubs and asked him to mix up the electrolyte sugar water so it would be ready when we arrived (about 30 minutes away).
I got them home and opened up the box, holding my breath. I was nervous that one or more had died on the trip here. No! They were all alive and looking energetic!
I didn't have Chicken Starter food though. I had stopped at a feed and seed store over the weekend and they only had medicated chicken starter. I needed non-medicated chicken starter because I had the birds vaccinated when they hatched. I headed out this morning to another feed and seed store and found it. Thank goodness! Man, I am learning a lot about chickies.
On my way to the Feed and Seed, two big beautiful Belgian Draft Horses were out in the middle of the road. I thought I knew whose they were, so I made a phone call. I wish I could have stayed and helped, but I needed to scamper and get my new chickies some nutrition.
I picked up the Chick Starter, Chick Grit,a thermometer for the brooder, and an extra brooder bulb (because that's the kind Mom I am~worry, worry, worry. Last night when I should have been sleeping, I was thinking about all the things that could go wrong. One thing I thought of was if the brooder bulb burned out and I couldn't get another one–remember I live out in the country.)
So far, so good!
The brooder lamp is a red light, so the photos are weird.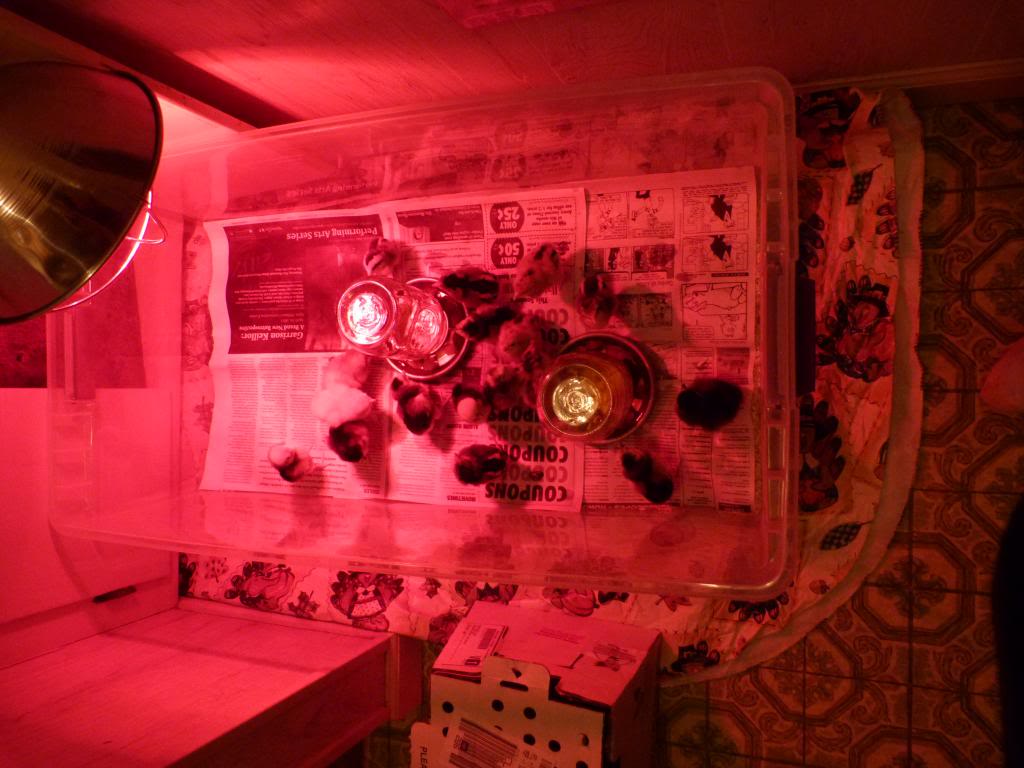 This is an aerial shot from above. You can see the little box they came in. It is in the lower part of the photo with the holes on top. A box o' chicks.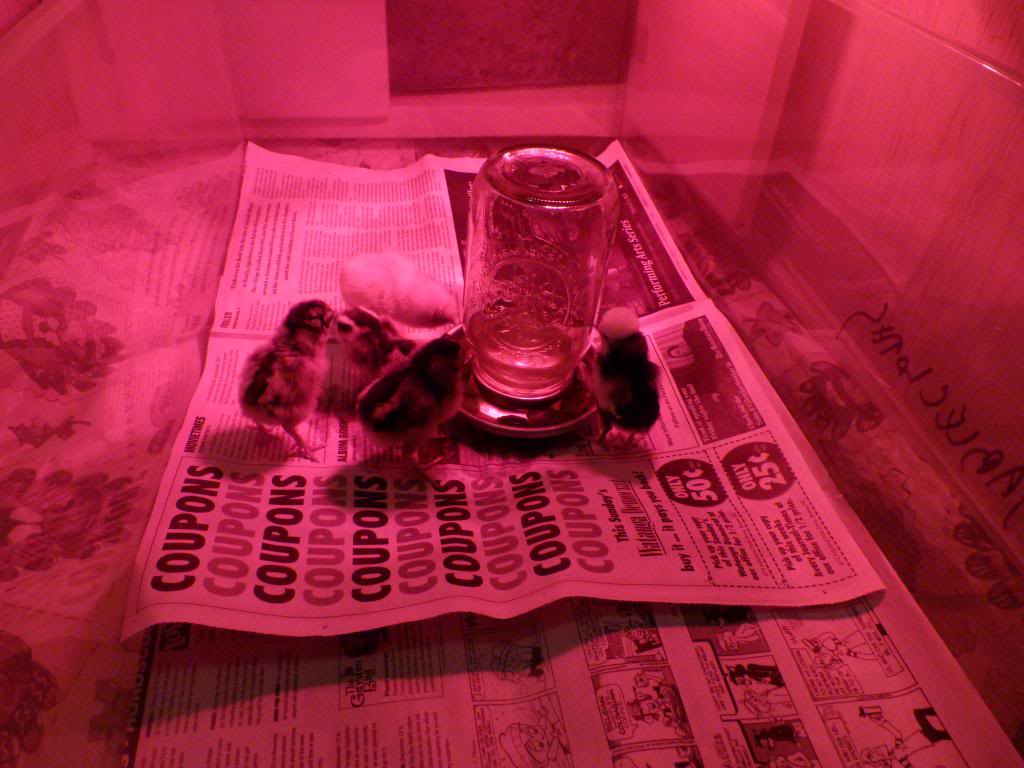 As I took each baby out, I checked its bottom (as I was told to do) to see if I needed to clean it. Then I dipped its little tiny beak into the electrolyte sugar water. No bottoms needed cleaning.
I turned off the red light for a minute so I could take a decent picture for you.
Get ready to go, in your best girly voice, "Aw…………."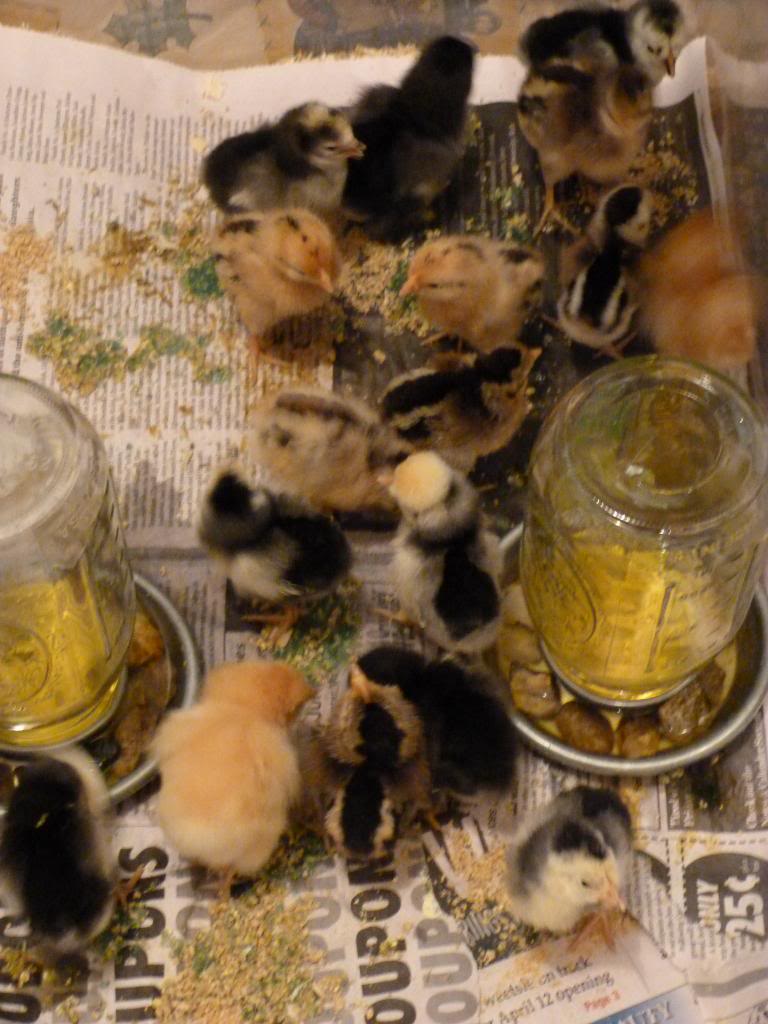 See Pom-Pom head? There beside the waterer?
Aren't they PRECIOUS!!!!
There are rocks in the waterer to prevent a weak chickie from drowning when she is drinking. The woman at the feed and seed told me about that little trick.
So the chickies are one reason I'm stuck like glue to this farm. Good reason, huh!
Another reason I'm stuck like glue to my Farm is the visiting ducks. We have a fast moving mountain trout stream in front of our house. I've seen a couple of wood ducks swimming down it, and a mallard of two, but the other day I saw two beautiful white ducks.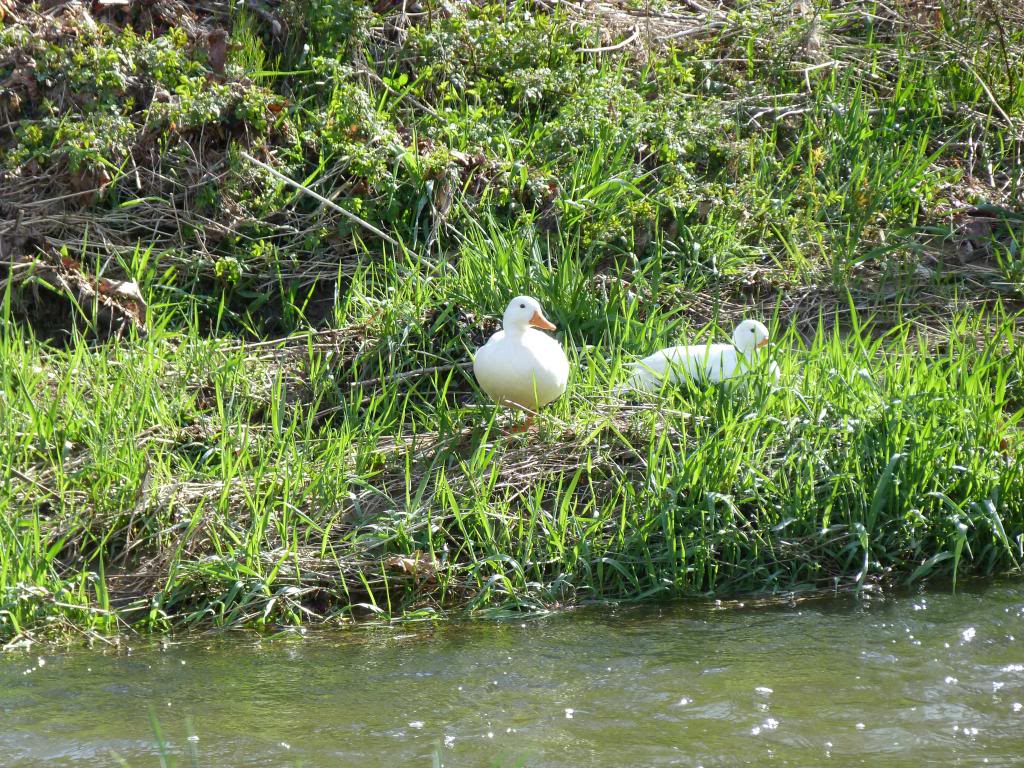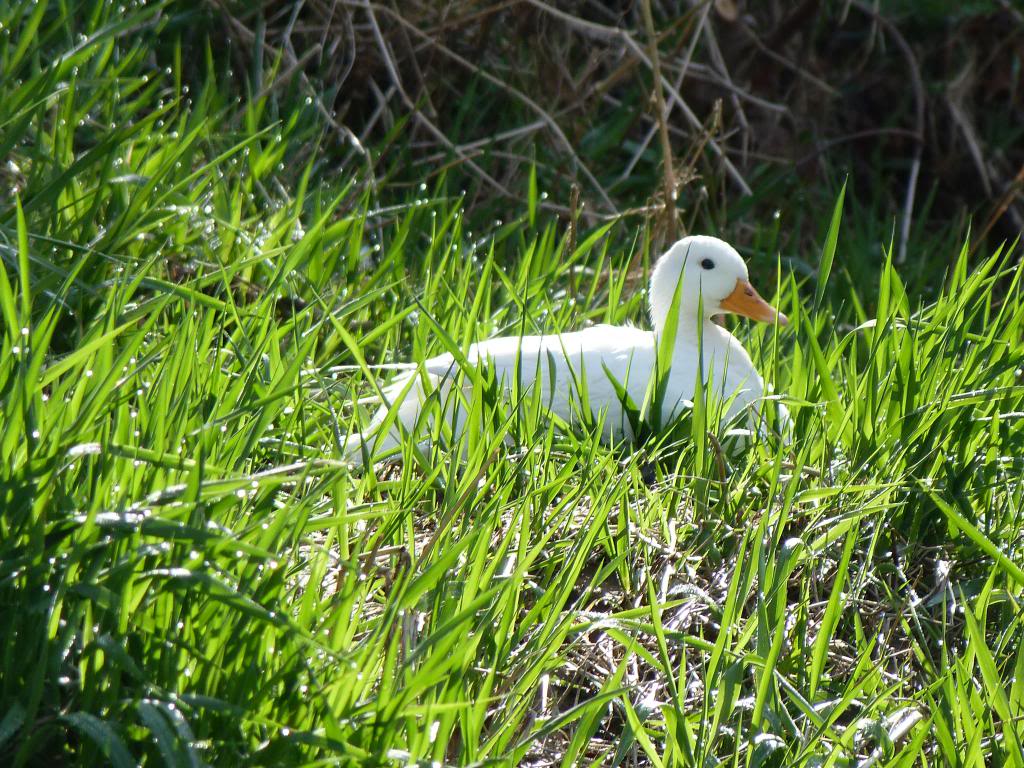 I turned to my wise and willing FaceBook friends and they thought the ducks might be Easter ducks that someone dumped. Another wise friend thought perhaps they were Call Ducks.
I gotta tell you. I have no idea.
But the next day they were gone. I was disappointed.
Then, the next day they were back. Yay! I looked up what to feed them and made them cooked oatmeal, a boiled egg, and some bread. I put it out by the stream and they ate it. Or someone did. I didn't actually SEE the ducks eat it; but it was all gone when I got back home.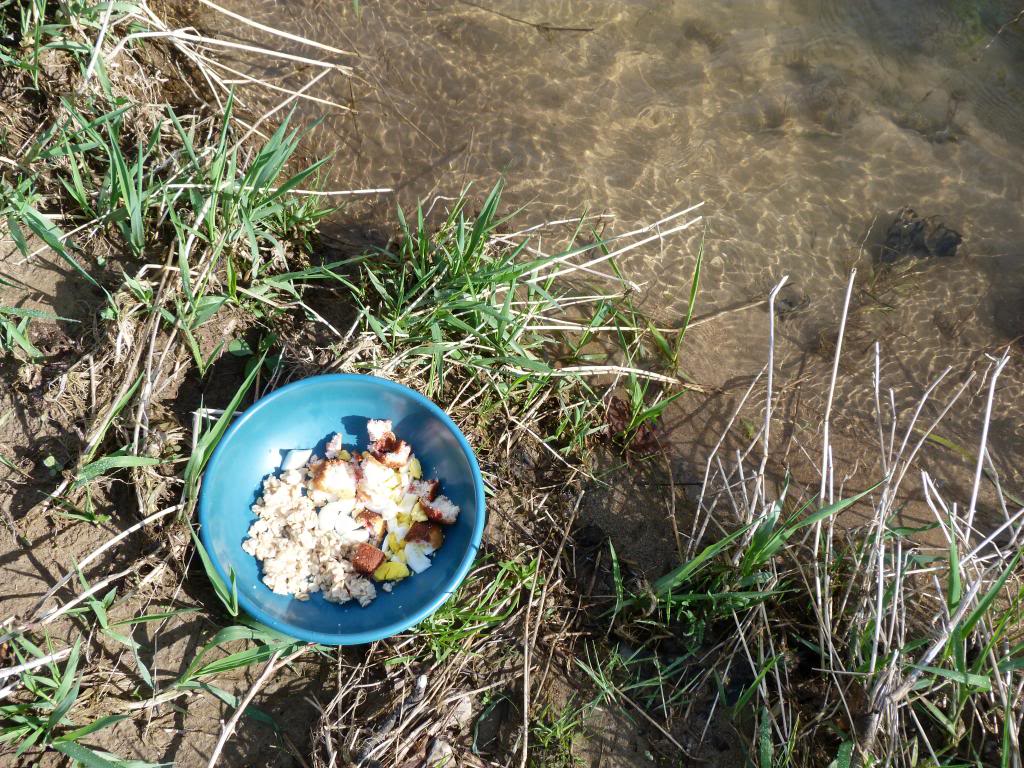 And today, so are the ducks! It's driving me crazy. I either want them to stay or to go. None of this indecision on their part. Do I need to care for them and worry about them or not? Hubs and I already decided to dig a shallow pond for them beside the stream IF they are staying. Maybe they'll be back this evening. I hope so.
So there's the CHICKIES and the visiting DUCKS. Yet another reason I'm stuck like glue to my Farm are the tadpoles.
We found them in a ditch on a farm road that leads to some Christmas trees.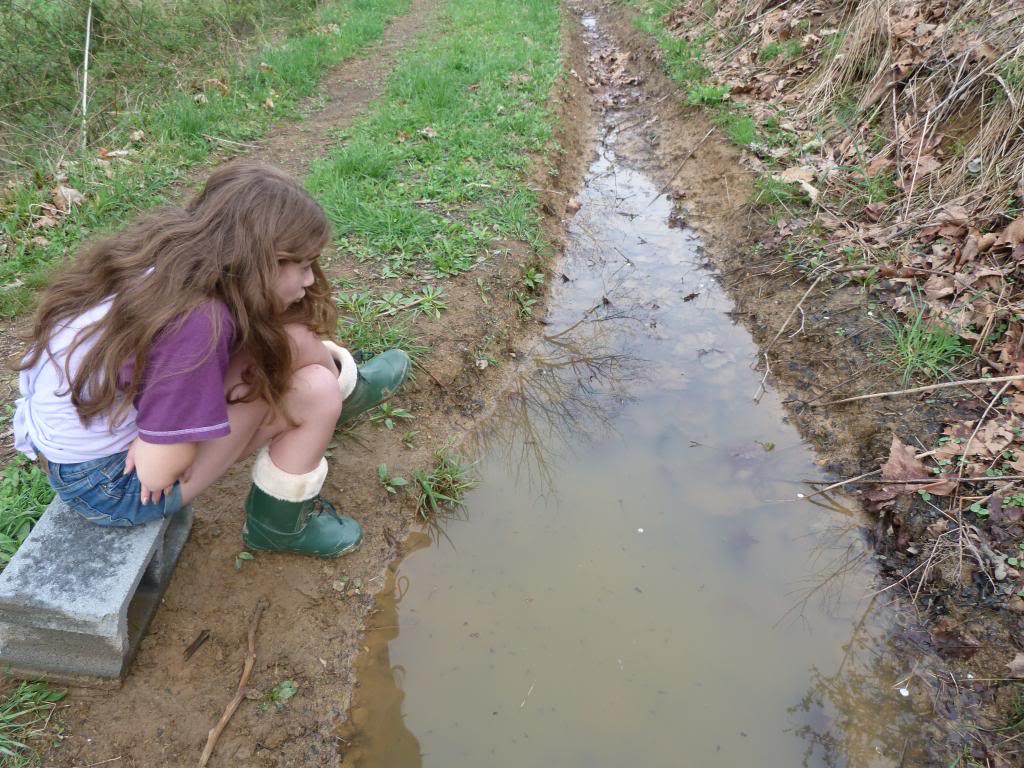 There are hundreds of them in this little ditch.
While we were looking at them, Mom stuck out her head to catch a breath. At least I THINK this is Mom.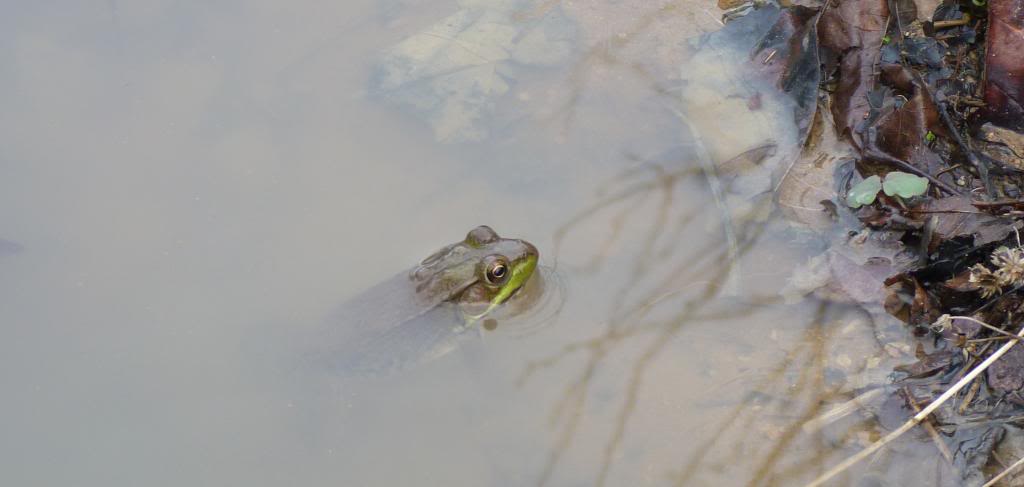 And then here comes Dad. At least I THINK this is Dad.
Good froggie parents! They are staying in the ditch with all their babies.
I zoomed in on one of the tadpoles.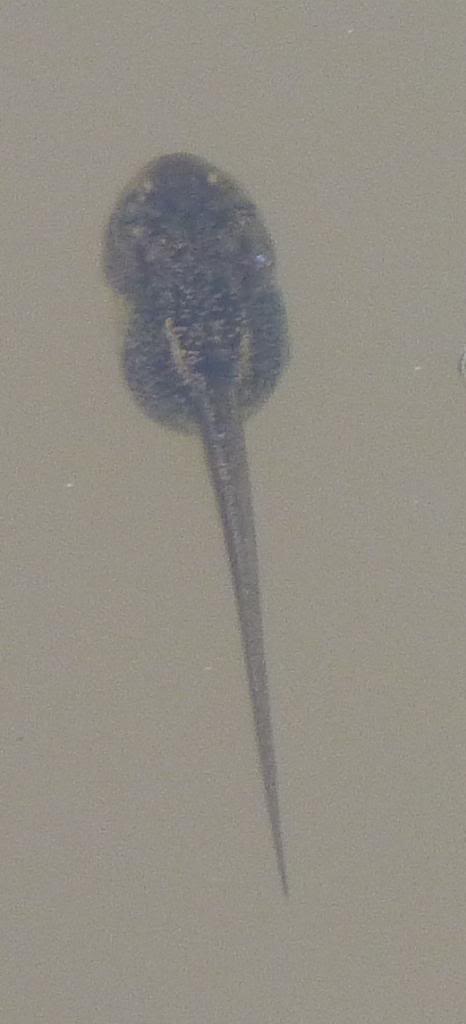 They have some growing to do. We go out every day to check on them. I've got a plan if the water gets low. I'll go to the creek with a bucket and bring some to them in the ditch.
Chickens and Ducks and Frogs, oh my.
And of course, our 3 horses too.
It's beginning to look a lot like a FARM around here! Yay for that.
Until next time, Friends, savor the flavor of life!
Lots of love Y'all! Rebekah, The City Farmgirl