Sing a song of sixpence, A pocket full of rye,
Four and twenty blackbirds, Baked in a pie.
I have mad crows on my farm and I have mad fish.
(I, however, refrain from mad-dom as much as possible. Some days are easier than others.)
My little Disney dog, Strudel-Doodle, is a loving, kind dog. She is easy to get along with and loves everyone. Except. For. The. Crows.
Strudel-Doodle hates crows. I don't know how this prejudice against crows developed, but it is strong and it is sure. She came to me with it. Hawks? no problem. Robins? whatever. Canada Geese? bring them on. But crows? Oh my lands. She goes mad, the crazy kind. She becomes mad, the angry kind. She chases them out of the airspace over her yard. Something about crows.
Oh, I feel rather sorry for the crow that actually lands in our yard. Strudel-Doodle becomes a maniac. One day she found a crow's feather in the yard and she ripped it to smithereens. Take this, and this, and this. Very violent.
After her crow chasing, Strudel's worn out.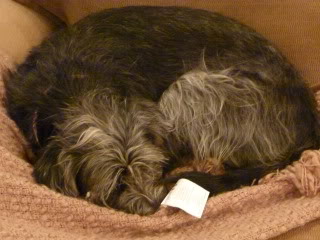 Here at the farm we have many, many crows. There is a large flock that lives in the line of pine trees beside the barn. They fly in and out of the trees all day long.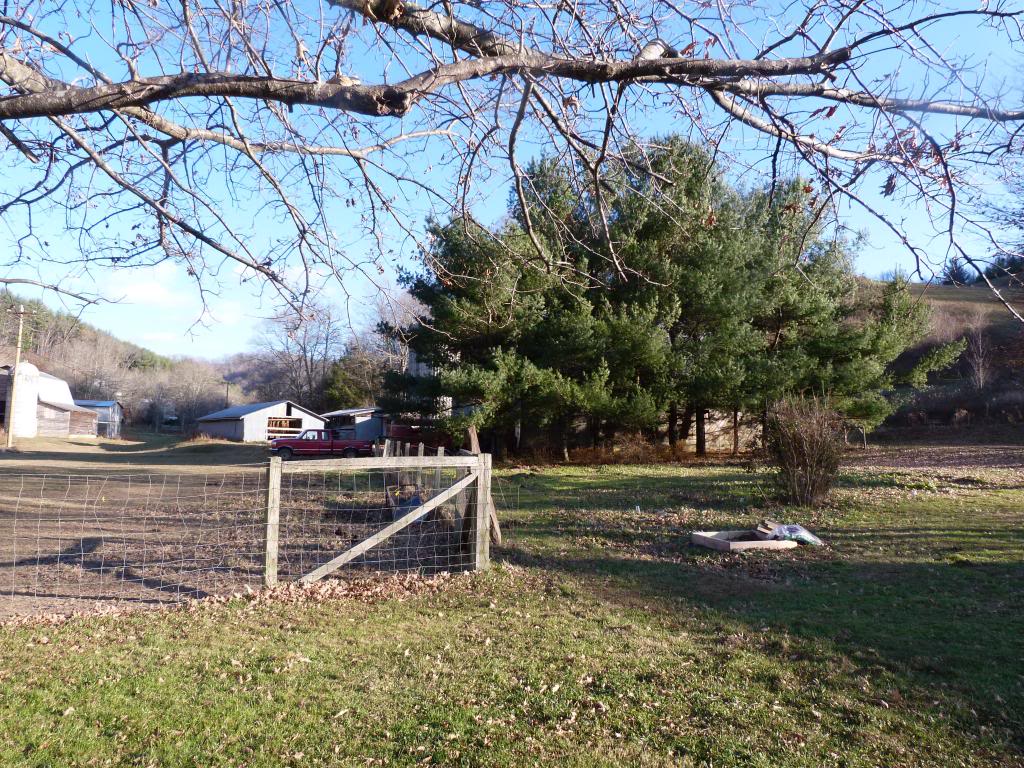 They sqwark and they caw and they carry on. That mass of pine trees is their home base. I watch them as they fly around the area and "dumpster dive" into the horse manure compost pile beside the trees. Strudel terrorizes them as much as possible every chace she gets.
And that line of pine trees, their home base, is WHY the crows on my farm are mad.
Behind them is a barn. A barn that was built a long, long time ago, perhaps before 1900.
The shade from that line of trees was right on the old garden spot. I had hoped to revitalize that garden spot for my own garden, but it is far too shady from the trees.
I was also very concerned about the branches or a WHOLE tree falling on my barn. Pine trees are notorious for falling down in strong winds and hitting things you like. Cars, houses, barns. Pines are not strong like oak; they are soft and weak.
But still I hated to take them down without being certain that I should. I know many of you had previously commented that I should leave them there for the wind break that they formed.
Well, I've looked at that line of trees for almost 6 months thinking, "Why were those pines planted there in that line beside the barn?" I thought surely the answer would come to me. I was not about to cut them down until I understood why they were planted there in the first place. Afterall, the folks who had this farm before me were heirs of the orginal owners. They knew what they were doing on a farm (unlike moi).
Recently, a neighbor supped with us. The conversation turned, like it has with everyone who has visited us, to that line of pine trees planted so very close to the old barn. I asked her if she knew why the trees were planted there in the first place. She said that she believed that they were planted to block the view of the barn.
Block the view? Well, that is surely one thing I want a view of. One thing I've dreamed of seeing out my window. A barn. Now this barn is old and it is rickety, but it is a barn and it is mine. And heck yeah, I'll take every view of it I can get.
So at last, a decision was made. See ya, pine trees! Adios!
Elwood (doesn't he have the perfect name for a wood guy?) arrived one morning and by noon, all 12 trees were laying down.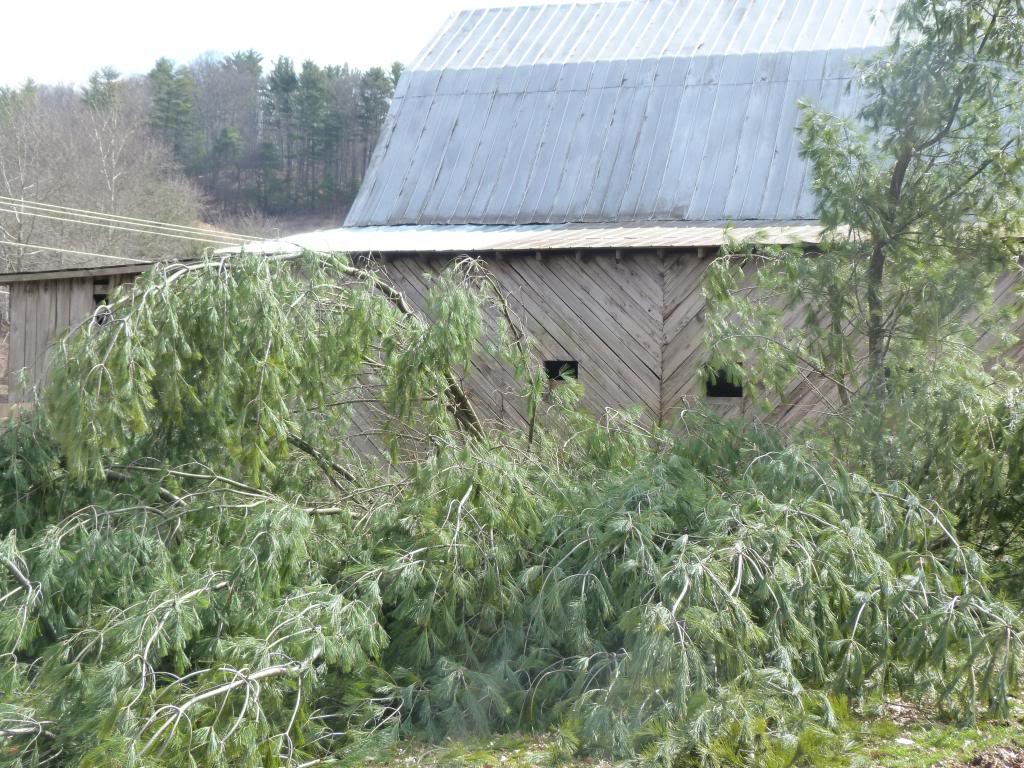 See how this one is leaning towards the barn? It was only a matter of time before a strong wind would come along and drop this tree on something I like: the barn.
Here is the last one standing. It shows you how wonky they were growing.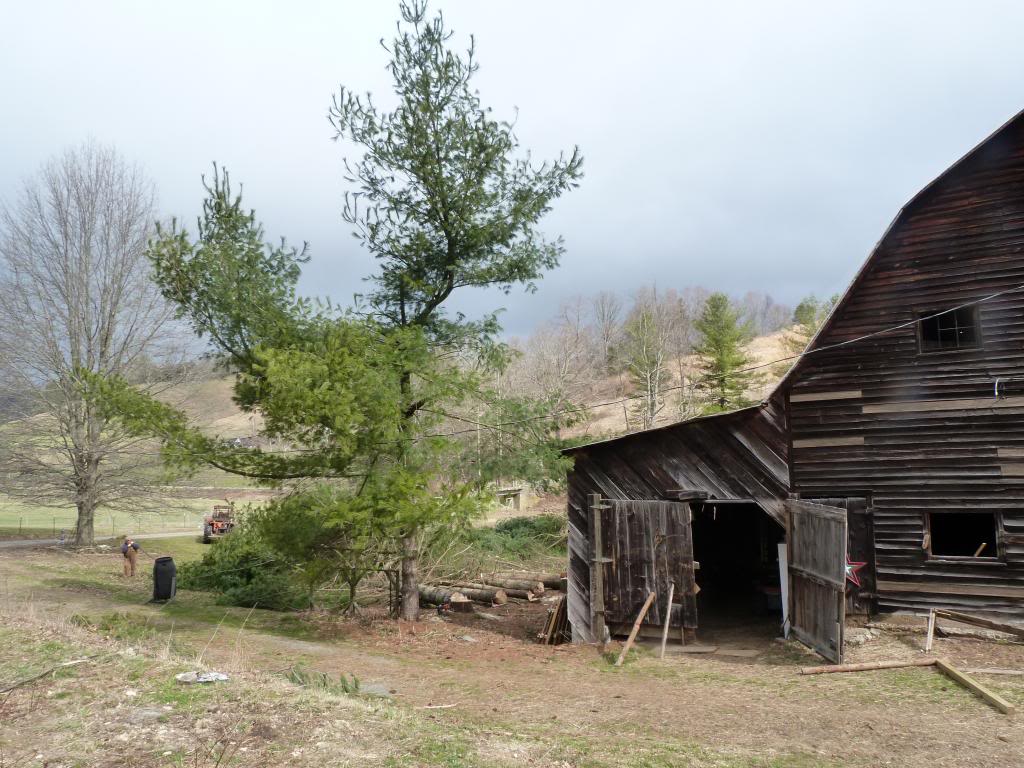 Every kid I know is drawn to downed trees. And yes, I had to do it myself, walk on them.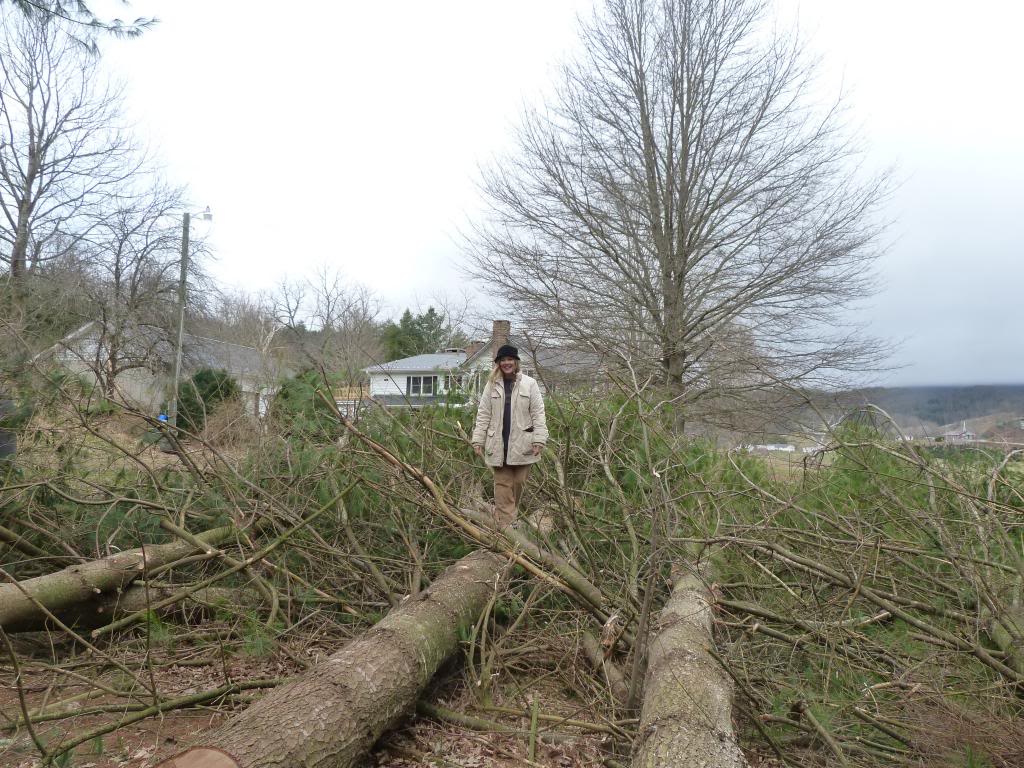 And then Elwood brought out his saw mill.
And he milled. And he milled. And he milled, milled, milled, milled.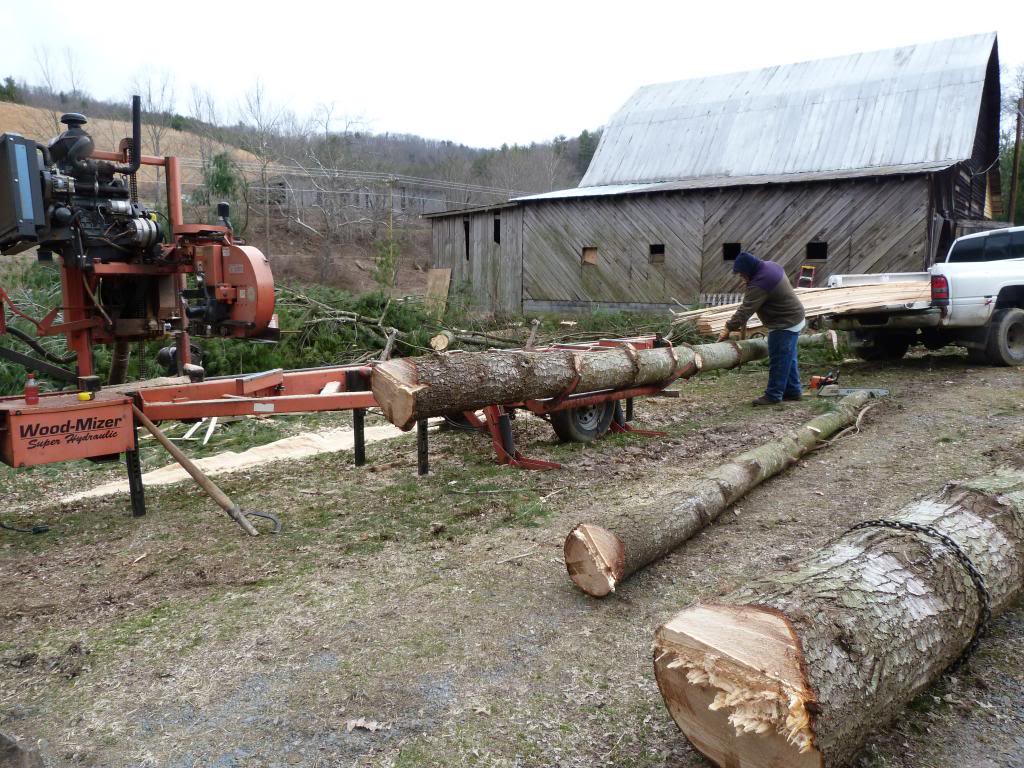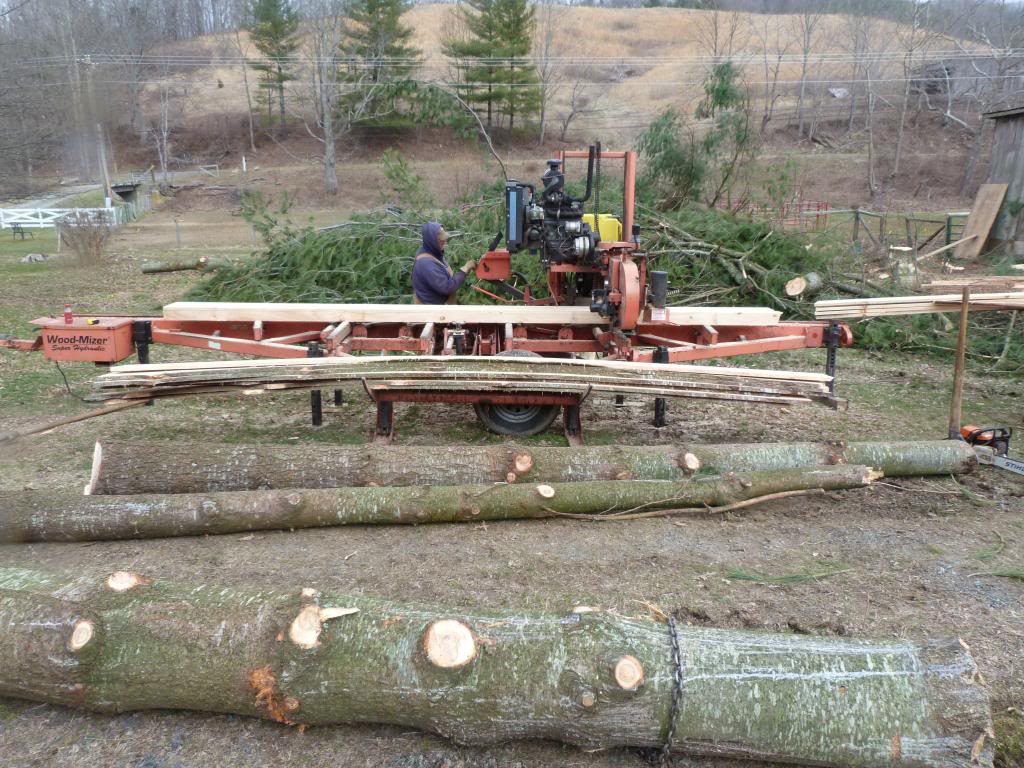 I found some beautiful pieces of wood. I'm thinking "cutting board" for this one.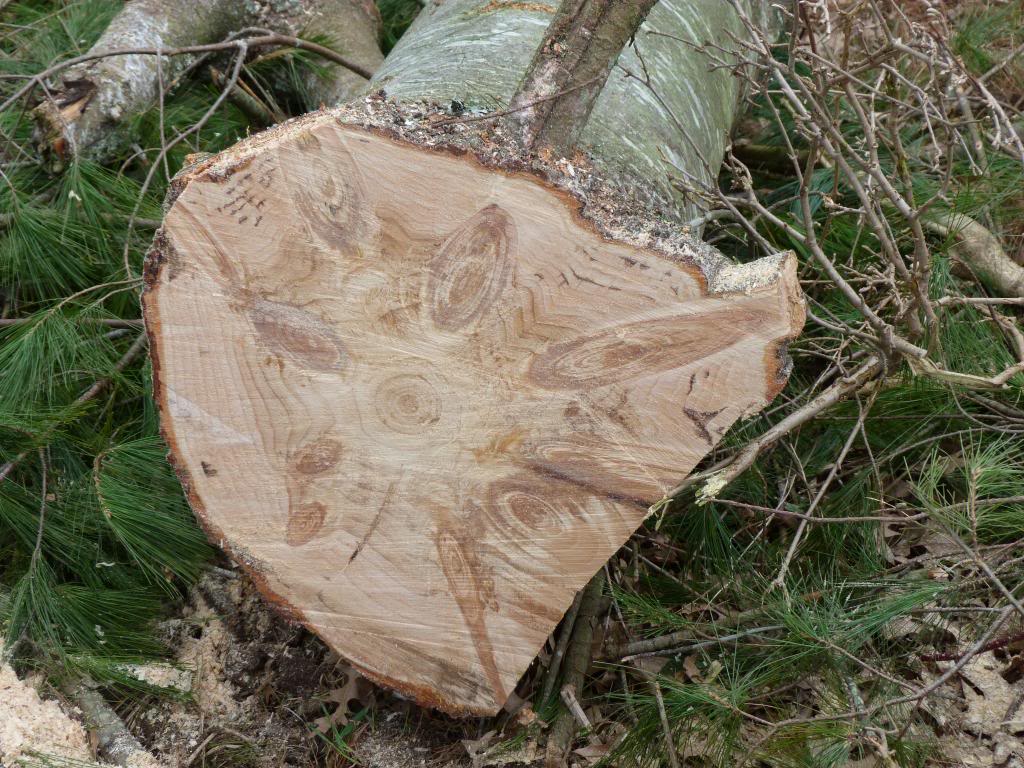 And I had him leave the stumps high so I could do something "artsy" with them. Like, a checkboard painted on the top of one. And….hmmmmm….okay, I don't know what else. Yet.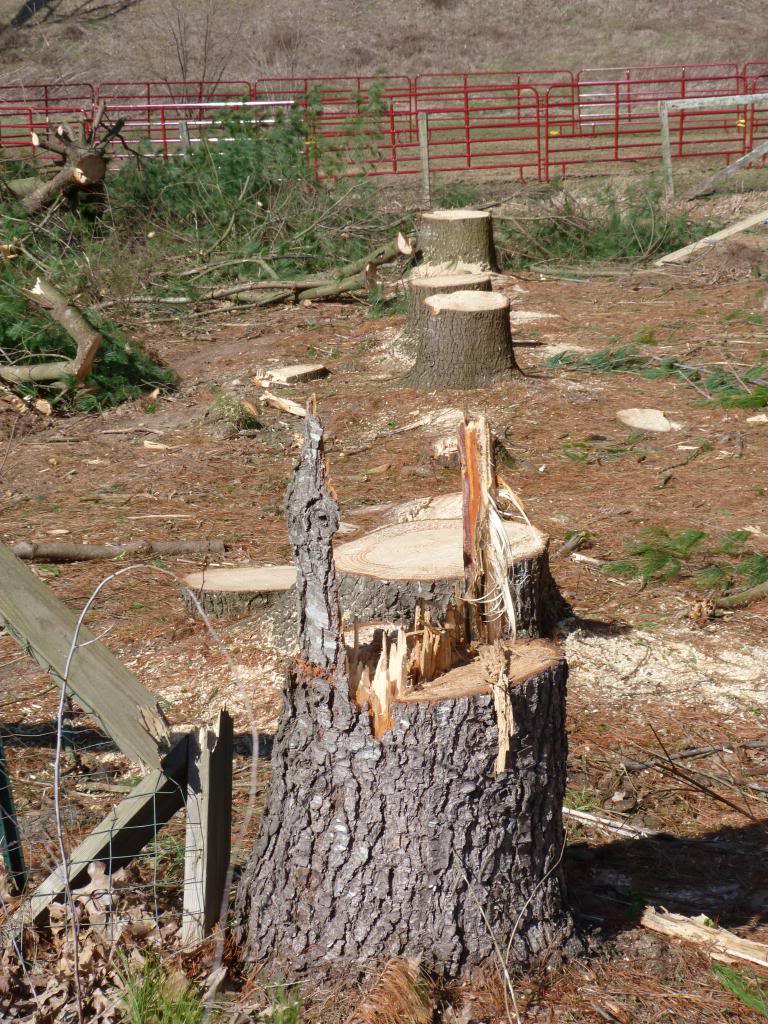 So, voila. They are gone.
And that is why the crows are mad. They're circling my barn now. sigh.
The wood from the pine trees was milled into boards that will be the kitchen floor. How cool is that? My kitchen floor will be made from those pine trees. Sorry to the crows.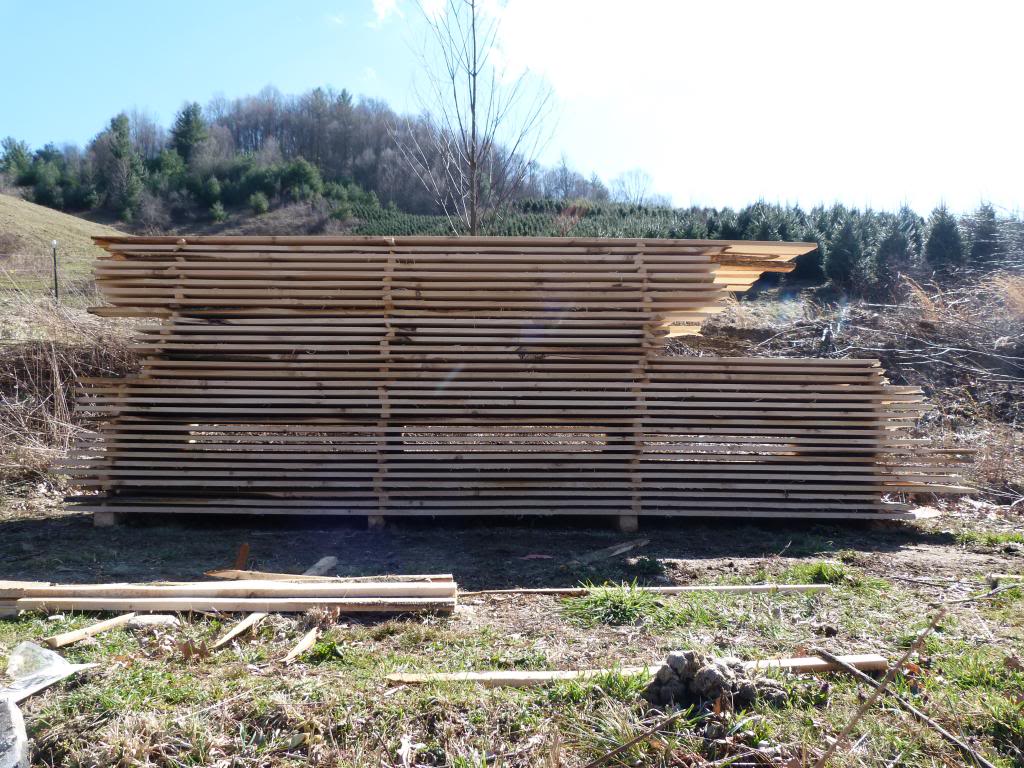 And I have a big pile of sawdust that I am putting in my round pen.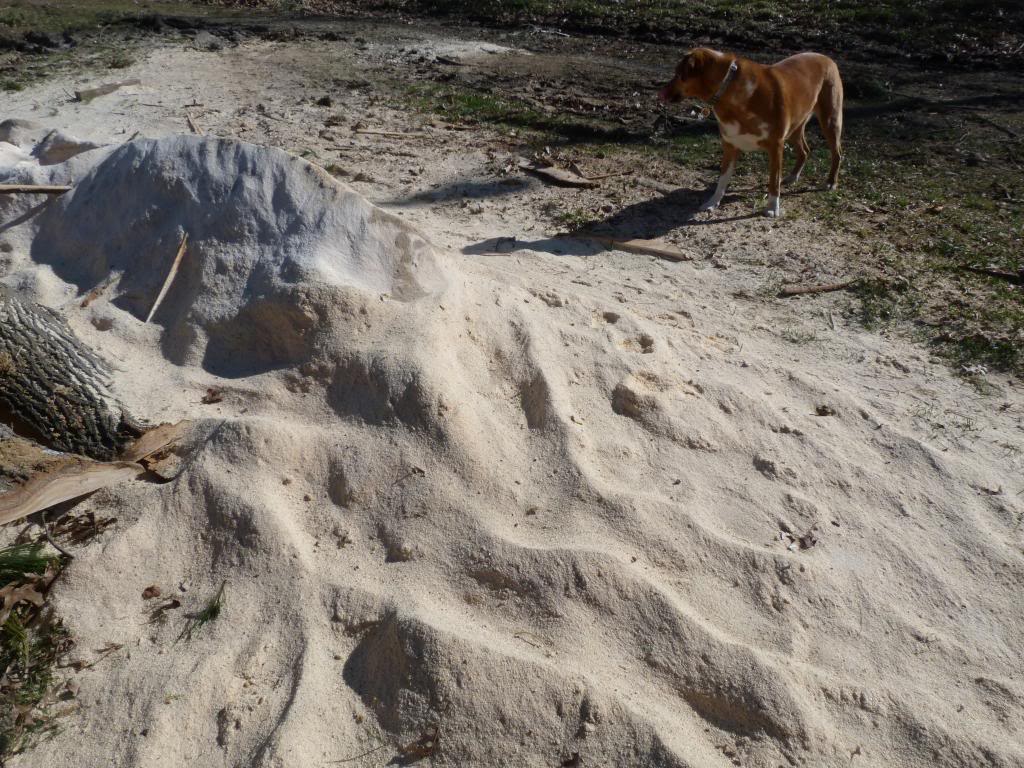 That's my dog Blue, who is Switzerland about the crows.
And I've also got this pile of remnants. I'm not sure what I'll do with them, but I really like the way they look. Surely I can find some use for them.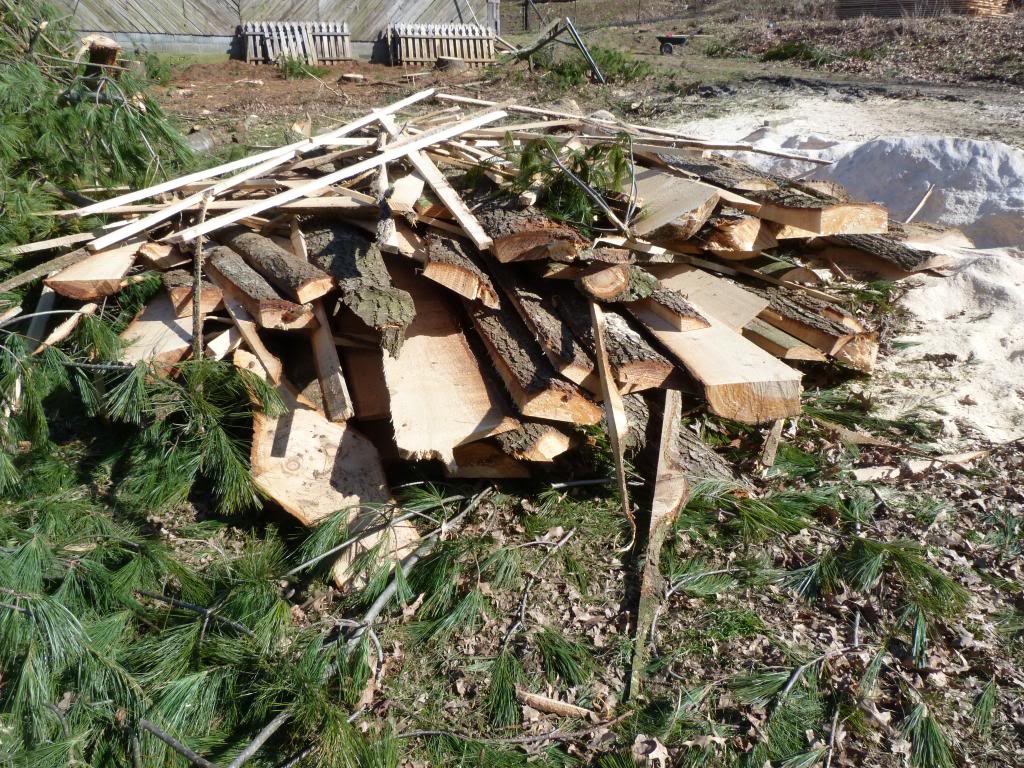 My view now.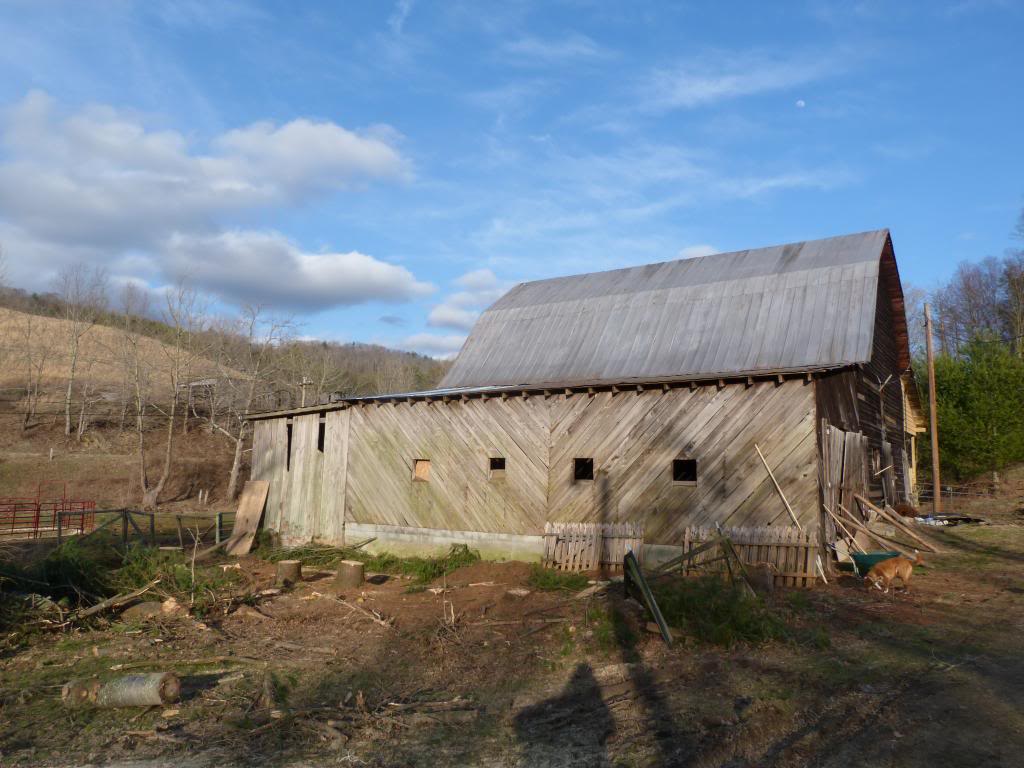 Well, not quite. Since those trees were taken down, we've had snow. AGAIN! This has been the best winter ever. The problem with that is those poor crows. I've watched as they have flown all over the place looking for new trees for a home base to weather this storm. Just a few hours ago, at dusk, they were on the roof of the barn, flying all around and cawing all the way. Mad, mad, mad. I caught only one in the photo as it flew over the barn just now, but there were at least four and twenty.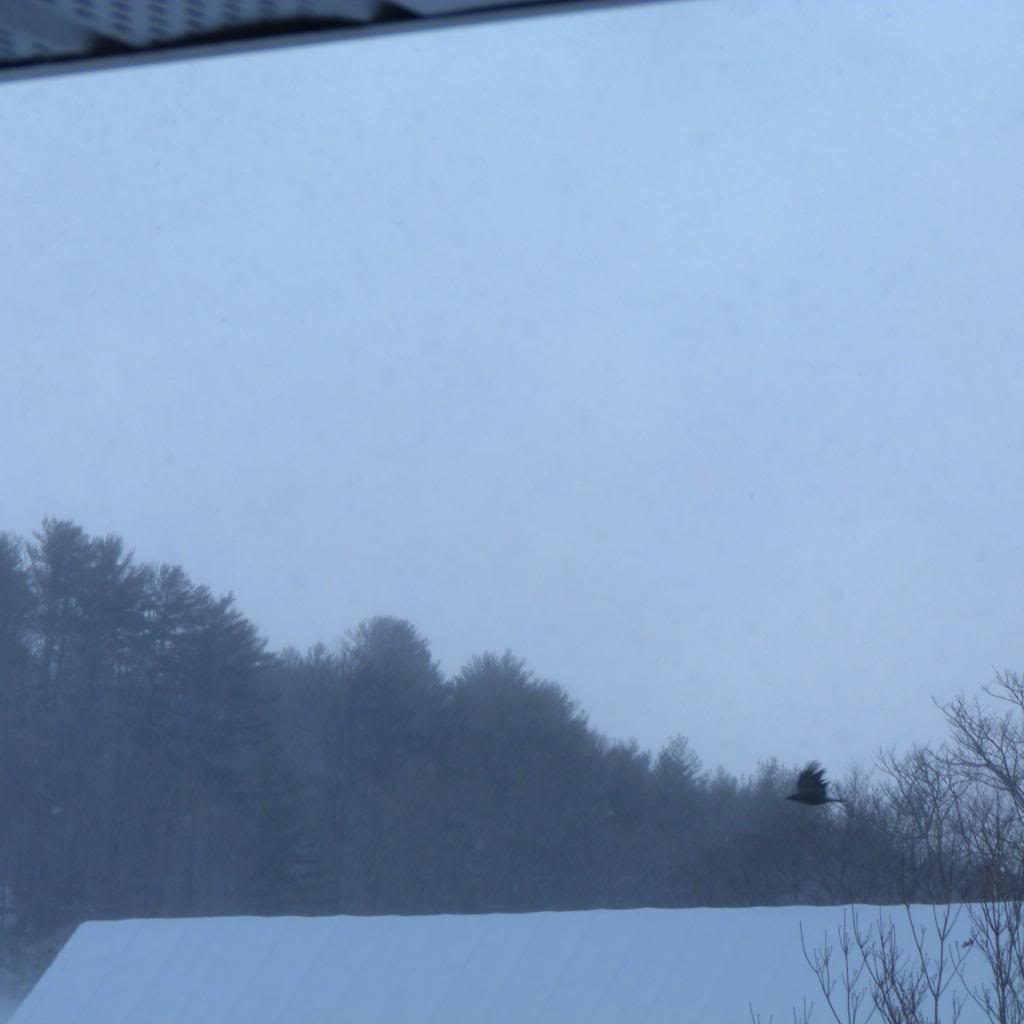 And I wouldn't let Strudel out in the storm to chase them.  I figured they were having a bad enough day without Strudel. I examined those fallen trees and found a great nest formed out of sticks in top of one. I'm guessing that was their special gathering spot. If I had known, I would have waited another couple of weeks. I hate to have rendered them homeless in a winter storm.
But no, I'm not eating crow, baked in a pie or otherwise. Taking those trees down was the right thing to do.
But, hey, I will eat the fish, baked in a pie or otherwise.
I forgot to tell you why the fish are mad. It's because of the slinging.
Well, surely I've mentioned that a beautiful mountain stream runs in front of our property.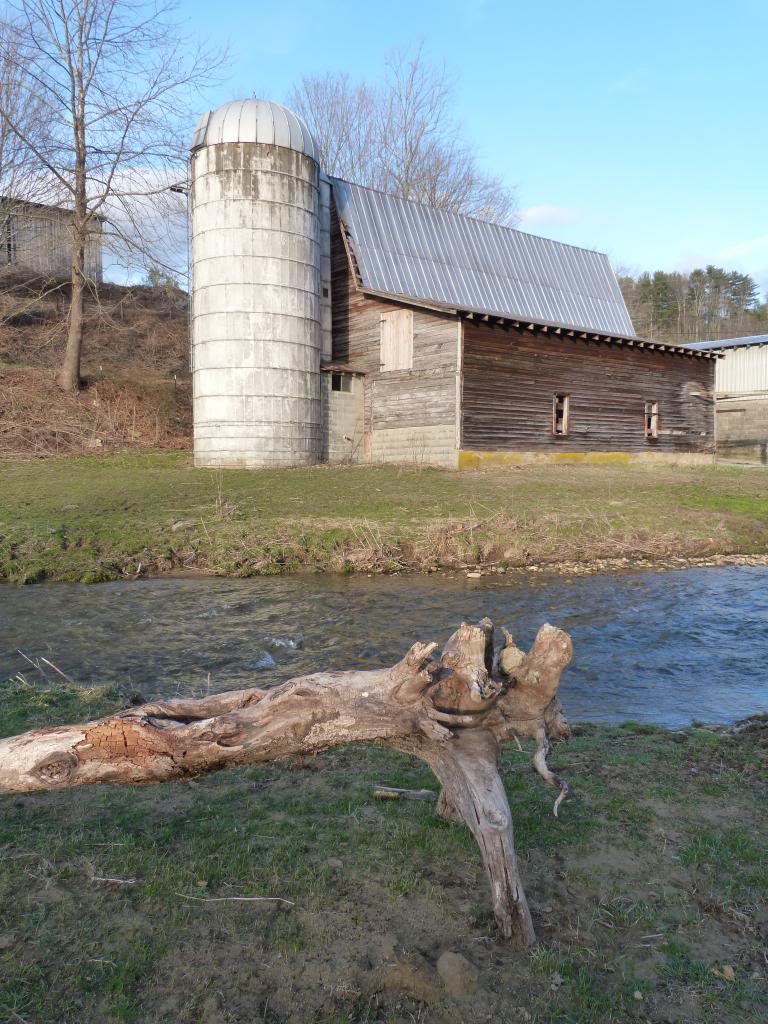 It runs beside this old dairy barn (another building in dire need of my attention, energy, creativity, and money.)
The other day I was outside at the barn, fooling around with my Great White Horse, who you know I love (kiss, kiss, kiss) when out of the corner of my eye I see a truck pull up onto the side of the road and throw something onto my property.
Well, I stomped right out there to that fella and said, "What in the world do you think you're doing? What are you throwing on my land?" "It's trout, ma'am," he answered. Sure enough. He showed me his big net and his big tank. He was throwing nets of fish (a pretty good distance) into the stream. Did you know that THAT is how the state stocks fish into the stocked waters? They sling them in. Well, that cracks me up. There ya go. Now you know. Fish throwing.
Unlike the noisy cawing crows, however, I haven't heard a word from the fish. I'm just GUESSING they are mad about the whole affair. I would be.
Until next time, Friends, savor the flavor of life!
Lots of love, The City Farmgirl, Rebekah