Happy 2013! What do you want to do in this New Year? Anything you want to conquer or learn? Oh boy, I need to make a list for real. 2013 is going to be full of farm lessons for me, I'm sure. Ay-Ay-Ay, you know it. And I'll celebrate my 50th year on this earth, so I think I'll make a list for that too.
But not now. Some other time. Now? Now I'm tired. I'm tired and it's New Year's Eve; I just got back from a quick trip to my home in Georgia, so I'm writing this blog post when I should be popping a cork or blowing a horn. Nah, I'll still have time for that! It's only 9 o'clock. Three more hours of 2012.
There's no place like home for the holidays. We all sing that song at Christmas time. Well, I'm here to tell you that it is TRULY TRUE.
This Christmas was the first one EVER that my husband and I spent without our parents and siblings. I couldn't take it any more.
So, my daughter and I and Oreo, the dog, jumped in the car and left this: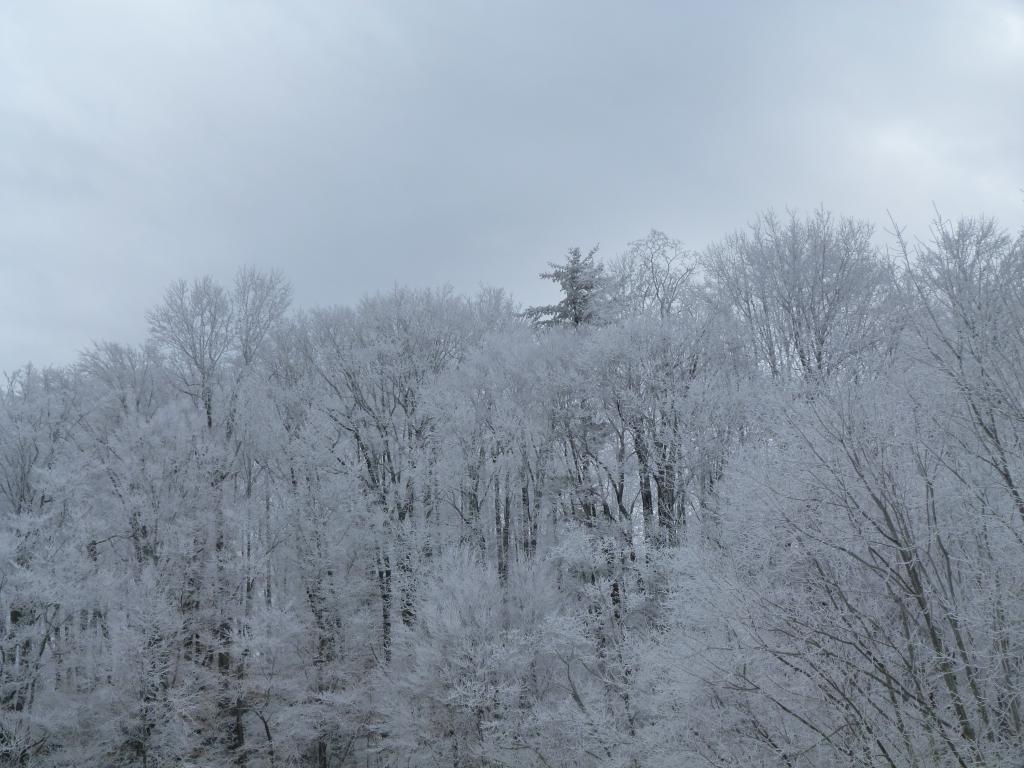 While my husband tended these boys for me: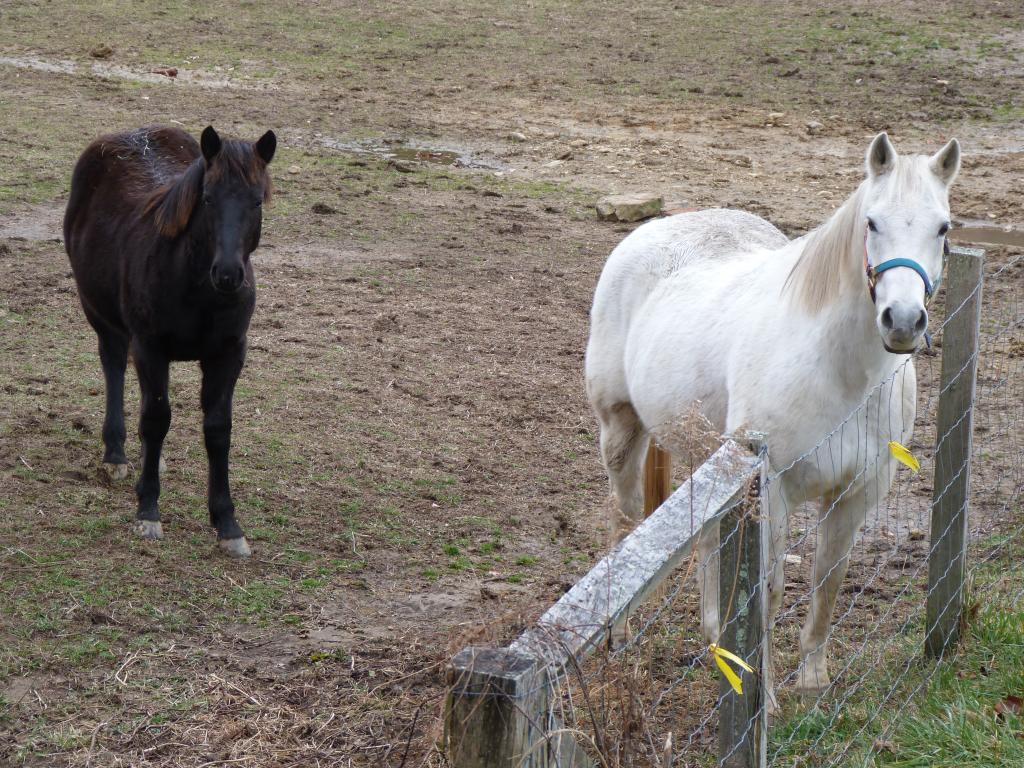 And we headed off for home, my childhood home, to see my parents.
Seven hours later, we found ourselves back in Atlanta.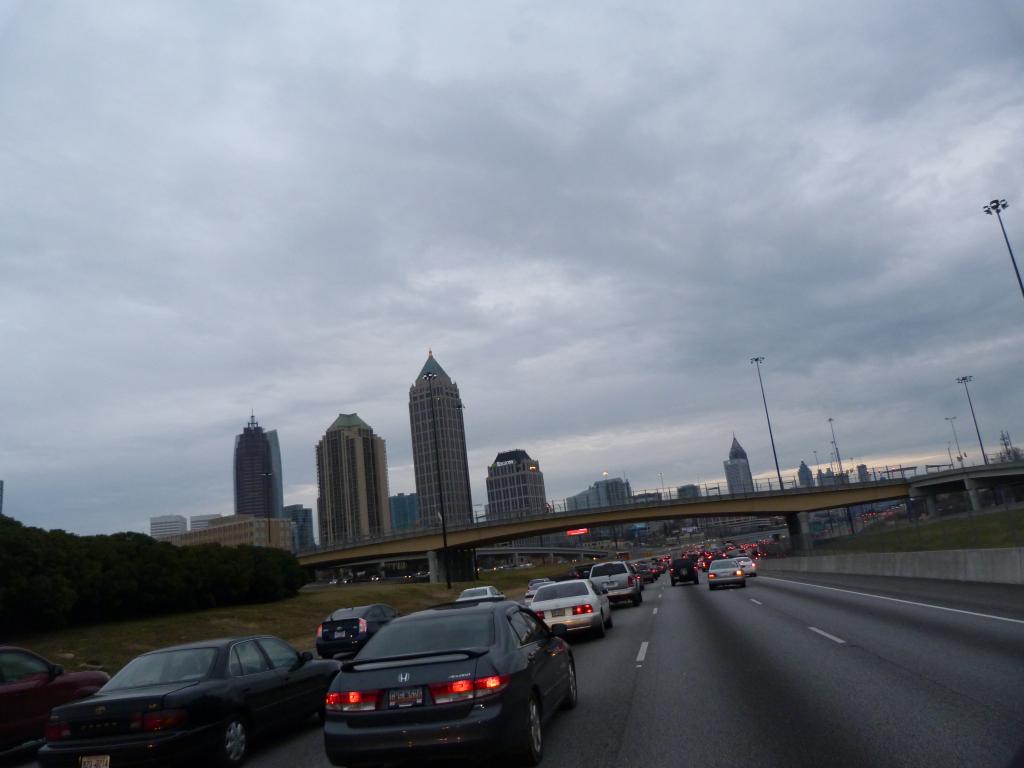 It's weird how excited we were to see the skyline and sit in the traffic.
My parents live in the house I grew up in, so it feels snuggly and wonderful to be there. I slept in one of my old bedrooms. I sat in front of my father's wood stove. I rode around my old city and visited with several of my favorite aunts and uncle. And then we were able to visit with my husband's parents before we headed back home. To our farm.
It was a fast trip. I think we were in the car as much as we were out of it. But it was worth every minute to go home for the holidays!
I've told you how our farmhouse moving-in process has been so s~l~o~w. We're cramming the stuff from our old house, which was twice the size, into this one. It's not going well. To be honest, I'm feeling stifled, overwhelmed and paralyzed. To go home was to rejuvenate and apply balm to my weary soul.
Coming back, I can concentrate on all the wonderfulness here. There is a lot of wonderfulness to concentrate on. A. LOT. A. LOT LOT.
Hey, we'll get there, right? One day. Some how. Some way. We'll be able to walk through the house again without tripping over boxes.  So let me show you some of what we've accomplished and we'll just ignore what we haven't, okay?
Let's start with our New Steps for the New Year.
We have two sets of steps, or stairs, in our FarmHome. There is one in the living room and one in a back room by the back door. I've always dreamed of my forever home having two staircases, a front and a back. So of course this one had two!
The front stairs looked like this when we purchased the farmhouse. That's the front door at the foot of the steps and the other door goes to the back of the house. It's my understanding that this front room is the original part of the house, built in 1890.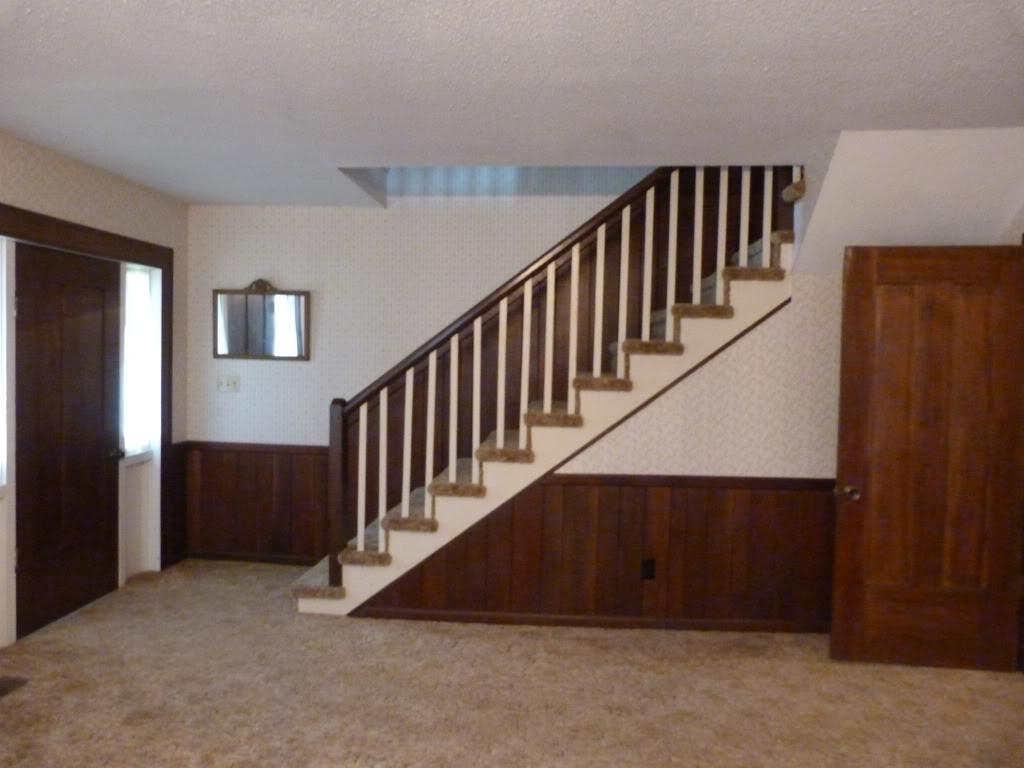 We ripped up the carpet on the stairs and on the floors. Nope, no hardwood floors under the carpet, just plywood. Now most likely there was hardwood floor somewhere under the plywood; but there was really no way to get the plywood up without tearing up whatever might (or might not) be under the plywood. So, we started all over again and put in new hardwood floors in this room. The disadvantage was losing more space between the floor and ceiling. Already the ceiling are low. Then again, there is an advantage. Another layer of stuff between the crawl space (outdoor air) and my feet, which tend to be cold all the time.
And the front stairs. Well, this is what we found under the carpet.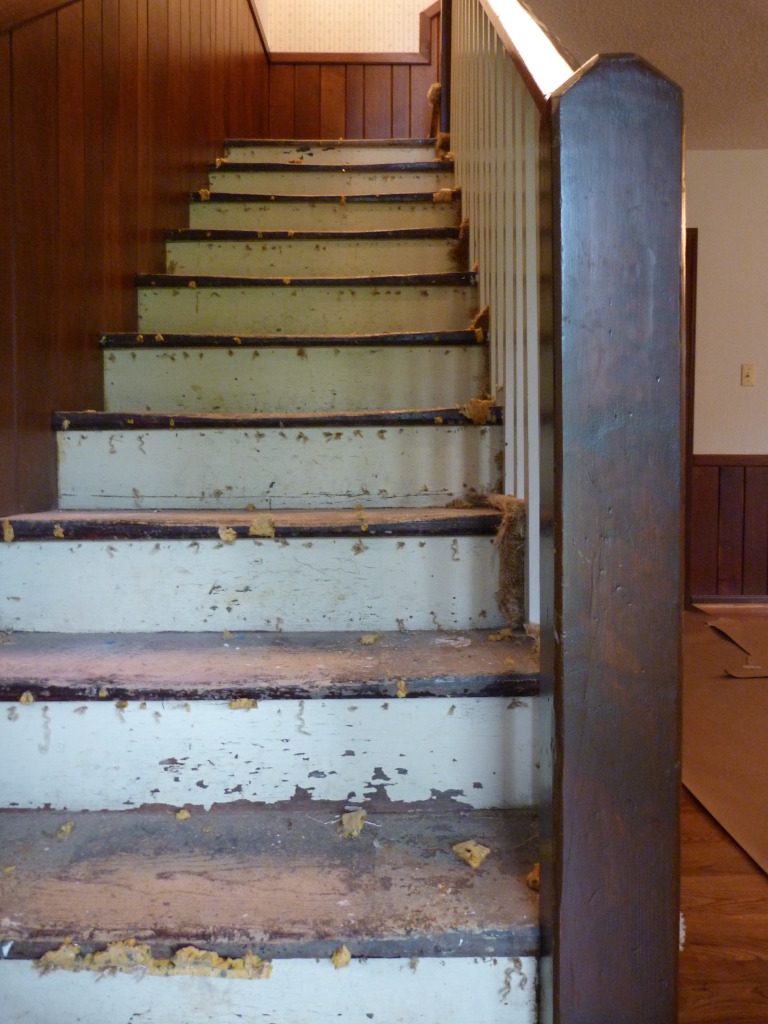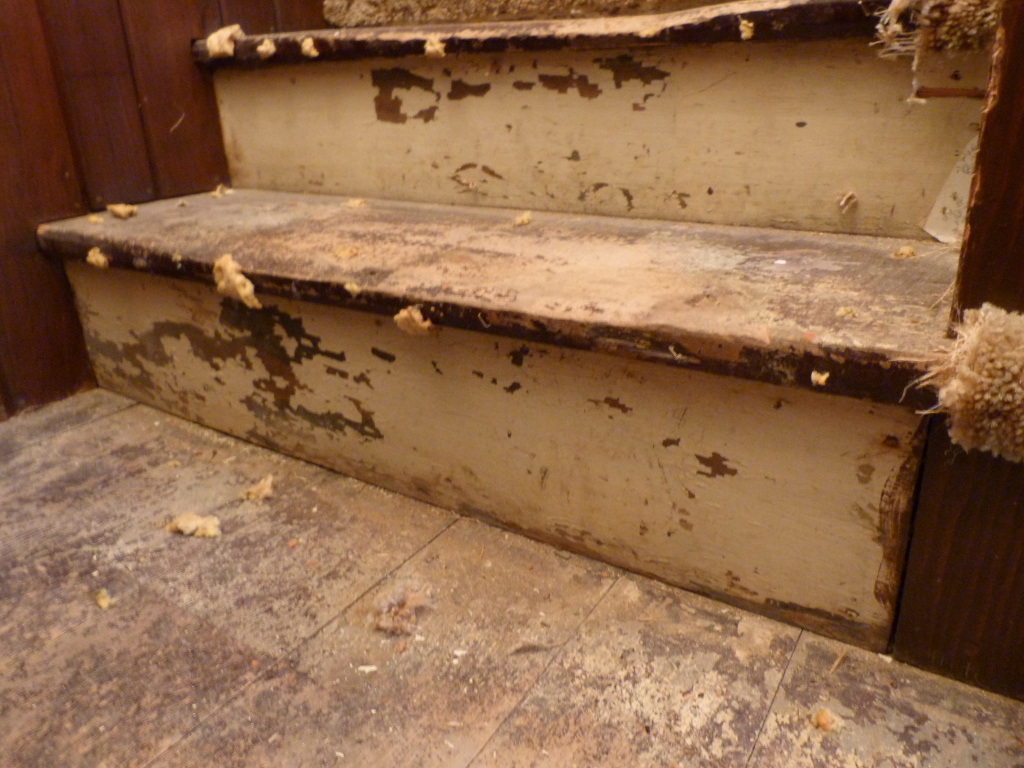 I LOVED IT! The well worn centers of the steps. I didn't want to cover them up or sand that unevenness charm out. So we just painted them.
Here's the after.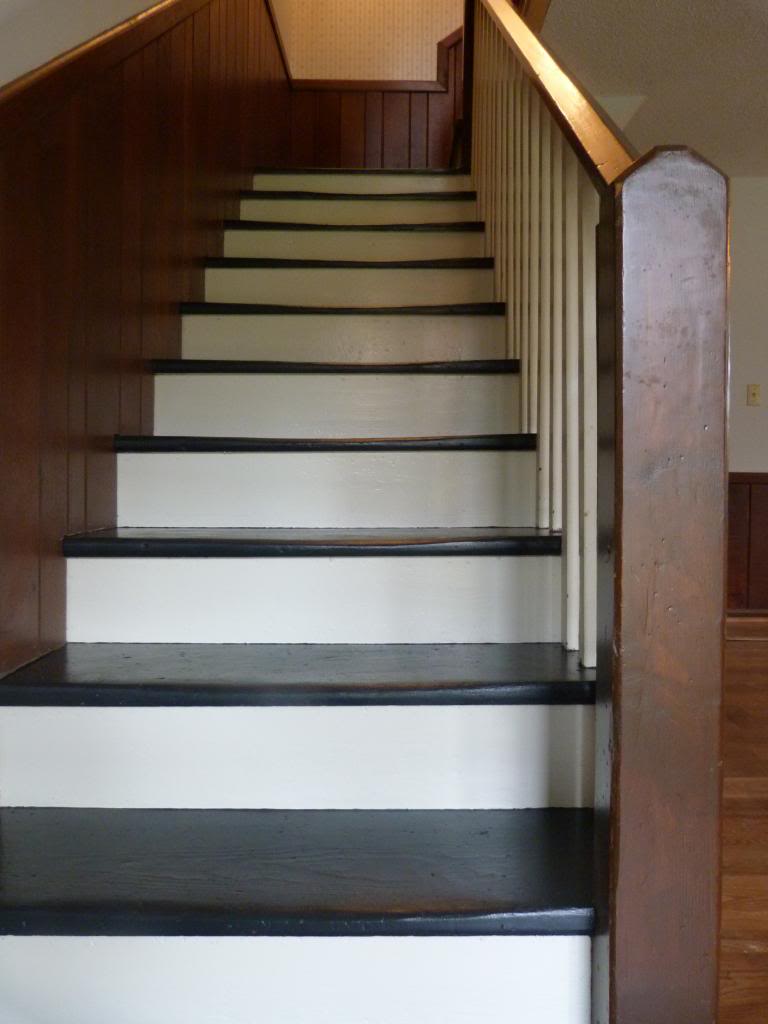 I love these.
love, love, love
Here's the living room when we purchased the house.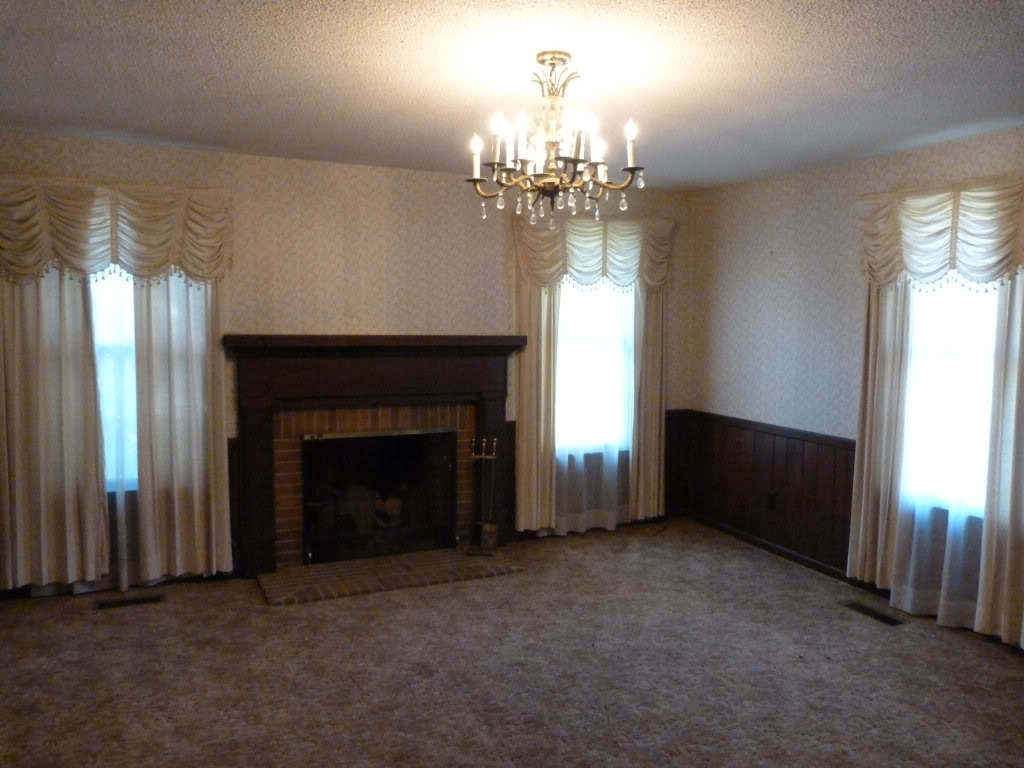 Here's what the living room looked like before the movers arrived.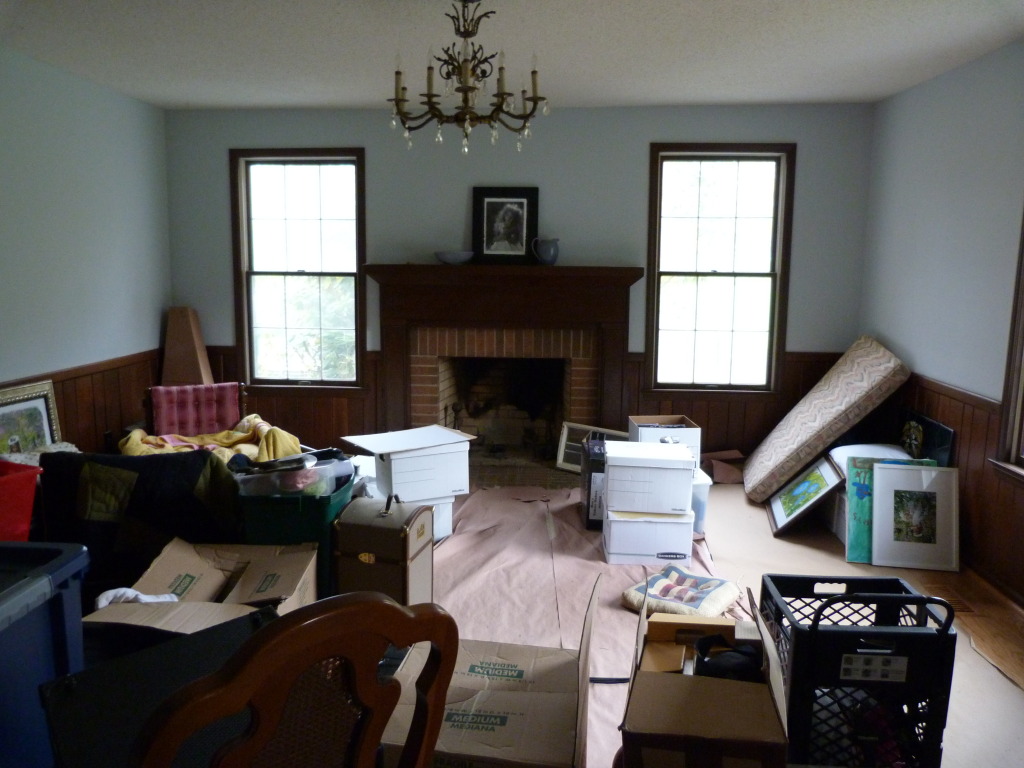 You can see that we painted over the wallpaper with a soft blue, that I really really really like. I left the wood on the walls; it too was original to the house.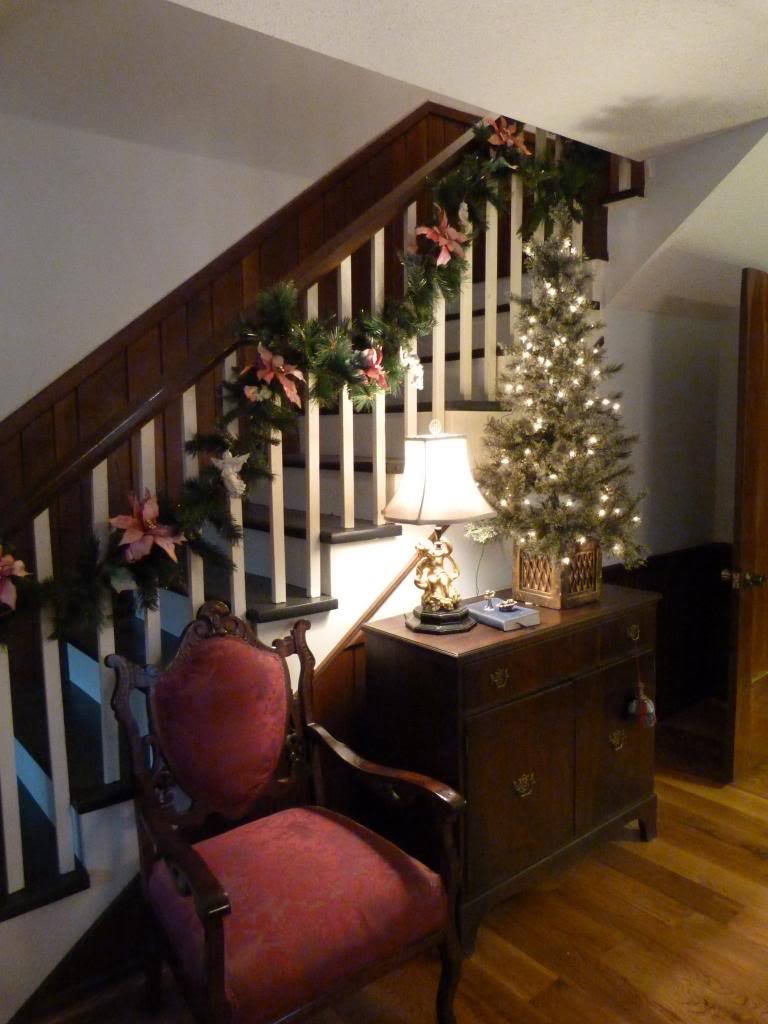 I think my furniture from my old house looks pretty good in here. The movers (who rock btw) helped arrange the living room. I'm taking suggestions, if you have any…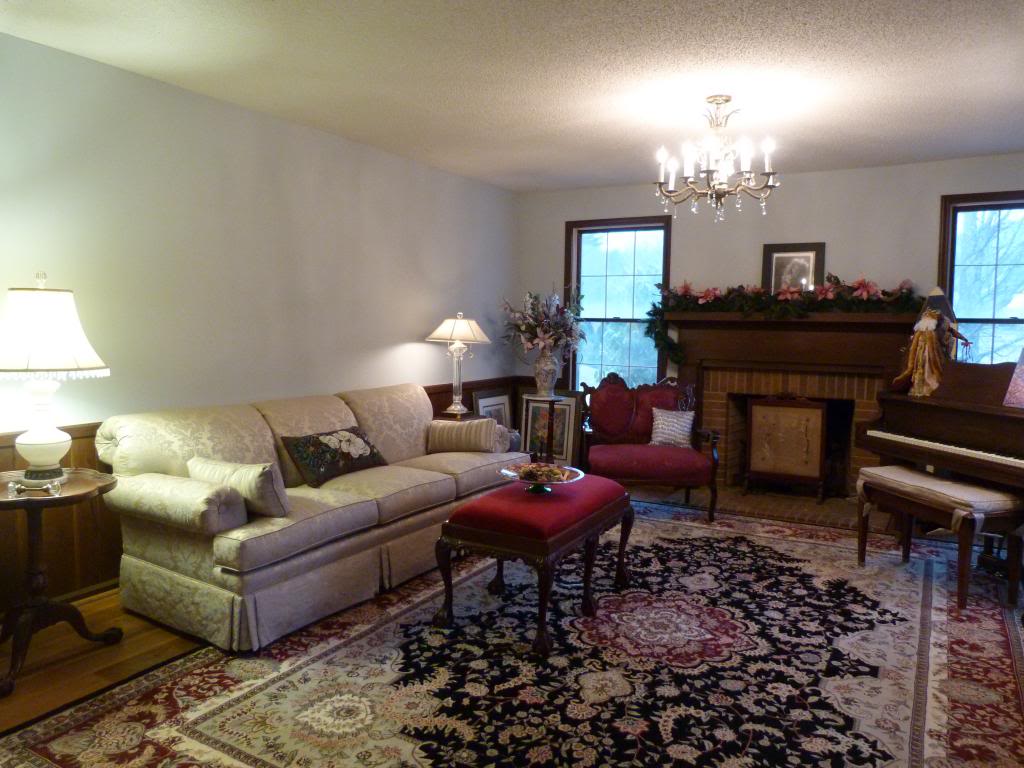 The photo that is on the mantle was just put up there. It's too small to be there, but it is one of my all time favorites.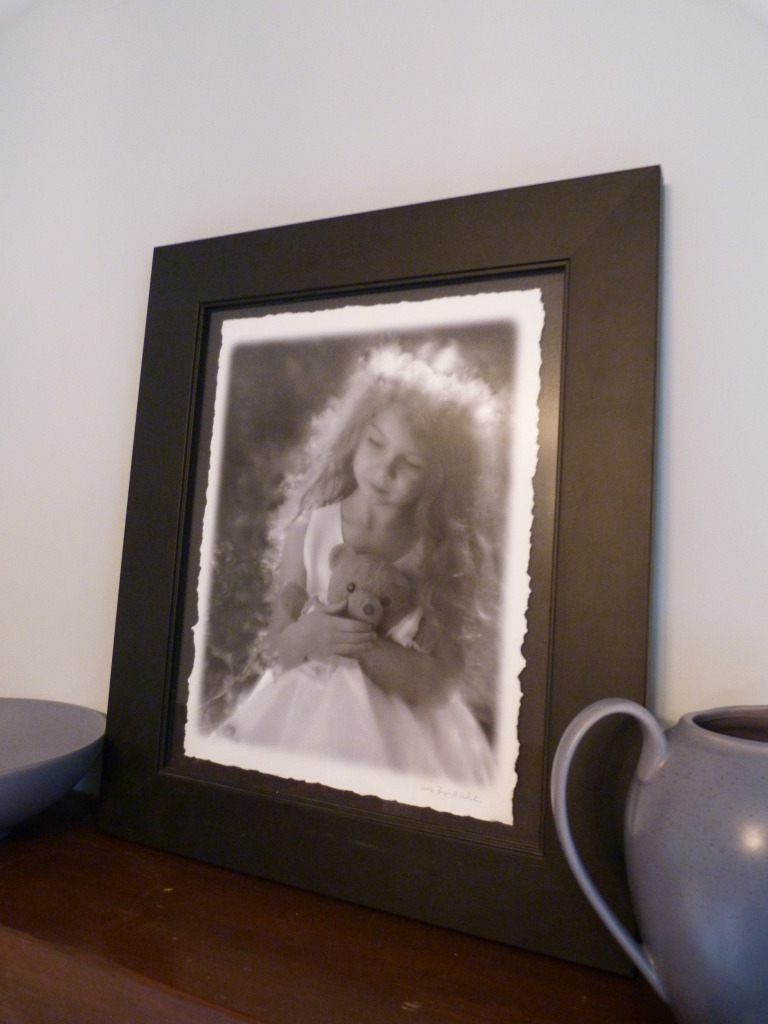 My daughter with her bear, Sandra Lynn.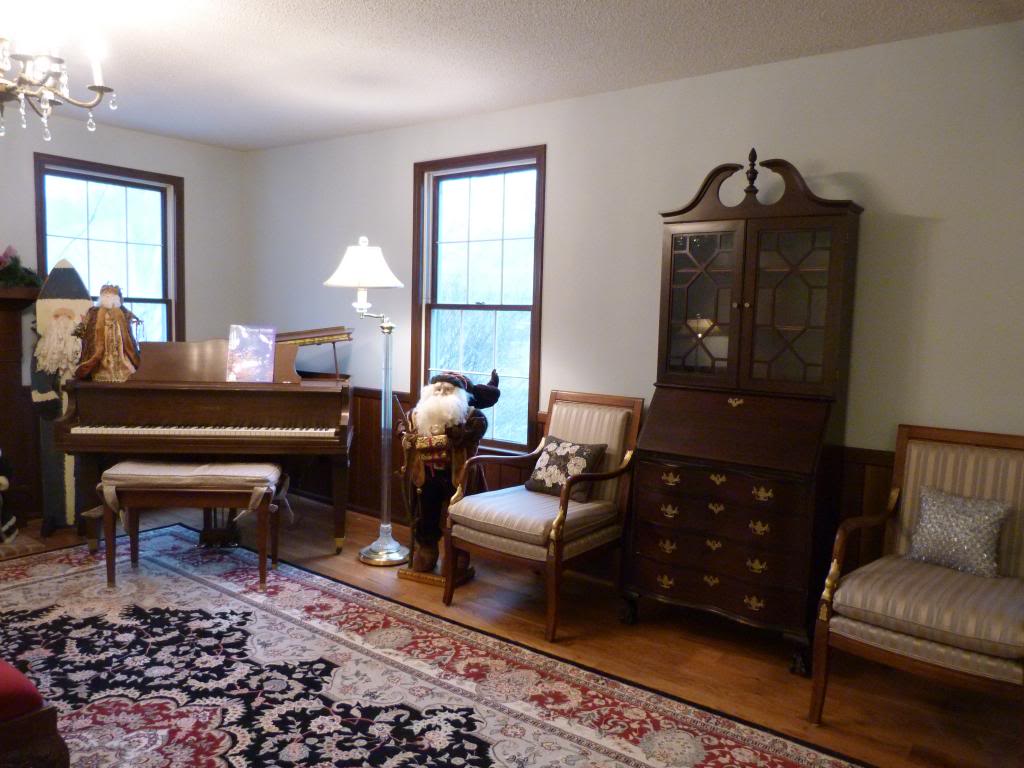 One of my favorite things about this room is what I see our my window when I sit down at the piano.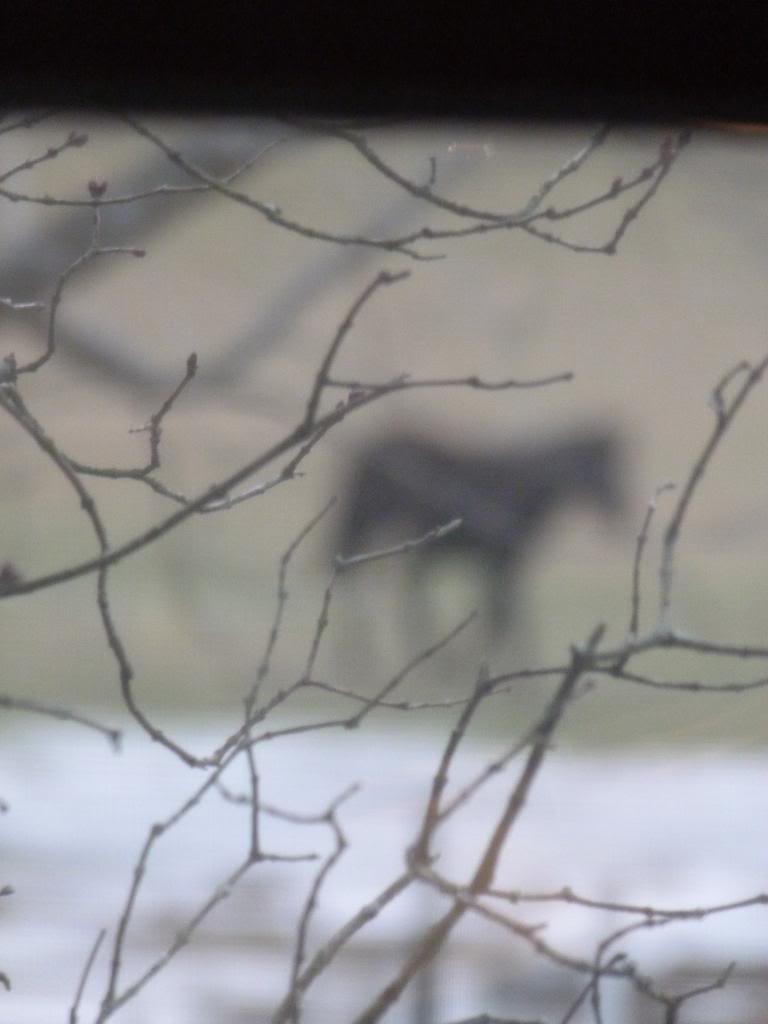 Through the screen and between the branches, our black colt, Jessi.
  Now, these are the back stairs. They are at the back door and I've said a million times how much I adore that orange carpet. I actually wanted to keep it. My husband said, "NO."
And he was right. It was very old and very, very dirty and stinky. So, the orange carpet came up.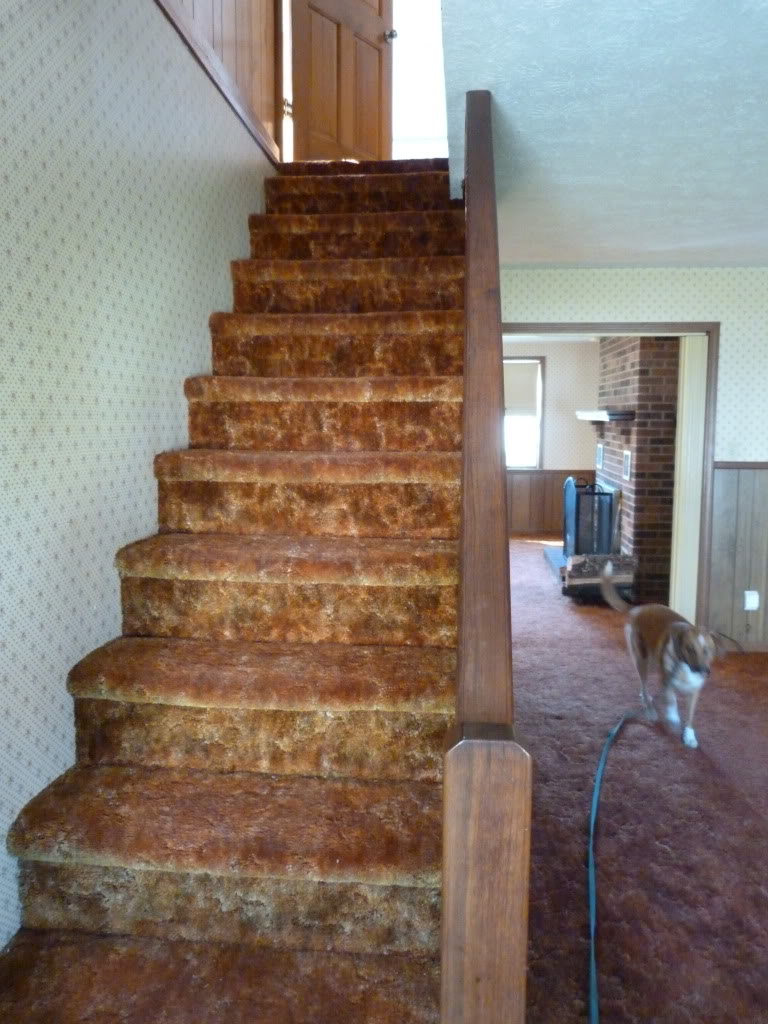 Blue, the dog, in motion.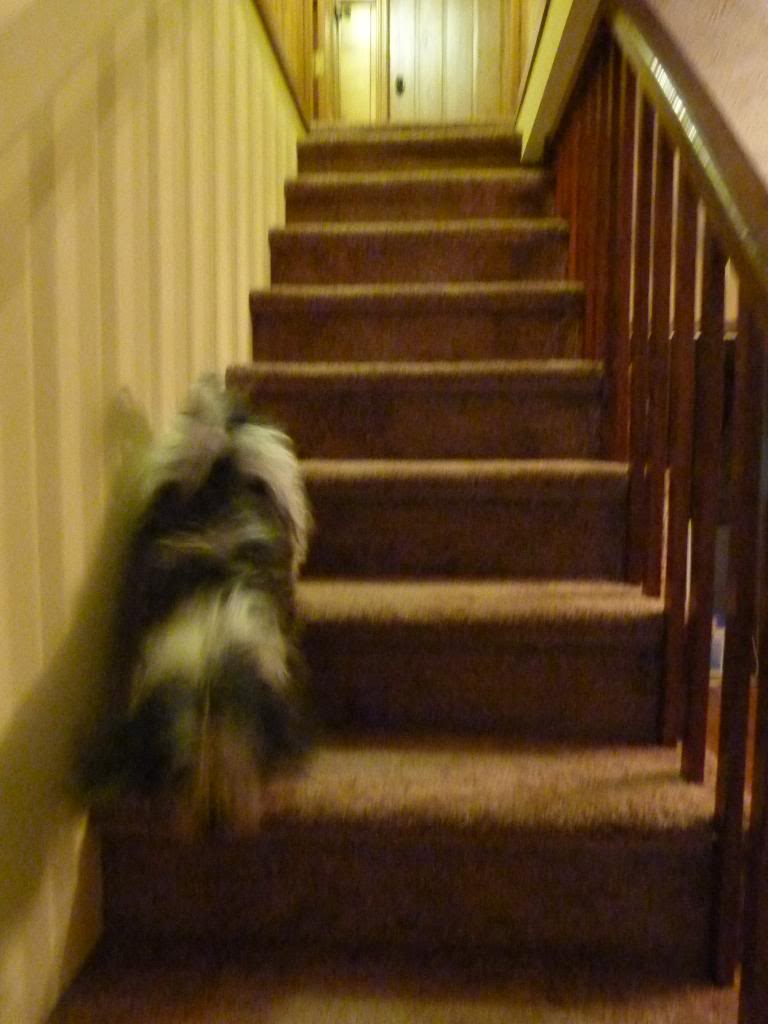 And new carpet went down. And Oreo comes down the new steps. Oreo in motion.
I think I stayed in the spirit of the orange carpet; this is a mocha-ish color. We also painted over that wallpaper.
Do you remember my dining room? This room was a favorite when we toured the house for the first time.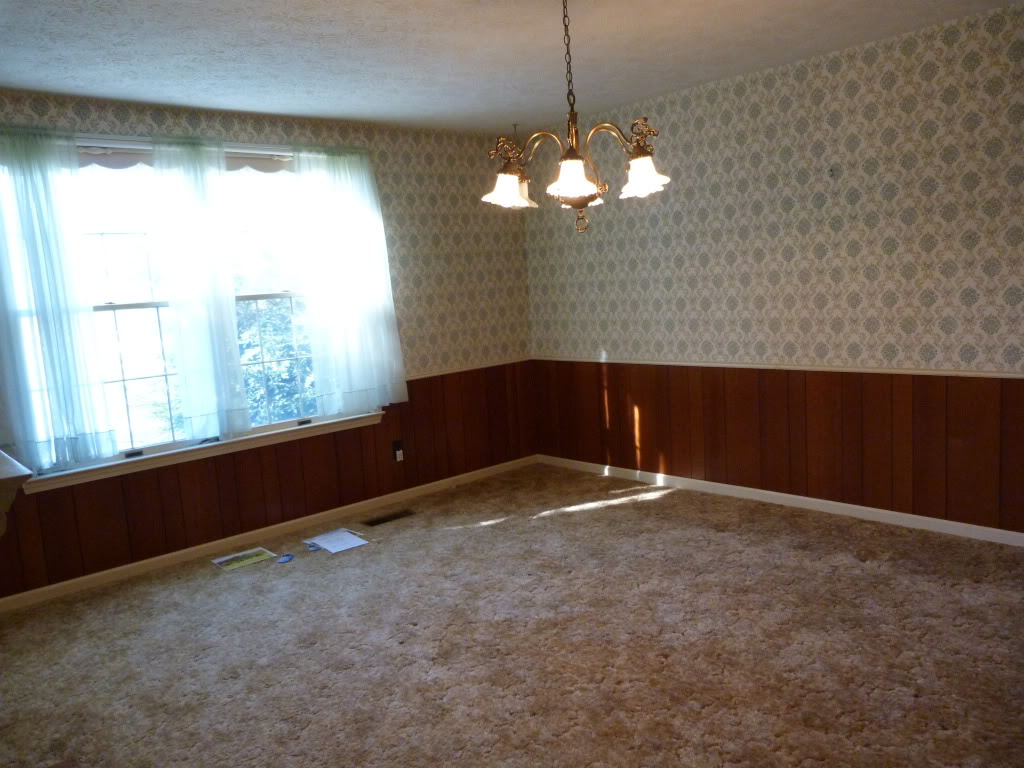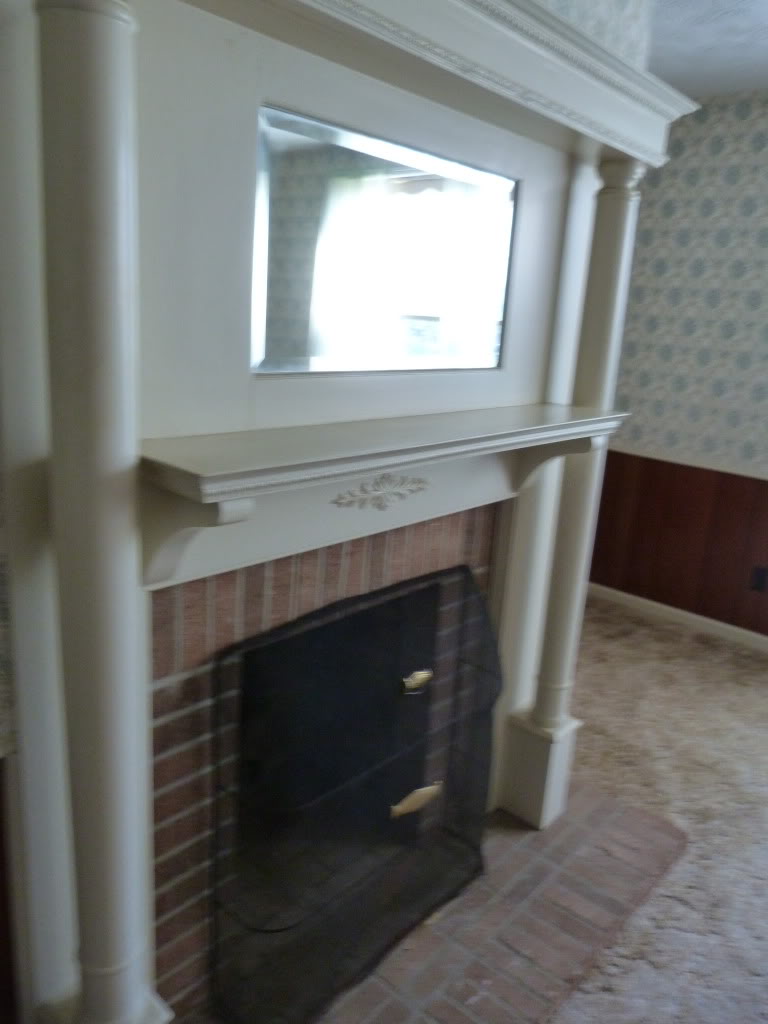 With it's beautiful wallpaper and fireplace, it was, like Mary Poppins, "practically perfect in every way."
There wasn't a chandelier, so I purchased an inexpensive one online. It looks pretty good unless you study it, which I'm asking you not to do when you come to visit. Why not? You ask. I know, it just makes you want to study it when you come, doesn't it? So I'll just tell you. That's not crystal. And the directions to hang all those little things were ridiculous. I just did my best. I still have a box full that I couldn't figure out where to hang. You get what you pay for.
However, in order to create a master bath in the bedroom upstairs over the dining room, we had to rip out the ceiling. A while back, I showed you one of the corncobs we found in the boards of the ceiling. Anyway, we had to replace the ceiling, so I did a smooth ceiling instead of the poppy stuff that was there before. We also had to add some boxes for the plumbing that we needed upstairs. There's a box over the window and one in the corner to the right of the window. I don't like them, but they were necessary for the water and sewage lines.
(It's worth it too! Here's a sneak peak into the master bath that needed those water lines that messed up my dining room.)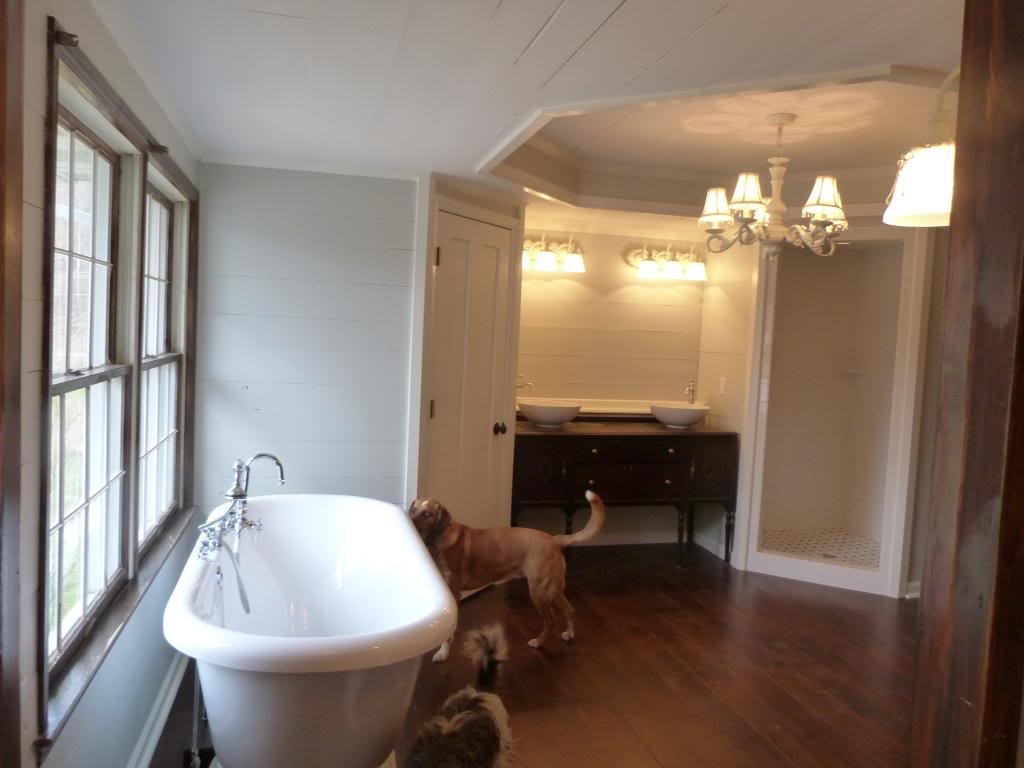 Blue and Oreo in motion together. Where is Studel? She's out chasing squirrels, that's where.
Okay, back to the dining room. The only other thing we did in the dining room was to put down hardwood floors.
I love this room.
love, love, love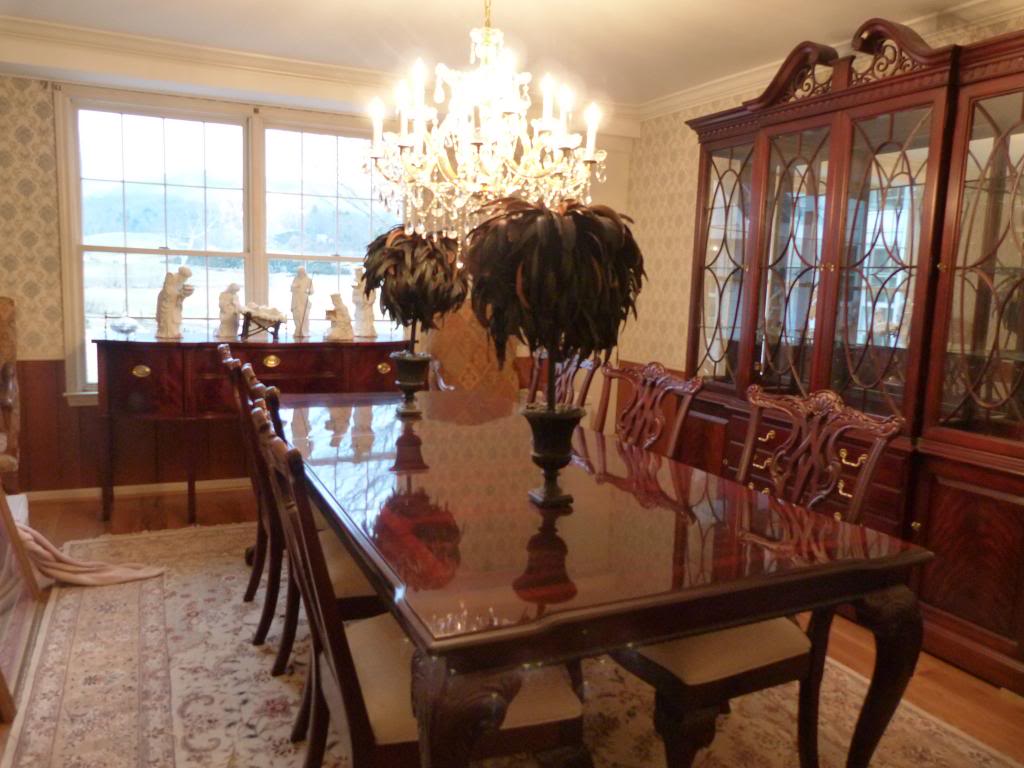 To the left is the fireplace, covered in moving boxes. I'll show you that side when I unpack all that.
Funny thing about old farmhouses, including our FarmHome.
Uneven floors.
The china cabinet was leaning about four inches from the wall at the top. So, we had to jack it up in the front so my china won't topple out.
When I finally unpack it and put it in, that is.
The wall behind the china cabinet is the wall behind the sofa in the living room. That floor is also uneven on that side of the wall. As it turns out, my living room sofa rocks in this house. Who knew?

I'll show you our addition next time. Whew, now that was an ORDEAL. But it is done.
Happy New Year! Do you have some projects lined up? Have you made your lists? Aye-aye-aye. So much to do and accomplish and dream!
Until next time, Friends, savor the flavor of life!
Lots of love, The City Farmgirl, Rebekah