I've decided that's the way farm life is:
Joy, Pain, Joy, Pain.
I've concentrated on the JOY and not on the PAIN.
Until….
I got a message from a farmgirl friend.
A farmgirl buddy posted on Facebook and asked me if I had been riding and enjoying my new horse. I said~no, it's been a rough couple of weeks on the farm.
My shadow almost rode him though. Does that count?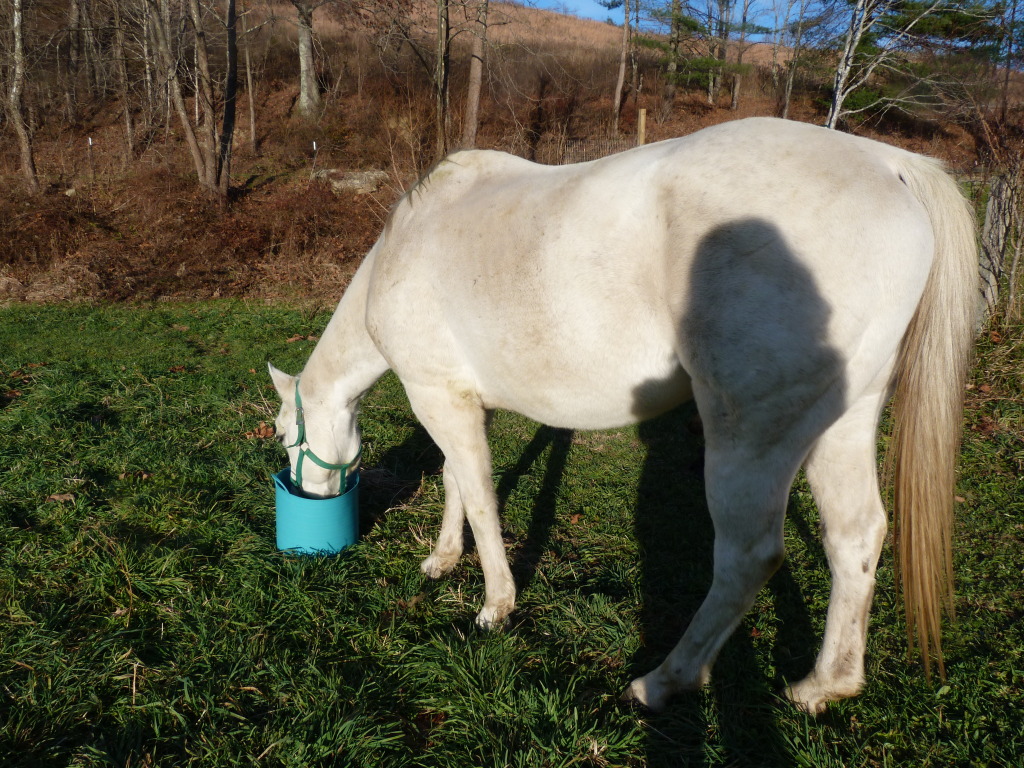 That's when I got a very special message from a very special farmgirl. She told me that I needed to share the rough times AND the good times, not just the good times. I thought long and hard about that. Because-I thought-who wants to tune into this blog and listen to me go on about my struggles here? I mean, I share enough of the yuck to be authentic, but try not to FOCUS on it too much.
Which, I think, is the way I've pretty much lived my life.
I tend to think about the GOOD and avoid thinking about the PAIN as much as possible. I figure that since one thing that I really do control is the stuff I think about, I might as well think about GOOD and POSITIVE and the WONDERFUL. The GOOD is so very GOOD. And the PAIN…well, whatever. We all know about the pain, right? It can always be there (not just a farm, EVERYwhere) if you look for it hard enough. And so many people are in such REAL PAIN right now, mine is all pretty much self-inflicted at this farm. So why should I complain?
I do believe, however, in being REAL and AUTHENTIC and all that. And part of this life on a farm, entering the unknown as we are, is MAKING MISTAKES and PAIN. Because it's not all SUNNY here on the SUNNY SIDE, even though I tend to focus on the SUNNY part of it. So, I'll try to share it all. Good, bad, ugly. I'll do better.
And thank you so much for wanting me to post more often. I do appreciate you wanting to hear how things are. But. Between chasing horses and digging ditches and picking up pieces of the barn that are falling down, and building stalls, and putting up gates, and dealing with all the construction on the house, and packing and moving, and then unpacking, and learning horse-keeping, and getting ready for Christmas, I'm just full-up. If you've been around here for awhile, you probably realize that I'm not after fame or fortune. I don't want a blog that runs my life. I don't want my life to be entertainment. I want to connect with you. And share experiences. And grow together in our farmgirlness. I want to inspire and be inspired. To teach, but also to learn. To talk, but also to listen.
Enough! Let's talk about some of the good. The JOY. I think I have found a name for our new horse. I love every name you suggested. Here's a summary of the ones I got either in a comment here, via facebook or email. Check them all out. In all their glory.
Hezekiah
James Taylor "JT"
Brego
Viggo
Shadowfax
Magical Merlin (Merlin is the name he was called by at his last home)
Angel
Knight
Eddie
Mister Ed
Sugar
Sweetie Pie
Sweet
Pie
Snowflake
Dreamcatcher
Horseshoe
Lancelot "Lance"
Hi-yo Silver
Casper
Ghost
Sweet Baby James "JimmyJo"
Cloud "Thunder Cloud" "Moon Cloud" "Winter Cloud"
White Christmas "Chris"
Now, I tell you. I was leaning towards James Taylor and JT. But both my husband and my daughter said, "No." They like to tease me about how much I like JT and his music.
So, I decided to look up my new horse's pedigree in the American Quater Horse registry. I found that his grandmother's name was "My Snowflake." And you know how much I LOVE snow. So, I'm leaning towards Snowflake. I call him Sweetie Pie constantly, though; so that'll probably stick in some capacity. It's like our dogs, I guess. Our dog Strudel is "Strudel" some of the time, "Vivian" some of the time, "ViVi" some of the time, "Doodle Bug" some of the time, "Strudel Doodle" some of the time. And "Nita" some of the time. We tend to call our pets (and each other) by many different names. In fact, I almost made a barn sign with all those names on it because each one is wonderful. I think I'll still do that. I like all those names.
Okay, ROAD TRIP. Let's head down the road to visit my friends' new bottle calves. First question I had when our friends asked if we wanted to go in with them and buy some bottle calves. WHAT is a bottle calf?
Here's the answer. A bottle calf is a calf that is taken from the mom cow at a dairy farm. The dairy farm wants the milk that the mom makes. The dairy farm does not want the baby cow. So, they sell them at a very low price.
People purchase these baby calves and bottle feed them twice a day from a big gigantic bottle full of milk replacer.
We decided that we didn't want bottle calves right now. We had our hands full with a new horse. And what in the world would we do with them ultimately? When bottle calf babies become big cows? I'm not looking to enter the beef industry. For sure.
We did want to go and see the baby cows.
So join us! Jump on in the back of Elvis.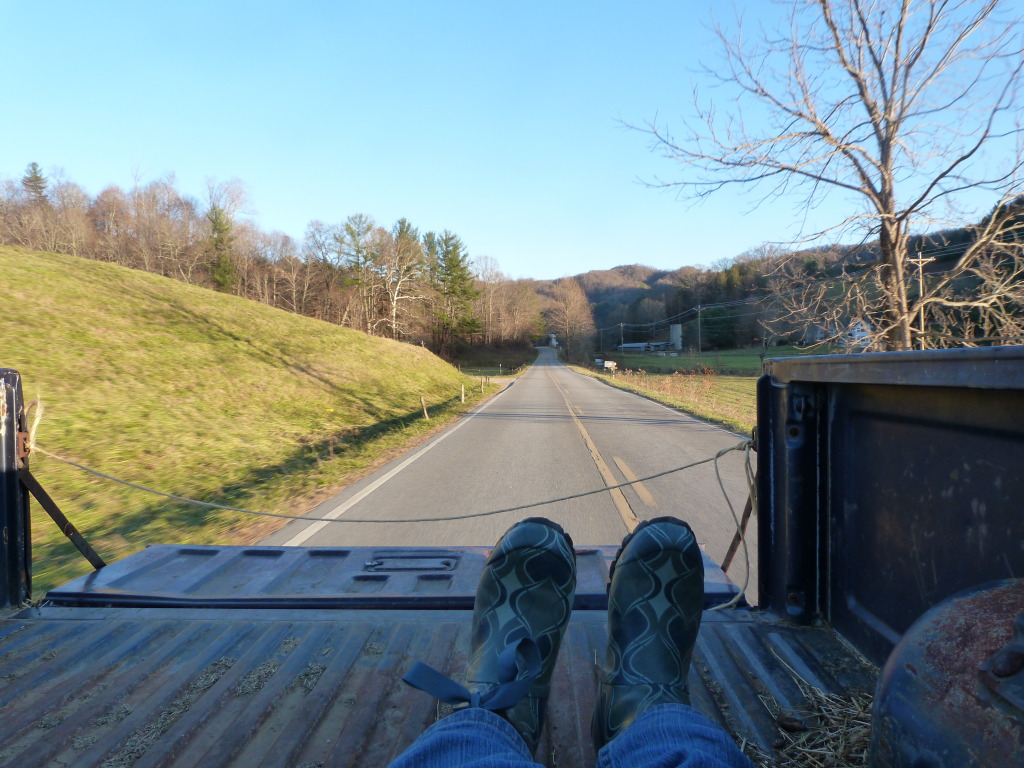 See that rope? That rope serves as the tailgate now. Yep, Elvis's tailgate is broken. (Got to be a joke in there somewhere…Elvis pelvis….)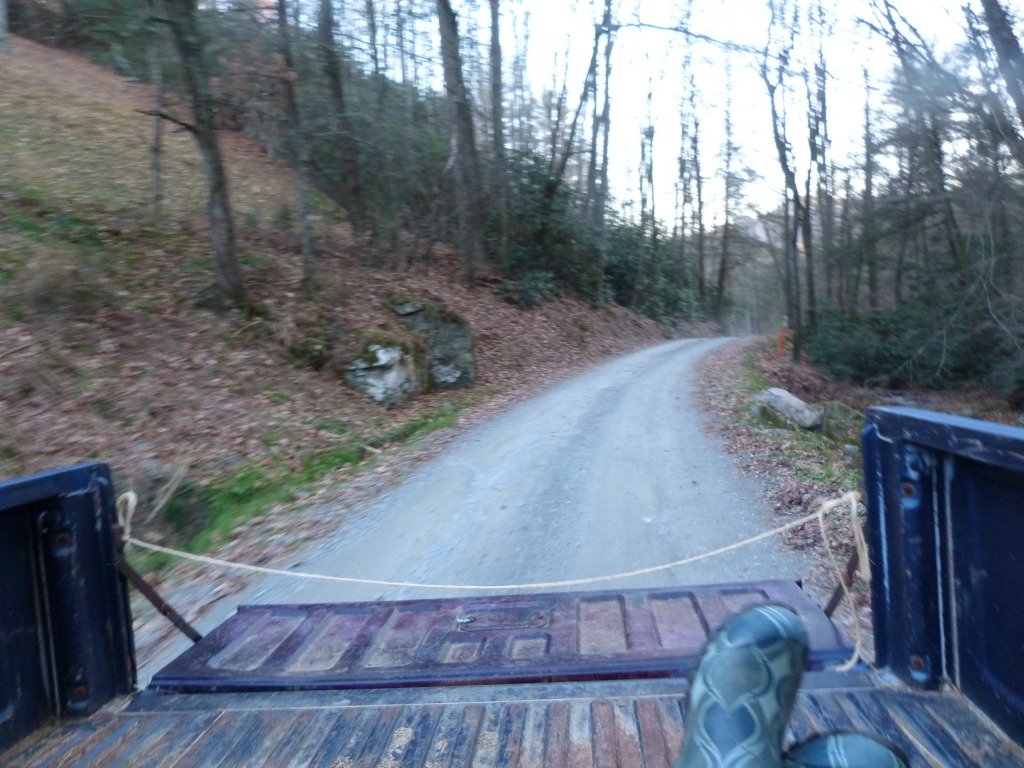 Here we are!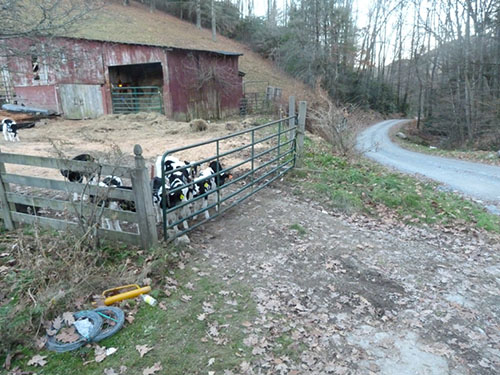 Let the ohhhhhing! and ahhhhhhing! begin!!!!
Ready? Here come the faces.
You should have heard us all.
OOOOOOOOOOOOH!!! AHHHHHHHHHHHHHHHHH!!!!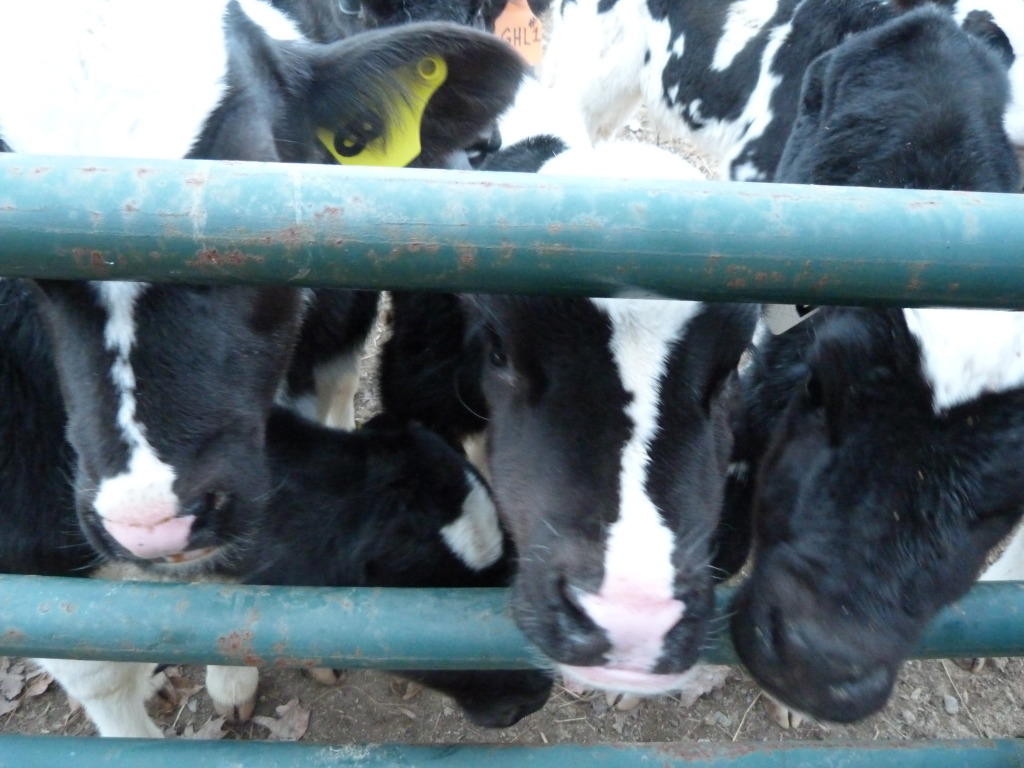 They are so tiny and precious. And loving. So sweet and gentle. Little babies! Come over here and let me kiss on you!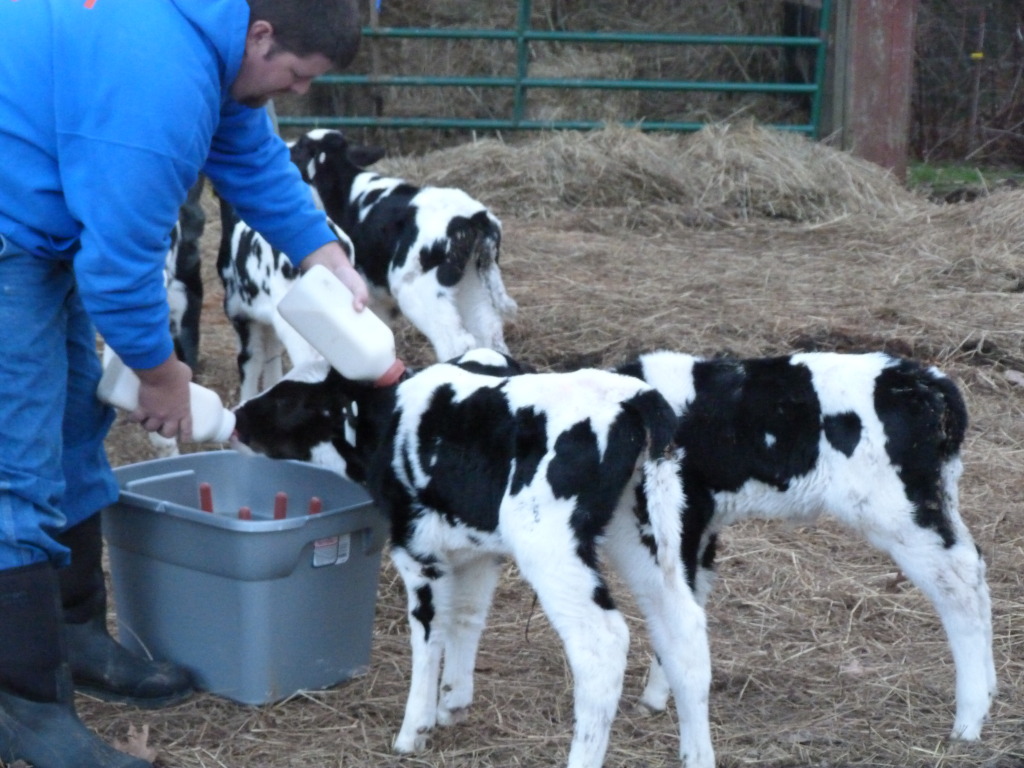 Mama?? Are you my Mama??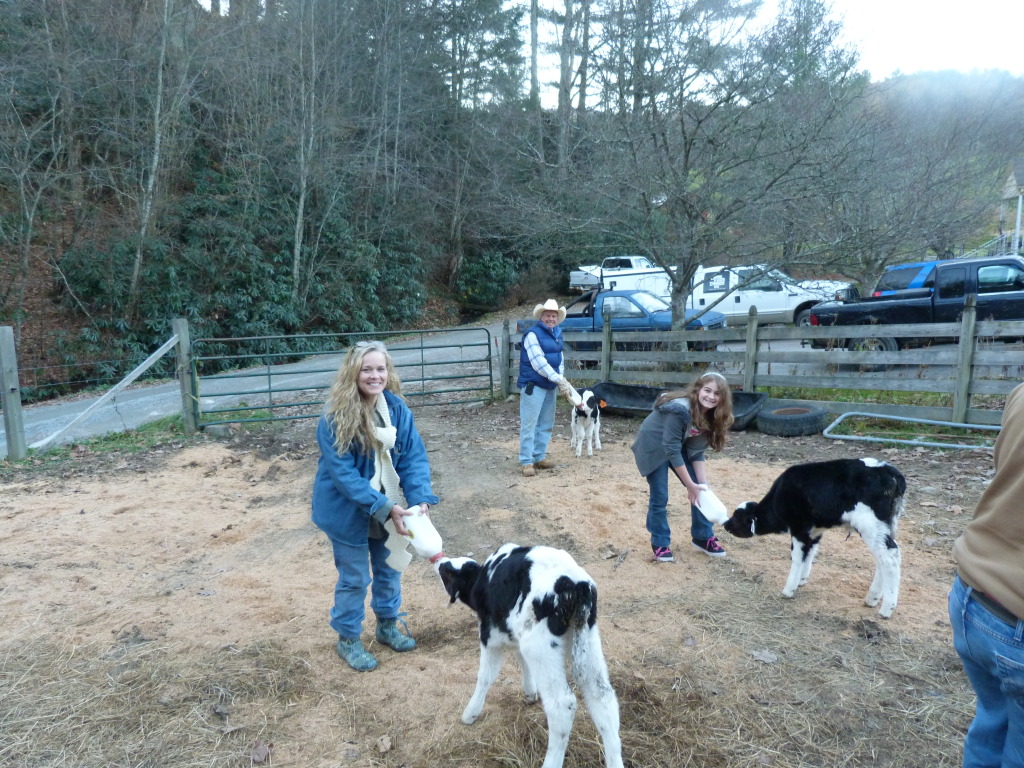 That's me and my daughter and my husband, who has taken to wearing a cowboy hat since we moved here. Cute thing. He always called himself a Closet Cowboy. He's out of the closet now!
These babies sucked with incredible force. It was hard to hold onto the bottles.
As they finished their bottles, we guided them into the barn where they'd be warm and safe for the night.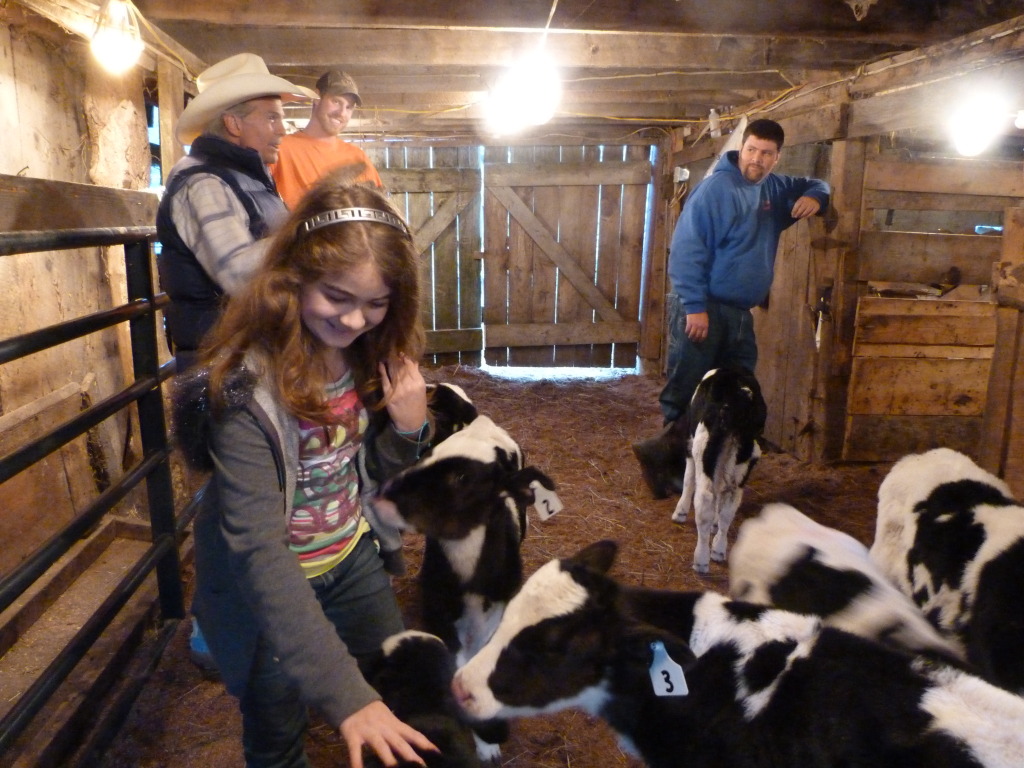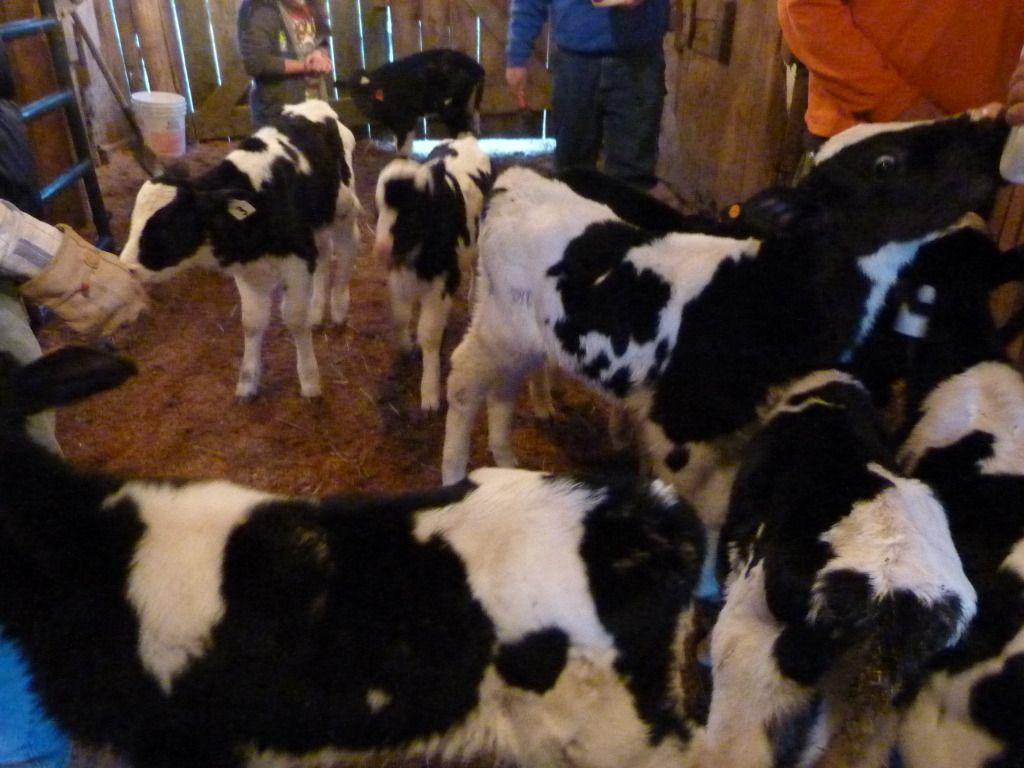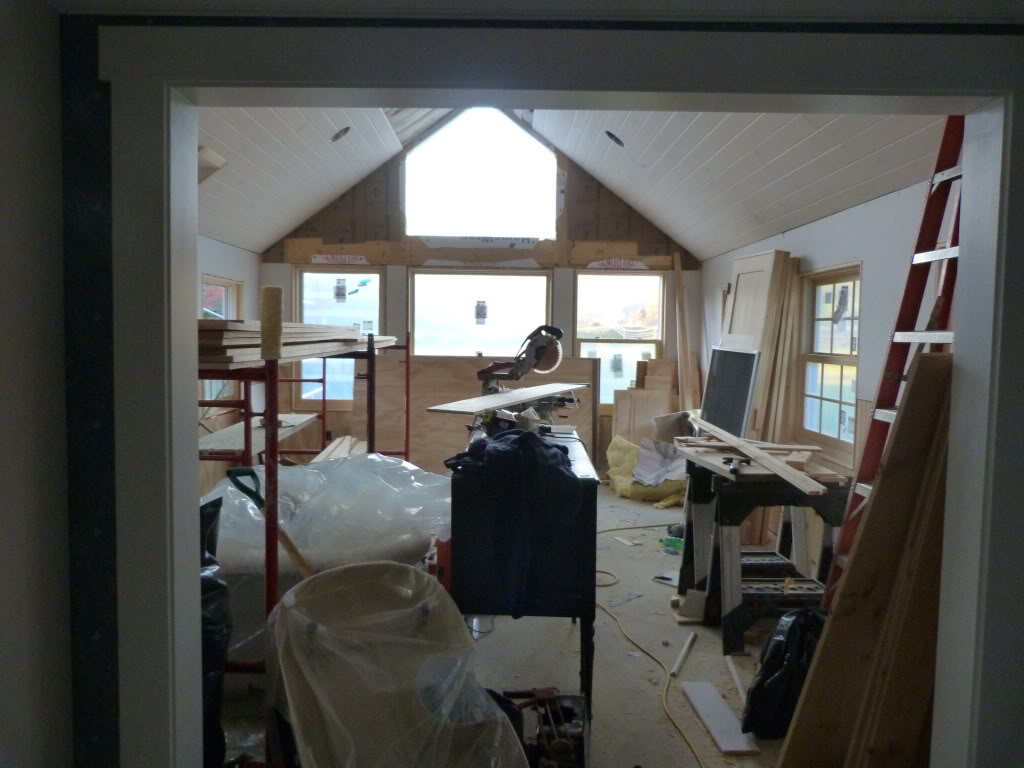 I could have stayed there all night loving on these 13 babies. They sucked on our hands and our clothes. Their eyes were gigantic brown saucers, filled with something I couldn't name. Love? Hope? Hunger? Intelligence?
Oh I change my mind! I do!
I do want a bottle calf!
Our friends are going to get another "batch" in a few months and yes! I want a couple! They are so adorable!
Then.
Within a week, the 13 became 5. My heart still hurts. Did the one I feed die? "Wait!" I told them, "Don't tell me. I don't want to know." Yes, my heart hurts and I spent only 30 minutes with them. Imagine if I had been feeding them twice a day, looking into those big brown beautiful eyes.
I am not cut out for animal farming. I see that plainly now. PAIN. Must avoid PAIN. There are no bottle calves in my future.
I DO NOT WANT A BOTTLE CALF FOR CHRISTMAS.
Shifting once again over to my beautiful new horse, with 20 or so different names. (But whose primary one will be Snowflake.)
I had an instructor/trainer lined up to come over and help us the morning after the horse arrived. We know nothing, remember? I got a text from her the morning she was to come over. "Family emergency. Will be out of town for a few days."
Okay, fine. I can handle this for a few days. Or so I thought.
The horse herd was in absolute and complete unrest. You saw my beautiful white horse with hoof marks on him. PAIN. The 4 horses that live here and our new horse were in constant chaos in the pasture. Snowflake was trying to take control of the herd from the boss mare. Or so it seemed to me. Me=The person who knows nothing about nothing that lives in a pasture.
But I knew that every morning we were greeted with a new problem or horse ordeal. 5 horses are a lot when 4 of them are basically untrained. My highly mannered and well trained horse was becoming wild. (Isn't that always the case? The good never rubs off on the bad? It's the bad on the good.)
I started asking around to find some immediate help in my pasture. We could no longer approach the new horse (of course, we're timid owners, keep that in mind! YOU probably could have, but we couldn't.)
I talked to lots of people who said they'd be able to come over in a few days to help, but no one who could drop what they were doing and help us figure out what to do.
My pretty white gentle horse went from being the KICKED to the KICKER.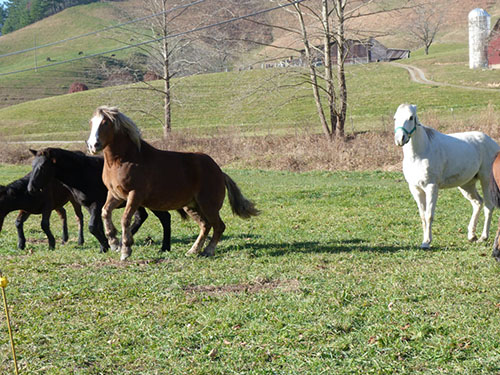 He'd lay back his ears and they run.
I learned a lot about horse language and herd behavior during this un-fun time.
I finally emailed a farmgirl horsey friend, someone whom I've never met in person, but whom I adore and admire from our online interactions. I've always thought we were kindred spirits, with a lot in common. She gave me the best advice in the world. Get the commotion out of your pasture. "…eliminate all unnecessary complications…." (A huge thank you to Carol, whom one day I will meet in person!)
It just so happened that the very next day the 4 horses escaped the pasture and ran through the woods. Our new horse stayed here. He was galloping and neighing and carrying on like you wouldn't believe. That's what made us go outside, to see what was happening. We heard him from inside the house with all the windows closed. We got outside and saw that the 4 horses were GONE. GONE! (1 of the 4, the little black colt is ours. The others belong to a neighbor and friend.) We went nuts. We are not used to this. We called everyone we knew for help. Horses MIA.
They were ultimately found in someone else's pasture down on a different road.
That's it, I thought. I can't take this. The words rang in my head "…eliminate all unnecessary complications…." Yes, enough already.
So, that afternoon, the 2 colts went to a trainer to be weaned and halter trained. The 2 moms went back to their owner's pasture. And we have finally been able to bond with our new horse. (The horse who is opposite of the horse with no name—"been to the desert on a horse with no name"—because ours has at least 20 different names, but who shall be called Snowflake. I think.)
Whew. I just about lost my mind on that one. It had been very stressful in the pasture and barn. VERY. Two weeks of chaos.
And I haven't heard back from the instructor woman I had lined up to help. I finally texted her~Are you okay? Worried. I mean, her family emergency must have been terrible to be gone on for two weeks. She texted that she was fine, headed back home, her laptop broke so she couldn't let me know. I texted back "Oh good. Need help. When can you come?"
Haven't heard from her since. So, no. I hadn't ridden my horse. I didn't even know how to get a saddle on him.
And yes, oh yes, he had picked up on our timidness. He wouldn't even follow us on a leadrope any more. He was like ~"You? You are my leader? Oh no, I'm doomed! I'll just stay here and take my chances."
And did I mention part of our barn fell down? Or that
AND THEN FINALLY. Enough emails, enough phone calls and I found a wonderful instructor who has come to help us. JOY again. Snowflake is ours again. We can enjoy him and bond with him. He truly is a Sweetie Pie. He is gentle and kind and wants to please. He is loving and profound and smart. JOY.
The colt that is ours will be returning to our farm, halter-trained in the next week. JOY.
I ordered a round pen to start some natural horsemanship exercises with our horses. JOY.
And I'm learning something new each and every day. JOY.
Learning especially from the PAIN, but focusing on the JOY.
Thank you to all my Farmgirl Friends. What a great network of women who are always there to help and support each other.
Talk to me.
Until next time, Friends, savor the flavor of life!
Lots of love, The City Farmgirl, Rebekah