I have never witnessed anything like it before.
The molting of my chickens.
But now that I've seen it, I think we should all molt. What a wonderful thing a yearly MOLT is. Drop our "old" ideas, prejudices, hurt feelings, grudges, chips on our shoulders, negative emotions. Molting is a painful, stressful process, sure. And yes, we must take extra special care of ourselves during it. But when we come out on the other side? Woo! Growth. Freshness. Power. Newness.
Blondie was the first one.
I thought she was dying.
I came into the chicken house one morning and noticed right away that the floor under where Blondie roosted was covered in her beautiful strawberry blonde feathers. And then I looked up at her~oh no.
She is a Buff Cochin. A beautiful and sweet chicken. She is one of my largest chickens too.
I came inside from finding her in that condition and did what we all do these days: googled it!
The problem with google is that there is sometimes too much information. That was the case in this situation. I decided after my research that she was either very, very sick or she was molting.
(It's like looking up headache, either you need to rush to the hospital because you're dying with an aneurysm or a brain tumor or you just need take an aspirin. It is hard to know which when you rely on google.)
Molting? I really didn't have a concept of what molting is. (But, I do remember reading about it in the classic children's book Make Way for Ducklings. Love that book.) I learned that the chickens molt in order to grow new feathers every year. Feathers are fragile. Chickens and other birds who live out in the wild get dinked and dingy and damaged wings.
So, I waited and I watched.
And as is often the case the first time you have to deal with something, I did everything wrong.
I would take Blondie out of the main chicken pen and carry her to my Chicken *M*A*S*H* Unit every morning. I have this set up for injured or picked on chickens. Every evening I would return to Blondie to the flock.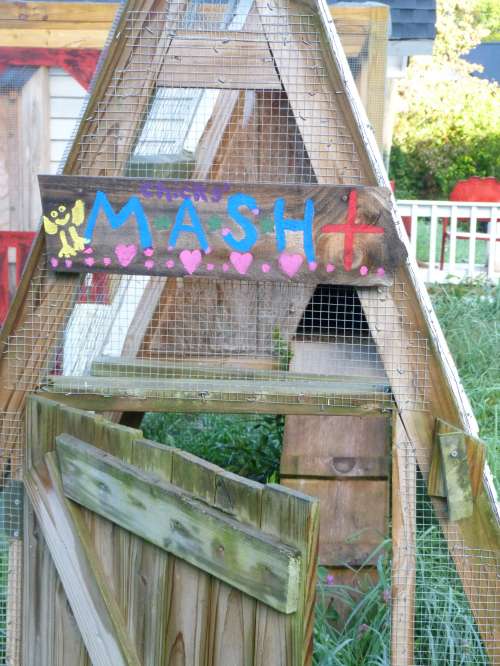 I NOW KNOW that handling a molting bird is very painful for them. The feathers are gone, but those little plastic-y quills are there. Molting is also stressful for them. So experts advise against changing any of their living conditions during this time. Even cleaning out the chicken house is a no-no. An additional fact that I learned is that chickens don't lay eggs during a molt. Their body is in high gear producing new feathers.
Here I was, handling Blondie and moving her every day to a new environment. That's part of being a newbie. You try your best, but bam. Fail.
Days pased. I eventually came to the conclusion that Blondie was molting, not dying.
I also read that molting chickens need extra protein. Seasoned chicken owners say to feed them dried mealworms and cat food. So I did that. And I quit moving her when I read how important it is to keep their stress down.
The molting process took weeks. I wish I had taken more photos of Blondie during the process, but it didn't really occur to me that something miraculous and wonderful was happening that I should record. I was mainly sad and worried.
But I did take a photo of her this morning. Her feathers have grown in beautiful and lovely. Soft and perfect. The feathers on her legs and feet are still filling in, but other than that I think her molting process is complete. That's Blondie on the right.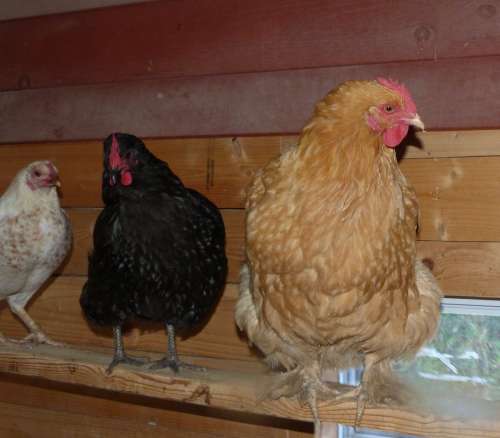 Also pictured is Henny-Penny, our Jersey Giant. She's a great hen too. She lays a big brown egg every day. But, she is definitely "chicken." She is the bottom of the pecking order and the other birds are often not kind to her. Even though Henny-Penny is larger than most of the others in the flock, she runs away. Because she runs, like a victim, they treat her like a victim. There's a lesson in there for all of us (not just chickens): don't act like a victim or you will become one.
And the one on the end there is still our "Mystery Hen." Cornish Game? That's our best guess.
Oh, my Rooster decided to show off, so I took his pic too.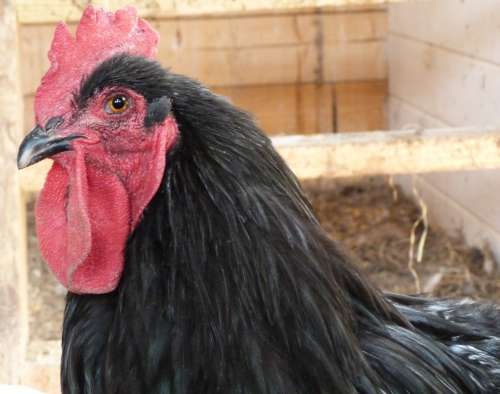 So when I came in the chicken house the other morning and saw one of my Red Cap's feathers all over the place and then saw her. Well, I knew exactly what was happening. I have two Red Cap Chickens and one had begun molting.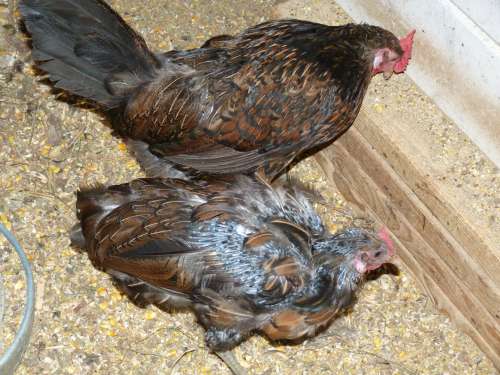 With her, she is also losing her red comb. I'm not sure that happened with Blondie. I took a close-up of her molting process and was amazed to see it when I uploaded the photo. She is fidgety and flighty, so I couldn't tell it looked like this: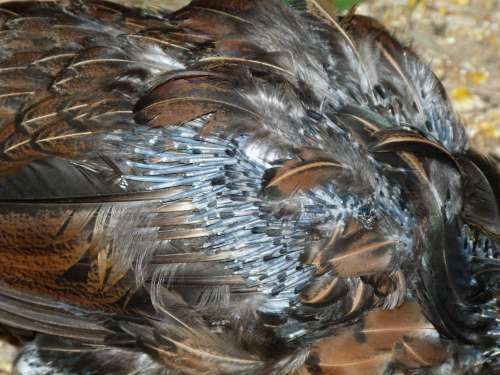 Do you see that? Her new feathers are growing out from the inside of the quills, a little at a time. I had no idea that this is the way a bird grows feathers, THROUGH the quills. The quills are like little straws.
Here, I enlarged it.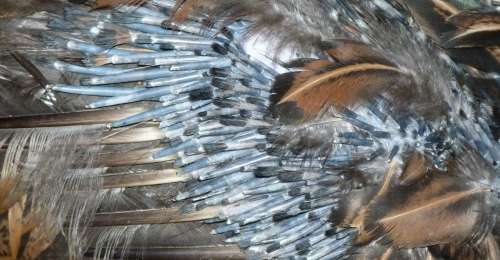 Can you tell now?
So this time I am leaving my molting chicken be. I make sure she is getting mealworms and I leave her alone.
At night, she does not roost with the flock. She stays by herself on the window ledge. I know that physical contact is painful for them, so I'm guessing that she wants to be left alone. During the day she hides out behind one of the plywood boards I have in the run-in for just that purpose. A place were a chicken can get away from the others.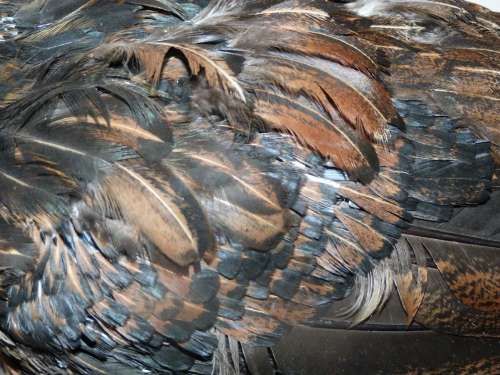 Here is the progress this morning. Many of her feathers have popped out.  Wow, am I right?
Just wow.
I wonder who is next.
And then maybe I should molt too. There's plenty I need to shed.
Until next time, Friends, savor the flavor of life!
Lots of love, The City Farmgirl in the Country, Rebekah