I've shown you our farmhouse and our outbuildings.
So, the only part of our new digs that you haven't seen yet is the yard. And what a yard it is!
Shall we? Let's!
First we'll climb the hill behind the house and take a look from my "looking rock." I am so drawn to this rock. When we finally pull in the moving trucks, I'm heading up here with a bottle of champagne. No, two bottles. One to drink and one to christen the rock with. (You know, like folks do with their new boats.)
This is a good view of the farm. You can see the house and some of the outbuildings. The house is in the center; outbuildings to the right.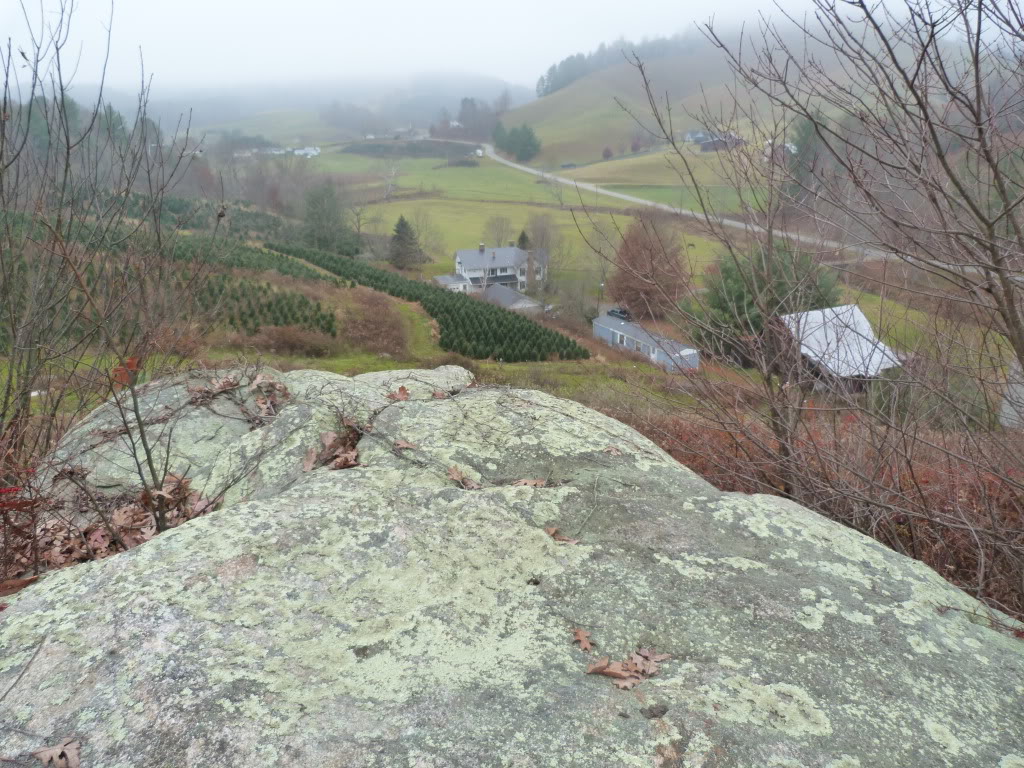 And yes! That is indeed a field of Christmas trees on the hillside!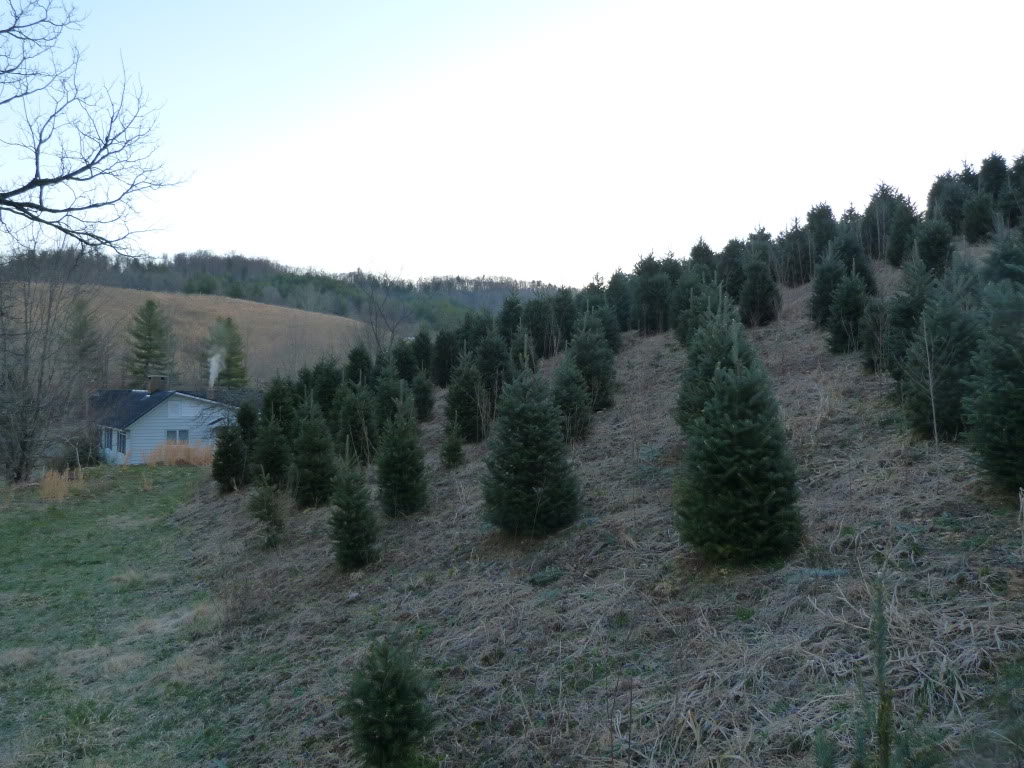 Have I mentioned the Christmas trees to you? I LOVE Christmas!
You wouldn't believe the smell of the trees when you stand in the middle of this field full of them. They are Frasier Firs. DEEE-vine!
"O Christmas Tree, O Christmas Tree…"
I'll be singing Christmas songs all the year long now. Oh wait. I've always done that!
Okay, let's continue on up the hillside.
There's a nice pasture. What should I populate this pasture with? Mmmmm…..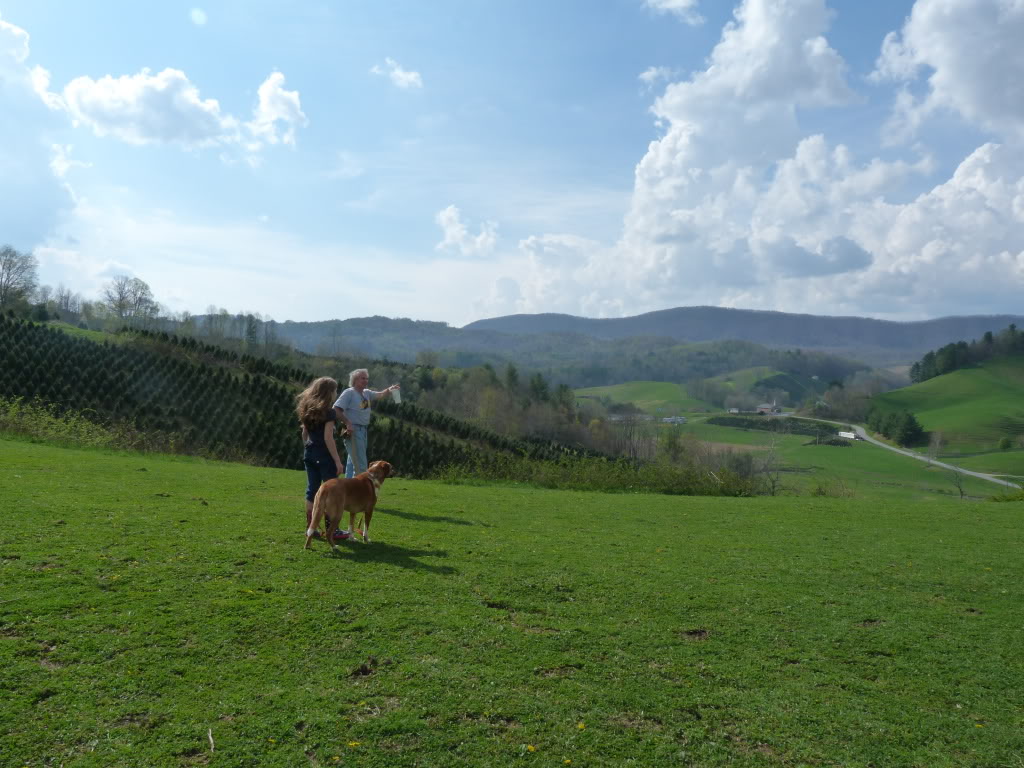 Up we go. Let's continue climbing the hill.
I adore this picture of Hubs walking up the hill with Blue.
Something about the sky and clouds.
I love him so much. I'm lucky he's mine. He's always called himself a 'closet cowboy.'
(I'm going to get him a horse so he can start calling himself a 'cowboy.')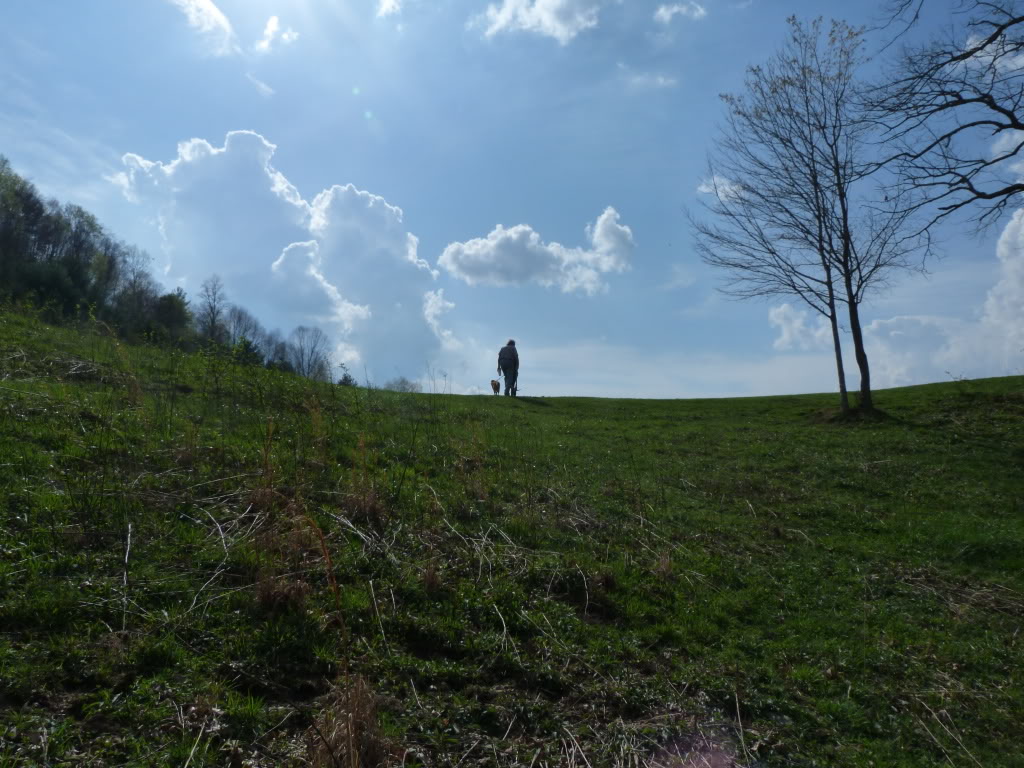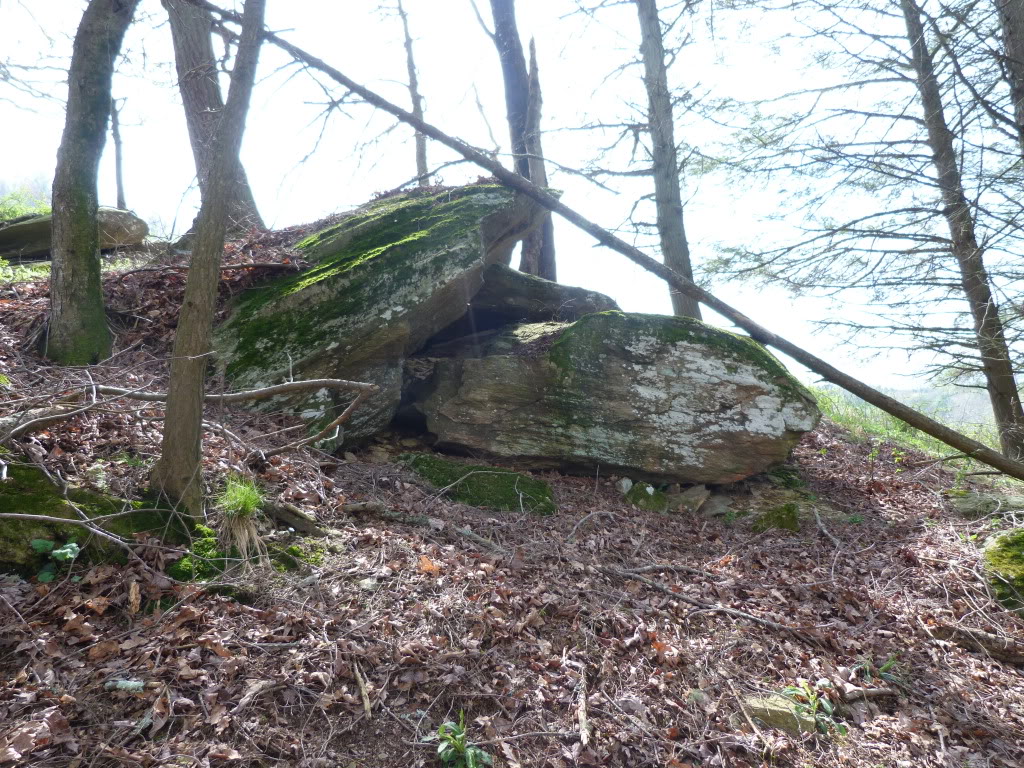 Have I mentioned how I am about rocks?
I have always been the person in the group who picks up rocks and puts them in her pocket.
So when I saw these rocks on our new land I was like "YES!"
And this one is really, really cool. It is deeper in the woods. The rock overhangs and forms a cave-like thing. I wanted to crawl up there and look in, but someone mentioned snakes and bears and I was like—no, I'll wait. And I wasn't particularly dressed for the occasion.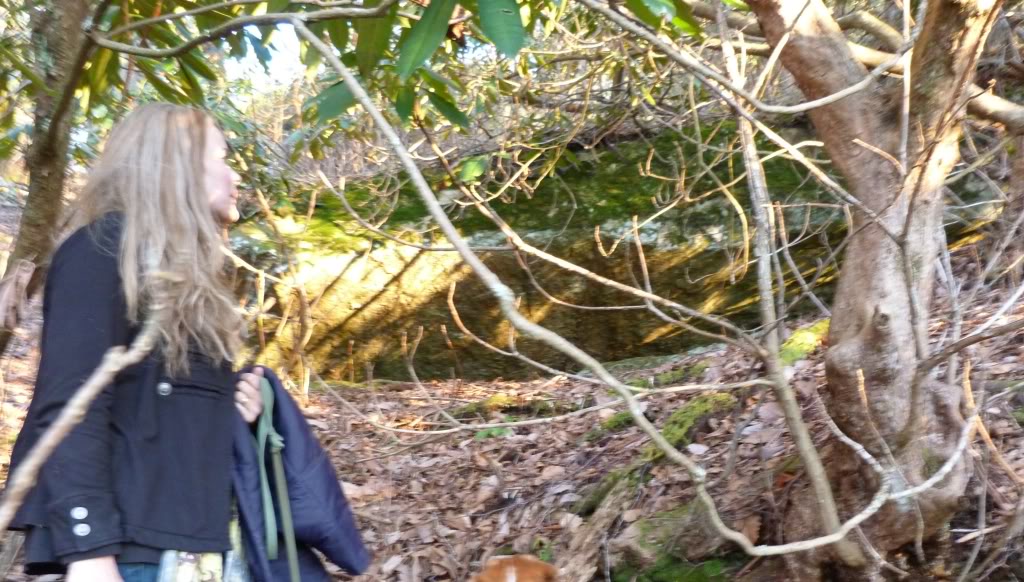 Heading further into the woods, we come to a wild rhododendron patch. And look at this interesting formation on the tree trunk. I've got to come up with a name for it; I'm sure it will be an everlasting landmark when we're in the woods.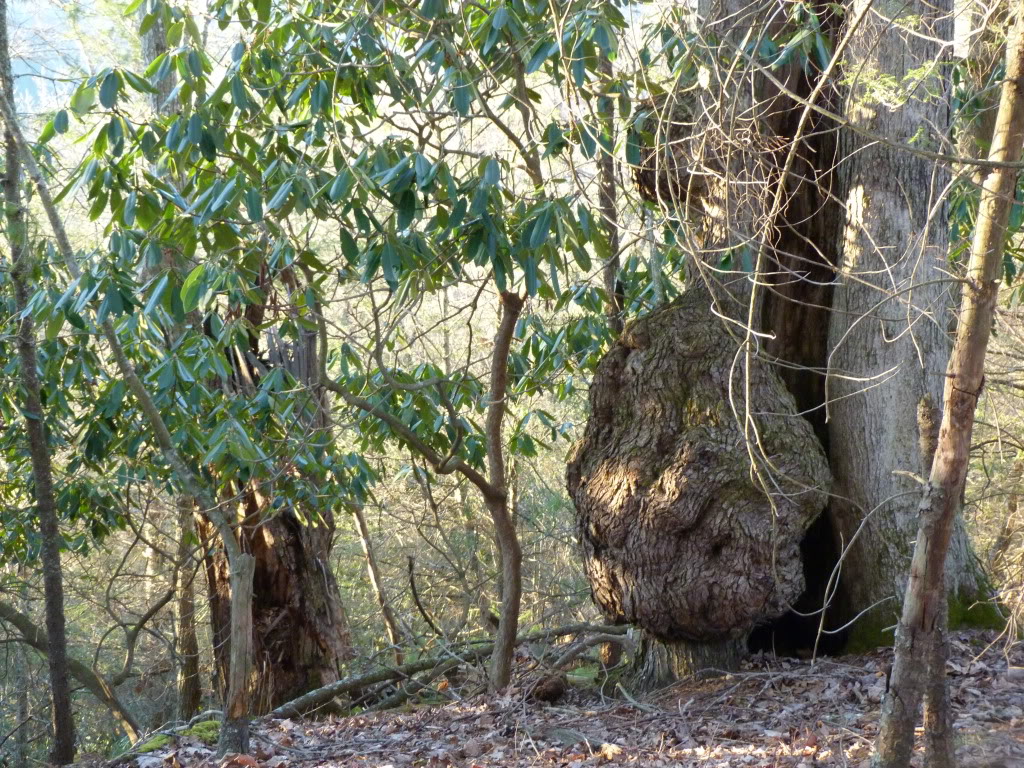 Y'all asked me about the property. I think it's about half wooded and half pasture/fileds. There are a total of 75 acres. Let's head back down the hill and I'll show you the fields and the mountain stream.
 Here's a good shot. It shows our field. When I took this picture, we were standing on someone else's property, but it shows our field very well.
Look at all that rich, brown dirt. Around here all we've got is Georgia red clay, so I'm looking forward to working in some real dirt!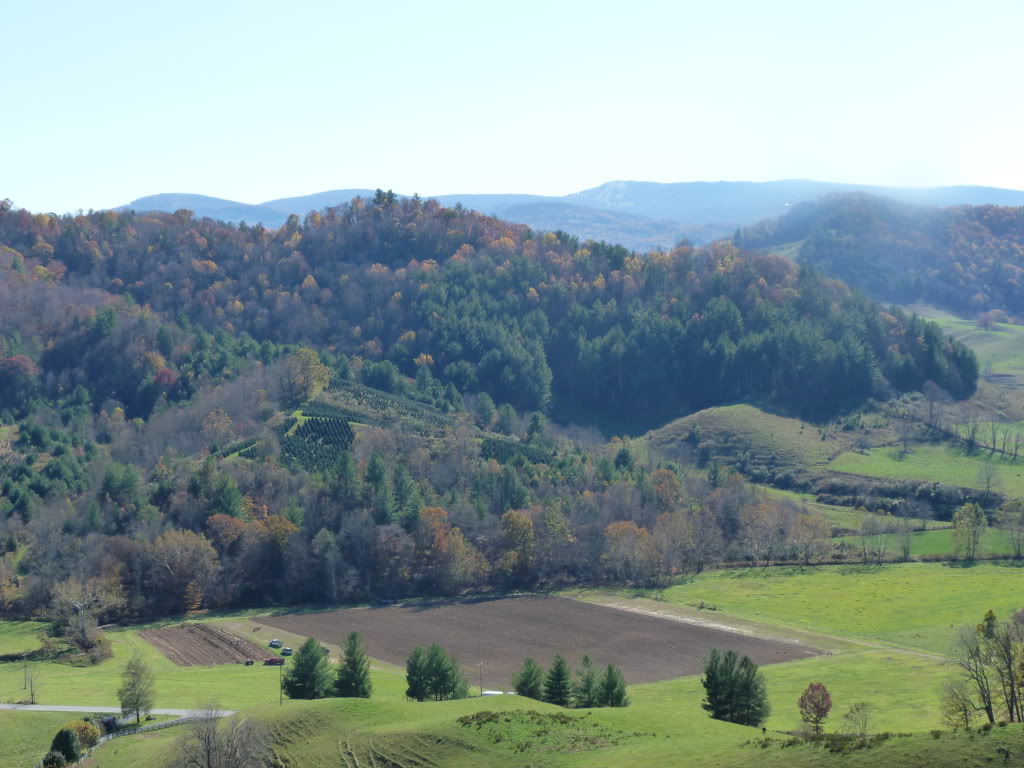 Okay, now let's check out the mountain stream.
Oh yeah!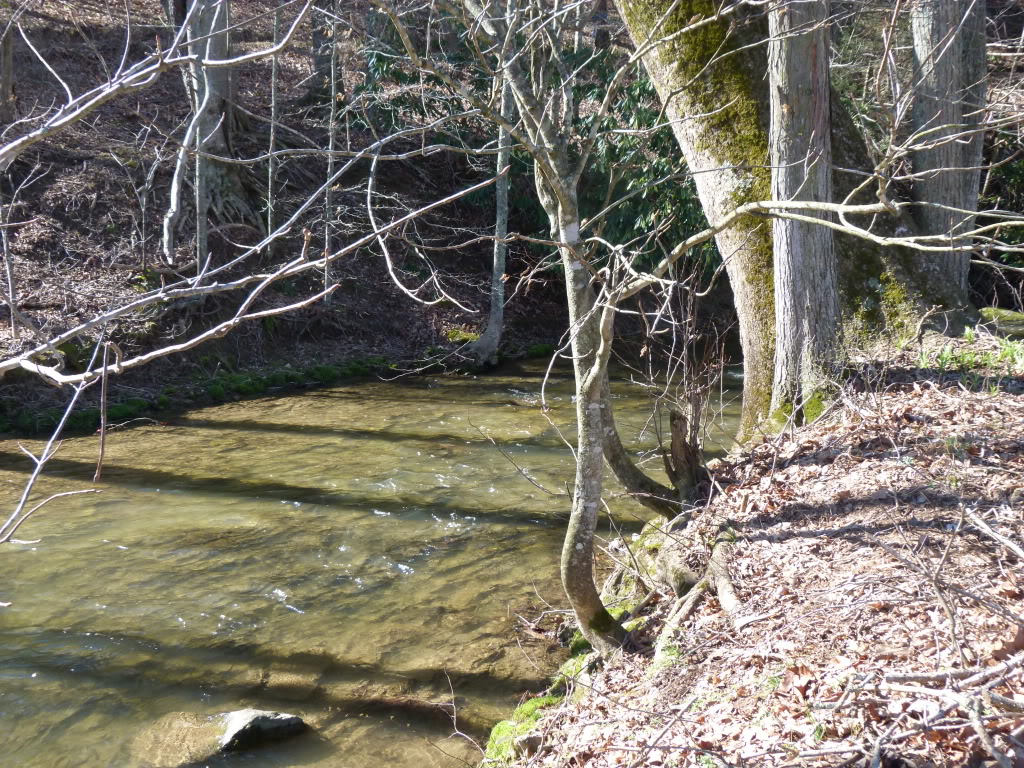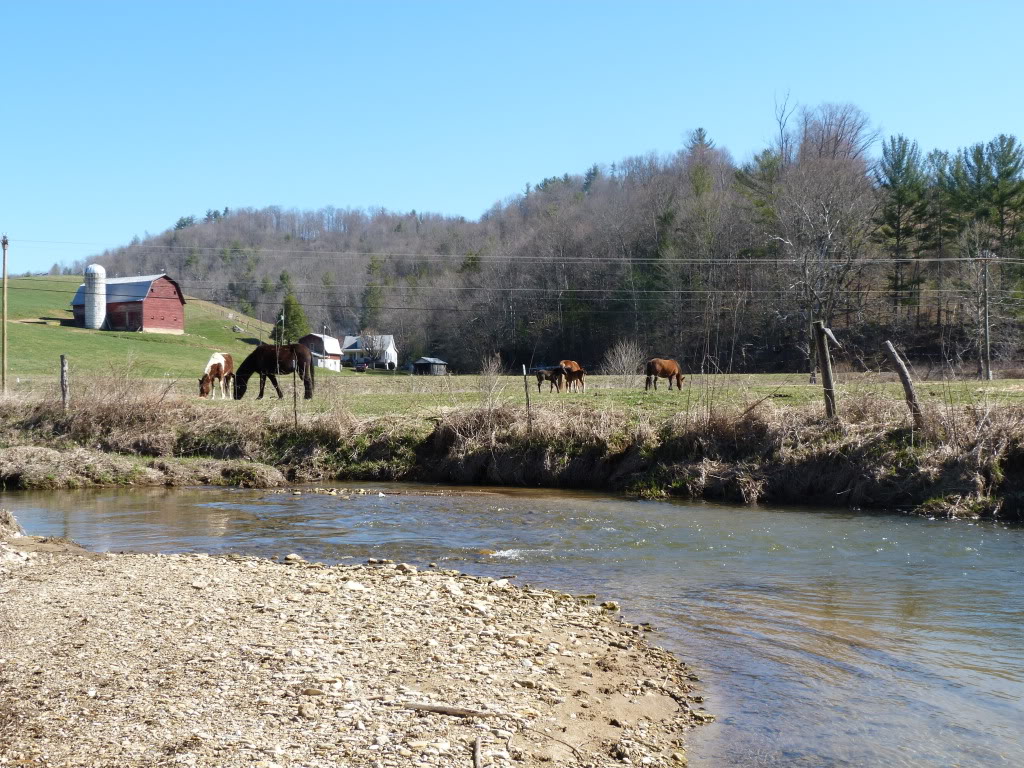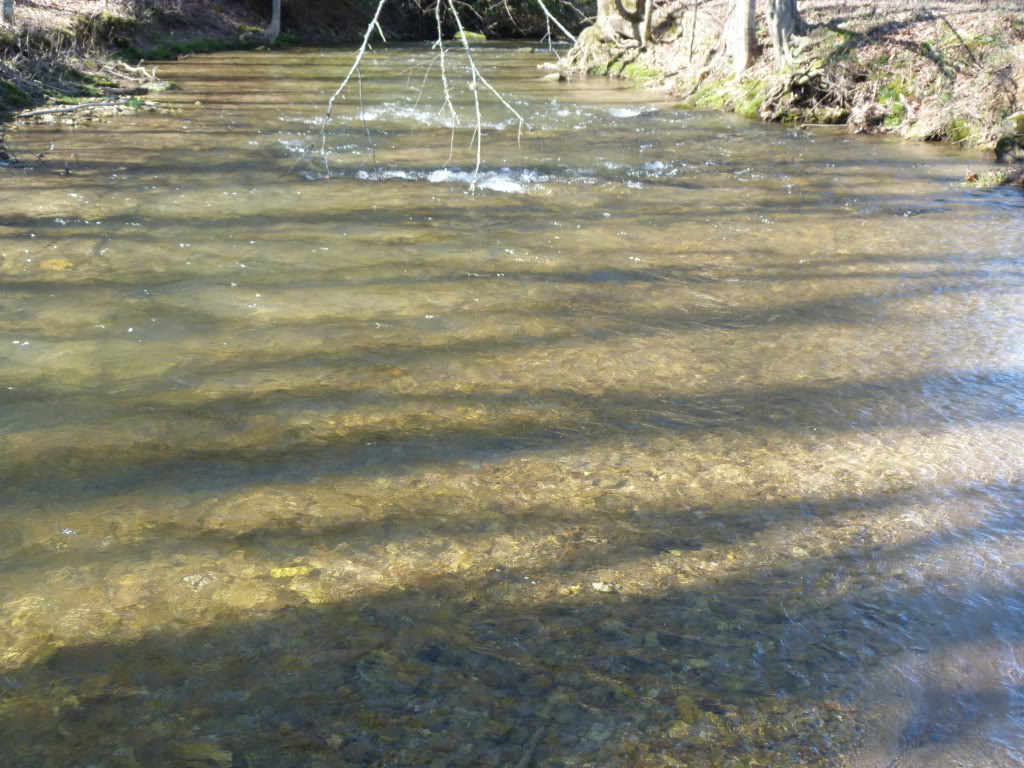 I want to get an intertube and float down this creek. No snakes, right?
And here's something special and wonderful about our new farm. Something that grows down by the creek.
See this old sycamore tree?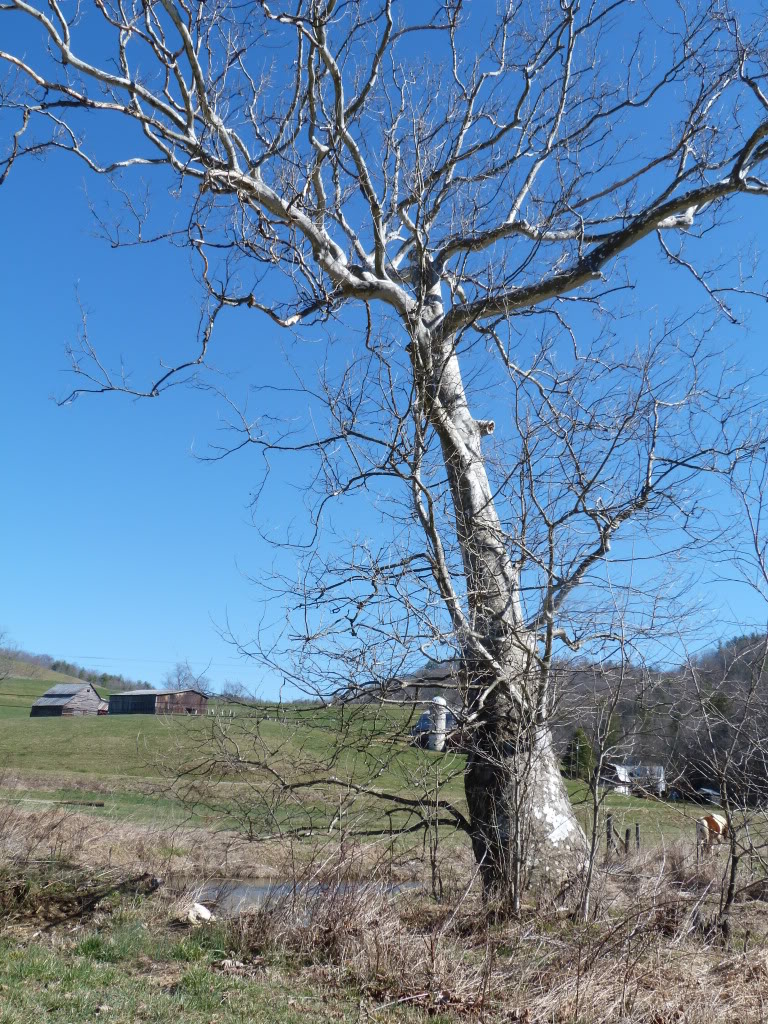 The preacher came by to invite us to church. As he visited, he  mentioned that years and years ago, before the church had an indoor baptismal font, baptisms were performed in our stream by this sycamore tree.
That tidbit of information absolutely took my breath away. You see, the farm has felt sacred to me since the first time I stepped foot on it.
And now we've got to name our farm! You know I need your help with that!!
Until next time, Friends, savor the flavor of life!
Lots of love, The City Farmgirl, Rebekah