"It's a sure sign of summer if the chair gets up when you do."
Walter Winchell
What are you going to DO this summer? Besides stick to your chair? Won't you share your summer dreams and plans with us?
Summer arrives officially June 21st at 1:16 pm Eastern Daylight Time, don't you know. Yep, June 21st is summer solstice, the longest day of the year, the shortest night.
So summer's here. Let's claim it! Let's make it our own the way we used to do when we were kiddos.
"Summer's here, I'm for that, got my rubber shoes, got my straw hat…" James Taylor
Remember the last day of school? You stood in a circle of friends and excitedly rattled off your list of everything you were going to do this summer: "And I'm going to see Grandma, and I'm going to learn to dive off the high dive, and I'm going to camp for a week, and I'm going to build a tree house, and I'm going to read

Little Women

, and I'm going to visit my cousin, and I'm going to go camping with my parents to Washington D.C., and I'm going to learn to do a wheelie on my bicycle, and I'm going to picnic every day, and I'm going to canoe, and I'm going ride the biggest roller coaster at Six Flags, and I'm going to…."
"When I was a little kid, of course, I was brown all summer. That's because I was free as a bird-nothing to do but catch bugs all day." Roy Blount, Jr.
So let's claim summer that way. Let's make a list of everything we want to do and post it somewhere. And I don't mean expensive or fancy plans. I mean simple, meaningful rituals, activities, visits, celebrations. Obviously we have to work now; we can't just catch bugs all day, but we have to make time for summer play. Even if it means stepping away from the computer. gasp.
Let's make sure we have some things to write about when our essay assignment comes in September: "What I Did This Summer." So how are you going to m
ake this summer yours.
(Seinfeld fans, remember the "Summer of George" episode?)
I'm working on my list right this very minute. It starts with celebrating Summer Solstice. I'll start summer beside a campfire, watching lightning bugs, looking for familiar constellations and eating s'mores.
"Be like the flower, turn your face to the sun."  Kahlil Gibran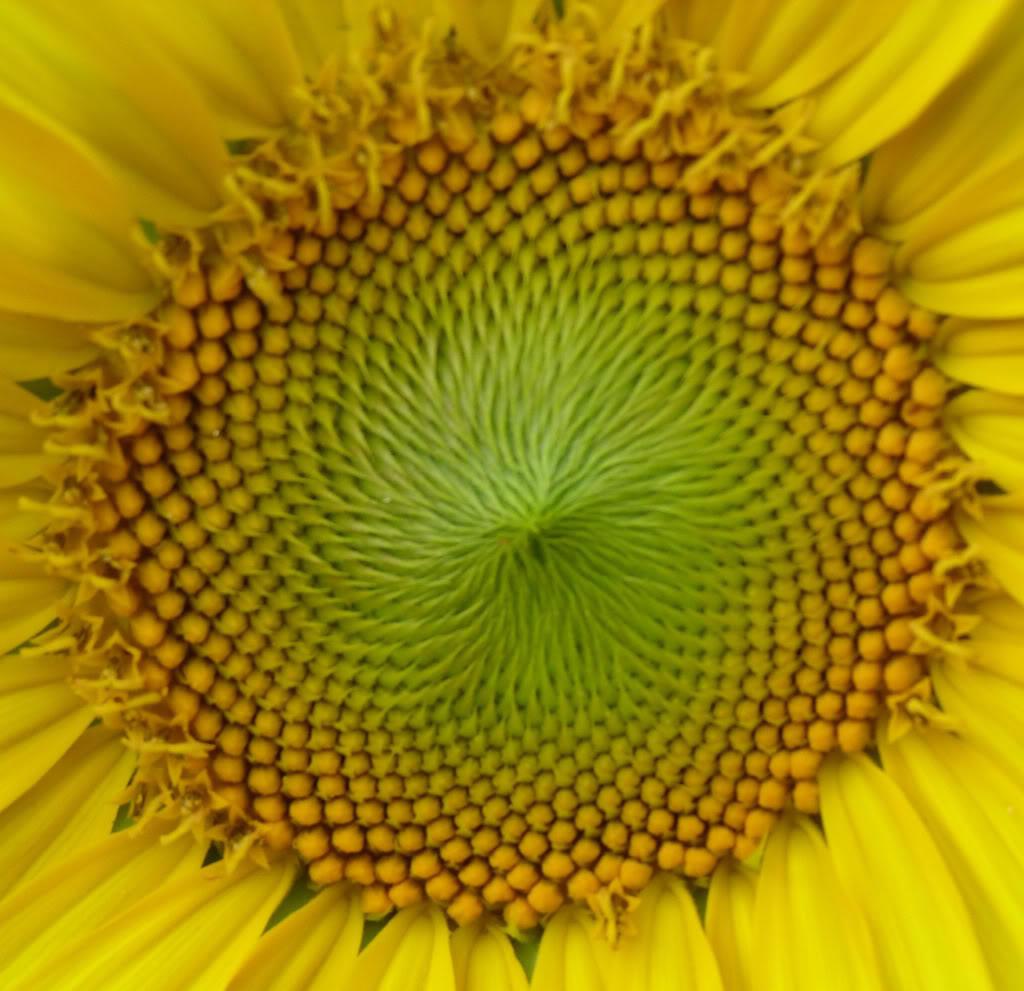 This is a volunteer sunflower. I didn't plant it.
Some squirrel or bird gave me this one. Thank you, squirrel or bird.
I took this picture, and the sunflower was gone the next day.
Completely eaten. No trace.
That's the way it works I guess. Some squirrel or bird planted it; some squirrel or bird enjoyed it. 
"In summer, the song sings itself." William Carlos Williams
Summertime has its own music.
Mine is
Jimmy Buffet. The Beach Boys. Bob Marley.
And obviously, of course, without question. James
Taylor. For all seasons.
Do you listen to different music during the summer?
Each season has its own distinct flavors.
Summer food means fresh from the garden or the farmer's market.
Summer is cold watermelon.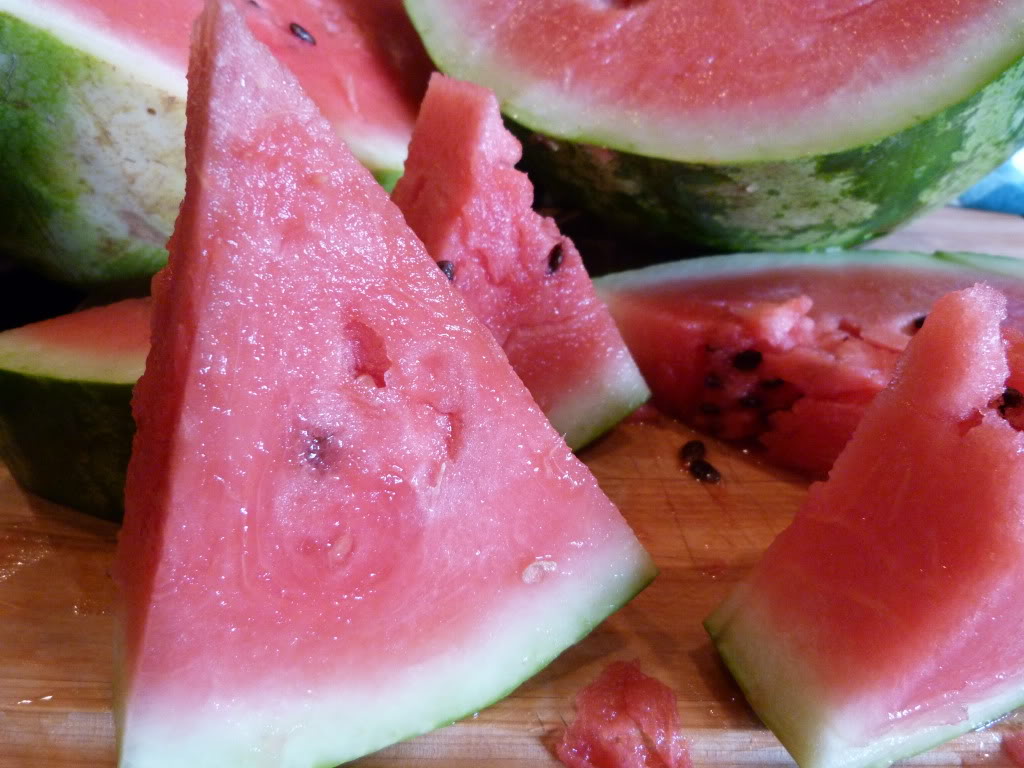 My uncle was a traveling salesman whose territory included south Georgia and north Florida. During the summer, when he'd drive back home, he'd stop by a roadside stand and buy watermelons from a farmer. He'd always bring one to us on Saturday mornings. What a treat that was. My Mom would take her sharpest knife and newspapers. She'd spread the papers out on the lawn, and we'd close by and eat fresh, cold watermelon slices. I still cut my watermelon the way my Mom cuts hers.
Summer is home-made ice cream in the electric churn. Strawberry is my favorite.
Summer is salads. Macaroni Salad. Pasta Salad. Corn Salad. Lentil Salad. Rice and Feta Salad. Cucumber Salad. And of course, regular old salad Salad with home-made dressing using fresh herbs from the garden.
I'll be sharing summer recipes this week at
www.rebekahteal.com
, starting with a Corn Salad that is summer splendid: healthy, refreshing, easy, and delicious.
Here's the book that's first on my summer reading list. It won't surprise you, if you've been here awhile. Put James Taylor on the cover, and I'm buying the book. Period. (Works with DVDs too.)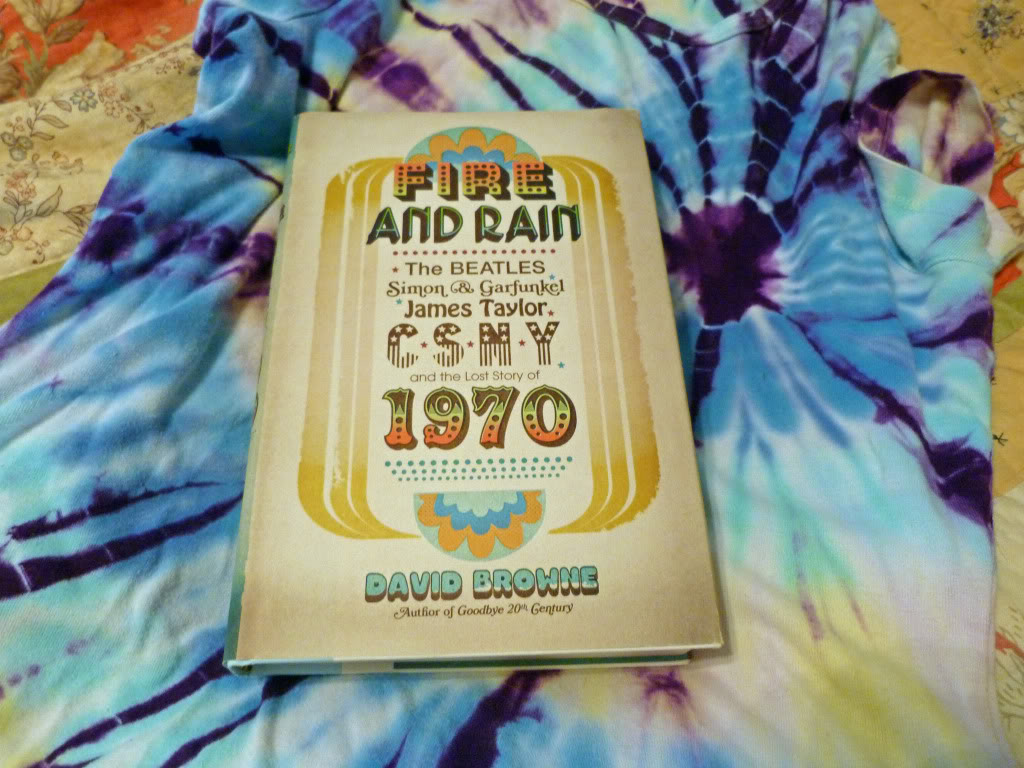 Each summer, the arrival of summer means something different to me. Each summer has a different theme, a  certain vibe.
This year, give your summer a theme. I think mine has already emerged.
My summer theme this year is 1970.
Do you remember what were you doing in 1970? What was your life like? How old were you? (Were you born yet?) I was in between the 1st and 2nd grades. 1970, the world was churning, volatile. Yet, I had no idea.
I grew up in a small town that had a very active hippy community, originating at the college in town. Head shops, communal living, free love. I had no idea. This summer I'm going to do some research into the hippy environment in my home town. Plus, I'm learning to play the guitar, I have a long flowing peasant skirt, a tie-dyed shirt (you saw it under the book I'm reading), and big peace sign earrings. I'm all set for 1970.
In years past, I've spent the summers complaining about the heat and humidity.
"I'm melting, I'm melting…" The Wicked Witch
"What dreadful hot weather we have! It keeps me in a continual state of inelegance." Jame Austen
Guess what? This year—starting now—I'm not going to say a negative word about the H-O-T weather. I'm not going to go on and on and on about the inelegance of sweating.
No, for real. I'm serious.
I hereby pledge to not moan and groan about the temperature or the stickiness of summer. Girl Scout's honor. Wow, I'm really biting off a lot on that one, but I'm committed.
"A perfect summer day is when the sun is shining, the breeze is blowing, the birds are singing, and the lawn mower is broken." James Dent
So tell us—how are you going to claim this summer?
Until next time, Friends, savor the flavor of life!

Lots of love, The City Farmgirl, Rebekah