What brings you happiness? Today, this precise moment? Won't you go ahead and jump down to the comments to share? Then come back up here and let's visit.
I stood out in the middle of my new garden this morning, surveying the result of lots of sweat, hard work, and frustration. A wave of happiness came over me. This garden, with its new picket fence around it, makes me happy.
And that got me thinking: why is that so?
Why does this little garden make me feel happy?
Well, for starters: I did without a garden for several years, so I appreciate this patch of dirt in which I can plant seeds. I think when you've done without, you reach a new appreciation level for what you have.
And. We did the fence ourselves. I knew that I couldn't harvest what I planted, or reap what I sowed, with all the hungry wildlife around. Deer and rabbits are my main foes. So I called a fence guy. He came and gave me a quote for a fence. I had sticker shock. I became fueled with self-determination when Brenda sent me a link (found
here
) showing me the garden fence that her husband had built. (
Here's
Brenda's impressive garden fence AND garden!)
I sent the link to my husband, with the subject line "I think we could do this." And we did. It took us a long time. I hate to admit it, but it took us an entire weekend JUST to lay it out. I finally asked my Daddy to come up and help us because we were having such a hard time squaring it up.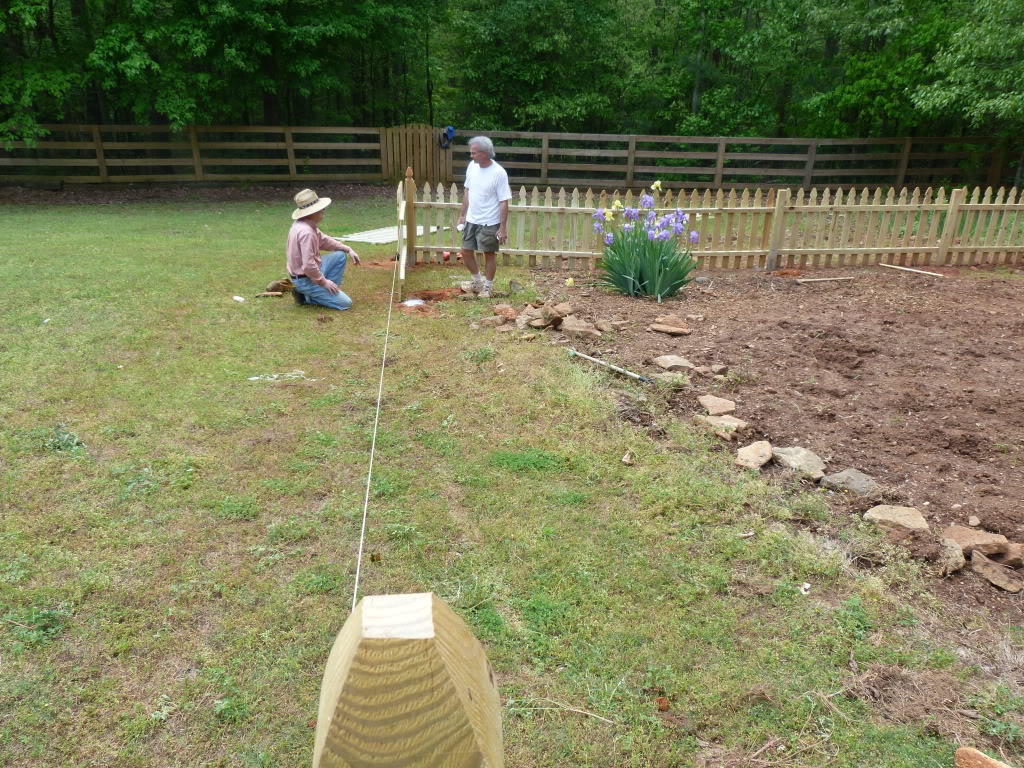 And then we hit some big obstacles. One of which was hitting our water line. Oops.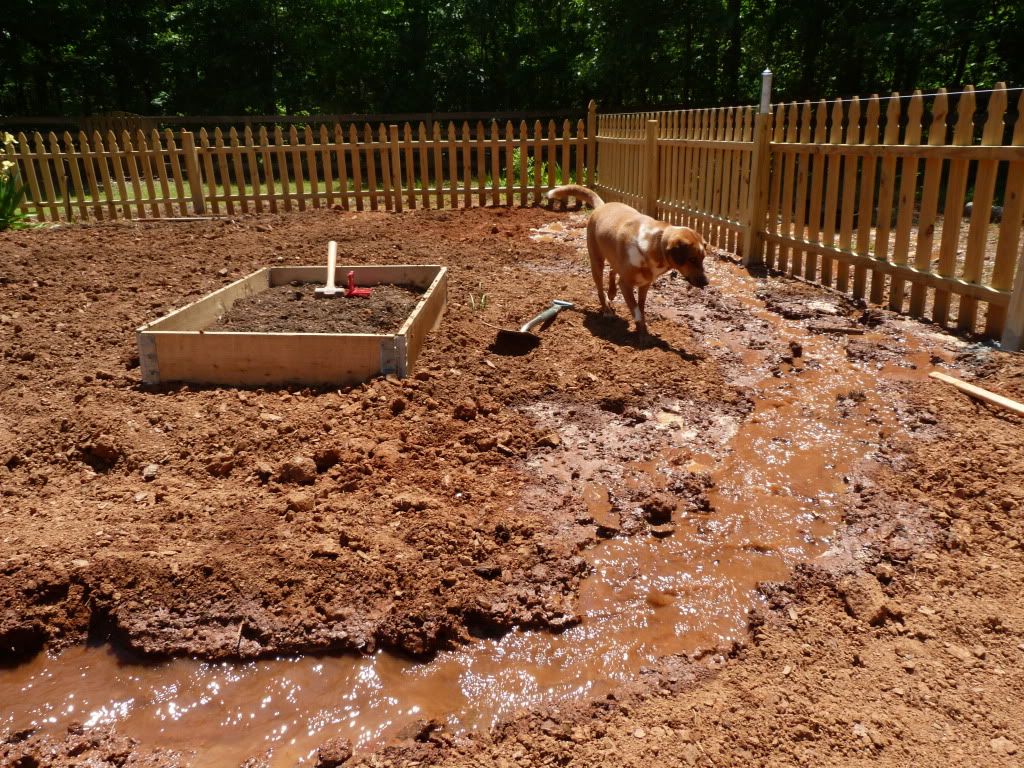 But then my brilliant husband came up with the idea of making the broken water line into a outdoor faucet inside the fence. Perfect! You talk about making lemonade out of lemons. We would never have been able to do that because we had no idea where the line was. Until we accidentally hit it.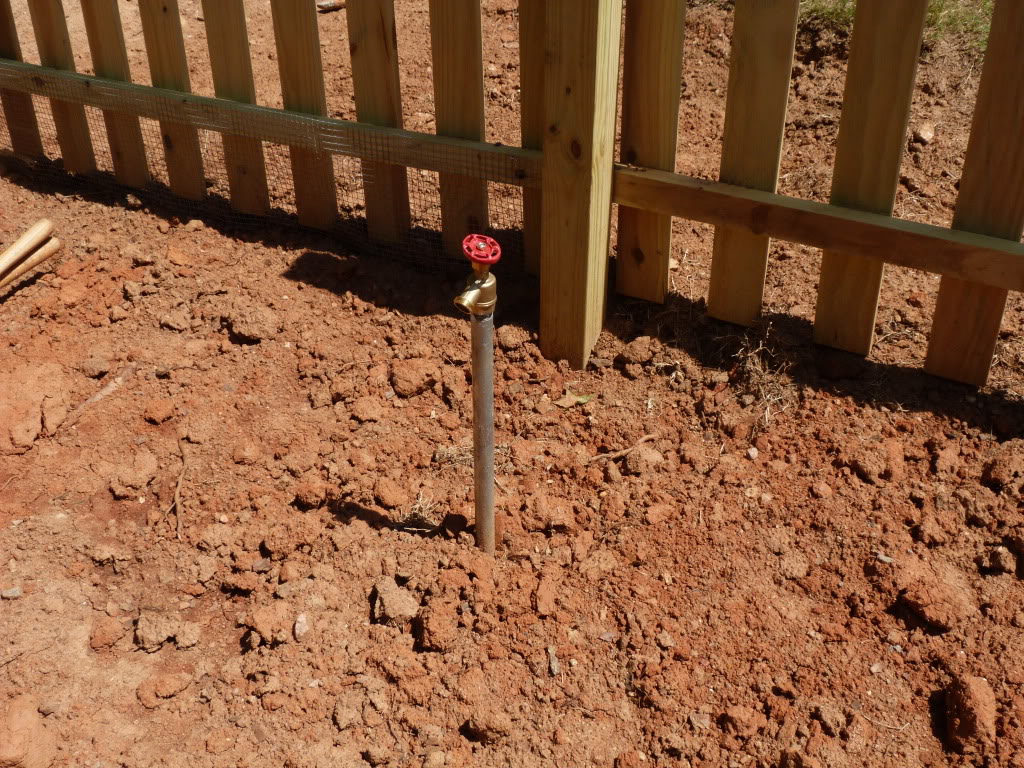 Yep, building that fence wasn't easy. But we did it; and we've got a garden to show for it.
And you know what else? We had fun in the process. We worked together and smooched as much possible. Thinking of those times makes me happy.
Next came garden planning. That step in the process made me happy as well. A
study
 showed that people get more happiness out of planning a vacation than they actually do going on vacation. I wonder if that's the case with gardening? I can tell you this: I had a lot of fun planning this garden. I poured through the seed catalogs and drew diagram after diagram of how I might set it up.
I think my happiness also comes from me liking to be outside and in the dirt. My fingernails have always revealed the truth that I like to play in the dirt. I was one of those kids who didn't mind getting dirty. (And I still don't.) I remember coming home covered in mud from a very fun neighborhood-wide mud fight. It was in my hair and my ears, just everywhere. I also remember that my mom didn't scold me. She just helped me off with my filthy wet muddy clothes and sent me off to the bathtub.
Another reason I find happiness in the garden may be that I like the way the earth smells. Dirt. I even take pictures of it. Like when I was so excited to find bags of composted horse manure at the local farmers' market. If you lived in Georgia, with all the orange clay, you'd be thrilled with manure too, I bet.
My dirt.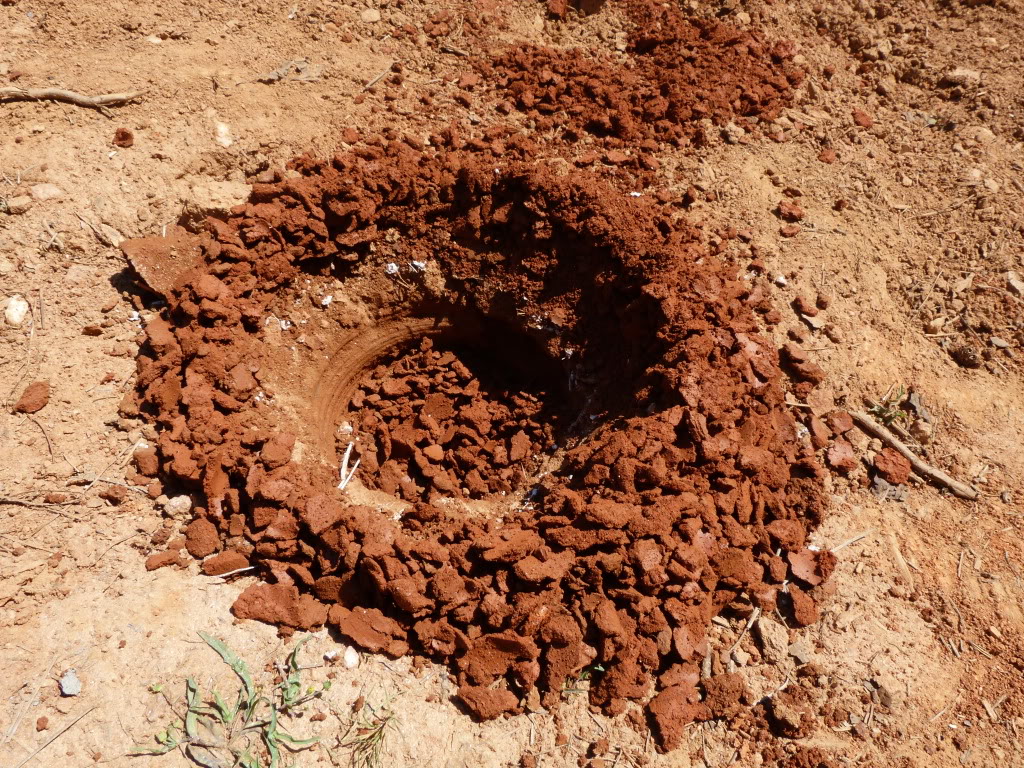 The manure I found.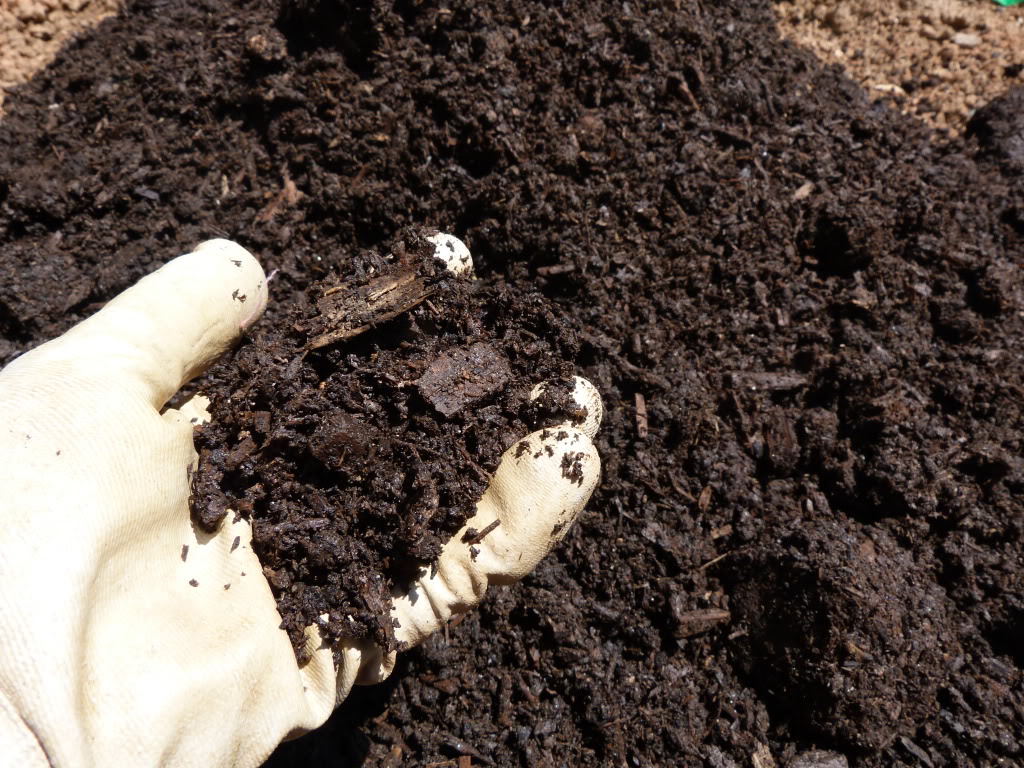 See what I mean?
Happiness in a bag.
There is another smell I like when I garden. I also like the way the tiller smells when you crank it for the first time. That smell takes me immediately back to Grandparents' farm. I'm pretty sure that is one of the reasons I like to play in the dirt. Memory association.
I also felt happy when I headed out to my garden and saw, for the first time in the season, the seeds sprouting. It's as though I didn't really think it would happen. I get so excited and thrilled with the whole miracle of that seed. I planted a dried old piece of corn in that hole and now it is a tiny plant. And one day it might produce more corn. With more seeds. I mean, come on. That is a miracle. It's an encounter with the holy, the infinite, the source.
"Happiness cannot be traveled to, owned, earned, worn or consumed. Happiness is the spiritual experience of living every minute with love, grace, and gratitude," so says Denis Waitley.
And I have to agree. Love, grace, gratitude. That is what I was feeling in the garden. Yes, that's where the surge of happiness came from.
Since I started this post, I found confirmation of something that I'd long suspected. Happiness is
good for your heart
.
Yep, a study found that that the happiest people were 22% less likely to develop heart disease over the 10 years of follow-up than people who fell in the middle of the negative-positive emotion scale. Happy people tend to sleep better, eat better, smoke less, get more exercise.
Another study showed that money does NOT make us happy. Again, I'm not surprised. At all.
I found a study estalishing another one of my suspicions: happiness is
contagious
.
I'm not surprised by that either. Haven't you found that to be true? Like, when you are around someone who is happy, you feel good.
The study showed that knowing someone who is happy makes you 15.3 percent more likely to be happy yourself. But what about this? A happy friend of a friend increases your odds of happiness by 9.8 percent. And a happy friend of a friend of a friend increases your odds by 5.6 percent. Pretty cool.
So maybe we owe it not only to ourselves to be happy. But also for our spouses, our kids, our friends, parents. For folks we love. For the people we work with. Don't worry, be happy.
Enough about me. Now won't you leave a comment and spread your happiness?
What are you happy about today?
Until next time, Friends, savor the flavor of life!

Lots of love, The City Farmgirl, Rebekah
(I compiled lots of happiness quotes—you'll find them at
www.rebekahteal.com
. Like this one from Wayne Dyer that I really should write on post-its and post on my mirror and on my forehead,
"You have everything you need for complete peace and total happiness right now."
)