"Where do I find the time for not reading so many books?" Karl Kraus (1874-1936)
The Bargain Bin at my grocery store is what did it; it started this whole thing. I guess your store sets one up at the beginning of the year as well? Mine sure does. It is filled with books going out of print (at least that's what I'm guessing they are), and the prices are ridiculously low. So there I was, innocently pushing my grocery cart on my way to the frozen foods. It was birthday cake flavored ice cream I wanted, not bargain books.
 But that Bargain Bin was right there—-in the middle of the aisle; I had to go by it. And as I did, a book caught my eye. A recipe collection. Gosh, but I have a fondness for cookbooks. It drew me in; I went over and picked it up. I flipped through it and then put it back. I don't need another cookbook. But when I put it down, I saw another book that looked interesting. And another. And another. Soon I had five new books in my buggy, four were $3 each, one was $5. Less than 20 bucks and I've got five new books. I don't know how I feel about the Bargain Bin. Is it a good thing?Here is a sampling of what I picked up.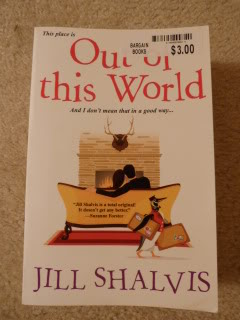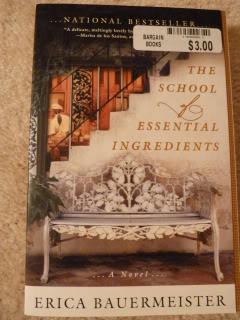 And this one (my only $5 book). I started reading it the very night I brought it home. I enjoy listening to the Storycorps segment on our local public radio station. (www.storycorps.com) (Hmmm…I just popped over to that link. I really should make an appointment and try to talk my father-in-law into going with me to a recording session so he can share his stories of being a professional musician in NYC in the Sinatra era.)
This book is a compilation of some of the stories.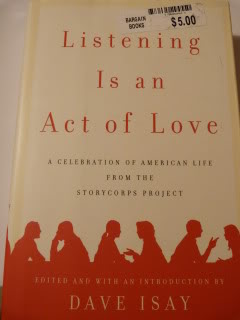 As I drove home with my groceries and my five new books, I considered two things. First, what must that feel like? Say you are an author and spent years writing a book and then you finally get it published. You're so excited. But what's this? Come January, you see your heart's creation in that gigantic box of books at the grocery store. Would that be okay, you think? Or would it hurt? I don't think I could take it. If I ever finish my book and get it published, please don't let me see it for $3 in the bargain bin at the Piggly-Wiggly. Please let it just fade away into obscurity quietly, without me noticing.
So that was my first thought. The poor writers. The second thing I considered was this. How many books are too many? Is there such a thing? (Or are they like shoes–never too many?)
I like books. I have always liked books. And I have a lot. I don't think I could ever go "kindle." I like to flip pages. I like the smell of book. I like to touch them, curl up with them. I often pick them up in second hand shops.I even dog-ear the pages to keep my place. Rebel that I am.
In our last home, we built shelves in a little overlook area, and I called it "the library." In no time at all I had my books unpacked and those shelves filled. I loved that area of the house. So did Gracie, the Cat. And so did my daughter's friends. It was just a snuggly, lovely, inviting spot. I could go up there and see my books all happy together. Before we did that, I had boxes and boxes of books. I had boxes of books in the attic, the basement, various closets. It was always hard to find a particular book when I was looking for it.
So, having learned that. Before we moved back into this house, we took an area and built some shelves. It is in the only place I could find to put it: a corner of my daughter's playroom. But never-the-huh, it is my "library."
Now back to the second thought I had on the way home. I was thinking, "Hmmmm,I need to get rid of some books." The only ones I have ever really culled are all the scary paperbacks I used to read, like Dean Koontz's. And I did give some other books away a few years back to some fellow Farmgirls. But for the most part, I've held onto my books. So I thought, "Well, I've just brought 5 books home from the Bargain Bin, so I need to give some away." As soon as I could find the time and opportunity, I took a big box up to the library, and I looked for books to give away.
I looked over my shelves, and my box remained empty. I do love my books. Is it okay to hang onto so many? Is it hoarding? Must I find the strength to release them to someone else? Questions. Guilt. Confusion.
Aha, I know! Avoidance comes to my rescue once again. I decide to work on my daughter's shelves instead. She has out-grown many of the children's books there. She is 9, soon to be 10, so it's been awhile since she read Dr. Seuss. So I started there. How the Grinch Stole Christmas? No way, we love that. Green Eggs and Ham? No can do, Sam-I-Am. It had been years since I looked at that book, so I sat right down in the floor to read it again. What a treasure.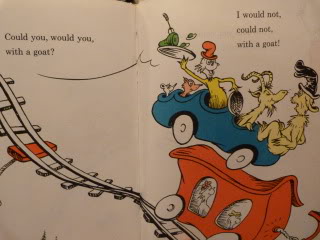 So after all that fuss, he liked green eggs and ham afterall. What a hoot.
Then I came across this one.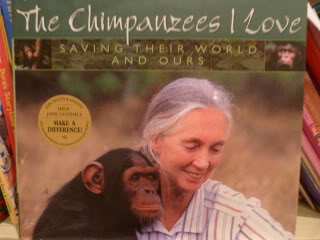 I admire Jane Gooddall and the work she has done with and for chimpanzees. I sat down and thumbed through it. No, we need to keep this one.
Ah, Tasha Tudor. Her books are so homey and cozy and old-timey. My daughter has never really liked them, but I sure do. Her illustrations and words just make me feel—-good. Yes, good. Pumpkin Moonshine: yep, we're keeping that classic. And this one: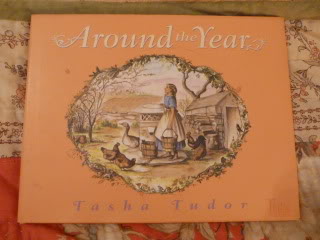 I flipped to February
So sweet.
Next I see the Childcraft books on the shelf. This set was mine when I was a kid. What memories. I'd show you my favorite volume, Volume One, with all the Walt Disney illustrations back when he was starting out, but I see it's not on the shelf. I bet you a million bucks it is in my daughter's room beside her bed. We both love these books. I will never, ever part with that collection.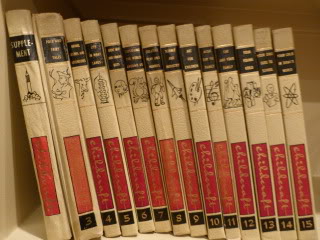 I found this old treasure.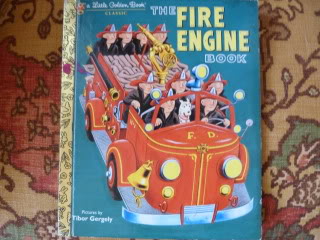 Remember that one?
And oh my. This one is wonderful.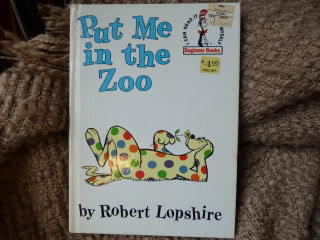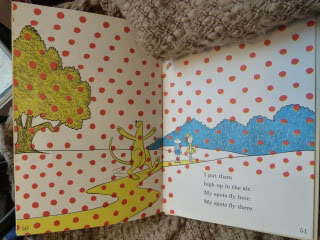 I continued reading these children books. What a grand time I was having. As I did, I remembered all the times I had read them to my daughter. Some of them I remembered reading as a child myself.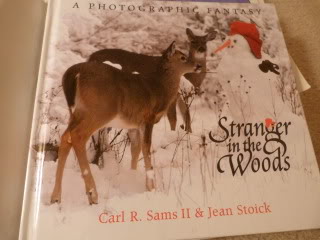 This book, Stranger in the Woods, is simply beautiful. It uses photography to tell the story of feeding the animals in the snow. Also one of our favorites.
Children's books hold a special place in our hearts, don't they?
Just this morning I asked my daughter, "What is your all time favorite children's book?" "No, David," she said. I couldn't find that one to show you. We have a paperbook version and it is beat up from all the times we've read it. The cover is no longer attached. The only words in the book, I believe, are "no" and "David." It's the illustrations that get us. Hilarious. Now I'm wondering if I should buy a hardback copy. I realize that I'm heading in the wrong direction with this activity.
This book is so much fun. I bet we have read it a hundred times. The illustrations are awesome and the story is a riot.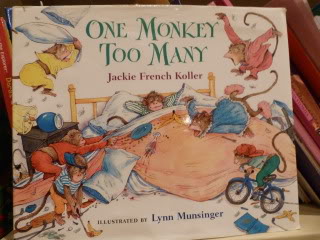 Another favorite of both my daughter's and mine is this classic: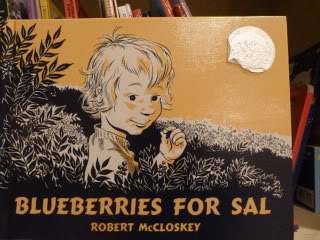 Do you remember that one? Little Sal meets mother bear while picking blueberries and baby bear meets Little Sal's mother. It is a must-read for every child. Every time we read this book, we spend lots of time with the insides of the book cover.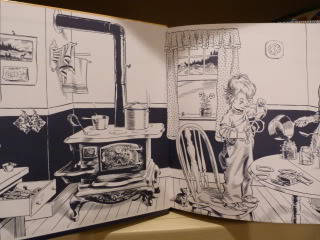 The inside cover shows Little Sal helping Mom can the blueberries they picked.
Then I came across this one.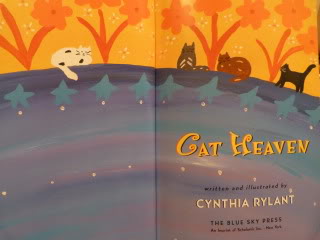 I went downstairs and made a cup of tea before I read this one. It makes me cry every single time. I have three beloved cats in heaven, Buddy, Molly, and Elvis. I have only read it one time out loud to my daughter. I cried at the time, so it wasn't a very good experience for her.
And here it is. My all time favorite children's book. I love this book. Every time I do a classroom reading, I bring this one along. I have a nightbag full of props I take along too. It is wonderful, about kids who move out of the house and try living in various places, like in a tree. On a pond. At the sea. They pick up souvenirs at each place. And do you know what those kids did at the end? Came back home.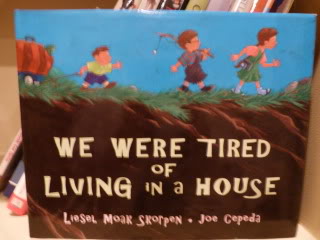 I talked to my daughter about all her books. Were there any she was ready to part with? I hadn't made any more progress on her shelves than I had on mine.
We decided to do something we hadn't done in awhile. I would read to her again before she goes to sleep. We will start on one end of the shelf and re-read each and every book she has. We'll keep a box by the bed for give-aways. Any book that she is through with, we will collect in that box. The ones that she wants to save forever, well, they go right back onto her shelf in "The Library."
Okay. It's your turn now. What are some of your favorite children's books? Your children's or grandchildren's favorites? Are they old classics? Or new titles? And which are you when it comes to books–a passer-along or a hanger-on?
Until next time, Friends, savor the flavor of life!
Lots of love, The City Farmgirl, Rebekah