Yep, every farm has to have one.
And my own farm didn't come with one.
I've looked around, to see if I could find one to move to my farm.
But no.
So I finally built one.
I've been dying to show it to you.
A loo! (Outhouse)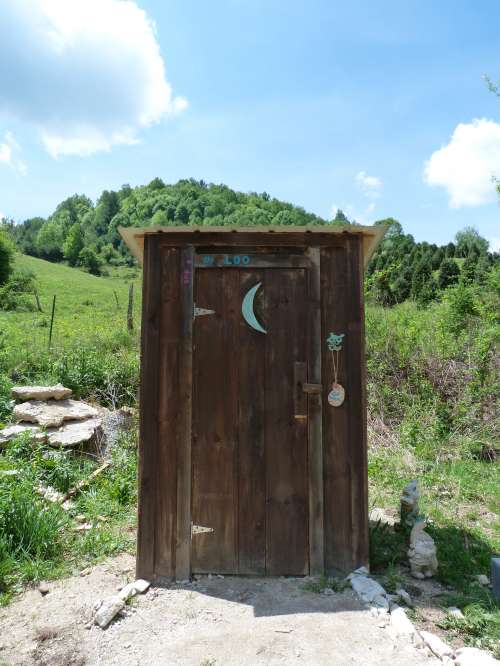 We first dug a deep, deep hole and then started the building. We used new pine boards, milled from those large White Pines we took down last year. This is the original color of the wood.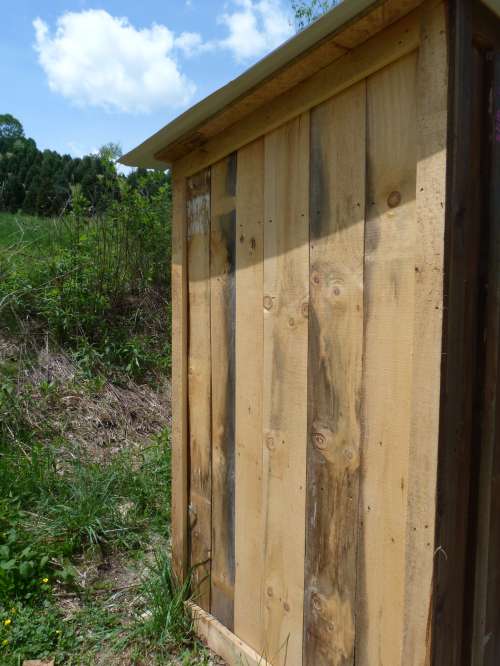 But we wanted it to look old.
So my husband mixed water, vinegar, and a steel wool pad in a bucket. Then he brushed it on the wood with a brush. It aged the wood beautifully; don't you think?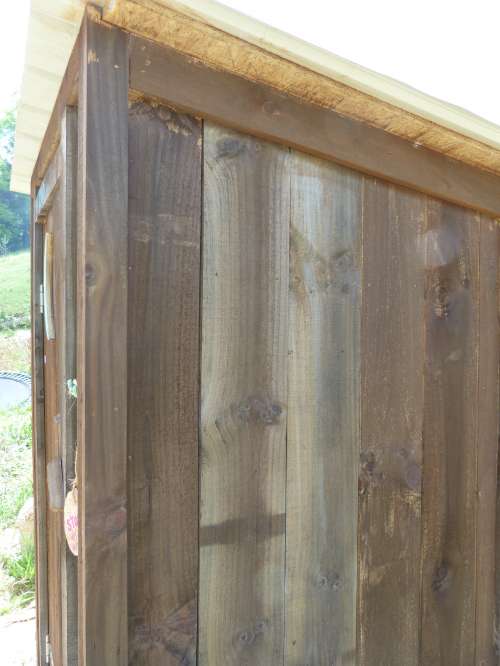 I painted the inside with all the little sample cans of paint I've purchased in the last few months. I'd been trying to find just the right color for a cabinet in my kitchen. As a result, the inside is painted with crazy colors. Love it!
That's a salvaged window I picked up for $5. I knew I wanted light and air circulation–so I wouldn't be creeped-out when I make a visit.
I couldn't find a brightly colored toilet seat locally, so I ordered one online.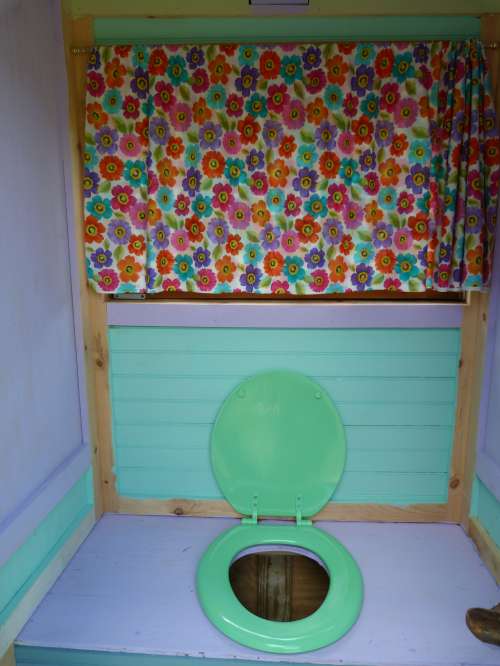 Now, Y'all, I really can't sew. But I have my Mom's sewing machine. So I bought some fabric and did my best. Don't judge it.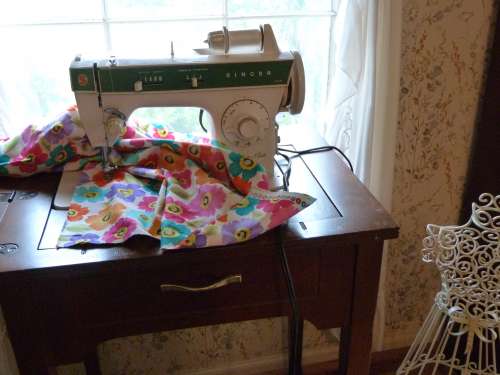 And, because people are always coming and going on our Farm, I thought I needed a way to let folks know whether The Loo is occupied or not. Here's what I came up with. It's a piece of a maple tree that had fallen. I'm a saver, you know. When I see something interesting, I pick it up and save it. You just never know what you might use it for in the future. And same with the rope I used to tie the sign–it's hay bale twine.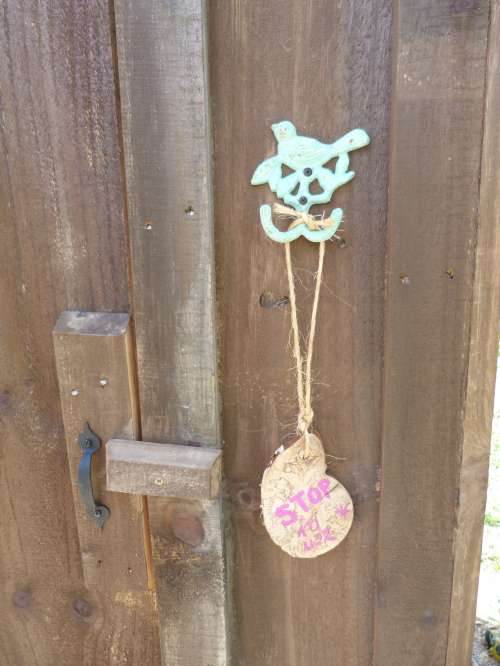 "STOP in use"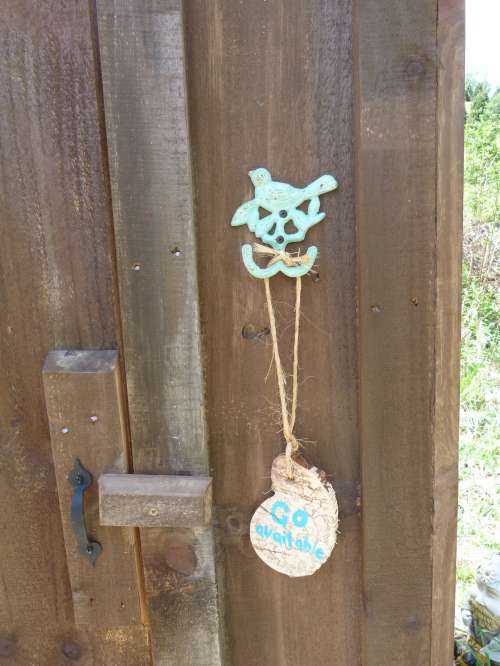 "GO available"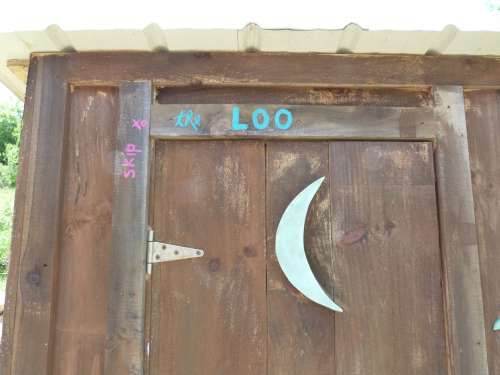 I painted the crescent moon with a glow-in-the-dark paint.
People are always drawn to our little outhouse. They think it is a prop until I open the door and show them that it's fully functional! And, usually, after they see that they can, they want to "use it" just for fun. There's two large coffee cans inside, one with a toilet paper roll and one with lime. Those are the necessaries in an Outhouse.
I had a basket of corncobs as well, but the fruit flies came. And then I learned that corn cobs are a tall tale. Really? I totally bought it.
But I should get a Sears catalog or two to put in there, for old times sake. I know that's not a tall tale because I trust my sources on that one. (Makes me appreciate TP.)
Now I have to tell you a story. A guy was working here who is scared to death of snakes, like me. Well, he used the outhouse and when he opened the door to come out, one of the BIG black snakes was laying there, sunning himself. The worker was stuck. No way around the snake. So he went back inside and sat down for awhile. Made noise. Stomped his feet on the wood floor. Knocked on the door. Sat a little longer. When he opened the door again, the big snake was gone. So glad it wasn't me. That would be the end of my trips to the Loo.
Until next time, Friends, savor the flavor of life!
Lots of love, The City Farmgirl, Rebekah