I sat there and wished I had my camera. I fumbled with my phone, trying to figure out how to take a photo with it. No go: too advanced for my feeble tech-challenged brain. It was a mall Santa who had caused this "need to photograph." He was gorgeous; the perfect Santa. I stood there and watched him with the children on his lap. Babies didn't cry. Kids weren't scared. He was spectacular. Could it be?
Realizing that I was going to miss the photo, I was tempted to get in line myself to have my picture made with him. But then, what in the world would I do with that? Me and Santa? Really! So I just sat there and watched and took it all in.
Huge gold bells, big red velvet bows, green garland, poinsettias, Christmas music.
I wasn't here by choice. I came here not by design. I just happened to be in a seminar beside one of Atlanta's favorite and oldest malls, Lenox Square, an Atlanta institution. (
http://en.wikipedia.org/wiki/Lenox_Square
) And at every single break of this seminar, after I'd pour myself a cup of coffee, or tea, or grab a water or soda, I'd mosey over to the large windows that overlooked Lenox Square. I'd watch as the tiny people below scurried in and out of the mall. I could see the huge decorated Macy's Great tree high on top of the Macy's store. I saw the shoppers, ants really, rush through the parking lot, carrying bags and bags of stuff. Bags and bags and bags of stuff. I watched as valet drivers whooshed the Porsches and Jags and even a red Lamborghini around the valet parking lot (and I thought-man, if I had a car like that I'd never ever valet park.)
I must confess. These sights put me in the Christmas spirit. I looked down on all that madness and "felt" Christmas-y inside. I stood there watching all that Christmas apparent and bobbed my head and hummed Christmas songs.
So I decided, during one of those extended breaks, to stroll over to the mall. And I have to tell you-I am not a mall person. I am a shopper, but not a mall shopper.  But something drew me in. I wanted to shop.
Oh, the crowds! Tons and tons of people. They strolled through the stores, buying this and that, filling their arms with bags. I walked through Macy's and Bloomie's and Neiman's. I looked at the faces of other shoppers. I listened to their conversations with each other and with the people at the other end of the cell phone. I watched a group of teenage girls, sitting right next to each other, texting some person not there. (I totally don't get that, btw.)
What's notable is what I didn't see. I didn't see Christmas. I only saw decorations. I heard music, but I didn't feel Christmas. I came here to join in and couldn't find it. I didn't see outward joy or bliss. I saw hurriedness and stress. I heard sharpness of folks with each other.
And that's when I stopped looking for Christmas at the mall. I was not going to shop. So I wondered into a candy store and bought two swirly red and green lollipops, one for me and one for my daughter.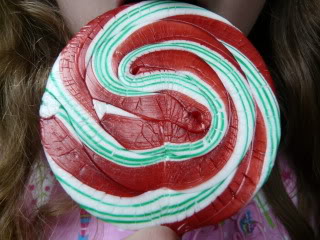 I sat down on a bench 
close to Santa's roped off North Pole area. I unwrapped my lollipop and sat there, enjoying the lollipop and coming up with this post. I thought about how I had come here because I thought Christmas was here. I had seen it out of the window and was drawn here. And yet it wasn't here at all. This felt more like chaotic Christmas.
An older woman sat beside me eating a pretzel (that looked buttery and delicious, by the way.) "Are you having a good day?" I asked her. "Oh, yes, I love to come here at Christmas time. It's so festive and pretty." Hmmm, well then I'm being too harsh. We sat there in silence until I said, "Is that pretzel as good as it looks?" "Better!" she replied. "Where did you get it?" I asked her. She directed me to the spot around the corner, a place of the heavenly pretzels, Auntie Annes.
For me the mall was devoid of true Christmas spirit. It was empty and hollow. I do mean, FOR ME. It's obviously not that for many,many other people, including the lady with the pretzel. But, for me it felt "for show." Not real. Not genuine. Well, except for this beautiful Santa there in the middle of the mall. He shone.
Christmas, I guessed, is what you make it. So
I tried to define in my mind the kind of Christmas I'd like to have with my family this year. The words "Christmas-in-the-raw" formed in my head. I realized that this year, what I'm after is a "natural" Christmas, a basic to the basics holiday. I mean, I want to keep the traditions and special activities, but get rid of the things that just stress us out and make us overly busy. I want a tree and presents and decorations. But I don't want to spend many of my free, waking hours devoted to the rush of the season. I like shiny tinsel, but I also like substance. This year, I want to figure out a way to keep things in perspective. In order for me to enjoy the
whole process
that the Christmas season is, from decorating to baking, I've got to do
less.
That's really the bottom line for me. Less.
I wrapped back up what was left of my lollipop and got up. I went to get one of those pretzels and then walked back over to my seminar. During the next break, I gazed out that window and knew that Christmas wasn't over there. It was over here.
Now, let's hear from you! Where and how do you amazing Farmgirls find and keep Christmas? Leave a comment!
Until next time, Friends, savor the flavor of life!

Lots of love, The City Farmgirl, Rebekah