It had already been a long, hard week when my husband called me from his cell phone to tell me that he was sitting on the tractor we borrowed and it was stuck in mud. Could I come and help get him out? he asked. I laughed. Not because he was stuck, but because he actually thought I could be of some help in the situation.
Me? Help? Really?!! What in the world could I do? I wouldn't know where to begin to get a tractor un-stuck.
Well, there was one thing to do: call a neighbor for help.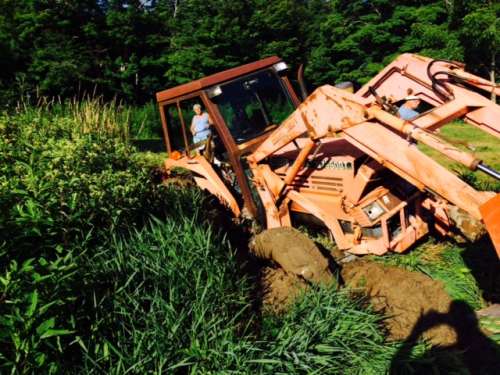 When I got there, our good neighbors had already arrived to save us ONCE AGAIN.
"We don't have any business being on this farm…" I said. Whined really. I was feeling low after the week I'd had. Our neighbors are so generous and kind and helpful. They had stopped what they were doing, which was cutting hay–very important work this time of year, in order to come across the road and rescue the city people ONCE AGAIN. The city people who were clueless in this country setting.
"You got as much business being here as anybody else," our neighbor said kindly. And then he added, "Everybody gets stuck. One day you'll come and get us out."
I doubt it.
I doubt it seriously. If you are stuck in the mud in your tractor, we are not the neighbors to call. If your farm equipment is broken, we cannot help. If your cow is sick, we have no idea how to assist. If you are in jail, yes indeed, call. Or if you need to have a contract reviewed before you sign it, yes. Or need advice for forming a business, yes. Stuck in the mud? No.
Doubt in the head. That's why I said that we have no business here.
Just that morning I was working on my computer in the den. I kept hearing a strange noise over by the fireplace. What was that? We have had mice problems, so I thought maybe a mouse got into the firebox. I saved my document and went over to look through the glass doors of the fireplace.
And what to my wondering eyes should appear?
Want to guess?
Or do you just want me to tell you?
Okay, take three guesses.
Mouse?
No.
Snake?
No.
Squirrel?
No.
Okay, I'll tell you what it was. A bat. No joke. I did my best to take a photo.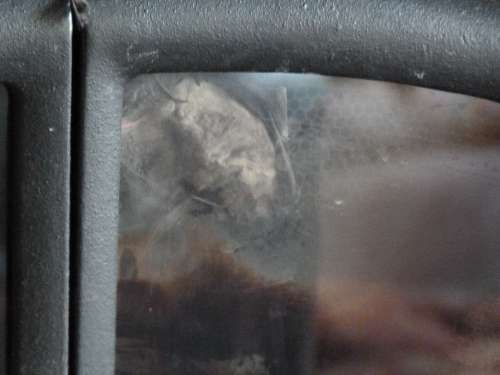 Bats do not freak me out. At all. They aren't scary in the least to me. Cute and fuzzy. And they eat all those mosquitoes. Bats are my friends. So I put on my gloves and opened the door and scooped it up and headed outside with him.
No problem, right?
Well, there was a problem. He found a little tiny opening between my hands and he flew out. In my house.
I called my husband so he could come and help me. The bat was flying all over the place, up, down, here, there, so erratic and unpredictable. My husband freaked out. You know the way snakes freak me out? Where I scream and carry on? That was my handsome, usually courageous husband. He was totally freaked out. When the bat would fly at him, my husband would let out a squeal. And that would freak out the bat. Which would freak out my husband. The more he hollered and waved the broom, the more erratically the bat flew. Oh, did I mention the broom? Yes, he grabbed a broom and was waving it all over the place. It was crazy. Out of control and crazy.
Finally, I got him out of the room. And by "him" I mean my husband. I sent calm energy to the bat, opened some windows and calmly asked the bat to fly out one. He did. And that was that.
But. Earlier in the week?
It was my time to freak out. There was a snake in our bathroom. I can't discuss it much because I'm trying to block it out of my mind. Permanently forget. You know, so I can continue to live in this house. A snake. In. The. Bathroom. Come on, now. You see why I was doubting this farmlife thing? I mean, how do I live with the snake in the bathroom truth?
I'll tell you how. Ostrich approach. Denial. Avoidance.
The first few days after that happened, I would not go into that bathroom. Obviously, if there was one snake, there were hundreds in there, perhaps thousands. Like all those movies. Yes, I figured they all came out from hiding and covered the floor with their gross slithery-ness. It was the thing my night-mares have always been made of.
I'm sure I've told you, but it is an important factor in my snake-phobia, so I'll tell you again. When I was a little girl, not afraid of snakes at all, I shared a room with my older sister. We had twin beds with a bedside table in between us. At night, before I'd fall asleep, my older sister would tell me that snakes were between the beds on the floor. She'd say that my hand better not hang off the bed. My arms better be inside the covers. I better not have to get up and go to the bathroom. Torture, I tell ya. Truth be told, I carried that fear into my adult-hood. It look a lot of years before I came to realize that I wouldn't go to the bathroom in the middle of the night because I was actually afraid of snakes being on the floor. No joke.
And now this. ARE YOU KIDDING ME?! A snake on the bathroom floor? Tell me it is not true!
It's funny. I was talking to the guy in the plumbing department at our local home improvement store. I was asking him about snakes coming up a bathtub drain and whether that was possible. And he asked me why I was inquiring and I told him. And he freaked out too. He said that was the stuff his nightmares are made of too. His fear, he said, has always been snakes in the toilet at night.
Adults, us all. And we're carrying our childhood fears with us.
Which brings me to the creek out front. My daughter and I have been enjoying the summer on rafts on the creek. We sit or we float. It's been so relaxing and fun.
Until the other day. We're floating and my eyes are closed, listening to the sound of the water over the rocks.
When I hear my daughter say, "Snake!"
And I lose it. Go crazy on her. But I don't know where the snake is and we're floating on the water. So I just sit there and scream. Frozen in fear.
Eventually, she is able to tell me that it wasn't that big. And she thought it went in the other direction. So, we decide to stay and enjoy our float in the creek. (hardy-har-har. I mainly just want to show her that it is okay, that we can co-exist, that she doesn't have to be snake-phobic like her Mother. I was still freaking out inside, but saying to myself, "It's okay. You can do this…"
"Are you afraid?" my daughter inquired.
And I answered her question with a question. Well, more of a "cheer" than a question: "Who's more brave than us? NOBODY!" I kept saying that over and over and over. To her. To me. To us.
But the more I thought about it, the more I thought he'd be back. If he headed upstream, which my daughter THOUGHT he did, then he'd be heading back downstream eventually. To us. To our rafts. I'm thinking those thoughts about the time she says, "Do snakes have a smell? Because I think I smell something snake-ish."
And I remember when one of the guys who were helping us in the barn caught a snake and told me that the snake let out its musk because it was afraid.
So I was done for. "Let's just head back inside for the day, Sweetie," I said calmly. "Are you afraid?" she asked me. "I'm just ready to go in. I have work to do," I answered. And I did that cheer again. "Who's more brave than us? NOBODY!" And added a "woo-who" for good measure.
Which brings me to the barn. I'm cleaning out the barn and do the thing I know better than to do: I look up at the rafters above me. What is that long black thing? An electric wire? No. It moved. I ran. Why did I look? I KNEW better.
I'm a mess. I'm a scared mess. I haven't been back to the barn. I haven't been back to the creek. And now the bathroom. I'd done for. I doubt everything. What were we thinking? Moving out here?
The other day, out of the blue, a friend sent me an email with this graphic (which, by the way, I have no idea who created it or where it came from, but will be delighted to credit the source if any one can tell me.) She sent it because I call my Merlin, the great white horse, a unicorn. But the words were perfect.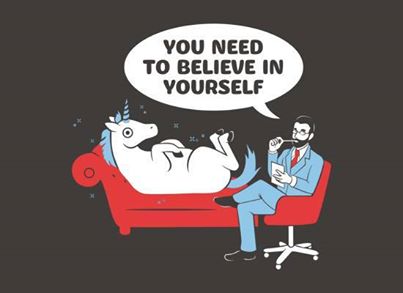 Okay, I can avoid the barn and the creek, but my house?
I did avoid that bathroom for days and used a different bathroom. But I can't live with this paralyzing fear. I don't want to live like that. The way it is now, the snake won. I lost and he won.
So I got some new bubble bath. And my dog Blue. And we headed to the snake bathroom for a bubble bath. I made Blue stay with me. There were no snakes. I looked on the light fixture. Behind the toilet. Down the drain. In the shower curtain. On the rod. Under the sinks. No snakes. So I took a bubble bath. It was short and sweet, but I did it.
And I did it the next night. And the next night.
Am I over my fear?
No. I'm still snake phobic.
But I'm not moving out. I live on this farm, in this farmhouse. I love it here. Dang snakes are not going to ruin it for me.
I must believe in myself. Get rid of the doubts. Banish the stupid fears.
Oh yes, all that.
And get more cats.
The one on the left is Sgt. Pepper. The one on the right is Hey Jude. Sweet, sweet boys. Who, I hope, will scare off the snakes! Go get 'em, Boys.
And guess who is hanging out close to the house and barn? Mr. Mus-tachio, the feral cat I got off of death row. Yippee! Snakes B GONE!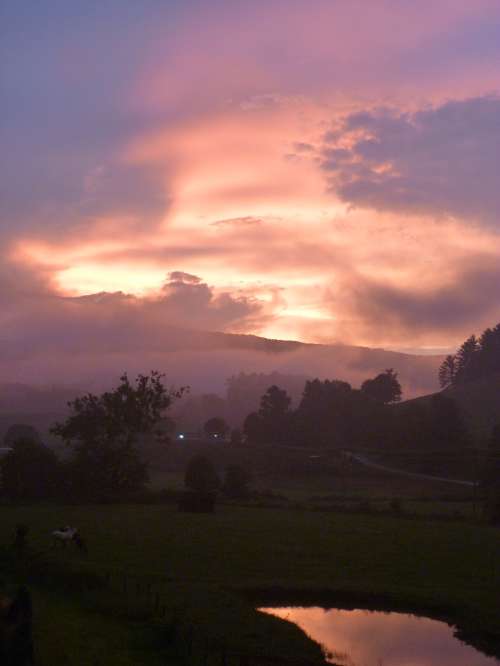 Sunset reflects in our small pond. The Old Sycamore Tree is the large tree to the left. The two lights you see are the local church. The white creature you see in the pasture is Merlin, the unicorn.
And it is almost August. Time to get out the jar and beans. Around here, they put a bean in the jar for every foggy morning in August. That tells you the number of snow events there will be this winter. I'm hoping for a jar full of beans!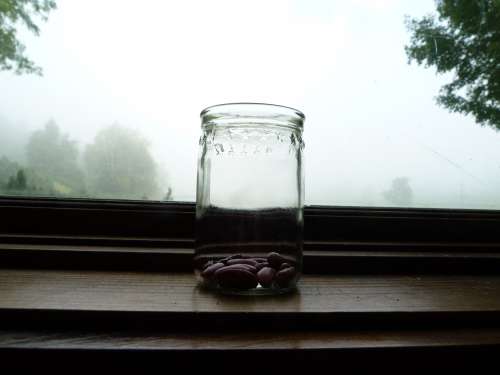 Yeah, it's going to take more than bats and snakes and stuck tractors to run me off from this place.
Until next time, Friends, savor the flavor of life!
Lots of love, The City Farmgirl in the Country, Rebekah