That sneaky Autumn. Playing hide-and-seek with me.
Autumn knows how much I crave it, how I long for it each year.
I long for its cozy, crisp evenings.
I long for its breezy, colorful days.
I long for its smell of simmering soup and wood smoke.
"O Autumn, O Autumn, Wherefore art thou, O Autumn?"
 Autumn is really giving me the run around this year. So I decided to FIND it. Do you know where to look? Have you found it?
I looked for Autumn in the weather. It was not there.
T
his year my September weather has been July weather. It's been so dag-blasted hot.
I looked for Autumn in my woods. It was not there.
No change in the color of leaves. Everything is green or brown.
I looked for Autumn at the weekend football games. It was not there.
No plaid blankets. No thermos of hot chocolate. No fuzzy scarfs in the team's colors. Quite the opposite: the players were being careful because of the danger of heat exhaustion.
I looked for Autumn at my window. The windows are usually open time time of year to invite Autumn in. The smell of outdoor fires, the chilly breeze blowing the curtains around. Not this year. This year the air conditioner is blowing full blast. The windows are still tightly shut. 
"O Autumn, O Autumn, Wherefore art thou, O Autumn?"
I continued to look for Autumn this morning and couldn't find it anywhere.
And then that song from the musical Auntie Mame came to mind, "Haul out the holly, put up the tree before my spirit falls again…For we need a little Christmas right this very moment…."
Yes. What I need, right this very moment, is a little Autumn!
Maybe if I hauled out the few autumn decorations I have.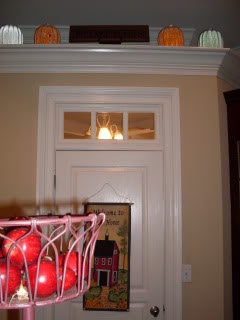 (That's my pantry door and the sign above it says "PUMPKINS." It's a terrible picture, I know. On top of me not being able to find autumn, my camera broke. So these terrible pictures are taken with my 9 year old daughter's cheap little camera. C'est la vie…)
Maybe if I put out some of those cute little Jack-Be-Little Pumpkins….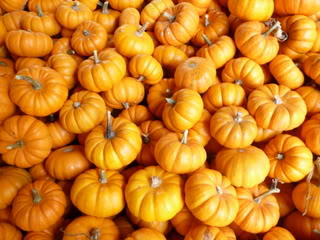 on my mantle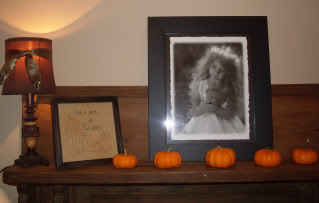 Maybe if I put out a pumpkin.  And one of those wonderful smelling cinnamon brooms (that the grocery store clerk told me the cart-full of which was giving her a violent headache.)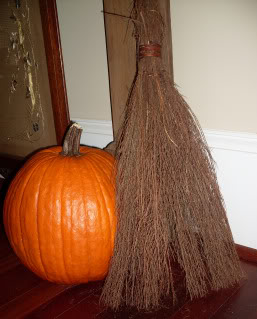 Maybe if I came home with some winter squash to roast. Butternut. Acorn. Dumpling.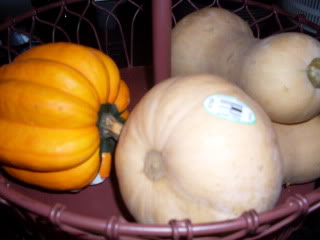 Maybe if I pick up some Apple Cider.
And drink it for breakfast. And then add autumn spices to it and heat it up tonight. Spices like cinnamon, ginger, cloves, allspice.
Maybe if I bought a bag of carmels.
Maybe if I put out some of my apples on display, spots and all. To look at. And eat——With the aforementioned carmels, melted.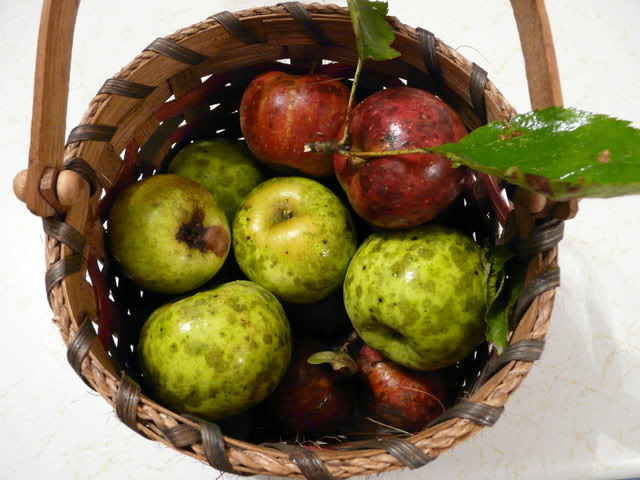 Maybe if I soak some black beans.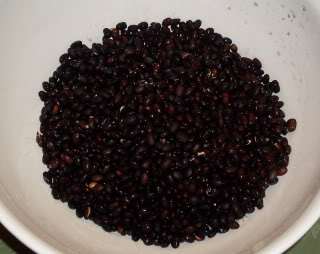 Maybe if I change out my ivory curtains to the rust ones hanging in the closet.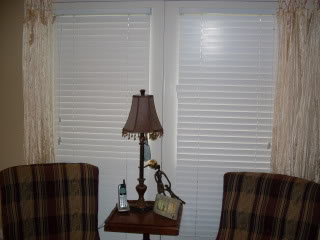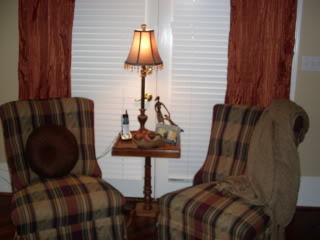 Maybe if I buy some candy corn and mix it with peanuts.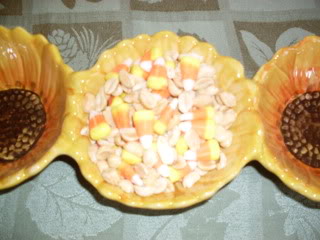 (Tell me you've tried this! If you haven't, you must. It counts for health food as there are nuts and a variety of corn in it. My mother-in-law introduced me to this combination last autumn — OH MY!)
Maybe if I put on my favorite Autumnal CD: James Taylor, October Road.
Maybe if I wear my orange blouse. Or orange suit jacket (for real, I've got one). Or orange socks. Or orange shoes (again, for real!)
Maybe if I look through the pictures I've taken for this blog of previous autumns…to a time when….
The frost was on the pumpkin….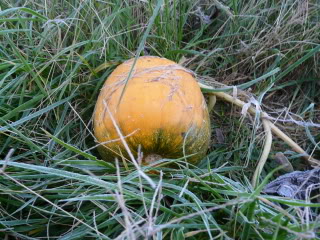 And the hay was in the barn…..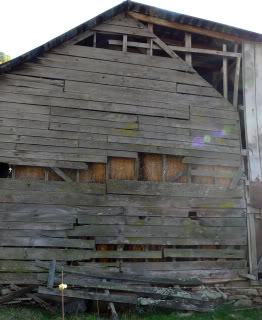 (except that's not hay, that's tobacco hanging, but I had to say "hay" because of the James Taylor song, don't you know….)
I found pictures of when the colors of the leaves were reflected in the lake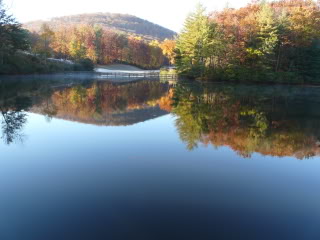 And as the leaves fell, they floated on the lake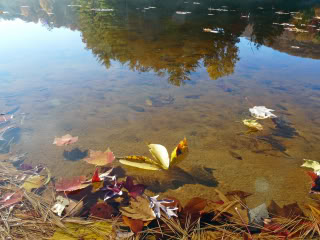 Like little fairy ferries…
I found pictures of a time when the apples were ripe for pickin'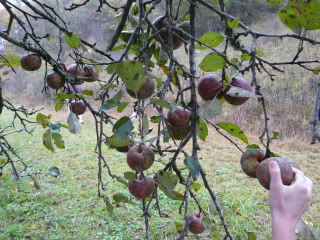 And when I walked in the Autumn's Splendid  Dusk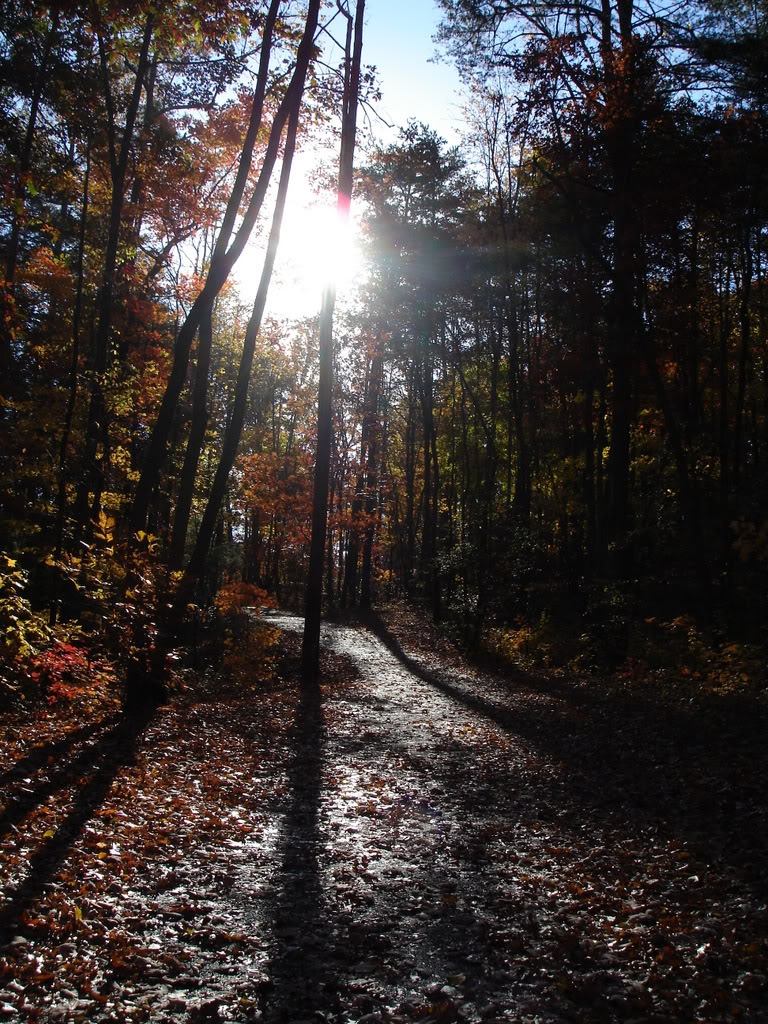 There was a picture of the time I climbed every mountain, forded every stream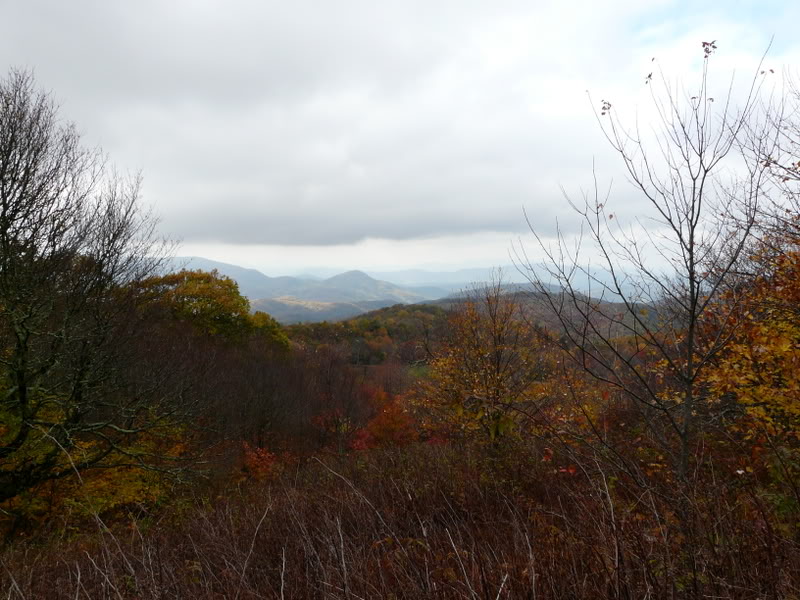 Until I found my Autumn.
Welcome back, O Autumn!
O Autumn, O Autumn, I found you, my Delicious Autumn.
Autumn was in my heart all along.
"Delicious autumn! My very soul is wedded to it, and if I were a bird I would fly about the earth seeking the successive autumns." George Eliot
Have you found Autumn this year? Where and how did you find it?
Until next time, Friends, savor the flavor of life!
Lots of love, The City Farmgirl, Rebekah