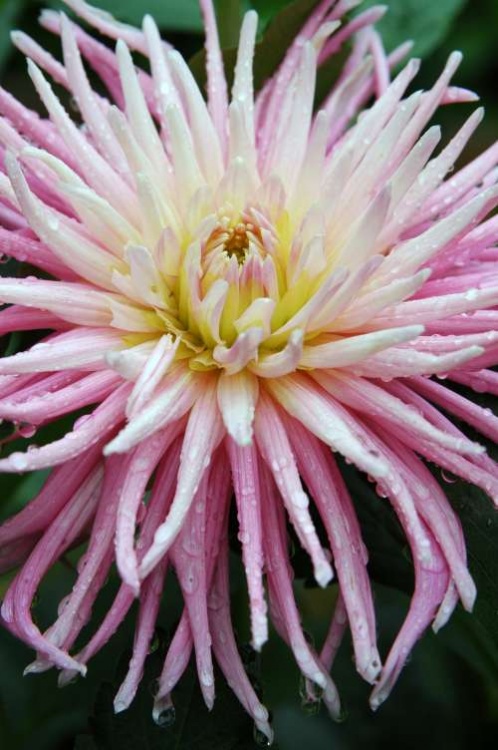 Dear Sisters,
Oh how I wish you could all come by for a day in the garden with me! The flowers have their best smiles on right now! Despite the buckets of rain that fell on them over the last two days, they're putting on quite a show! Since we can't be together " for real " this virtual flower show will have to suffice…Kick off you're shoes and let's get going. You're in Blackfoot Farmgirl territory now…
Yes, even with all of the darling garden clogs and boots available today, I still prefer to head out barefoot into the garden first thing in the morning. Sometimes, still in my night gown…I just can't wait to see what's changed from the day before. Things change over night in the garden! The long, hot sunny days of mid-summer really puts the heat on the flowers and veggies to get blooming already! When I stand still and quiet in the garden, I can feel the rush of energy the plants produce and I know I am a part of the life-force not just an on-looker. I re-charge and thrive on these 'good garden vibes' all summer long.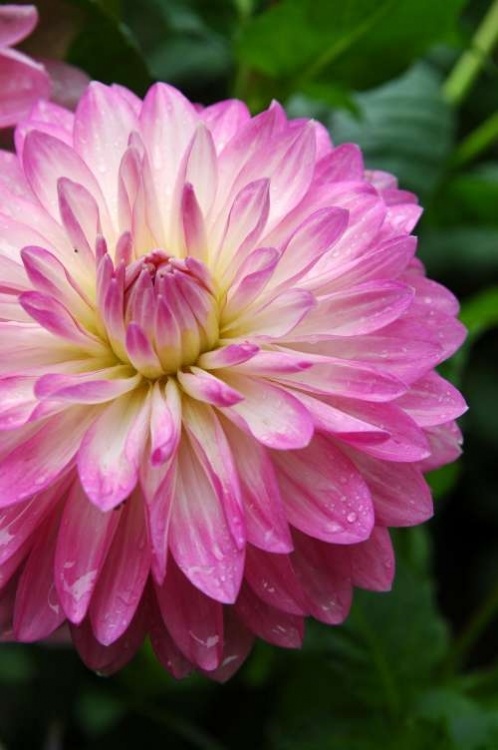 This is my third year growing dahlias and I'm still just as excited to watch them unfold into perfectly shaped flowers. In fact, sometimes they look almost fake they are so masterfully designed. They were first down 'the raised bed runway' to show off their pretty petals adorned in brilliant shades of pink and red, all aglow with glistening raindrops from stem to stamen.
For those of you who are new to growing dahlias I can tell you they are quite easy to grow. With proper soil conditions ( raised beds or pots are ideal) ) plenty of sunshine and not too much water they will take off and do most of the work by themselves. Keep an eye out for leave-chewing insects, earwigs and slugs early on ( I use Sluggo Pellets when I treat for pests). It's non toxic, pet safe and safe for wildlife and it really works! I know not all insects are garden pests, but if they're making a meal out of my flowers they get kicked to the curb in a hurry!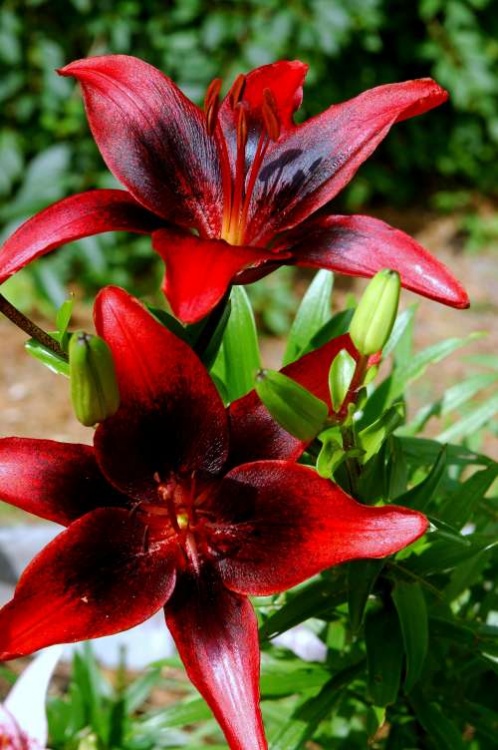 I read something recently in a garden advice article that intrigues me. It said that you should plant flowers in your garden to coordinate with the colors of the inside of your home. That way when you create arrangements for your home they'll go with everything without looking forced. When I read it I had an ah ha moment!  I have done this instinctively. It's not surprising when you think about it. If you love the color red inside, why not outside too? I use red in my garden in several places as well as hot pinks and oranges…They are also some of my favorite inside colors. I love a bright, cheery home with touches of drama!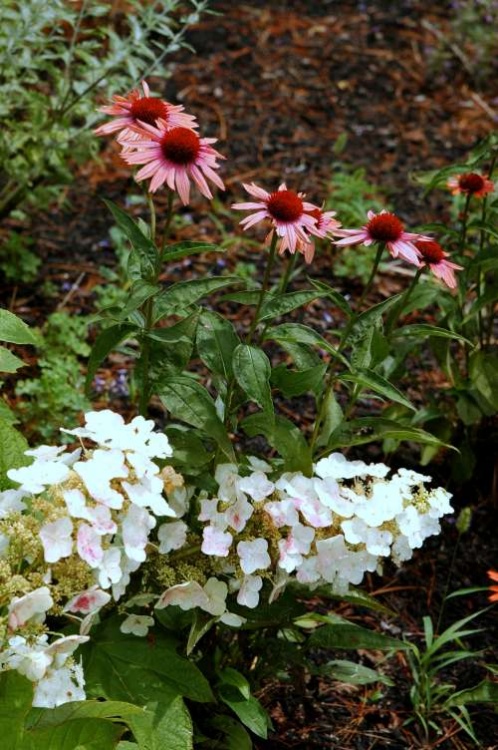 Sunset Cone-flower above ( with Oak Leaf Hydrangea ) and below.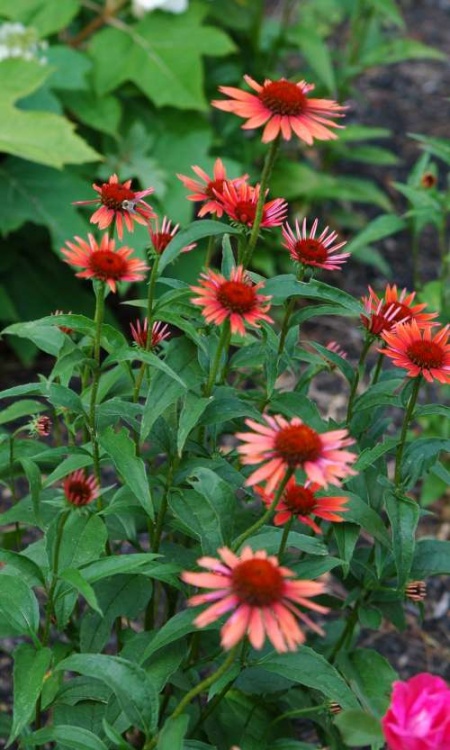 Purple Cone-flower below.
The only blue blossoms I have are my favored Endless Summer Hydrangeas which I adore. They make my garden sparkle with classic Cape Cod charm.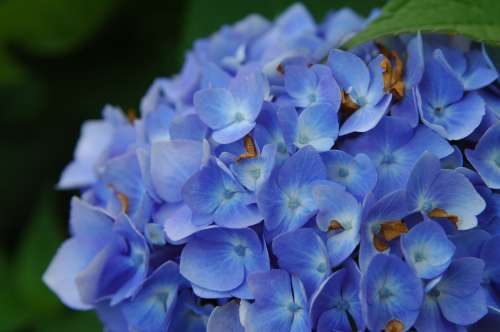 Have you ever seen so many shades of blue and violet as in an Endless Summer Hydrangea blossom?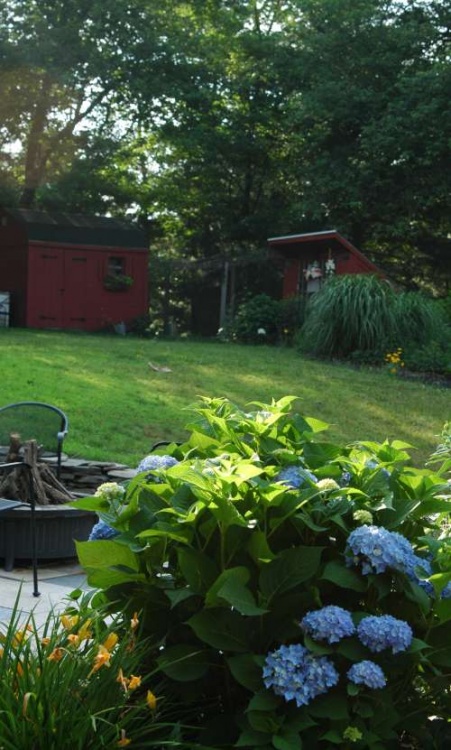 I wish I could capture how neon blue they look in the garden at dusk.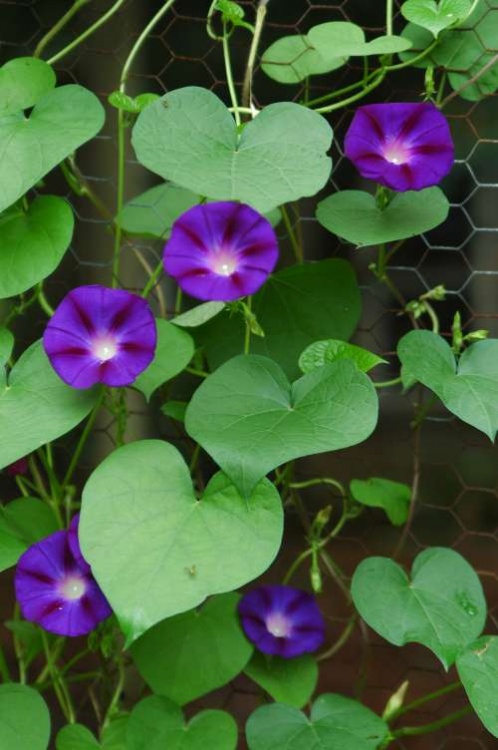 The morning glories are clambering up the chicken run fence. I just love their heart shaped leaves! They seem to beg the question,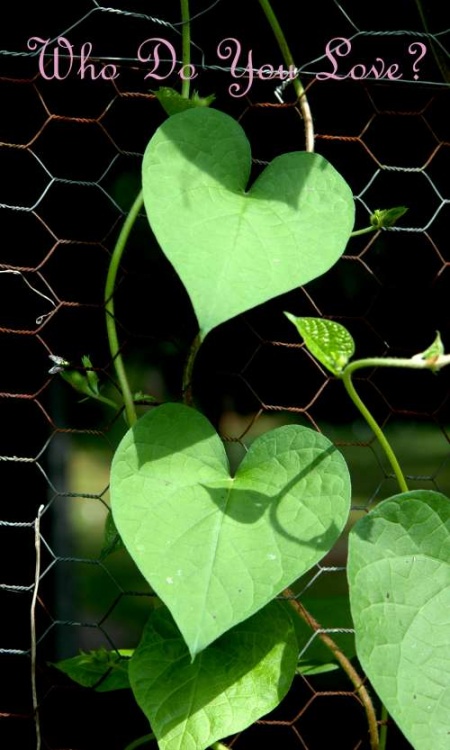 don't they? I mean, how can you look at even one heart shaped leaf and not think of someone or something you love? And to think they are ' designed ' to grow that way. Amazing!!! It makes my heart go pitter-patter just thinking about it! Yes, the lover in me is gaga over gardening and this years blooms are simply glorious!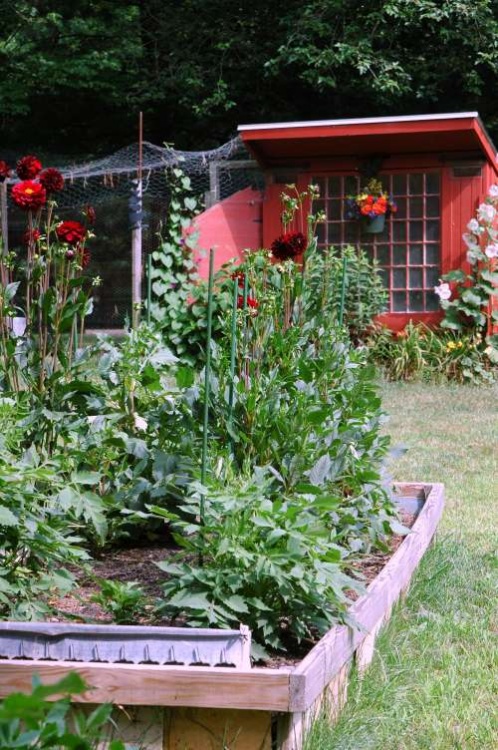 The girls are enjoying summer in the garden too. Well, not " in " the garden per say. They stay safe in their roomy run with plenty of shade and out of my garden! They would have a field day if I let them out but my garden would suffer and so would I!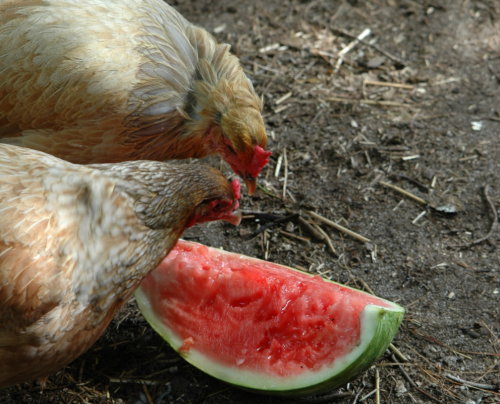 I've been spoiling them with cold, fresh fruit on the hottest of days and plenty of kitchen scraps too. Plus, I'm growing them some garden greens in my vintage chicken feeder. I can't wait to feed it to them when it gets good and tall!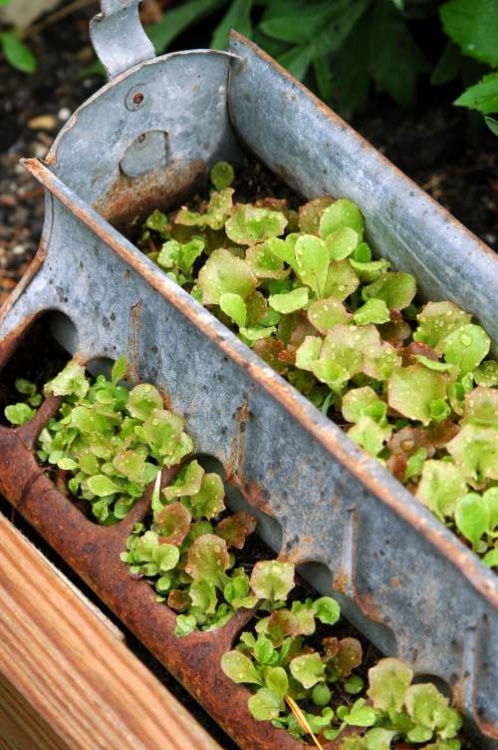 As if the flowers aren't reward enough for all the beauty and inspiration they provide, I finally realized one of my long-term garden goals! Yep, that picket fence dream I've had for, oh, I dunno, as long as I can remember, finally came true. As most dreams come true it didn't happen the way I thought it would. I always figured I'd just head down to Home Depot or Lowe's when the spirit moved me and buy my pickets, but, somehow it always seems as if something more important needs tending too first. New roof, new shoes, volleyball camp, summer clothes and, and, and, etc. You know the deal!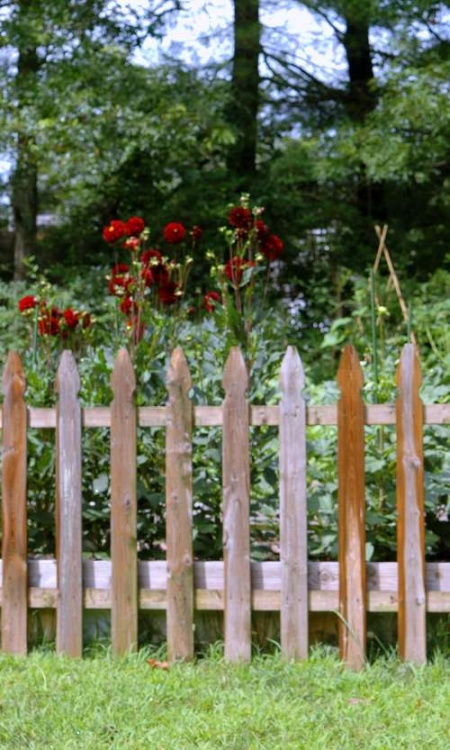 As luck would have it, one day I was scrolling the news feed of my local Cape Cod Homesteaders Facebook group ( it's mostly for selling and swapping goods) and lo and behold someone was offering up 10 4×8 picket fence panels for 70.00. This farmgirl snapped them up without batting an eye. Our son and I made the trip to pick them up the following day! I couldn't be more thrilled with my re-claimed pickets and while I've always dreamed of a white picket fence, I'm leaning towards leaving them natural. They look right at home don't cha think? I'm going to fence in the entire raised bed garden with them. But the post hole digging will have to wait till fall when the humidity has drifted out to sea for good!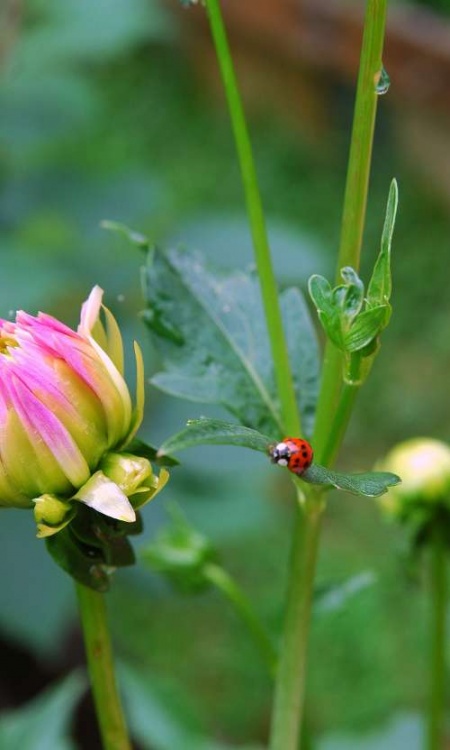 All in all, it's been a spectacular garden season so far. I feel blessed to live in a climate that welcomes such a wide variety of plants and to have the space to grow! Truth be told, I'd love more room to spread out, but, what farmgirl doesn't dream of that? Is there really such a thing as too much room to grow? Nah.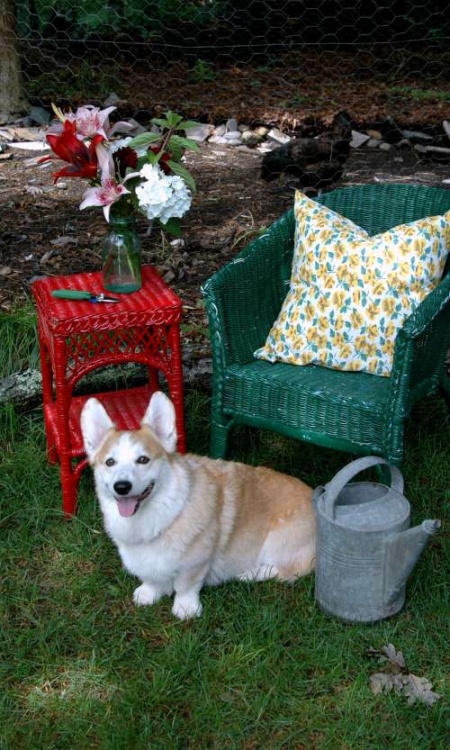 If you're in between gardens, or have hung up your garden tools for good due to physical ( and/or space ) limitations, visit a friends garden or your local public green space for a mini garden meditation experience. Bring a camera or a sketch pad and some pretty colored pencils with you to capture some of the beauty that you see. You'll just feel better, I promise!
Until our next shoreline ( garden ) visit~
BEACH BLESSINGS and Happy Gardening!
Much love,
Deb (# 1199) and Max