"Three." Yes, three. The sad, sad truth. The disappointing answer. Only three! After all the sweat and work.
The question? "How many tomatoes have you gotten out of your garden this year?"
What's your answer? Go ahead. Make me drool. Make me jealous. Tell me about your 'maters. Tell me what varieties you are growing. Tell me how the juice, warm from the sun, drips down your chin. How you never even made it in the house with the first one from the garden. I want to hear every detail of your tomato growing this summer. Tell me your favorite way to eat them and how you'll be canning sauce soon from the abundance. Let me live vicariously through your tomato success. Let me feel what it is like….give me the whole scoop.
And then I want to hear about your zuchinni. Are you just bursting at the seams with zuchinni? Not sure what to do with them next? Are you giving them away by the bagfulls at your office? Or in the grocery store parking lot? What else are you growing this summer? Corn? Watermelons?
I have to rate my summer garden harvest this year as this. Let's see. On a scale from one to ten. A low three.
On the good side, the basil is abundant. The deer and bunnies and turtles haven't discovered the wonders of pesto, so they have left my basil and garlic crop alone.
And I had a couple of dill plants that were "going to town." No more. May they RIP…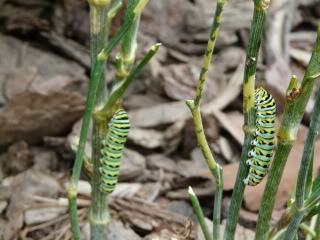 Who are those guys? I need to look them up in the gardening book. So attractive, but so destructive!
But for real, I'm having a lot of fun with my garden, in spite of it all. Even though the yields are laughable. I'm truly feeling thankful this year to have a place to garden (didn't have that last year or the year before). I have some dirt of my own, in the sun. Yes, so the wildlife is enjoying more fruit of my labor than I have. That's okay. I worry about the plight of urban wildlife anyway.
And honestly, on top of it all is that summer is a tricky time for me to garden anyway. Maybe I'm a better gardener in spring and fall. I love greens. And root crops. As you may know by now, I don't love being out in the heat and humidity. I'm a southerner who doesn't like to sweat. Also, we try to get up to our Mountain "Farm" (we should probably call it our Mountain "Retreat" instead of "Farm") as much as possible during the hot summertime, so it's hard to stay on top of a garden at our home.
So I'm trying not to get too disappointed with my garden this year. I'm just glad that we aren't relying on my gardening skills to put food on the table. Or to pay the bills.
Anyway, we spent this past weekend up at our "Mountain Farm." You know, the one that will soon have a new red or green roof (still haven't decided!).
Our 'Mountain Farm" always has a surprise of two for us when we go there.
Here were our surprises this trip: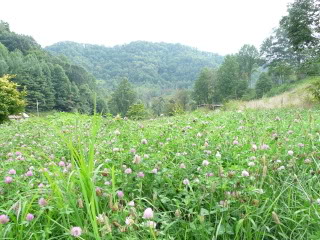 One of our meadows
This field was not covered in clover the last time we were. Clover surely must grow fast. The field was covered in butterflies and had the sweetest, most enticing smell. Later in the season, a neighbor farmer will harvest the clover for his livestock.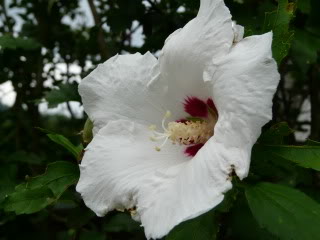 Before we found our Mountain Farm, I had always admired this plant in gardening magazines. It's called a Rose of Sharon or  Althea. It is an old-timey plant that reminds me of my Grandma. (I always thought she had them in her yard by her farmhouse, but she actually didin't. Still like the plant though!)
Our Mountain Farm has many of these around. Some were planted by the previous stewards, some have grown on their own.
Rose of Sharons are a beacon for hummingbirds, various butterflies, and bees. Here's a bee inside the flower of a pink one in our side yard….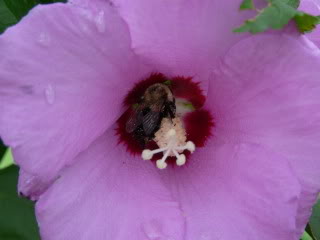 A few gigantic sunflowers reminding me to keep on the sunny side…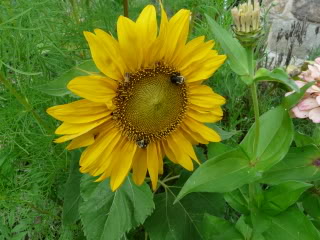 Cool beans. Check these out—-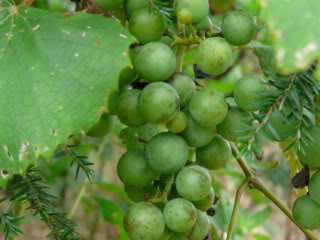 Or maybe I should say "cool grapes." I'm always looking for a play on words.
We discovered these growing in an old Hemlock tree a couple of years ago. I learned to make grape jelly with these. I think it's only one vine, but it produces plenty of grapes. Getting to them is the hardest part. The vines climbs up the tall and stately hemlock.
Here's where they are in the growth process this year. I'm not sure when they will be ready to pick? I just hope we can make a trip there and harvest them.
Ever since my daughter experienced the process of discovering the grapes, picking the grapes, bringing them home, doing everything we had to do to make them jelly ready (squish and peel), and making jelly out of them, she has a real appreciation for home-made grape jelly. She won't touch the stuff you buy in jars in the store.
Now, I have to be honest and won't admit this to just anybody. But, I'm not so sure I could taste any difference at all between "ours" and Smuckers. And it was so much WORK! But she can. And we did learn how to can, so it's all good!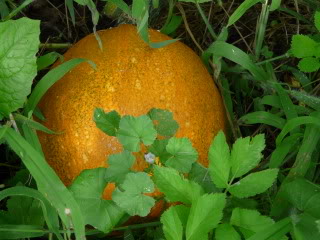 Now this pumpkin floored me. No, we didn't plant pumpkins this year. But here you go. One growing anyway. Just one.
It really is the simple things in life that bring the most joy. I have learned that the hard way.
I have tried in the past to find joy in the complicated things. Nope, not there.
It's in this.
A surprise pumpkin in my yard at our Mountain Farm.
PURE JOY!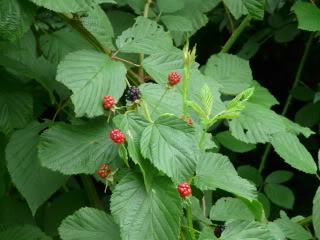 The wild blackberries are coming along. I truly invite the wildlife in the area to enjoy these with my blessings. Come one, come all.
I am not a fan.
Too many bitter seeds.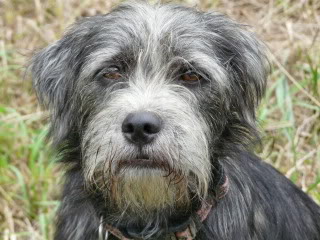 Oh, I had to include this picture of my Strudel. She had been digging all morning in the yard. As far as I know, she never dug up the thing she was after. I had my camera and called her name and she looked up—-
Isn't she beautiful? Her eyes tell you exactly how smart she is.
And sweet.
Love this dog.
And then the biggest surprise of all of the weekend's trip to our Farm.
Our neighbor took us to see the pasture he keeps his cattle in during the summer.
WOW. Check this out. Those are some lucky cows! A 360 view of this. Can you imagine?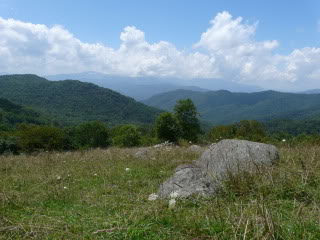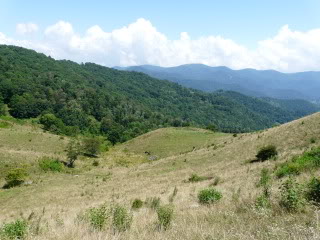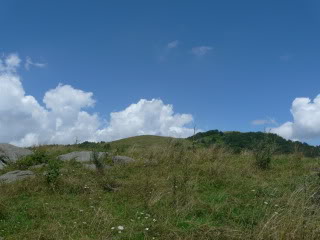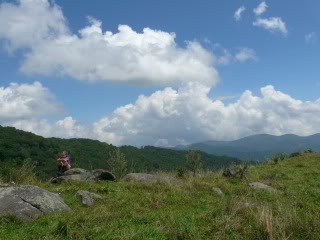 I caught daughter sitting on a rock up in the lucky cow's summer pasture.
She looked so deep in thought.
After I took her picture I went over to her and after telling her to watch out for snakes, I asked her if she thought the cows enjoyed their summer digs. If they wake up every morning and look out at their view and think "holy cow!"
After she groaned about the "holy cow" thing, she said,
"Mom, they're cows. The only thing they notice is that the grass is green."
(So practical. She didn't get that from "head-in-the-clouds" me.)
But for real. The grass is indeed green. Very very green. I guess all the cows really need is green grass. And I guess too that all I really need is this moment.
So of my failure of this year's summer garden? That I personally have only harvested three tomatoes from all that labor?
Whatever…
Until next time, Friends, savor the flavor of life!
Lots of love, The City Farmgirl, Rebekah