"Love and Marriage, Love and Marriage, Go Together Like a Horse and Carriage…." so sang Frank Sinatra.
I believe in love. I believe in marriage. I believe in horses. And I believe in carriages.
I also believe…that for the first time since I started this blog…..I am too tired to spin a yarn. One of my favorite things to do is to come here every other Monday to share with you guys the things that are happenin' in my corner of the world. Oh, and I have so much to tell this Monday.
But I'm tired. This Monday morning, lawzie me, am I ever tired! Here's why. It all started at 4 o'clock on Friday afternoon.
Our weekend started in downtown Atlanta on Friday and ended Sunday evening in my garden.
Let me start with Friday and we'll just see how far I can get. Keep the coffee coming…
Cinderella and Prince Charming were getting married in Atlanta. And I was honored to be there. Friday was the rehearsal and rehearsal dinner for what was to be a true fairytale wedding.
The wedding venues were dreamy. Famous, historical and fabulous.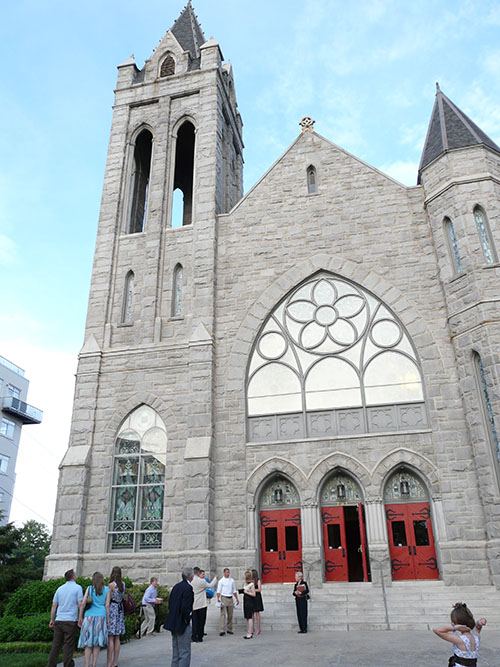 The church is the picturesque and historical St. Mark's Methodist Church, located on the street that cuts through Atlanta, Peachtree Street. Everybody who has been to Atlanta has been on Peachtree. It's just inevitable.
I snapped this picture in front of the church. It represents the emerging Atlanta well. That big Hummer black limo—Atlanta is still all about glitz and glamour and….
Those bicycle riders. Atlanta is slowly joining the green movement. Slowly but surely.
It's been so slow to green up, I think, because Atlanta's streets are not safe. You can't really walk or bike a whole lot. Especially after dusk. A high crime rate makes it more challenging to be green….
Here are the bride and groom at the Rehearsal.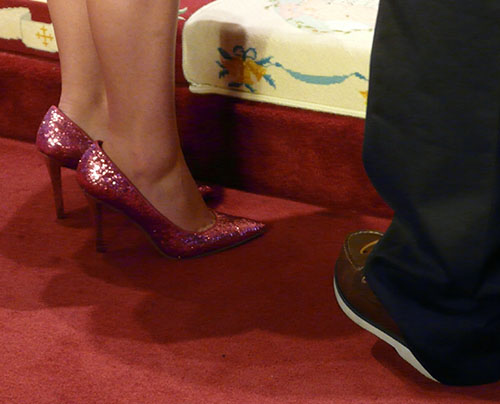 Can you guess whom I am related to?
Yes, it's the bride. In the pink glitter high heels!
The rehearsal dinner was at an Atlanta institution, Mary Mac's Tea Room. Wonderful southern fare, complete with peach cobbler and sweet tea.
After the rehearsal and the dinner, the wedding party stayed at the charming and famous Georgian Terrace Hotel. It is also the site of the wedding reception.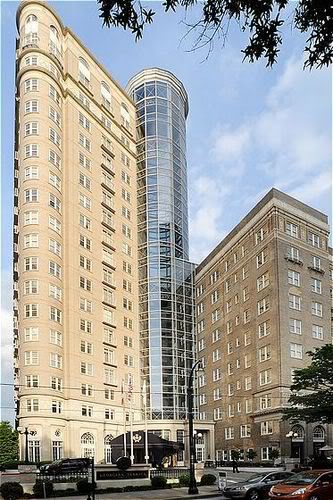 I took a ton of pictures of the hotel, but these two are my favorites.
Here I am leaning WAY over the balcony, looking WAY down on the lobby. That's a round sofa you see at the very bottom.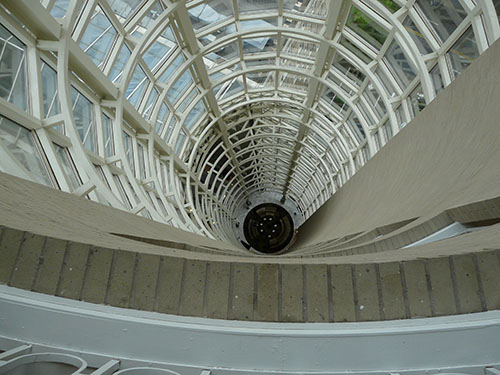 Here I am in the lobby, sitting on that sofa, looking up.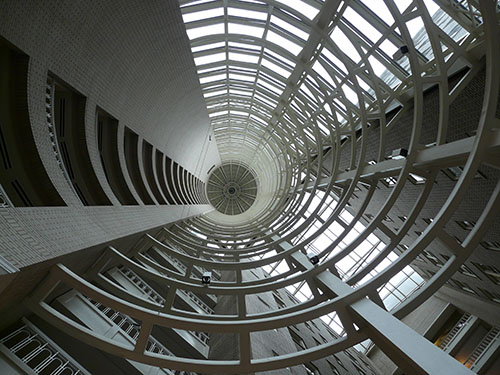 Saturday came and Atlanta was filled with rain and thunderstorms. All day long.
It dampened our make-up and clothes and hair. But it didn't dampen the wedding or the spirit. Love was in the air.
The wedding was perfect. Simply lovely. I keep saying "fairytale" and it truly was that.
The bride looked like a Princess in her gown. It had a long, long beautiful train. And she reminded me of Cinderella with sparkly silver shoes (sorry no pic).
The only thing the weather really dampened was the horse and carriage.
It had to be cancelled because of the storms.
Here is the one picture I am in. Yes, in all the 500 or so shots on the camera, I'm in 1, only 1.
There is a reason for that: I avoid the camera. It's part of my M.O. I duck, dive, turn around, hide behind someone. Whatever it takes.
Luckily, my eyes were open.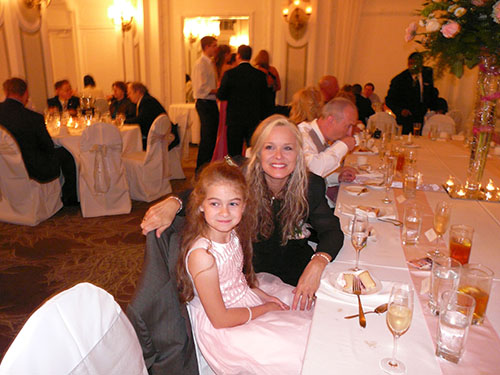 Ah, the wedding cake was dreamy and delicious.
It was a simply fabulous affair.
But this is not all about the wedding. It's also about the love between these two people who tied the knot. They are so sweet and precious.
They have been through a lot together already. The groom is a soldier who served in Iraq. His house burned to the ground earlier this year. He was burned as he tried to save their three dogs. He was able to pull one of the pups from the burning house. But, he was burned so badly doing it that he spent the next week or so in the burn unit of the hospital. They were devastated to lose their home and everything in it. But even more devastating was the loss of two of their furry "children."
Candles were lit at the wedding in their deceased pets' honor. So sweet. You know that made me cry.
Like I wasn't already crying. I was.
I've thought a lot about what advice to give them. Not that they've asked for any. But I thought it would be nice to make a little booklet with pictures and words of wisdon about marriage and love.
What would you tell a young, newly married couple? What have you learned about love and marriage? Please leave a comment or send me an email. I need some help on this!
Okay, let me hurry through the rest of my weekend. My race is May 1st, so I needed to run 3 miles this weekend. I've never run 3 miles! Ever.
And goodness, I was so exhausted from the weekend full of wedding activities. But Sunday afternoon after we got back home, I decided that I better at least get out there and try. It was brutal. I did the best I could for 3 miles. I couldn't wait to get back to the car for some water. And to finally rest. I was so tired. And parched.
I got to the car and that's when I realized that I didn't have the key. Oh no! My car key had fallen sometime during that brutal run. So I had to retrace my steps. All of them! Well, no go. No key. So I found a guy who let me borrow his phone. I called my hubby and he came to get me.
Sunday evening came and I had a chance to go to my garden and check things out. I'm happy to report that I've got my first sugar snap peas of the season!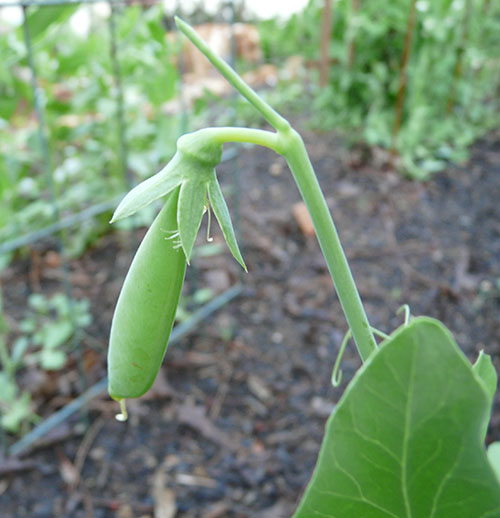 Crisp, crunch, sweet yum. The sugar snaps are here! Life is good.
Until next time, Friends, savor the flavor of life!

Lots of love, The City Farmgirl, Rebekah