Some stories are harder to tell than others. This is one of the hard ones. I experienced something I consider to be "hallowed." And if I had been where I really wanted to be, I would have missed it. Let me tell you what happened.
First off, like many of you, I wanted to go to the maryjanesfarm Farm Fair this July 4th weekend. But being in the throes of a move, I knew I needed to stay close to home. We finally decided to take a couple of days off, though, and head up to our Mountain Farm. The grass must be knee-high by now. The weeds have surely taken over my apple "orchard" and my newly minted plum "pit." And I'd like to map out that Labyrinth concept in the meadow.
We always enjoy the 4th of July at our Mountain Farm.
We have spent every 4th of July there since we bought the place and it's a tradition now. I even have a few patriotic decorations tucked away up there that I bring out, including a tall Uncle Sam hat. The near-by small town has a wonderful celebration, complete with cold watermelon slices, a community band playing patriotic tunes, and a tractor show.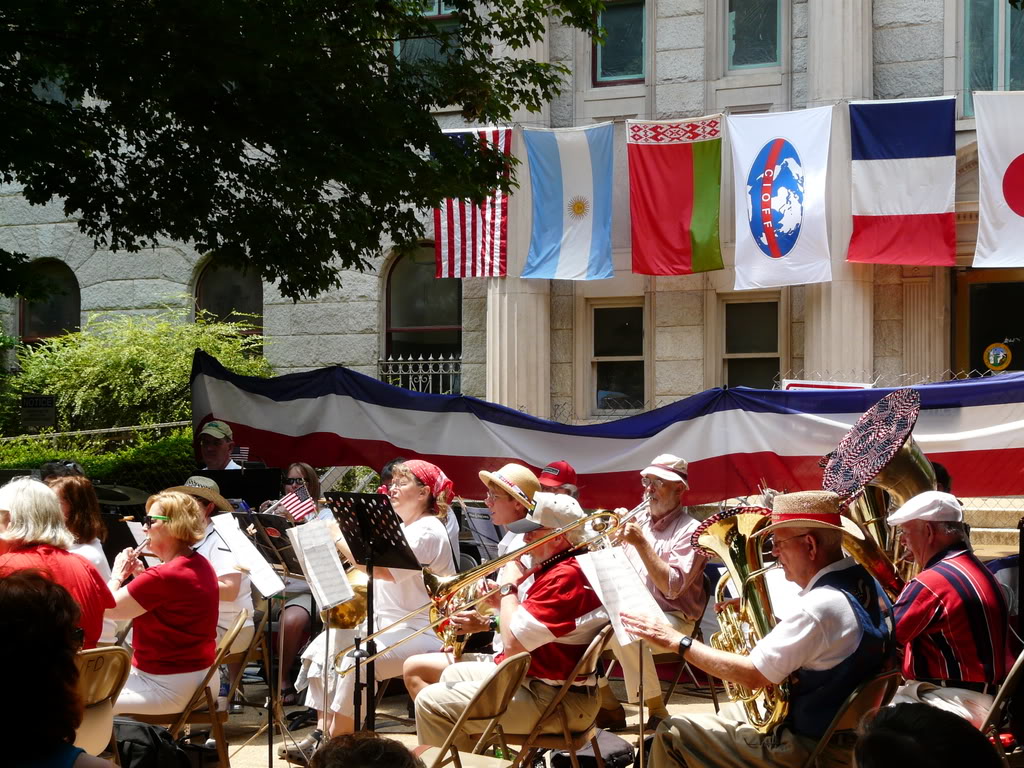 4th of July there is very different from fighting traffic in a city to get to a baseball game or to a fireworks display.
On the 4th, shortly after night falls on our Mountain Farm, a nearby neighbor in the cove sets off a pretty amazing fireworks display. The first year I saw it, I had no idea it was only a regular person's show. It is impressive, huge and lengthy and varied. Pretty amazing. The smell of all those pyrotechnics hangs heavy in the air for hours. I can't imagine how much that fella spends each year on fireworks. It's a lot, I'm certain. 
We sit by our outside campfire and watch their show while we eat s'mores and light our little sparklers. We "Oohh" and "Aahh" and say, "Holy Smokes!" as we watch the neighbor's show.
Well we didn't make it this 4th of July. Our plans changed considerably when we learned about an injured mother deer in the yard at the house we are moving to (we don't currently live there.) We decided to stay home and try to help.
I felt (and feel) personally responsible for it: the deer had gotten injured on the fence we have on that property. It is a wrought iron fence with those sharp pointy ends. The deer had tried to jump over the fence and didn't make it. Luckily, we had some workers at that house and when they came to work that morning, they found the deer. Thankfully, they got her off the fence. One of the deer's legs was badly injured.
We learned about it when my husband stopped by after work that evening to check on the workers. They told him about the deer that had been injured on the fence. Hubby immediately went to check on her. She was alive, but weak.
She was in a large fenced-in area, so he locked her in so she could be safe throughout the night. (There are coyotes in the area.) He brought fresh water to her and placed it so she could reach it without having to get up.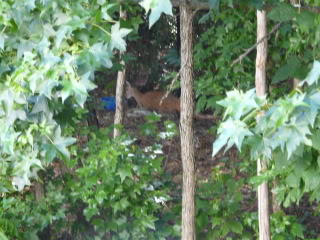 When he got home and told me about it, I wondered out loud if she needed to be "put out of her misery." We came to the conclusion that we didn't have enough information to make that decision. (We don't have it within us, anyway, to carry out such a decision. We'd have to call our law enforcement friends or our hunter friends.) We did make some phone calls to get some advice from people who know more than we do; we decided that we'd try to care for her. We hoped that maybe she just needed a few days to be secure and safe and that would give her leg time to heal.
The workers returned the next morning. Before long they heard and saw a baby deer. It was on the other side of the house from the injured deer, on the opposite side of yet another fence. It was in the woods that separate our house from the neighbors'. Deciding it was the injured deer's baby, the three of them set off into the woods to catch it.
They finally did. They brought it to the incapacitated mother. The baby tried to nurse and then ran off, easily sliding through the wrought iron fence.
When my husband got there, they told him about the baby. He went to check on the Mama Deer, who was weak and still not able to stand. He called me and I headed down (it's about an hour away.) In the meantime, he brought the Mama Deer more water and searched for the baby.
A vet's office gave us the number of a rehabilitator. We left a message for Richard.
My husband headed to the grocery store and bought the Mama Deer some nourishment in the form of blueberries and almonds.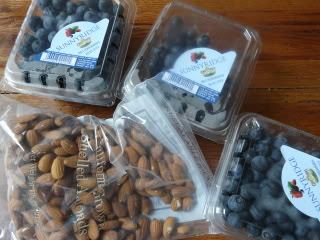 He picked up a gallon of whole milk, just in case we found the baby.
I headed out to find a feed and seed store. I bought some alfalfa hay, deer pellets and a nipple for a bottle for the baby.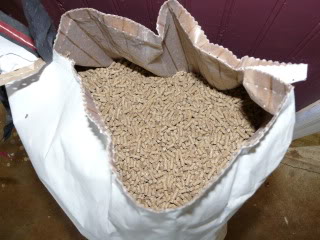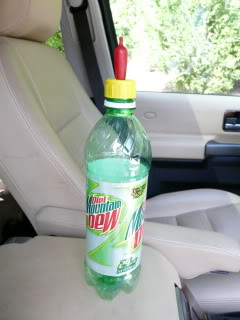 (That's an empty bottle, by the way!)
Once we got back to the house, we looked for the baby in the woods and on the adjoining property, but couldn't find it. I felt sure that the baby would find the mother (if this was indeed her/his mother). And since the workers had taken the baby to the mother before, the baby surely knew where to find the mother.
Soon the rehabilitator called us back. Thank goodness! Here hubby is talking to Richard.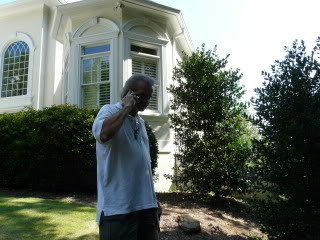 Richard, the rehabilitator, said that all we could really do was to focus on the mother. We should try to keep her as comfortable as possible and safe. He said the blueberries and nuts were a good choice. If the mother doesn't make it, the baby won't, he advised. He also told us that a mother deer will nest the baby in a safe hidden place and go to the baby. The baby is taught to be still and quiet as it waits for its mother to come back. Richard felt like the likelihood of us finding the baby in the woods was slim.
I began to wonder if that baby deer the workers had gotten was really this injured deer's baby. Maybe not. After all, there were two fences and a house between where the baby was and where the mother was found. As the day turned into evening, we decided we had done all we could. So we prepared to go back home.
I headed off to go pick up our daughter first. I had dropped her off at my sister-in-law's house so she wouldn't have to deal with the drama of an injured deer in our soon-to-be yard. So as I left to go pick her up, my husband locked up the house, checked on the Mama Deer, and secured the fence around her.
My daughter and I were about to leave my sister-in-law's house and head back to our current home an hour away when the phone rang. Hubby said the baby deer was there. I once again left my daughter in my sister-in-law's care and rushed back to the house.
I got there. In time to see the tiny, baby deer on the other side of our fence. I heard the sweetest sound…a faint, soft "naahh." The baby deer was in our neighbor's woods, on the other side of our fence. We could see it, but couldn't get to it. By the time I arrived, my husband had cut our fence in order to make an opening for the baby deer to get through. I headed inside to heat up some of the milk Hubby had gotten. I poured it into the Mountain Dew bottle and screwed on the special lid I had gotten from the feed and seed.
We set out to catch that baby.
Sounds easy. But it isn't.
The woods were dense and the baby was fast. I would get close, but as soon as I got close enough to pick her up, she'd charge in the other direction. Because there were only two of us, we couldn't surround the little thing. So I gently and calmly talked to the baby in the woods. I'd approach her when I could and hold out the bottle of milk. My husband would try to block her in and be ready for the "catch" in case she bolted in his direction.
Over and over and over again.
We made little progress in an hour. She'd run and we'd lose her. Then we'd hear her little "naahh." So, we'd head in the direction of her cries. We'd locate her again and slowly approach her again. Only to have her run off again.
Then we lost her good. She took off deep in the woods and we couldn't find her anywhere. Hubby went to look on the other side of the fence. I stayed in the woods and continued my quest. I reached a point where I couldn't get any deeper in the woods. There was just no way to get through; it was too dense. So I gave up and turned around.
As I retraced my steps in defeat, I saw her.
I must have walked right beside her earlier when I came deep into the woods.
She was quiet and lying down in her nest of sorts: a pile of grass clippings beside our fence. Maybe she was tired of running. Maybe she was ready for some help.
I was determined to catch her this time.
I got down and crawled on my hands and knees through the woods as I approached her, thinking she wouldn't be so afraid if I looked smaller. (Yes, me! Snake-phobic me! Crawling in the woods at almost dusk. Don't ask me where I found that strength.)
I slowly, slowly, inch by inch, spoke to her and got closer to her. I reached the "nest" and reached out the bottle of milk. She smelled it. I put it down and slowly moved my arms closer so that I could pick her up.
I knew I could get her now. She was tired. She looked at me straight in the eyes. I gazed into her beautiful brown eyes. I spoke to here. What warm, intelligent eyes she had. Yes, I knew I had her now. She lay there quietly and watched me. I was so close to her that I could almost touch her. Almost. Almost. Almost.
I smiled because I knew now this story had a happy ending. She'd be safe tonight. I slowly and carefully moved a little more towards her so that I could embrace her with both arms and scoop her up. Just as I did, she suddenly took off away from me like a bullet. She ran into the deep woods.
She ran right into the area I had come from. The woods I couldn't penetrate. She headed straight into the safety of those dense woods. I already knew I couldn't get through, so with tears in my eyes, I turned around and walked away.
I had been so close, and I had blown it. That was that. She was gone. Poor thing didn't stand a chance to make it through the night in these woods without her mother, with no food. I cried silently as I walked to head out of the woods.
I'd have to hope for the best. That she would find her way to her mother. That the mother would be able to nurse her.
I kicked myself. Believe me, I kicked myself.
Tired, dejected and still crying, I turned around and walked through the woods to get back to our side of the fence. I prayed in one breath and cursed in the next. I walked the fence line up to the road and back down on our side of the fence.
Once I was on the other side I realized something. I could actually see into the woods better from this side of the fence, where it was less woodsy. I felt a surge of hope as I thought I might be able to get a glimpse of her from over here. Or maybe I could hear her small voice deep down in those woods. So, as I walked the fence line on our side, Hubby manned the front part of the property, keeping his eye on the "nest" beside the fence.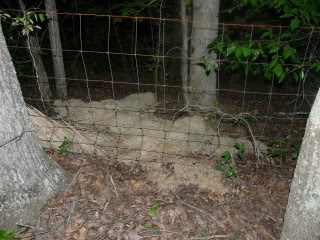 About half way down, I barely heard it: a faint "naahh."
The sun had set, but I could see her in the woods! She was looking at me. She was on the other side of the fence, looking my way. I crouched down and quietly spoke to her. "Come here, baby. Come here, sweetie…" She said, "naahh, naahh…" as started walking towards the fence. I slowly walked to the fence towards her as she walked to the fence on the other side towards me. She reached the fence and then did something I couldn't believe. She put her head through the fence to come to me. (At this part of the property, there is "hog" fencing. It has those wire squares.) Then she put her two front legs through. Her head and her front two legs were on my side of the fence; her back legs were on the other side. I knew it was my chance.
I got that baby and held her tightly in my arms. I called to my husband who was further up on the fence line, looking for her near the "nest."
We carried her to the basement as her "naahh"-ing got louder and louder. Mama was on the other side of the house and I worried that she would hear her baby cry and try to stand up to help her. In the basement, we carelessly dumped out the contents of a box and put the baby in it.
While I took care of the baby deer, my hubby called back Richard, the rehabilitator. He got directions and headed over. My sister-in-law and brother-in-law came over with my daughter.
The next hour was magical and enchanting and everything in between. What it was like to interact with this deer baby is beyond description. I won't even try. It is one of those experiences you have in life that you not only never forget, but that you also go back to it time and time again for renewal and hope.
First I reached into the box and petted her and loved on her and talked to her. I gave her the Moutnain Dew bottle filled with warm milk. As she quickly drank it, her little tail wagged.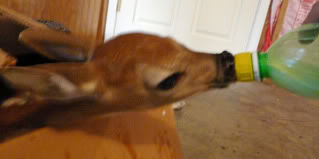 And then I took her out. I sat with her and petted her and spoke to her. I lay on the floor and she came over next beside me. She snuggled and tried to nurse. She got on me and tucked her legs underneath her. Her long, thin legs.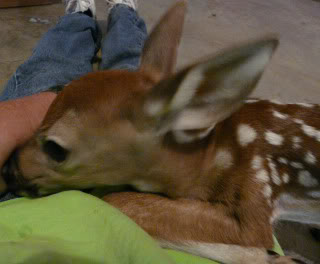 In fact, it was hard to take her picture because she wouldn't step away from me.
But check out these spots.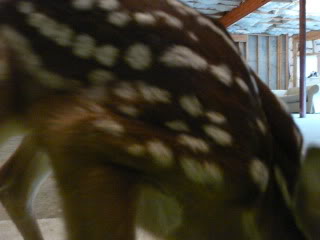 My daughter arrived and fell in love. Same with my sister-in-law and brother-in-law. We were all so moved by this encounter.
Here is sweet and tender sister-in-law: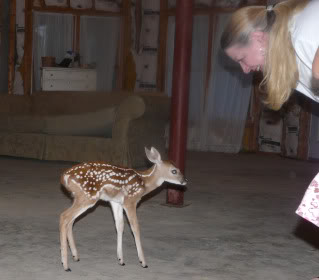 And here: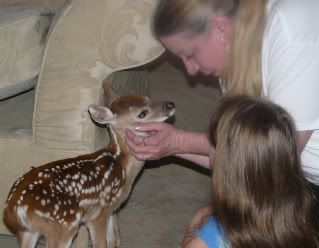 And here is sweet and tender daughter: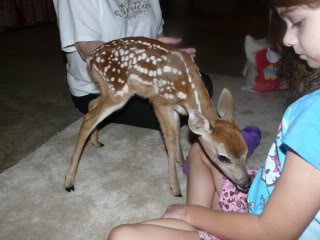 And here is sweet and tender baby deer: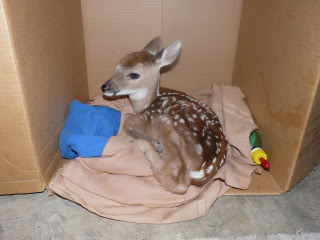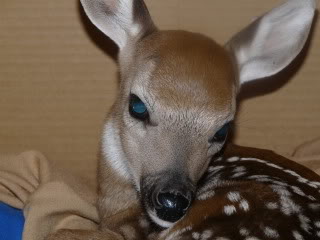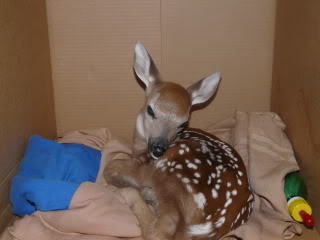 And then, thank goodness, a most amazing person came to help us.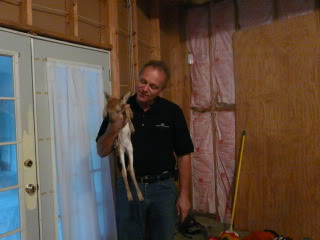 Richard, a volunteer rehabilitator arrived, and he was wonderful. He was kind and knowledgeable and compassionate. He gave the baby a bottle of special baby deer formula.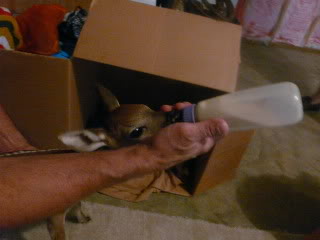 He asked my daughter to name the baby. She came up with the name in a second: "Fawna."
He and Hubby then went to check on the Mama Deer. Sadly, she had died.
In the period of time between when we left her and caught her baby, the Mama Deer had died. Did she somehow know? Did she sense that her baby would be okay now?
My sister-in-law and I went outside to say some words over Mama Deer. We both cried. (I'm crying still as I write this. And I saw sister-in-law yesterday and she was still crying too…)
In fact, I might as well admit it to you now. There might be type-o's in this story, because I can't go back and read it. Not yet. So ignore the type-o's okay?
Here is my daughter looking in the truck, saying goodbye to Fawna, as she is about to go home with the person who will take care of her until she can take care of herself, Richard. Richard the Rehabilitator. Richard the Rescuer.
"God bless you, Richard," my sister-in-law said to him, "For all the good you do for animals…God will bless you."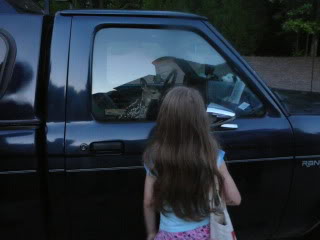 Fawna turned around and looked right at her. Can you make that out? Precious.
So what a 4th of July we had.
We spent the 4th of July digging a grave for Mama Deer.
My hubby came up with the idea of spray painting tennis balls and putting them on top of the spiky-sharp pointy things on the fence so they would never hurt another animal. That's now on my to-do list.
The next day, I took the blueberries and almonds and milk we had bought for the Mama Deer and Fawna and made one of my favorite blueberry recipes. Before, I've always called it Blueberry Tea Cake. Now I changed the name: Fawna's Blueberry Cake. In case any of you want the recipe for Fawna's Blueberry Cake, I posted the recipe, pictures and directions over at 
www.thecityfarmgirl.com
blog.
And by the time you read this, I'm happy to tell you that I'll be up at our Mountain Farm. We missed the neighbor's fireworks show, but we'll have our own:
and watch the lightning bugs…
and light our sparklers around the campfire…
and oohh and aahh and say "holy smokes."
Until next time, Friends, savor the flavor of life!

Lots of love, The City Farmgirl, Rebekah