I sometimes wish I was more handy. I wish I knew how to do things and fix things around the house. How does one learn that kind of thing? I've just never known.
We had been planning for the past several weekends to go up to our farm, but something or another would get in the way at the last minute. Well, this past weekend, we finally did it. We headed up at last.
I think I've told you before, that this farm-thing is mine and mine alone. I've always had a certain pull towards wide open spaces and a house in the country like Grandma's. Not so much the case for my husband. He goes along with it, like he goes along with my cats, because he loves me. I love cats and he loves me, so he puts up with them. I love farms and he loves me, so he puts up with it.
But back to my general lack of handy-ness. Well, no. First let me tell you about the drive to our farm. It was such a pleasurable drive and I was beyond excited to finally be going. And of course, spring is a beautiful time of the year to be out and about. I couldn't believe all the different shades of green on the trees on the passing hillsides. If someone had painted them, it would be look surreal. It was simply a perfect trip there, all four hours of it filled with singing and goofing and having fun. 
Well, it was 6 pm on Friday when we finally got to our sweet little farmhouse.
We pulled in the driveway and right there sleeping on the front porch was a big, black cat. He opened his eyes, but didn't get up. Instead, he stared at us. He lay there, challenging us to get any closer. This was one tough Tom-cat.
We got out of the car and the cat squinted his eyes at us as we got closer to the house. He was right outside of the front door. He sat up, but didn't move away from the door. He twitched his tail and his ears moved to that downward and backward position. I think he had decided on "fight" instead of "flight."
Then my daughter darted towards him, squealing with delight, "A caaaaaaaaat!!!!"
His flight or fight instinct changed to flight. He fled and we never saw him again.
As I pontificated about what this whole "black cat on the front porch" thing could mean, my hubby said, "There's a smell this place has that is incredible. What is that? The smell? It's so sweet."
The country does smell good, doesn't it?
 "And, wow," he added, "The skies really are bluer here, aren't they?"
Country skies are more vivid, are they?
Suddenly it dawned on me. He was being positive about this place. He. Usually it's me. Me pointing out this and that. Me trying to get him to like it.
But, this time, it was him.
(Cool. A convert perhaps?)
Well, the farmhouse had been shut up for months and it needed a lot of cleaning. There were ladybugs all over the place; there were cobwebs here and there; there was evidence of mice.
And, worse than all that. There was no water at the kitchen faucet.
We made the best of it the night we arrived. I cleaned up the house and cooked dinner. I boiled water from the bathtub in a big pot and washed the dishes in there. I took them back to the bathtub to rinse them.
We talked the next morning, which was Saturday, about finding a plumber. When a neighbor came by, I asked him for a plumber's name. He said he didn't know any plumbers. "Who does your plumbing?" I asked. "I do," he said. He said that he would help me too, except he doesn't like to work on other people's stuff because, "I'm afraid I'll tear it up."
I wish I could do my own plumbing, I told him. "It's not so hard," he said.
I decided that this trip, which was a short one, we'd just do without the kitchen sink. I had lots to do here and I wasn't really in the mood to hire a plumber on a Saturday if I could help it.
I worked outside some and worked inside some.
What I didn't do was take any pictures on this trip. I worked instead. Here are some pictures from last year at the farm.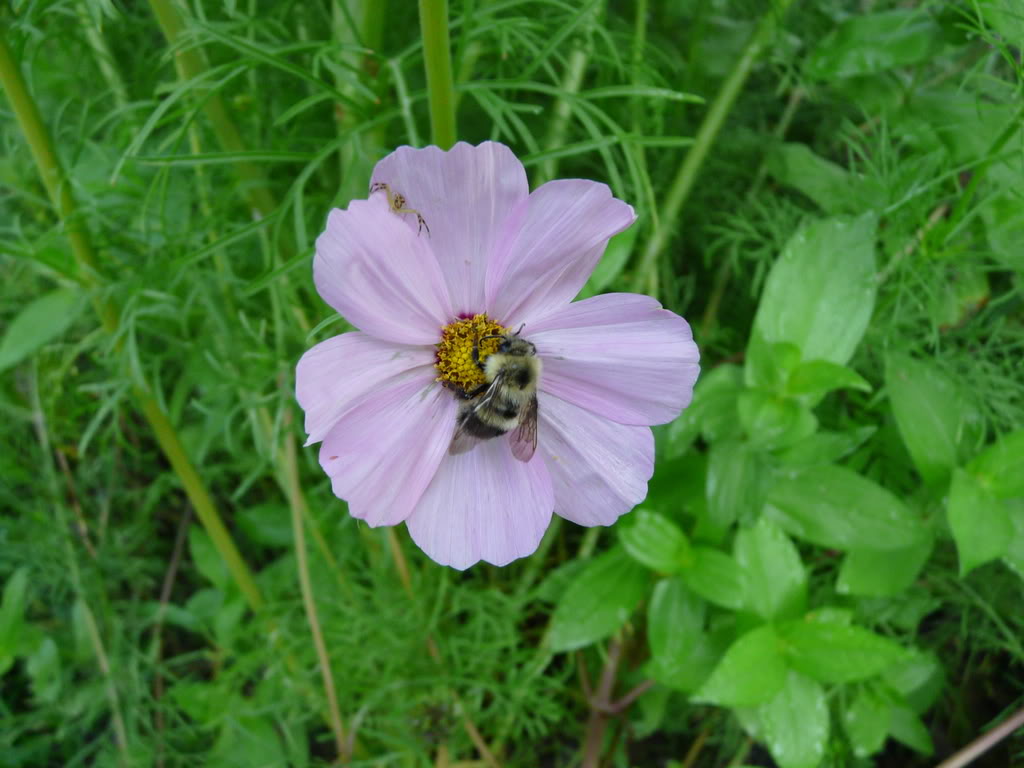 said the spider to the bee…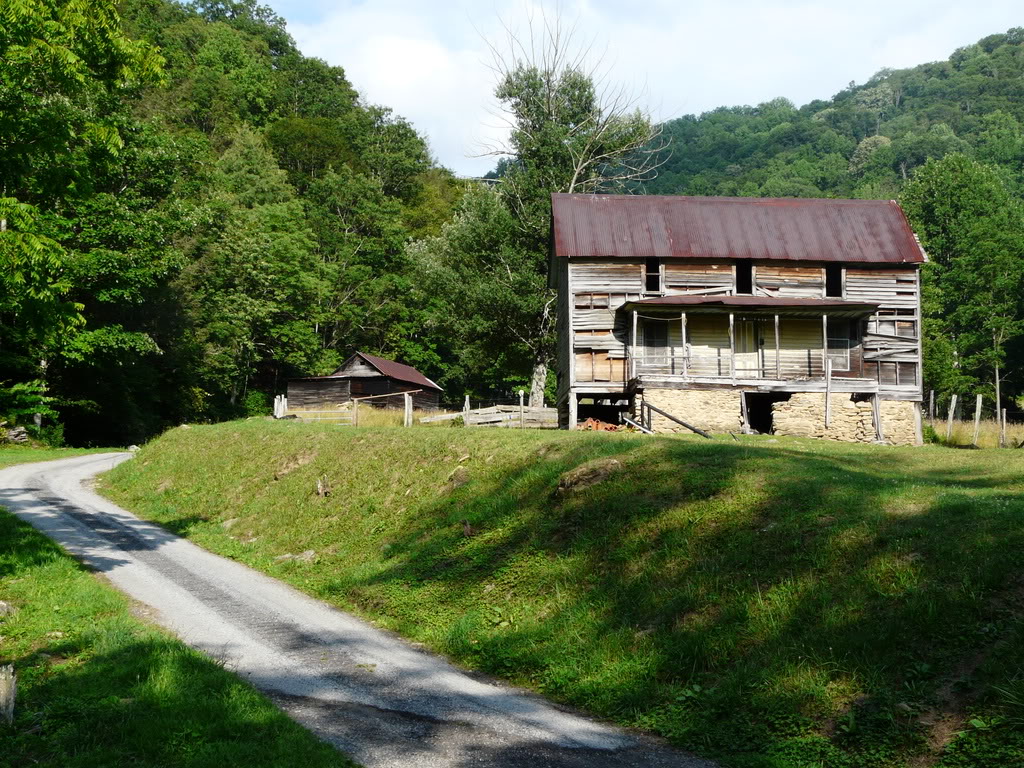 A house I love that we pass by
"It's not so hard." "It's not so hard." "It's not so hard." I heard it in my head over and over again.
So, I finally came inside to take a look myself at the faucet.
I wound up taking it apart. The whole thing. It was very interesting. The way that bally thing is inside there, and the holes there and that liney thingamajig and the little do-hickey. All very interesting. I didn't see any reason why water wouldn't come out of that spout.
So, I know you know what's next. Yes, I tore it up. I tore up the bally thing, the liney thingamajig, and the little do-hickey. I'll definitely have to hire a plumber now.
Oh well, I was no worse off, right?
I had shut off the water to the house before I started my DIY plumbing, so I turned the shut-off valve under the sink and went and turned back on the water to the house. When I got back to the kitchen, water was shooting up all over the place from the faucet. I ran down and turned off the main line to the house again.
My husband was out on the mower, cutting us a path through the meadow to get down to our mountain stream. It was about 5 on Saturday afternoon.
I went to get him and told him that not only had I completely destroyed the faucet, but that the cut-off valve under the sink was not working so, you see…we'll have no water in the whole house.
It sounded like the opposite of fun to him, so we packed up and left. We were back on the road by 6 pm on Saturday. We spent 24 hours at our farm. 8 hours in the car, 24 at the farm.
So on Monday morning, I'm in a meeting and happened to notice someone looking at my hands. It was quick, but I saw it.
I looked at them myself and was surprised to see how horrible they looked. Unkempt and unclean. After that particular 24 hours at our farm, I had pretty much destroyed my nails. I broke most of them in my plumbing mishap and had needed them as a shovel in the dark soil before that. I looked down at my hands in this meeting and I quickly moved them off the conference table. Even the side of my index finger looked stained or dirty. Now in my lap, I noticed how rough the skin on my hands felt. I knew now that when I shook hands with this group of people I had never before met, the roughness was surely noticed. I suddenly felt pain and felt the cut on the ball of my hand that I had acquired this weekend. Oh lordy, I hoped it hadn't started bleeding again right now.
I am most impressive, don't you think?
I decided that I needed to address my hand-y untidiness. So I explained my hands at the end of the meeting.
It led to a wonderful discussion on raspberries, blueberries, tomatoes, chickens and cows. No one knew a thing about plumbing, though.
Until next time, Friends, savor the flavor of life!

Lots of love, The City Farmgirl, Rebekah