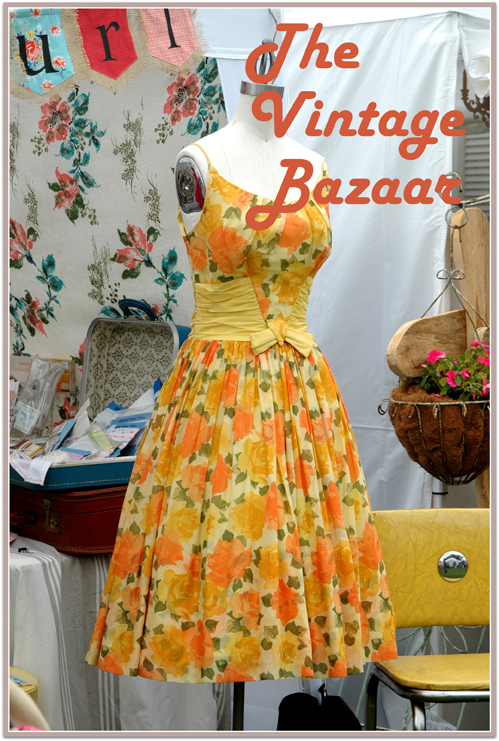 Dear Sisters,
Before we get lost in the isles at The Vintage Bazaar let me first wish you all a very HAPPY FALL! I know I've told you this before but fall is my all time favorite season. Indian summer days filled with golden sunshine, cloudless clear blue skies and cooler nights for sleeping with the windows open have returned. Just in time for apple picking, fall festivals, and flea market shopping at it's finest! Who's up for an early fall farmgirl adventure? Think Round top East!
Off we go to The Vintage Bazaar where nothing but the finest rust, must, dinge and dust await!
Is there a better way to spend an early fall day than rummaging through booth after booth of antiques, vintage finds, architectural salvage, time-worn pieces of the past, re-loved goodness and one of a kind art pieces? Do you hear that Country music playing in the background? Let's party! Oh, one more thing before we go… What ever you do, don't wonder off mid-post! There's a LOT to see and I don't want you to miss a thing!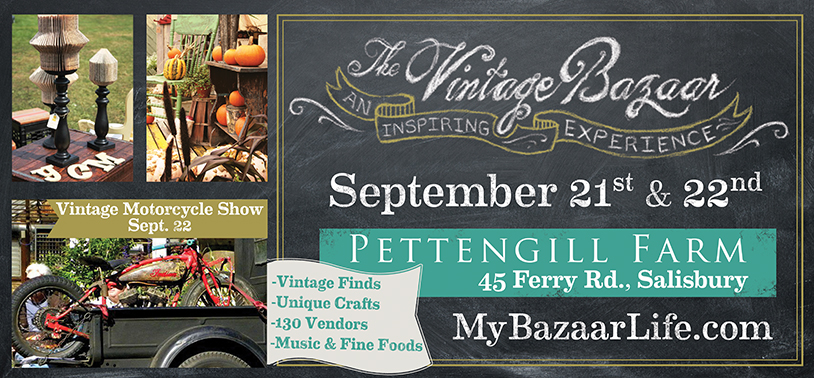 Yep! You read that right. 130 Venders, Unique Crafts, Music and Fine Foods and VINTAGE FINDS! On top of all that wonderfulness, this event was held on the grounds of historic Pettengill Farm dating back to the 1700's. It still thrives today with several greenhouses, an on- site landscape design service and plant sales.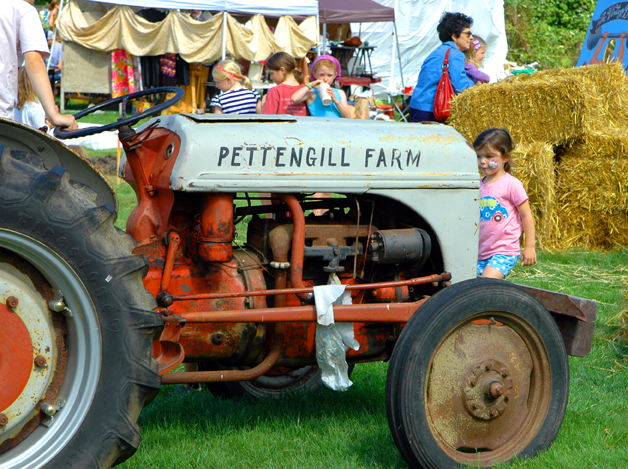 My dear friend Melissa of Tilly's Nest Blog picked me up at 9:00 sharp on a sunny Saturday morning and we drove for almost two hours to the Bazaar! We were both so excited to get there to see what we couldn't live without!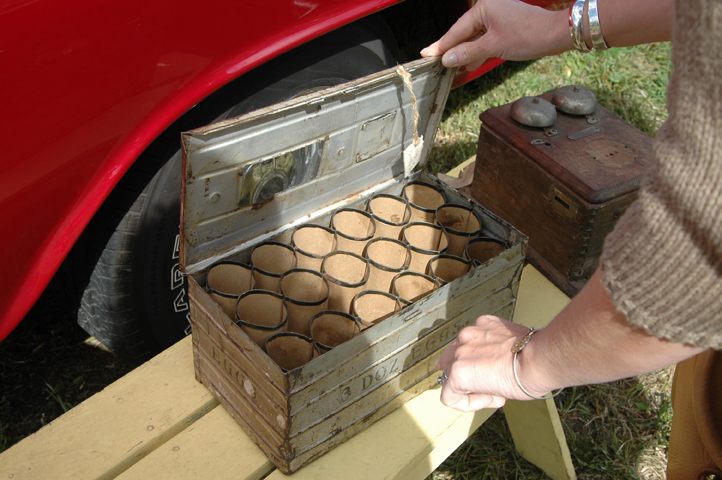 We were barely through the gate when Melissa spotted this vintage metal egg crate. I'd never seen one like this before have you? Melissa writes about Tilly ( her head hen) and her nest ( the rest of her flock ) so vintage chicken keeping items were jumping out at her all day!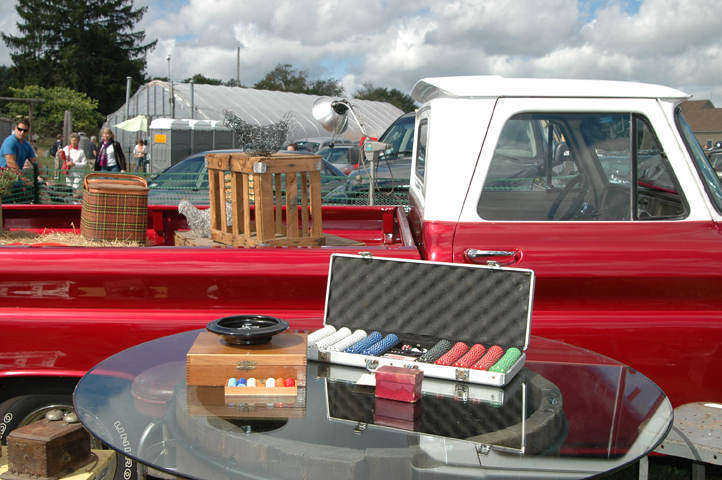 This dealers poker set up caught my eye being a native Nevadan but that shiny red truck behind it was flashing me in the suns reflection. I had to stop and daydream for a second but I knew I wasn't going to buy a vintage truck that day so we continued on… I looked over my shoulder to scan the row of tents over yonder and that's when I saw her! My first " real life " GLAMPER!  The Sea Pearl! I was a glamper virgin until that very moment! I had only seen them in my Glamping With MaryJane book, The Ranch Farmgirl blogs, and of course MaryJane's Glampers on the Loose Facebook page but it was so exciting to see one up close and personal all glammed up!
Notice how the man and boy in the photo are just walking by the Sea Pearl with no interest what- so -ever and the two women in the photo seem as if they are under some magnetic spell as they move in for a closer look! Inside she had been lightly refreshed with pretty aqua blue paint and she had all her original flooring, walls and fixtures. A new cushion was made for the bed/couch and was covered in pretty floral and beachy fabric pillows.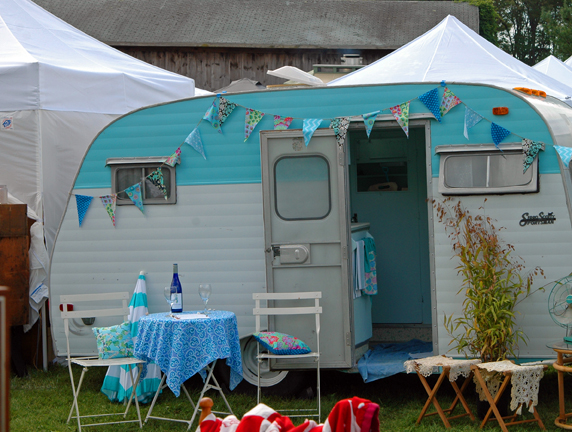 Turns out the Sea Pearl had already sold early that morning making a future glamper very happy indeed! I licked my wounds and kept on going.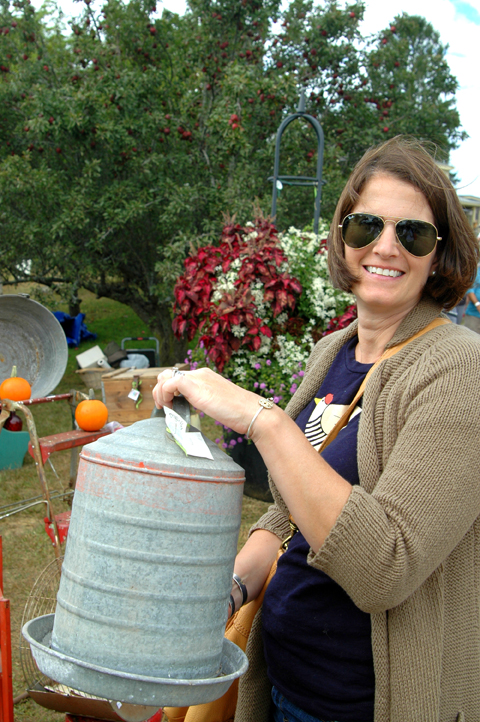 Here's Melissa with a vintage chicken waterer.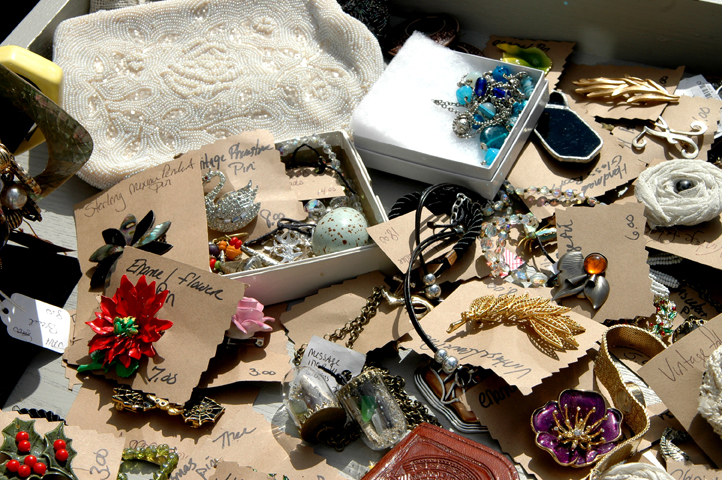 There were plenty of bobbles and buttons to sift through. Perfect for stocking up on craft supplies!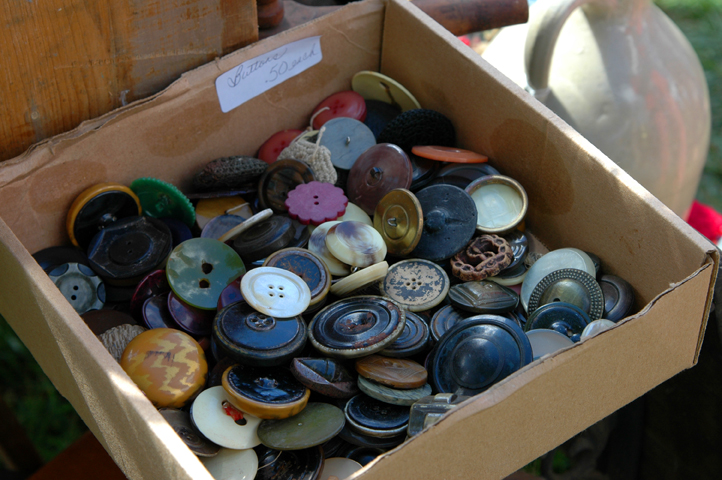 We really enjoyed the cleverly dressed tents too! It really made for a festive and fun shopping atmosphere.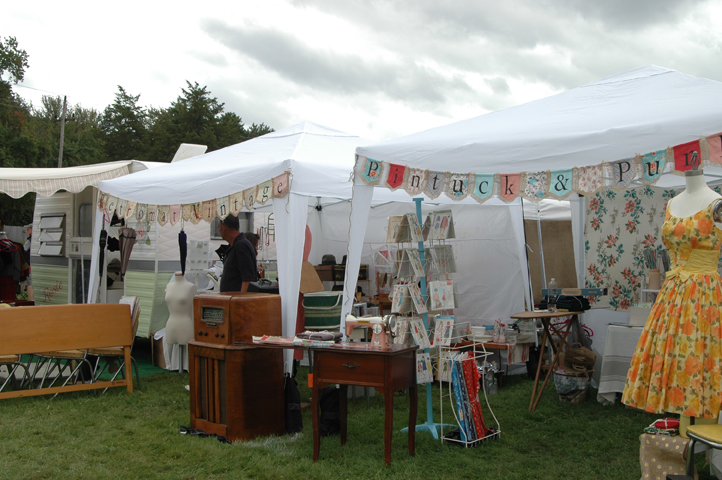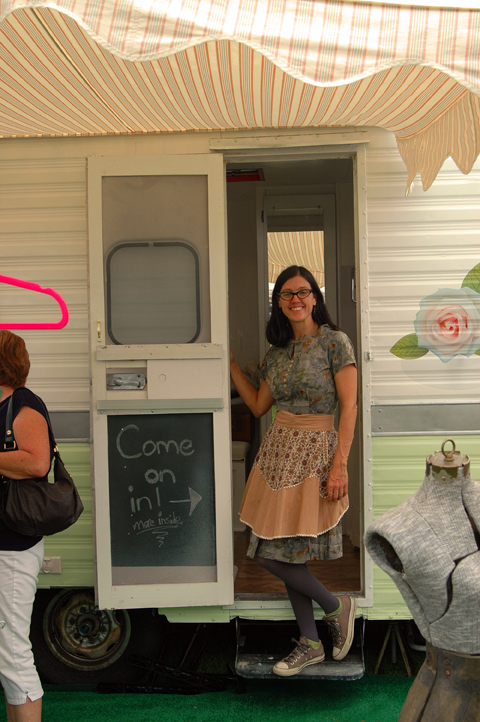 I had to stop and meet this fun lady Laurel Trzaskoma who sells Vintage Kit and Classic Caboodle out of her glamper named Rosie! Isn't she a doll? She was kind enough to pose for us when I told her about MJF and all of you!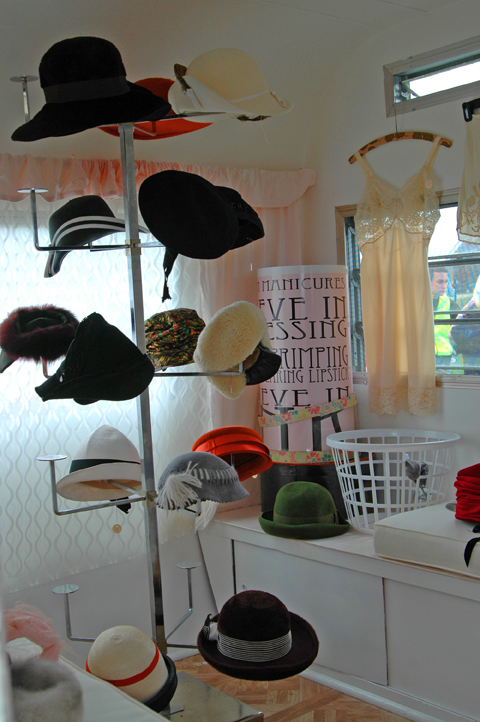 Just a few of the classic vintage hats she had to offer inside her lil' shop on wheels!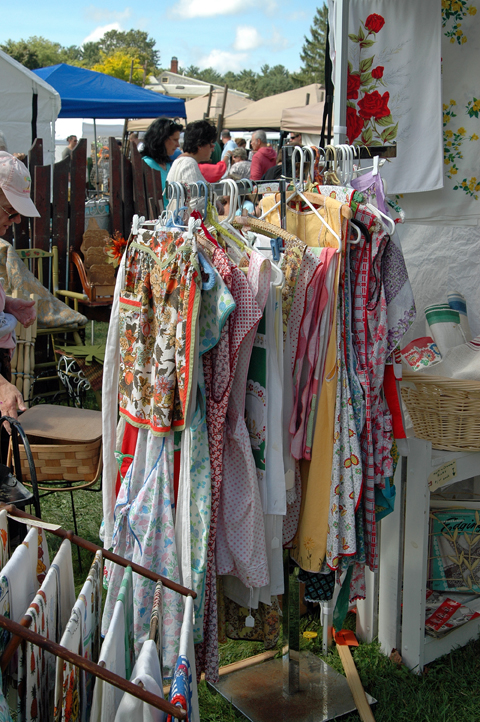 The Linens Lady was there too! She had a fine collection of vintage aprons, and table linens to choose from.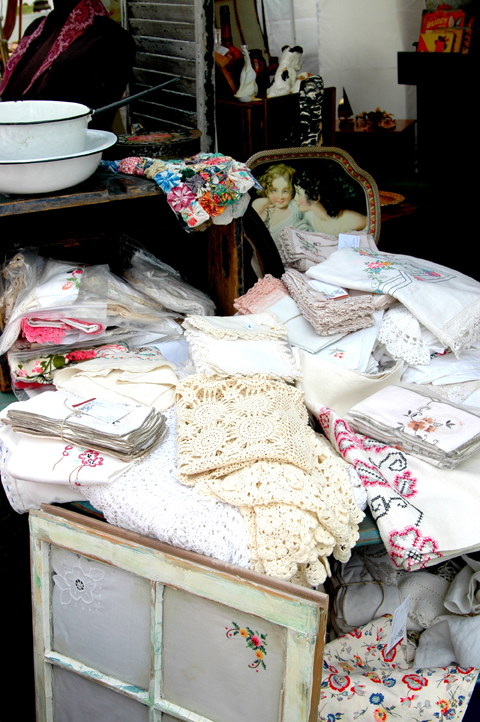 There were a good many venders offering re-purposed painted furniture which was right up my alley! This re[purposed headboard was my favorite piece of the day! I love the rich warm turquoise color and the new purpose assigned to it is spot on! I'd love something like this wouldn't you?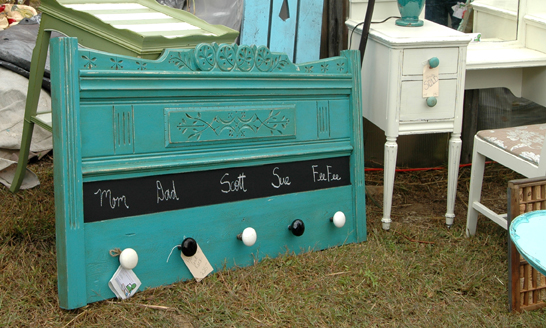 One of the fun and surprising things about The Vintage Bazaar were the one of a kind artisan's who participated. I'll be honest, from a distance this doll was a bit spooky, but I could make out the vintage tin cans and other parts from afar and I just had to get a closer look at these clever concoction's!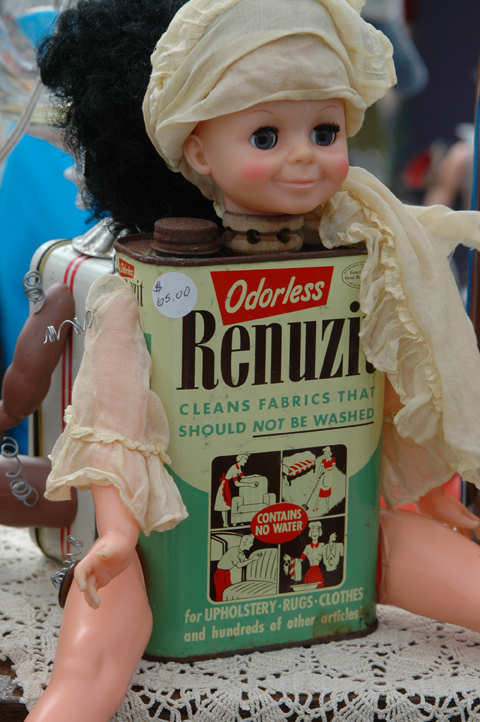 Artist, Carol Mataruso creates one of a kind dolls from vintage kitchen utensils, tea pots, tin cans and other loose metal parts. She gives each DOLL a " new heart " from salvaged metal.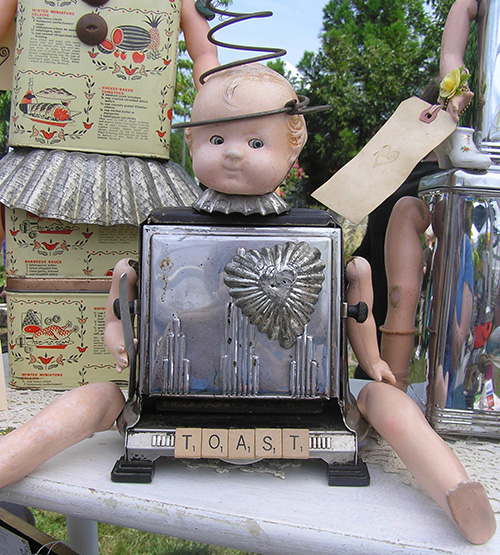 I think they're simply GENIUS even if they are a bit spooky! I wish the artist would have been in her booth when I stopped by. I would have loved to pick her brain to find out more about the inspiration behind her amazing assemblages.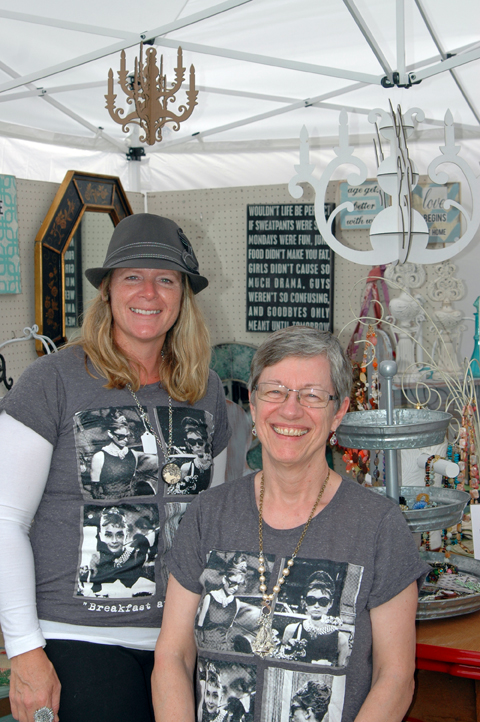 I was able to coax Amy Roth of Sage and Twine and her 'tent' neighbor Cindy Stewart of The Cowgirl Emporium to sit for a quick photo in between making sales! They were selling new and vintage/refurbished items for the home and garden. Check out those cute little paper chandeliers at the top of the photo!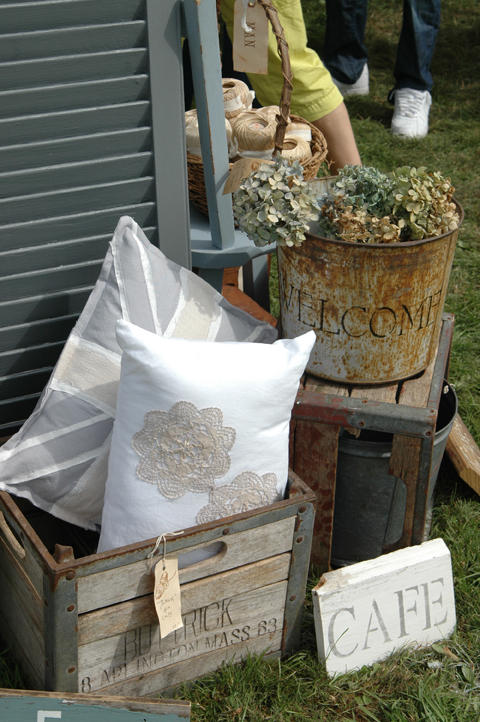 Each vendor had such creativity when it came to displaying their goods! The vignettes were very eye catching!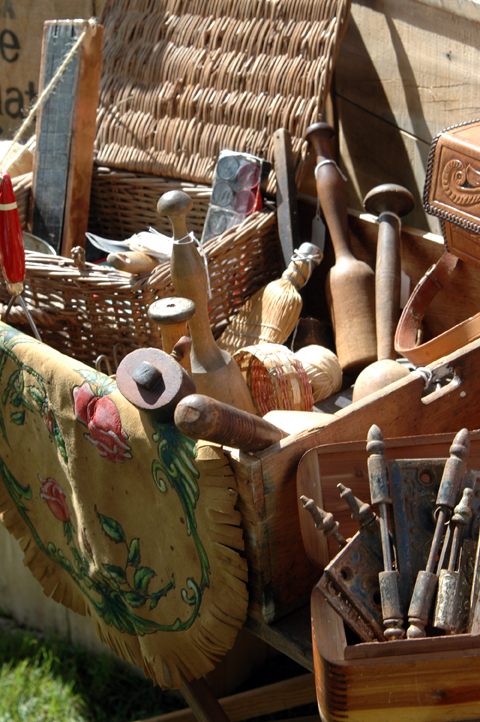 What? Another vintage truck?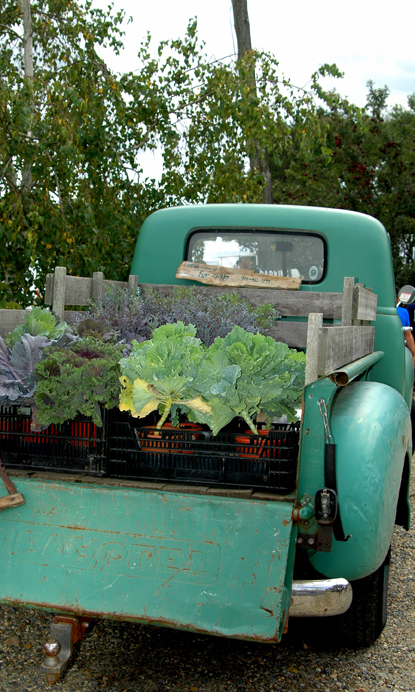 LOVE!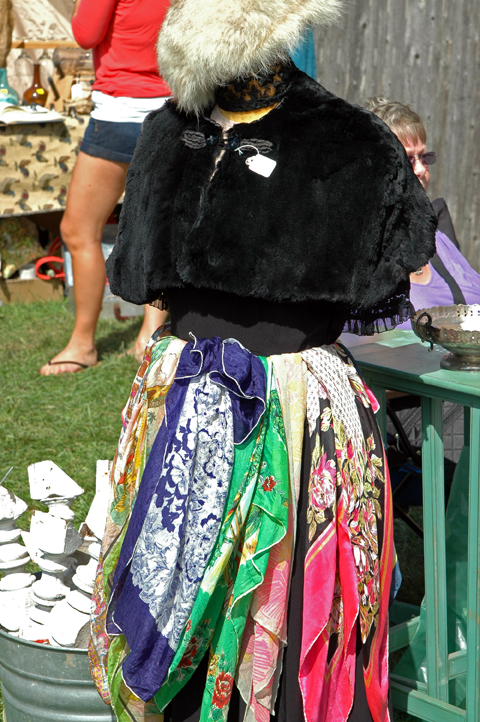 Cute little scarf-skirt paired with the vintage mink stole and hat!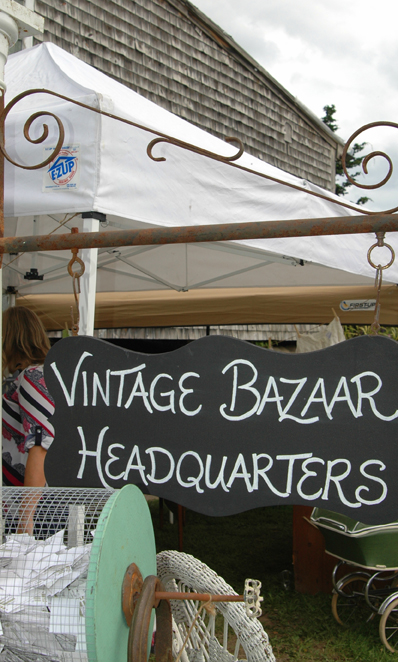 Whew! I'm ready for a bite to eat and a cold drink, how about you?
Thanks so much for joining Melissa and I on our first farmgirl adventure to THE VINTAGE BAZAAR! I'm feeling inspired, how about you?
Fall is THE BEST time to take a break with your farmgirl pals and take in the sights in your neck of the woods, beach, farmland, or city streets! The laundry, kids, pets and husbands can wait! Get 'out there' and have yourself a farmgirl adventure! You'll be sooooo glad you did.
Please introduce yourself in the comments section below if you attended or were a vender at The Vintage Bazaar!
Until our next shoreline visit~ Keep smiling!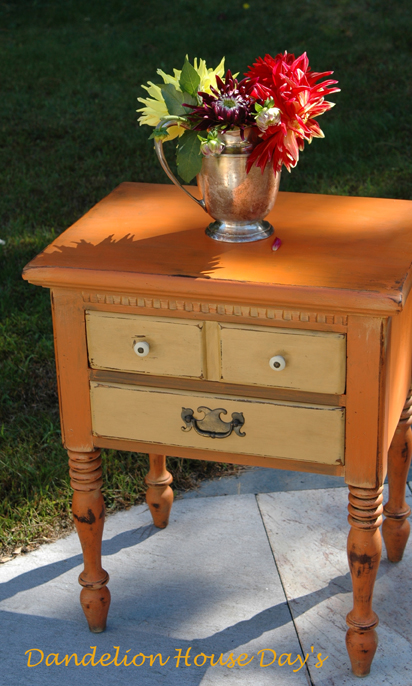 BEACH BLESSINGS and MUCH LOVE,
Sister Deb # 1199