Like my sweet Daddy says, "I've been missing you!" 
Can you leave a comment and let me know how you're doing? Maybe even insert a selfie? I'd love that. I just made one and will post it at the end — even though I'm not usually a selfie person.
I wish you were here on my farm with me. We'd sit on the back deck with a cup of lavender tea and tea biscuits, and we'd listen to the tumbling waters of the creek below.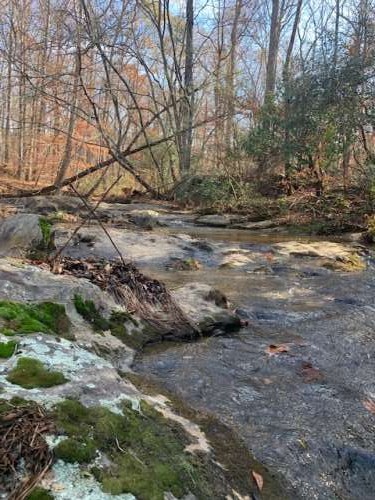 When we weren't laughing too loud, or cackling like a flock of birds, we'd hear the cows mooing next door.
They're especially noisy these days, some of their moos sounding like mourning. I'm pretty sure that means that babies and mamas have been separated.
Although. It could be something else that has the cows carrying on. 4 days ago was chicken manure spreading day on their pasture. Maybe that strong smell is the source of their discontent.
Have you experienced this particular odor before? It's rough for a few days, overpowering, then it begins to lessen in strength and offensiveness.
Today, day 4, I am sitting outside again and enjoying the farm where I landed a few years ago. The odor is still there and maybe you're glad that you're not here with me on the back deck. But, to me, at day 4, it smells like the country life to me.
Nature, woods, creek, cows, horses in the pasture, farm cats.
It. All.
Anyway, my forever helpful neighbor, Rich, the owner of the cow pasture, always lets me know when chicken manure days are coming. I shut my windows tightly and stay inside. No garden parties on those first days after spreading.
He told me one day that I was the perfect neighbor. I'm not. He's the one who brings me some chicken when he fires up his smoker. He's the one who helps me put black roof tar on the top of my hay trailer to stop the leaks. He's the one who alerts me when bad weather is coming.
I mean, who ARE these people?
I bask in their kindness and generosity.
News from the Farm. Hmmm.
There's a new cat that arrived unannounced at the farm, and I think it's permanent. He forwarded his mail here last week. So I took him to the vet, got him tested for any cat diseases, and had him fixed.
I named him Hugh, after Hugh Grant, because he, like Hugh Grant, is funny, handsome, and a lover, and has a British accent.
Unlike Hugh Grant, he is humongous — HUGHmongous.
We've come through winter fine. Most of our days here have been mild and most of our nights have been too.
Dandelions even bloomed most of the winter. So did Creeping Charlie. My bees were out of their hive finding pollen and nectar. I saw the little pockets on their little bee legs stuffed full of yellow or purple pollen. I also saw red pollen one day, which baffled me. I haven't seen anything red in bloom around here.
I'm not sure I can call what we have here "winter." I need to think of another name. Like, "fake winter" or "where's the snow" or "not winter winter" or "dang it's warm."
It's supposed to be 77 later on this week. Ugh. And sigh. The lack of winter weather is a big negative for me. But, Sister, it sure is good for tomatoes.
Speaking of gardening.
I took your, or someone's advice, to have raised beds this year for my vegetable garden. Hopefully this will help me manage weeds on this farm without resorting to chemicals. (So far, it's 3/0, weeds winning.)
But there are issues. I don't have flat land or carpentry skills. So, I've been talking about my challenges to anyone I encounter who seems farmy.
Did you know that when one lives in the country, one manages one's own garbage. One puts one's stinky mess in the back of one's farm truck named Elvis, and then one hauls it to "The Dump" on Saturdays. I am "one." Ours is not a real dump because it has the dumpsters that some one else (not this "one") takes to The Real Dump, the landfill. 
The nicest men work at the dump. They're my favorite age, "not young." There's Mr. Phil and there's Garnett. On my visits, I've been talking to Garnett about gardening, how to level dirt, and how to build and install raised beds.
So. A few days ago, I get a call from my nice neighbor, Rich. Garnett called him up and asked him to contact me. Some items had just arrived at The Dump that he thought would make great raised beds for me. He set them aside in case I wanted them.
I mean, who ARE these people? I bask in their kindness and generosity.
Oh yeah, I wanted them! They are in the back of Elvis right now. They're perfect. And free. And I kept these out of a landfill. So, win, win, win.
This weekend I'll start working to set them up. I'm planning to fill one with lettuces, kale, and sugar snap peas. It's time to plant those veggies now in Georgia.
In other news, I recently met Patty and Johnny who shared bulbs and flower plants from their gardens with me. I stayed and visited too long, probably wore out my welcome, but it was hard for me to leave. They were both so interesting and friendly. I admired their raised beds and their huge vegetable gardens. As it turns out, they grow and sell veggies and flowers in the summer. Johnny even gave me a stupid-funny movie recommendation, Joe Dirt. It arrived yesterday thanks to Amazon. I need some stupid-funny in my life.
Wait until I tell you what else I came home with. Fig preserves. I heart figs. Patty leaves hers whole in the jar rather than chopping them. This makes them even more heavenly than usual. I can't describe the party my mouth has every morning when I spread the figs on a warm English muffin.
And check this out. I also came home with a big slice of 11-Layer Chocolate Cake that Patty had just made.
I came as a stranger and left as a friend.
I mean, who ARE these people? I bask in their kindness and generosity.       
That's one thing that I've been doing, working on creating a new flower bed for the new plants. As usual with my equipment, nothing would start. So I did this like my Grandma Teal did when someone gave her flowers. Grabbed the shovel, hoe, and pick ax and tried to conquer the red clay we have for dirt. 
Not much else is going on around the farm. The horses are good. My Soul-Horse, Merlin, heart heart heart, kiss kiss kiss, hug hug hug, is beginning to show his age. As am I. We drink lots of water every day and share baked apples every evening.
I'm hoping what they say about apples and doctors is true.
He does too.
Until next time, Friends,
Savor the Flavor of Life!
Rebekah,
The City FarmGirl living on a lovely farm in the middle of nowhere-ville, where the people are nice and helpful and neighborly and we take our smelly trash to the dump and our smelly chicken manure to the fields. Ah, country living!