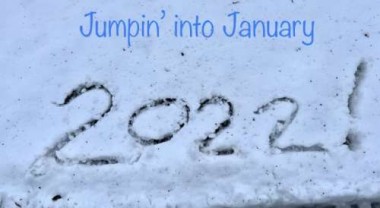 Hi Farmgirl Friends! Welcome to 2022! I hope you all had a great holiday season, and that your January is off to a good start! I have decided not to make any New Year's resolutions this year. Instead, I am going to try to be mindful, and really make an effort to take each day as it comes. There's been just so much worry the last two years! I see it in myself, in posts on social media, and in the general public- out and about. I think we sometimes forget to take in the present, and appreciate the good moments even when things aren't our ideal. We need to remember to not let that stress eat us up, and also to take care of ourselves. So many of us are hardwired to take care of everyone else first, which is great, but sometimes we forget about taking care of ourselves! 
After the last two years (what a wild ride it was), I'm hoping 2022 brings on better things. I'm going to try to focus on the positive! For one, I will be turning fifty this year. When I was a really small child, I remember an entire room at a fiftieth birthday party bursting into laughter when I asked the birthday guest, "You mean you're half of a hundred?!" I was shocked. Back then, it seemed like such a big number and so far away, but here I am; in just a few months, I will officially be "vintage"! Awesome!
I think we are fortunate that nowadays, age is more of a number. It's often how we feel that makes us the age we are. But just like a classic car, we need to take care of ourselves so we don't "rust" prematurely! In the past couple of months, I have found some new-to-me things that I really like, that I think you all might enjoy, as well. Some of them also make great little gifts (Valentine's is less than a month away already)!
Stress, winter air, age, hormones, and just plain styling can really wreak havoc on hair. I've kept my hair long for years because it's just easier for me, and I am a long-hair-kind-of-farmgirl. However, the past few years, my hair was thinning. It seemed I was shedding as much as a long haired cat on a hot summer day – way more than I should. Switching shampoos again to a more natural product (without ingredients like SLS) helped a lot, and making an effort to color less with gentler products also has helped the baby hairs return. (I would love to stop coloring, but I don't have silky silver hair, I have greys that resemble that of a wire-haired terrier)! In addition, one small change has made a major difference! Little did I know that when my old hair brush handle broke, it would be a good thing, because I found a little gem that works for all types (and ages) of hair!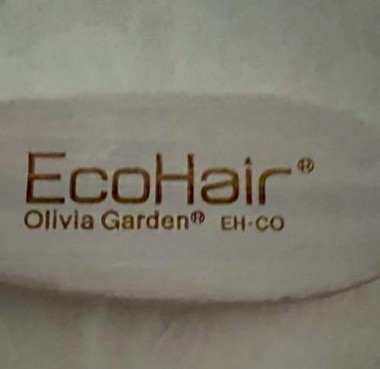 The EcoHair Detangler Brush by Olivia Garden has bristles made of renewable bamboo, with a cushioned grip and easy-to-hold bamboo handle. My hair is smoother, easier to brush out, and is now thicker than it's been in years! Flyaways and frizz are at bay; I can use it to style or just brush through my hair. My hair is pin straight, but I'm not the only one who is a fan! My mom bought one and loves it. She finds she has far less breakage and that the bristles are gentler. A friend with thick, short wavy hair loves hers, and my daughter, who has enough hair on her head for at least three people loves the EcoHair Detangler brush as her go-to, as well. The proof for me is how much less hair is in my brush since purchasing this wonderful, lightweight workhorse! I picked mine up at Ulta, or order online at OliviaGarden.com.
While I do like to get dressed up once in a while (90% of the time, I'm a tried-and-true jeans and t-shirt farmgirl), no matter what I am wearing or where I'm going (or not going), I put on my "face" every day. I do it for me. I don't spend a whole lot of time on makeup, but a good concealer, mascara and lip gloss do wonders, for both my outside and my inside! Makeup can help protect our skin, but I've never been a fan of heavy makeup or of base. Still, I like a bit of powder to even my skin tone and keep things set so I don't have to touch up.
When national supply issues affected my favorite product, I was forced to find something new. My skin's always been dry, and I don't want to use something with talc. I am extremely sensitive and can be allergic to so many things.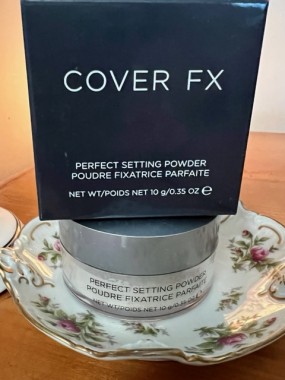 Cover FX perfect setting powder is vegan and cruelty free, talc-free and made with soothing green tea and vitamins. It doesn't cake or settle into lines, and my skin looks dewy, not dry. It is natural looking, without a "made up" look, and I don't touch it up all day. Skin looks refreshed with just a dusting! I just use it over my favorite moisturizer. Check it out at Coverfx.com.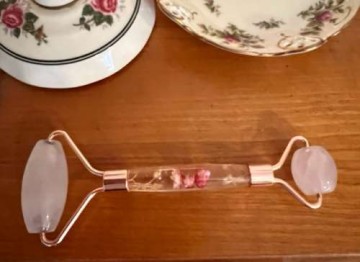 When my daughter bought me a product that she loved, at first I really had my doubts I would like it. Have you seen the face roller brushes popping up in stores? These little devices resemble mini rolling pins, with a small end and a large end. Natural crystal stone rollers are meant to nourish skin and feel luxurious. My daughter thought I would like one for its cooling effect (ahem, hot flashes). At nineteen, she loves hers to help smooth her favorite facial masks and lotions. I found it to be a great way to apply my moisturizer, while also noticing that the added benefits the rollers tout ring true. The crystal stone mineral rollers aid in reducing puffiness, improving skin's elasticity (always roll upwards), and helping to reduce wrinkles and fine lines, especially with skin-irritating masks we've been wearing. Facial rollers also aid in lymphatic drainage. The stones range from rose quartz to amethyst to obsidian. Mine was purchased at TJMaxx for around $10.00, but they can also be found in most stores where beauty products are sold, as well as online at retailers such as Amazon.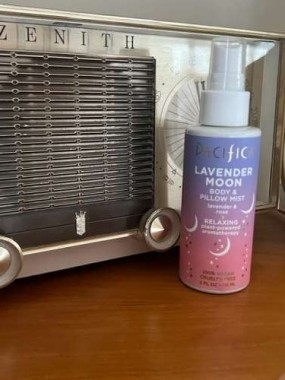 Pacifica products are some of my and my daughter's favorites. 100% vegan and cruelty free, they come in pretty, recycled packaging, without phthalates, parabens, and other harmful ingredients. Their body washes are non-drying, and their body butters are wonderfully moisturizing (and one of the few body butters available in a tube). However, my favorite new find is their Lavender Moon body and pillow mist. With all the worry, it can be hard to "turn off" and relax for a restful night. I love the mellow, relaxing lavender essential oil scent for aromatherapy, which I've added to my bedtime routine. (Www.pacificabeauty.com)
Lastly, I never go to bed without cleansing my face, and never put lotions or makeup on uncleansed skin. When my usual face washes were no longer making my skin feel comfortable, my mom recommended I try the one she uses. I had my reservations since we have two different types of skin, but Fresh Soy Cleanser is worth a splurge!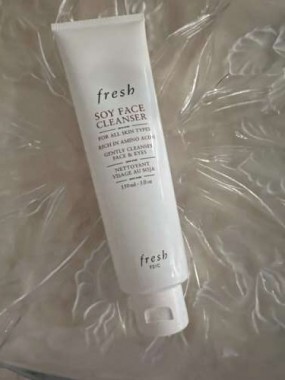 For all skin types and ages – my mother, my daughter AND myself have all found our skin is clearer, comfortable and calmer with this wash. Made with rosewater, cucumber and close to skin's natural pH level, a little goes a long way, the tube lasts several months, and the cleanser even removes eye makeup and mascara, while never leaving skin feeling dry or anything but soft. While I pick mine up at my local Ulta store, it is also available online and at department stores.
Nothing beats antioxidants for staying healthy. Another great way to destress and take care of ourselves is with tea. Tea is packed with antioxidents. I drink iced tea all year (I was raised on unsweetened iced tea – cold or hot weather, I love it), but in winter, a good cup of hot tea warms us up while also warming the spirit. I found the family-owned tea company, Simpson and Vail, by accident last month when it was served at a local tea room. A company from my neck of the woods, their loose tea is packed in charming tins, with a myriad of choices, including black, green, and organic varieties, as well as enchanting "literary" blends named after authors such as Jane Austen, Louisa May Alcott or Maya Angelou, to name a few. Check out all of their selections at https://www.svtea.com. Here in New England, January is a great time to drink hot tea – right now, we are getting wind, rain, ice AND snow. No fun, but inside is toasty and a cup of hot tea is perfection!
We all know that one of the best things to do for our health, as well as for our skin and hair, is to eat right. I credit daily leafy greens and juicing veggies such as carrots and kale for keeping my family healthy, but in winter months, we don't feel like eating many cold salads or drinking cold juices as often. My favorite green right now? Arugula! It has a great little kick- almost spicy in flavor. It's great on sandwiches, eggs, and thrown in soups and stews, as it cooks down beautifully and tastes delicious. Find it in the salad and greens aisle in the grocery store. It's also a favorite green to grow in my garden come spring.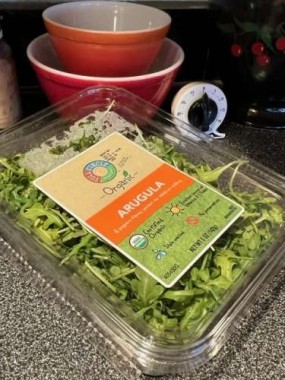 Nicole's Jumpin' January White Bean Soup
1 tsp. Olive oil
1 pound of ground turkey
1 large onion, finely chopped
2 large garlic cloves, minced
¾ cup corn kernels (I prefer fire roasted frozen corn from Trader Joes, but you can use plain frozen, fresh or canned corn)
1 can diced tomatoes, drained
1 can cannellini beans, drained
1 carton (32 oz) organic chicken OR vegetable broth
¾ tsp. Organic reduced sodium "Better Than Bouillon" vegetable base
½ tsp. Or to taste – Cajun spice blend or chili powder
1 cup water
1 large handful of fresh arugula
1 cup dried organic elbow macaroni
(Recipe can be made on the stovetop in a dutch oven, or in an Instapot. Follow directions on your model for soup/stew). 
Brown turkey, onion and garlic in olive oil. Add remaining ingredients, cooking on high then letting soup simmer on low for ½ hour, or until pasta is soft. Serve piping hot  with fresh bread on the side for a hearty winter meal!
So, dear readers, I'm not making major New Year's resolutions this year, but instead, making small, personal, and sometimes, daily goals. I will (try to) worry less. Worrying never helps anything, anyway. Easier said than done – I know. Our family's schedules are back in full-force after a holiday break, but if I've learned anything from the pandemic, it's that we need to take care of ourselves, and that it's okay to be pampered once in awhile. It's really important to enjoy what leisurely time we do get.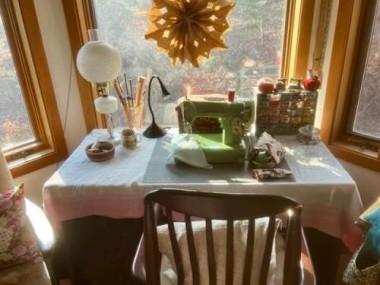 This winter, I am going to de-stress during my down time – I will read, knit, sew, craft, and bake more, watch less news when I do turn on the tv, and remember what it is that brings me joy. (Blogging here with you is something that brings me joy)!
What are your winter goals this year? What brings you joy, especially during the winter months? Drop me a line in comments below, and let me know how you are and what you are doing!
Happy New Year! 
Until Next Time…Farmgirl Hugs, Nicole