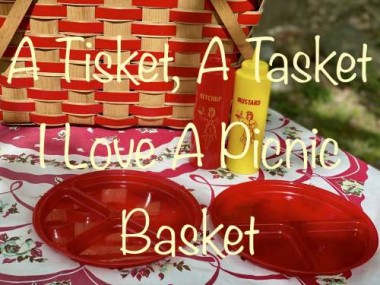 Spring is in full force! The trees here in New England all now have leaves, everything is blooming, and soon it will be summer. I simply can't wait! I love the outdoors in summer…birds singing, fresh veggies, campfires, dining alfresco, picnics…and picnic baskets. A picnic basket is the absolute epitome of summer.  My favorite baskets are vintage, and they aren't just for picnics, anymore!
"Picnic" is such a fun, almost silly word (especially when Yogi Bear says it). It's speculated that the word originated from the French, from the early 18th century, when picnics were anything but casual affairs. "Piquer" or "Pique-Nic" was the root, which meant to "pick at something small". Picnics have always had an almost romantic air to them. My husband and I have been married 29 years this fall, and I love that he still sometimes surprises me. Recently, it was with an impromptu picnic – a pizza from our favorite local pizza shop, hot out of the oven, eaten on a blanket at Fairfield Hills, in the field along the walking trails. 
Recently, I was straightening up the house when I realized that I had somehow acquired an "accidental collection" of vintage picnic baskets. 
Food's been transported about in baskets for hundreds of years, but the modern-day picnic basket evolved from what was known originally as a "picnic hamper".  By the 1920's, a dapper basket to pack a picnic in was a staple in the finest department stores. Nowadays, I've easily found hand-woven wooden baskets from the 1940's to the 1970's, priced reasonably at thrift stores, on tag sale sites, and at antique shops. 
Being more fragile with age, I wouldn't use some now for carrying food, but woven picnic baskets from by-gone days are great for extra storage! 
This vintage 40's basket is big enough to store blankets. I love the warm, rustic, charm it lends as decor, under the hall table near the downstairs bath. It holds "seasonal" holiday linens, towels and aprons.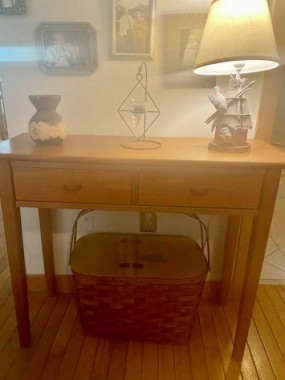 My friend Andrea loves big, old picnic baskets, too. She used this one as a gift box for my birthday one year. Remember that big, beautiful paper mache Easter Bunny, from my last post, that I received for my birthday? It is now safely stored inside this big basket under the sofa table.
I love the smaller basket with the eagle, found at Goodwill for around $5.00. I often use it as a "riser" to display other things, such as the vintage drink cooler my friend Andrea me gifted one Christmas.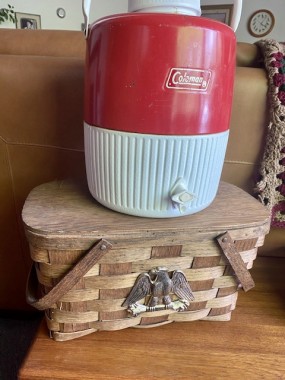 It gives the room a summery "lake house" feel when displayed this way.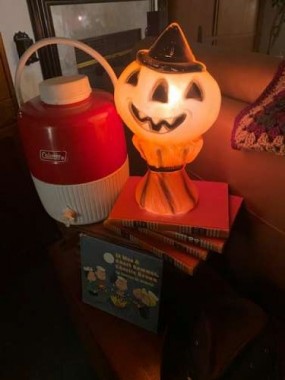 At Halloween, I change the vignette, in the form of orange-bound books from the 1940s and a kitschy vintage blow mold. 
I also love displaying tin boxes, shaped like picnic baskets, often with wooden handles. These bonus promotional pieces once held cookies or biscuits in the '40's and '50's, and were meant to be repurposed as bread boxes or for picnics when the original product was consumed. They often had air vents in the back. Bursting full of charm, with bright, enameled paint and just enough rust to make it chic but not too shabby, they are great for storage and keeping clutter at bay.
Today's picnics may be carried in insulated, soft bags, but it's the kitschy, stylish, Mid-Century-vintage baskets that make my heart skip a beat. They were especially popular in the 1950's and 1960's. Families would load up the station wagon, pack up the beautiful picnic basket that was perhaps once a wedding gift, and hit the road!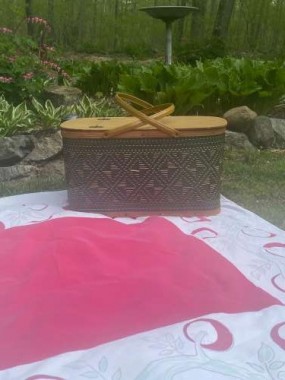 I was doing the "Snoopy Happy Dance" when I found a large, green, woven Hawkeye Basket, manufactured in Iowa. The Hawkeye company was founded in 1888, and was named after the state's nickname, " The Hawkeye State".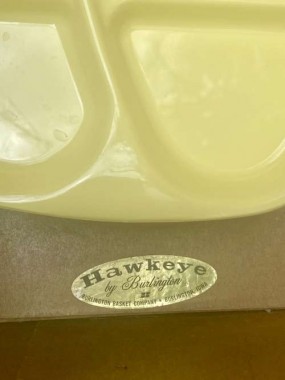 My basket came with original utensils, stored in the lid in little elastic slots, and kitschy divided plates with cups, which we have used at potlucks and parties. I love how everything back then was reusable!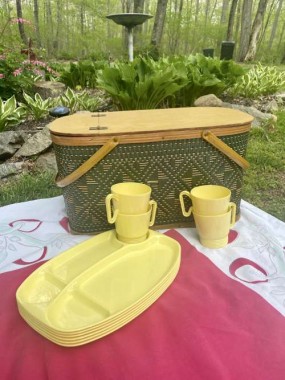 The only thing missing from my basket is the original pie-shelf. It's heavy enough without the pie shelf, and I can only imagine how heavy it was packed with a full meal! Masterfully created, the sturdy basket makes great storage, or even as a small "end table" for outdoor entertaining.
Hawkeye also made tin-lined picnic baskets in the 1930's, called "refrigerator baskets" to keep cold foods chilled. The woven baskets came in muted colors such as my green, maroon, and dark yellow. The Redmond company from Peru, Indiana, also made baskets similar to the Hawkeye picnic hampers in the '50's and '60's, as well. 
Vintage picnic "hampers" are right at home with vintage camper decor. I couldn't pass up the "never out of the box" 1940s Jerywil "Wov-N-Wood" cherry-red picnic basket, complete with utensils, box of napkins, and red dishes.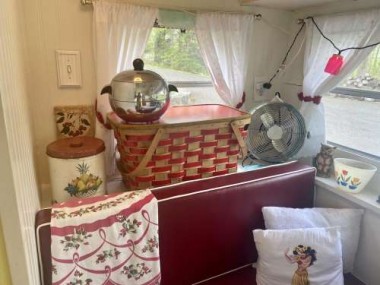 It fits perfectly in the dining area of the camper, and now holds dishes and linens. The top is a good spot for a travel turntable when we listen to records while camping, or for displaying vintage blow molds at the holidays. It's also not too heavy to actually pack up a picnic lunch for three!
Another popular piece of the 1950's was the "Skotch Kooler", made for the mad-for-plaid set. Like an oversized tin drink can, the bottom ¾ of the cylinder holds drinks along with matching plaid cooling elements (often missing, as they were literally tin cans filled with water and chilled. Many burst, or rusted through long ago).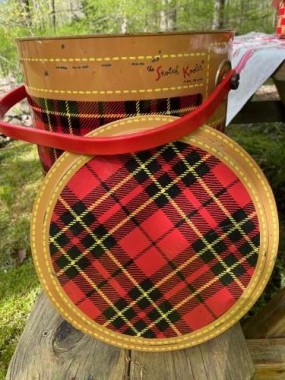 The large cooler came in "Mad Men" Scotch plaid, with a matching lid.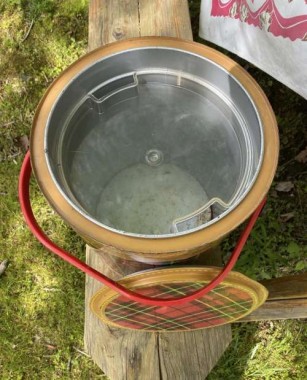 Under the lid, a fitted, plastic recessed "plate" would rest on the rim. This served as storage for sandwiches, keeping them seperate from the cooling elements and drinks, chilled but dry. This popular, ingenious little number "married" the tin picnic basket with a cooler. (Don't get me started on my love affair with vintage coolers…).
I've had this rustic, green-plaid-fabric-lined picnic basket with a double hinged lid since the 90's, mass-produced but still charming, once purchased at a craft store.
Ten years ago, we used it to bring home my daughter's sweet kitty, Mittens. Not nearly as sturdy as the mid-century-vintage baskets, it now conceals my fabric stash, in my sewing room. 
Picnic baskets are charming, and make great, decorative household storage of all sorts of things. I grew up in hot, humid weather; while I adore the four seasons, I still love summer best. Maybe that's why I love to enjoy a lil' bit of summer, via a beautiful picnic basket, all year long. 
Wishing you a wonderful summer ahead, a Happy Mother's Day, and a Happy Memorial Day! Thanks for dropping in; remember to leave a comment below so I know you were here! See you in June!
Until Next Time…Farmgirl Hugs, Nicole