Farmgirls.
Hello! It's been awhile.
I missed you, and I apologize for the long silence on my end.  This year has been many, many things, with one of the main things being: TOUGH! It has also been beautiful and fun and sad and boring and confirming and confusing and… all of the things.  I have a feeling many of you have had similar feelings and experiences.  After writing in April, I missed my next post and then just could not get myself to write. I thought of the readers and other Farmgirls and knew I should at least pop in to say, "Hey! I'm alive and okay!" but there was this huge mental block holding me back. I have to admit that my mental health was hanging in there, but the break from writing deadlines was necessary to keep it that way. Time kept moving on as it does, and it got to that weird place where my absence had been too long to address.  Thankfully, one of MaryJane's dutiful employees reached out and asked if I'd be up for writing again (Thanks, B!).  Writing is one of my best outlets, and I appreciate being gently nudged back into practice.
So, what has happened? We had a baby–another girl! On July 3.  (Fun fact: three of four kids have birthdays on the 3rd of their respective months). This will mostly be about her. It was an incredible birth, and she is by far the best thing to happen to us this year.  Her name is Nova Hobbs Wilder. She is already six SEVEN months old.  Her name is very fitting.  We chose it because we were looking for a celestial/ethereal kind of name to go with the flora (Fern)/fauna (Ava)/earth (Opal) theme we have with the other girls.  You know how some babies and kids seem to be old souls? Well, Nova seems very NEW! She is bright eyed and eager to quietly and cheerfully observe any and every thing going on around her.  She doesn't seem to have many opinions. She does seem to have an excitement for life, family and love that is more naive or pure or novel than many of the babies I've met (okay, I may be projecting here a bit).  She rarely cries. She laughs and has the sweetest little voice. She is independent but also loves everyone. She has the thickest, most scrumptious, fat-rolled baby thighs.  I'm officially a girl mom and couldn't be happier.
We have taken the pandemic very seriously and avoided most social outings over the past year.  We learned to sew and wear masks (then we learned to buy masks, haha!).  I learned to muster up courage to kindly ask people to move a few feet away from me when in line.    I'm a researcher at heart with a more than basic understanding of biology, virology and immunology.  I spent many hours scouring scientific journals and articles for the latest findings on transmissibity, mechanisms of infection, mask efficacy, symptoms, long-term effects, and risk factors for various situations. Epidemiology is fascinating. I stocked up on supplements and medicines and an expanded medical kit. We established a small pod of friends who have kids in school with our kids.  Most of us don't have at-risk or elderly parents in state.  We were essentially trapped in Alaska. We did not travel on any public transport. My kids have been inside two stores since March 15. We ordered curbside and take out.  Evan and I have both eaten inside a restaurant once at low traffic times (a pub on Monday afternoon, anyone?).
…Aaaaaand we got Covid.
It kept us down and out over Christmas and New Year's and Opal's birthday.  Evan was patient zero.  We are 95% sure he got it from a place we need to go because of our rural status.  It is a place integral to rural life. I generally try to go during low traffic hours (and had refused to go inside the day before Evan went), but it was before the holidays and everything was busy.  It has low ceilings, bad circulation, low mask wearing compliance (although there was no mandate or rule to comply with at the time), and often a line that is an hour long in a building with many people coming in and out. UGH. We were in various stages of isolation and quarantine for 34 days. Three of us got it, three of us didn't (or at least never tested positive).  We all had mild cases and have recovered fine (with some tiredness and brain fog, but those seem to go hand in hand with four kids under 7!).  Still, it was one of the worst experiences of my life due to the stress.
We had an immense outpouring of support from friends and neighbors.  I honestly don't know how we could have done it without them.  The holidays would surely have been ruined more than they were.  Friends brought food, picked up groceries and went Christmas shopping for us. One day I discovered a pineapple and huge box of oranges, another a home made pie that was secretly left on the porch.  On Opal's birthday, our friends came and shot off a few fireworks in the yard.  Amidst the stress and uncertainty, there were many reassurances and acts of love. I am forever grateful for them.
Unfortunately, I know several people who have lost parents, siblings and other family members prematurely to this disease. I know several who are experiencing effects months after their infections. It is serious, and it will take me a long time to accept the world that has been laid bare for us to see because of this terrible disease.
But it all comes back to my babies and my family.  Luckily we mostly like each other (and always love each other) so these last ten months have been tolerable.  They have also been incredibly hard.  My parents have not met their newest grand daughter, and they might not for a long while more. My nieces and nephews will have grown so much the next time I see them.  I have three very close friends who had their first babies.  I hate that I could not be there as support. I tire of the monotony of the daily grind without the promise of a social outing or restaurant visit or concert in the future. Pile on all of the political and social unrest, and it's been a lot.  I know you know, and it's all old news.  But if you're in the trenches and spiraling, please know that you are not alone in your loneliness and hard times.
So back to this baby–Nova.  She is so loved.  Her sisters argue about who gets to carry (although she is getting big for that!) and play with her.  She is doted on, smiled at, kissed and hugged at every opportunity.  There are many songs about her and many pieces of art dedicated to her.  She is such a sweetie and tolerant of the constant attention.  I wish we could spread her goodness everywhere and revel in the positive possibilities that us humans possess.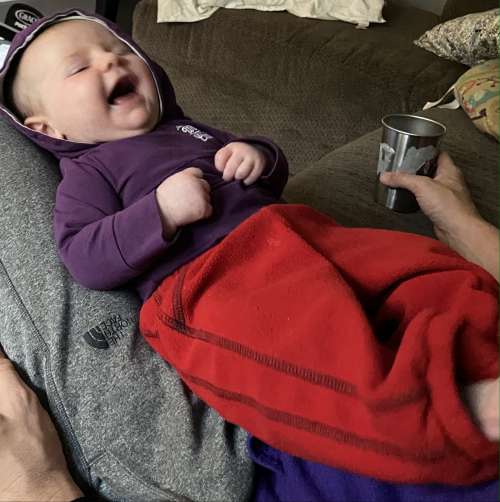 Of course Nova has had many "firsts" over the past seven months starting with her first breath of air at 10:11 p.m. on July 3 in our home surrounded by her whole family. It was really an ideal labor and birth.  She was born into loving chaos–Opal climbing on the bed, Fern bouncing around, Ava tentatively watching, Evan showering words of love and encouragement, me celebrating how beautiful it all was. Even the dog got on the bed!
Since then she has:
Grown through many sizes of clothing and is now in 12 month sizes!
Cut three teeth
Tried a variety of foods, showing a preference for sweet potato and avocado
Gone on her first overnight backpacking trip!
Tagged along for skiing, sledding, hiking, and gardening endeavors
Helped raise our new kitty, Lenny Clawvitz
Started to scoot/crawl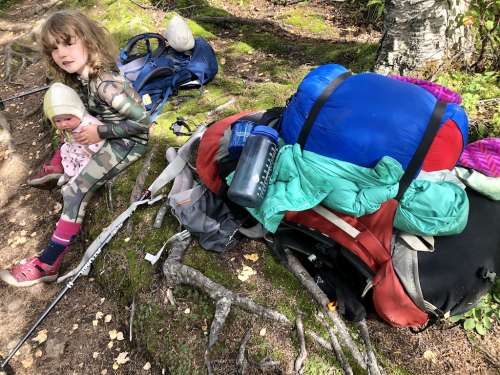 I could go on and on and on and on and…you get it! We've agreed to ease back into writing, so I may only check in every other month for awhile, Farmgirls! As B mentioned to me when encouraging me to get back to writing: Moms' plates have been 250% full during this pandemic!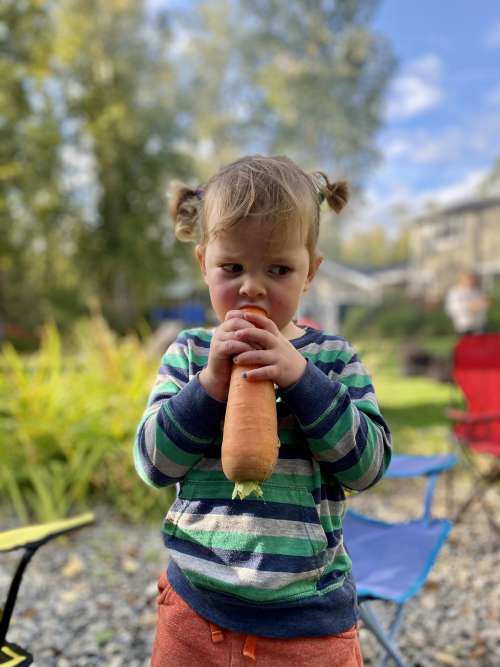 I hope this past year has brought you some peace and joy amongst the solitude and uncertainty. It has been a rough ride, and I apologize for disappearing for a good bit of time.  I hope my payment to you in the form of photos for baby gazing will help you accept my apology!  If a picture is worth a thousand words…I've reached my word limit!
Until next time,
Sending you peace and love from Alaska,
Alex, the Rural Farmgirl