How exactly does a person LEARN to farm? I guess what I really mean is how do you LEARN to make a comfortable living at it?
Owning a farm and knowing how to make a living on a farm are two entirely different things. Most people I have met since we moved to the countryside have an off-farm day job and farming is their second job. Actually, I think everybody I've met fits that bill, part-time farmers, full-time something else.
Now that I have a farm of my own, I'm trying to learn how to farm AND trying to figure out how to make a living on these beautiful acres. I should add: I happen to be completely untrained and uneducated in farming. So far I've "trained" by talking to people who have farmed and by reading books about it.
This weekend, though, I did something else. I went to a farming conference.
Now, I've been to all kinds of conferences.
"Blogging" conferences are over-rated.
"Legal" conferences are over-boring.
"Creative" conferences are over-priced.
"Religious" conferences are too arm-wave-y.
But. I've found my home at a farming conference. Like that last bowl of porridge that Goldilocks found in the Three Bears' Cottage: this one was just right.
The conference was hosted by a local farming organization called ASAP, Appalachian Sustainable Agriculture Project. (ASAP's website:  http://asapconnections.org/)
The conference was forty bucks (including food!) and simply fabulous. And guess what? Sooooo many women there! Made my heart sing as I looked around the room and saw other women just like me, with broken dirty fingernails.
And oh, the women with long dreadlocks that I saw there! I've always admired people who have that kind of courage. Like the author Anne Lamott and her dreadlocks. I've loved her and her dreadlocks for years and years. Have you discovered her?
One of her beloved quotes: "It's funny: I always imagined when I was a kid that adults had some kind of inner toolbox full of shiny tools: the saw of discernment, the hammer of wisdom, the sandpaper of patience. But then when I grew up I found that life handed you these rusty bent old tools – friendships, prayer, conscience, honesty – and said 'do the best you can with these, they will have to do.' And mostly, against all odds, they do." Hey, she also wrote this: "Dreadlocks make people wonder if you're trying to be rebellious."
Comrades we are, us women, trying to do the farming thing. And the neat thing about women farmers (I'm sorry to be so bias, but it really is true) is that they have heart. They want to nurture the earth and the animals and the plants. They want to help each other. They are inclusive. To the women farmers I've met, THOSE things are more important than a desire to conquer and to rule and to make a fortune.
TO add to how much I loved this conference, it was held on the campus of probably the COOLEST college I've ever seen. Beautiful, but COOL too. Here's a sampling of the beauty.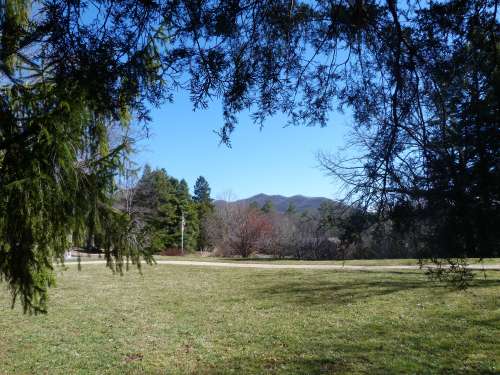 You won't believe this place. I've never heard of a college quite like this one. It's a working college, with students earning part of their tuition in farming, blacksmithing, making bread, keeping the chickens, working with the work horses, etc. The students graduate with WAY MORE than a paper degree.
(Warren Wilson College: http://www.warren-wilson.edu/external_index.php)
(Wow, just found this documentary on the History of the College: http://www.youtube.com/watch?v=yNZmJonnyEg&list=UULGdhpOrW_7RmvImSeMRe4A)
And here's a sampling of the COOL on that campus. A tree filled with prayer flags outside one of the buildings. (I want to do this on my farm!)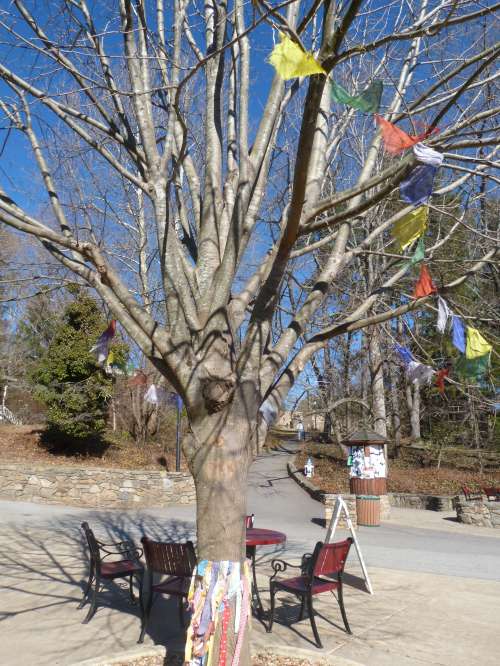 I attended a session on farm leasing. Very enlightening as we lease out part of our farm.
I attended a session on QuickBooks for farmers. Very enlightening as I hope to have some income one day from the farm.
I attended a session on using Social Media in farming. Very enlightening how farmers are successfully using facebook and twitter to promote their endeavors.
And I had a fantastic local lunch of vegetable lasagna, salad, bread and apple cobbler.
And then we toured the college farm.
Huns, it was awesome! I was impressed.
All this work is done by the student body.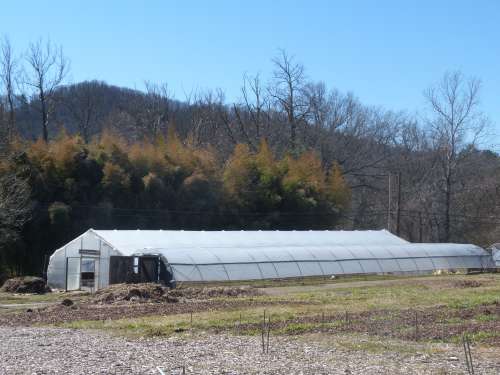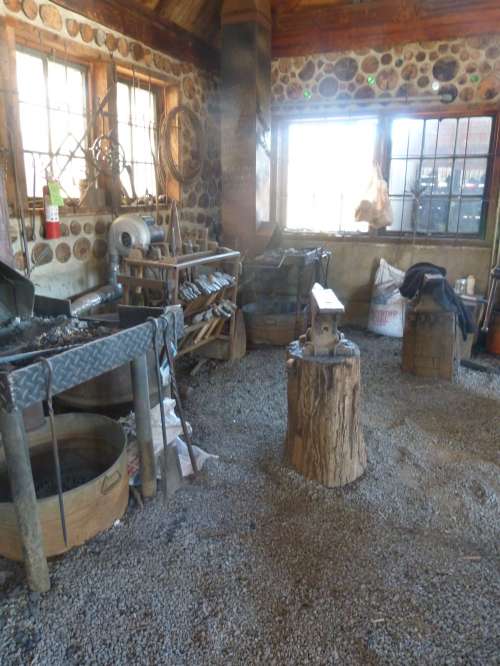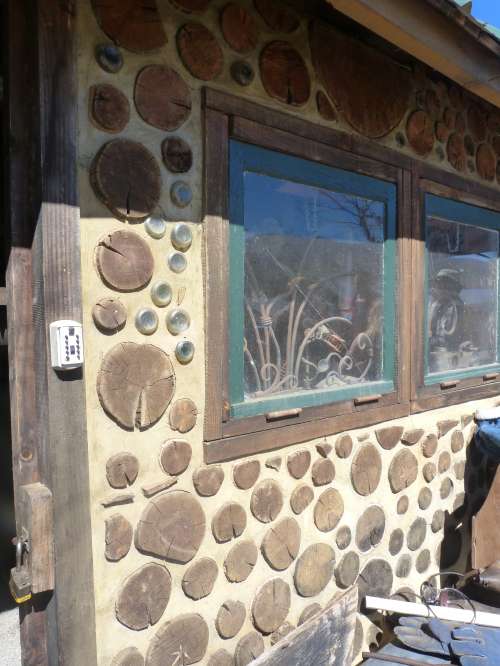 The outside of the blacksmith's shop above.
And below is a student giving us a tour of the greenhouse and hoop-house. He explained that they just replanted the lettuce because they lost power during a recent winter storm. They lost their entire crop. This greenhouse uses propane heating. We were toasty warm in there!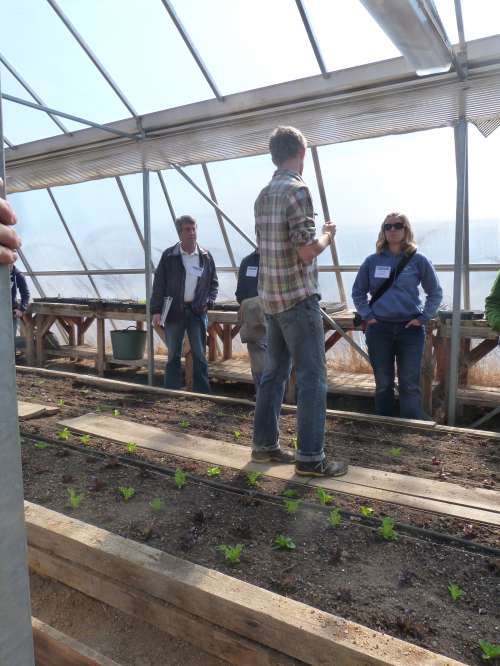 Isn't that college something else? Makes me wish…never mind, it doesn't really. I wouldn't go back to 18 years old for anything in the world.
The conference was grand. You know it was a success because my question marks became exclamation points.
I went from this in my head:         Can I do this???
To this:                                         I can do this!!!
Yep, I left empowered and enlightened.
(I also left with the strong desire to help establish a farm to school program at our local school. And to grow food for the hungry.)
The thing I know now is that if your farm is to be your business then you have to treat it as such.
Step One, put on the kettle, get out the tea, and develop your very own "farm business plan."
Here I come Business Plan! Woot!
Talk to me!
Until next time, Friends, savor the flavor of life!
Lots of love, The City Farmgirl, Rebekah