I wondering if you are a Fig Fan?
"The proper way to eat a fig, in society,
Is to split it in four, holding it by the stump,
And open it, so that it is a glittering, rosy,
Moist, honied, heavy-petalled four-petalled flower."
San Gervasio DH Lawrence (1885-1930)
I originally named this post "Fig Jig." You see, it's fig season in Georgia, and I love figs.
But somehow, in the midst of spell-check, autocorrect, and clumsy fingers "jig" became "pig." Ah! I knew instantly that the new name fit perfectly, much better. My Dears, I confess that I am a fig pig, a big fig pig. And yes, I'm known to do a jig.
And to demonstrate that love, I'm doing the fig jig in my red shoes and goofy socks.
(Oh dear, I always forget I can't upload videos here.)
It was a sight to behold. I did the jig  while I was cutting up figs. Dancing with a knife in your hand. Always a good idea.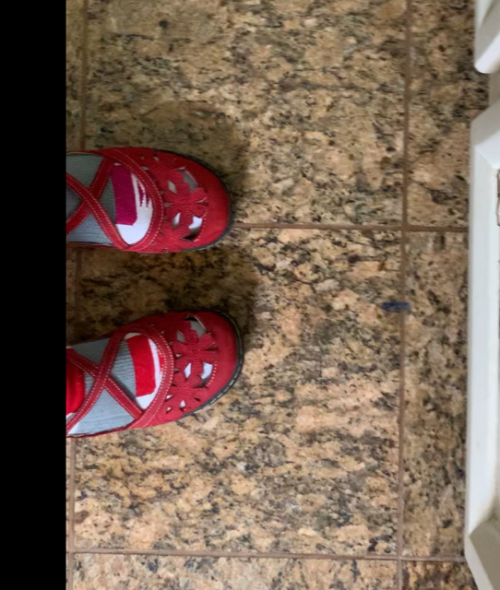 Later in that same DH Lawrence poem (that becomes surprising sexy), he writes,
"The fig is a very secretive fruit."
I couldn't agree more. Have you discovered the secrets of figs? There are many.
Pick one ripe fig from a fig tree. Soon you will have yummy, thick, sticky juice on your hands. This is nectar. The flavor is a sweet fruity heady honey.
And if you eat while you harvest these delights (and I encourage you to do so!) your lips will become sticky with the sweet honey flavor.
Pay particular attention to these words: honey, sweet, fruity, and STICKY. You'll need a wet cloth.
There's a fig bush in my Dad and Mom's backyard that has been there ever since I can remember. I never gave a "fig" about that bush. I'm sure I never tasted one. If I had, I would have become a Fig Pig much earlier in my life.
I was a kid and hey, figs are not particularly inviting. They don't appetizing with their droppy weird shape and their color of tan to brown to almost black. And I've already mentioned the drops of a thick sticky substance on the skin that just begs you to not touch them.
Plus, I had experienced the whole Fig Newtons situation. I always thought they were in the wrong aisle. Cookie? Let's see, hmmm, what should I choose? Oreos? Chips Ahoy? or Fig Newtons? Seriously. It's a soft something, I don't know what, filled with yucky fruit that has way too many little seeds that get stuck in your teeth. Cookie? I don't think so. Pass the Fudge Stripes. (Am I right?)
So I mainly ignored figs. And that fig bush in my backyard.
And then, in my 20s I was in a fancy, expensive restaurant with a fancy guy I was dating who loved expensive restaurants. On my fancy, expensive plate was a large grilled fruit that I recognized as a fig, split into fours as DH Lawrence suggested. I pushed it aside to enjoy my expensive dinner.
The fancy guy reached over to my plate with this fork and took one of the quaters of the big grilled fig. And goodness gracious, the way he carried on about the deliciousness of the fig!
Then he insisted I try the fig, and he fed me a quater slice. And goodness gracious, the way I carried on!
Right then and there, I fell in love with figs. Figs are earth shatteringly divine. Food of the gods. (Fancy guy would go on to introduce me to many earth-shattering things in life. Expanded my horizons. But that's not the subject of this Fig story. Figs are.)
After my discovery of the divine secrets of figs, whenever I'd visit Mom and Day in the late summer, I'd rush to the fig bush in the backyard to look for figs. If I was lucky I'd be able to find a handful of the divine fruit before the birds had eaten them.
When I was in France, with its many wonderous sights, I was served figs the size of lemons. I took lots of photos of figs. For real.
I didn't do these for a photo shoot, so ignore the composition. Pretend you don't see the used butter wrappers and yoghurt containers, the watermelon rind fallen on the table, dirty plates, and the not quite in focus result.
Concentrate on the figs.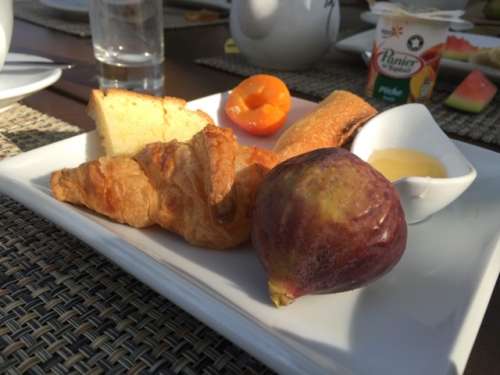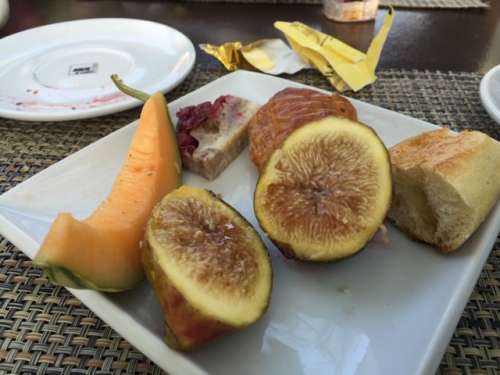 A tad bit of fig advice here. First, don't bother purchasing the figs you might find in the grocery store. Doing so will only make you wonder if I have lost my mind. They are not the same. At all. Much like the whole home-grown tomato vs. store-bought tomato. Second, while dried figs are yummy in their own way, you will never come to know the secrets of figs with the dried version.
There is no substitute for a just picked fresh fig.
That being said, here a couple of more Fig Tips. Never pick figs until they are fully ripened with drops of sticky sweetness on the outside. Second, and this is important–figs do not last long after they are plucked from the tree. Figs must be enjoyed almost immediately or not at all.
I think San Gervasio DH Lawrence (1885-1930) agrees with me about the ripe figs.

"They forget, ripe figs won't keep.
Ripe figs won't keep.
Honey-white figs of the north,
Black figs with scarlet inside, of the south.
Ripe figs won't keep, won't keep in any clime."
I'm noticing now that I've made this short story rather long. You know me by now, not short on words.
Anyway, this summer I checked my Dad's fig bush often. The birds were already enjoying the not-yet-ripe figs. That's the way that birds beat you in the fig game. They like figs when they are still not quite ripe. We, the humans, do not. They must be fully ripe.
My own fig bushes had not been in the ground long enough to bear fruit. Did I tell you my Dad planted to fig bushes on my farm this past spring?!
I was "figless in Georgia."
Imagine my surprise when I saw a local ad for figs! It was a U-Pick place. I called instantly and made an appointment to pick figs. I marketed the experience so heavily to my daughter (oversold?) that she looked forward to fig picking.
When our appointment time arrived, the owner of the fig farm notified me that I'd need a ladder to reach the ripe figs; they were high in the tree. Since my balance is still off from the car wreck, we decided to change who the "U" in "U-Pick" was going to be. The "U" became her husband on a ladder.
On the drive there I thought about the farm I was headed to. A fig farm? Now that's brilliant. What it must be like to have rows and rows of fig trees. I can imagine the honey sweet aroma that would surely overtake your senses as you stroll between the rows.
GPS took me off course on my way to the fig farm. But I finally saw it.
There is was! A beautiful old farmhouse, white of course. There was an enviable red small barn close-by. This is a tidy, well-kept farm, unlike my own which is overgrown with weeds this time of year. (Mine's a chemical-free farm, remember?)
The red barn was decorated with darling farm signs and old implements hung on the sides of it.  Beautiful red geraniums baskets lined the walk. A sign on the barn read "Eggs for Sale." Since my hens quit laying eggs reliably years ago, I decided I'd get some eggs while I was here.
I parked my car, jumped out, and headed towards the cute red barn.
A guy popped out behind it, "Can I help you?"
"Hey!" I said, "I'm the one you picked 3 gallons of figs for. And if you have eggs available today, I'd like two dozen of eggs too!"
I recognized the look on his face. Complete confusion.
"Am I in the right place?" I asked.
"No," the man said, "We don't do any farming here. All this is just decoration."
I told him it was beautiful. And he directed me to the road I was seeking.
When I arrived at the fig "farm" I was surprised. It was a house. Not a farm.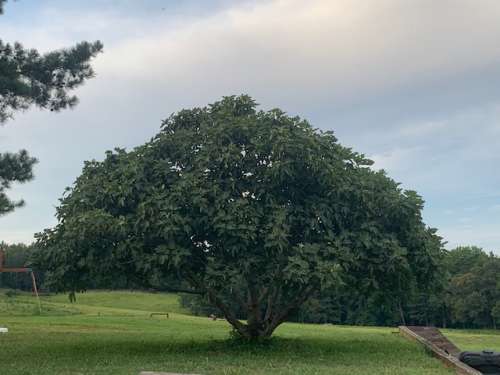 There was one fig tree beside the house. One. It wasn't huge but was heavy laden with figs. They told me that they had already gathered over 60 gallons of figs from the tree this year. "No birds?" I inquired. "Never seen a bird near that tree," the couple said.
The tree must be protected by the fig gods.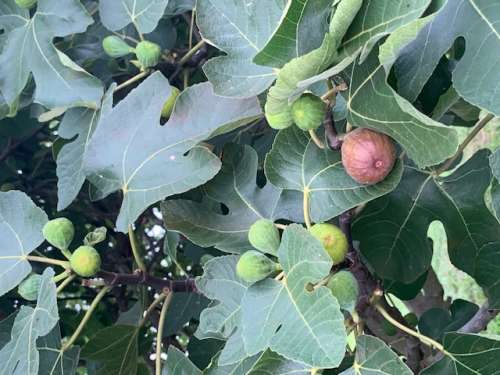 I brought the figs home and proceeded to eat too many figs. One should never over-indulge on figs, just sayin'. There's a price to pay.
The next day I put on loud music and made fig jam all night long.
You'll notice in these photos that many of these figs are not quite ripe. If the "U" had been me in "U-Pick," I wouldn't have picked so many that weren't ready yet. But, as they say, beggars can't be choosers.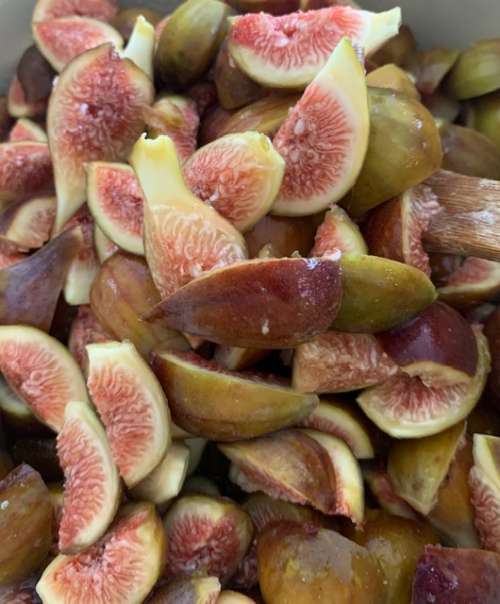 And, the not ripe ones did fine in the Fig Jam. You wouldn't want to eat them though.
Canning jars were at premium a few weeks before I fell into my fig fortune. Since the local stores were sold-out, I had to order from amazon. I won't tell you what I paid for the canning jars lest you think me a fool.
The fig canning experience was…well, I don't have the words.
It took me to a place that I hadn't been in a long time. A place that I needed to visit.
When you hear finally that little pop of the jar when it is properly sealed? You just know that life is good.
You canners get what I'm talking about. Something happens to you when you participate in this ritual of years gone by.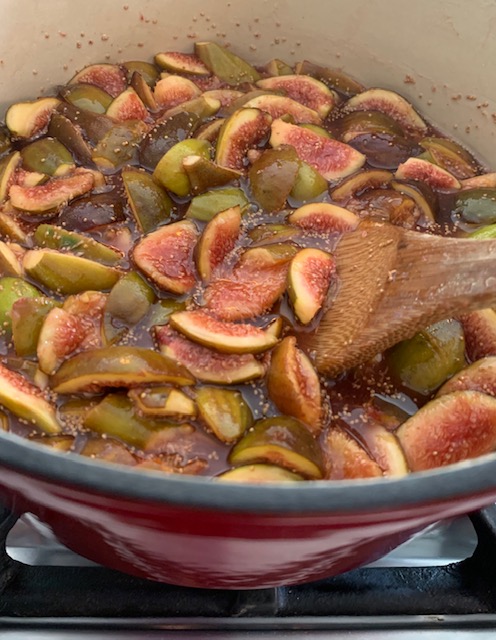 I was still working on canning the Fig Jam at: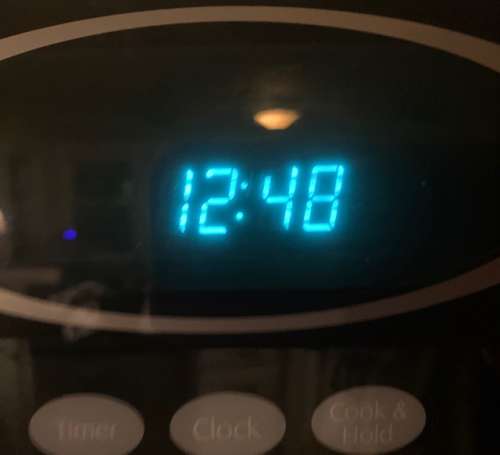 A.M.
About an hour later: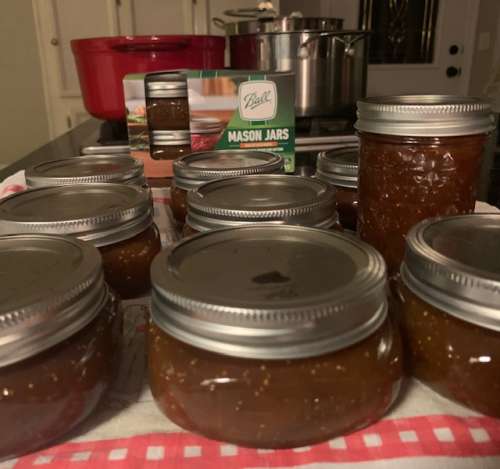 When I was finally finished, I didn't go directly to bed.
First I made toast with Fig Jam.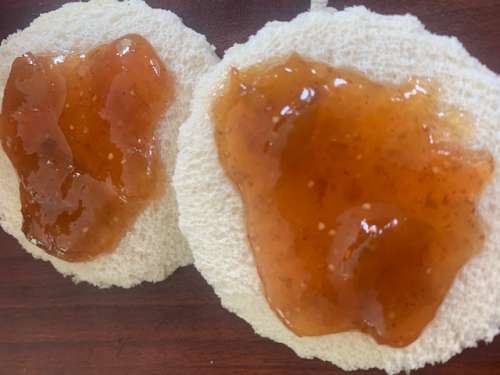 Just the other day I walked by the fig bushes my Dad had planted for me back in springtime.
Surprise, surprise, surprise.
One little fig.
Best fig I've ever had.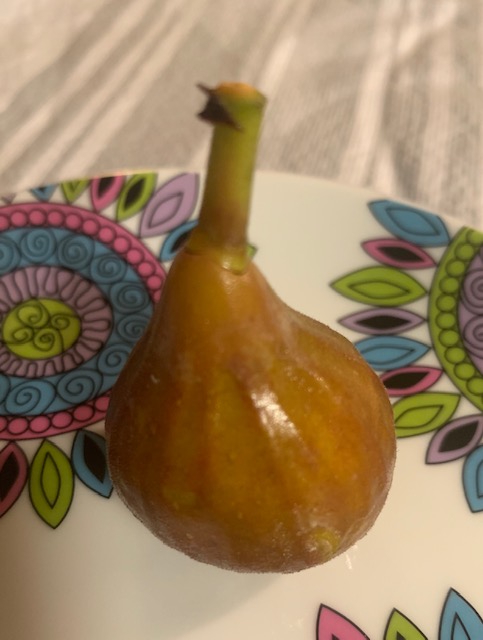 Until next time, Friends,
Savor the flavor of life!
Rebekah, The City Farmgirl living in the Outskirts of Town
a/k/a The Big Fig Pig