"It will never be perfect. Make it work. Accept the imperfections."
Life
This started out as a post about hot tea. About how I used to be a coffee connoisseur (read, "coffee fiend"), but gave it up. The transition from coffee to tea was forced and not an easy one for me. But it had to be done. Coffee started bothering me in several unpleasant ways, so I realized that I needed to give it up. So that was my intent, a light-hearted post about teas and having tea and teacups and tea rituals and tea friends.
But when I came to the computer to write the post about tea, another post started writing itself. My fingers hijacked the post, and I just couldn't seem to get the tea post written. Instead, these words happened that day:
It's one of those things that (they say) leads to a happy life: adaptability. The ability to be flexible when things don't go the way you planned, when life throws you a curve ball, or maybe you threw yourself one.
What's your M.O. when life kicks you in the stomach? How do you handle it?
Maybe I'm correct, or maybe I'm delusional (or maybe I'm both), but I have always thought myself to be BENDY with the ebbs and flows, the kinks and curves, the unexpected life things that occur. Move, sway, even dance when the winds try to blow me over. The other possibly delusional thing I believe about myself is that I am adaptable. I can be happy, can find joy, in every circumstance.
Oh yeah, there's an awful lot I could talk about in this regard. Many kicks in the stomach I've had, but I know two things. One, if you're living, then you're suffering some blows. Everyone does. Mine are no harder or easier than anyone else's. And, two. People don't enjoy hearing about problems and troubles.
Through-out my life, I've learned 5 ways to help me get through stressful, life-altering, sad, and difficult times.
1
Do the small things. Keep your daily rituals and routines the same. There is a calmness in the familiarity of your activities. Comfort is found there. Like, what is your ritual when you get up?
Mine is this: wake up; let cats out; take my pups, Strudel and Blue, for a walk up the driveway and down to the creek; open the chicken house and feed and water the chickens; come inside and put on the kettle for tea. While I am having my cup of hot tea, I do my best NOT to be engaged in any activity other than "thinking and drinking." Thinking. Sipping. Thinking more. Sipping more. When the weather is lovely, I enjoy my tea down by the rushing creek. And that is how my days begin.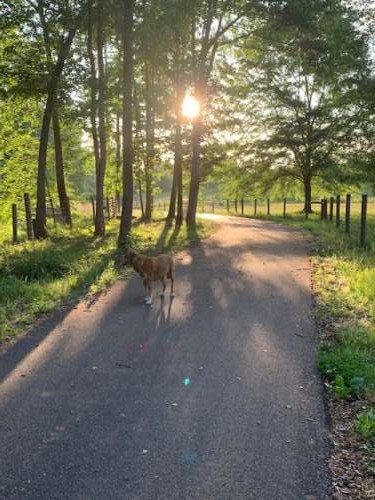 Blue, the dog
and
Here's our visiting fish this summer. I think it's a Trout?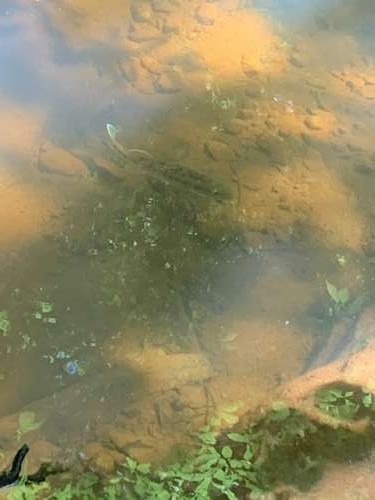 And my beloved creek.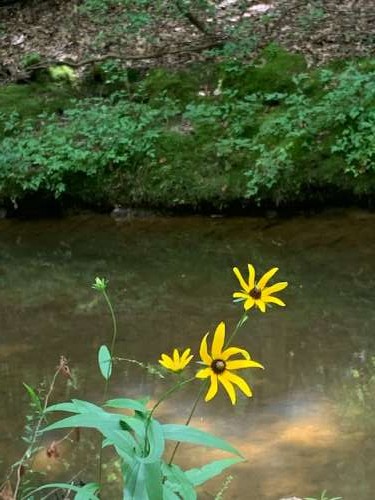 2
Work to let it go. Move your mind onto something else.
By continuing to focus on our difficulties and challenges, we give them continued power and energy. We keep them alive and thriving. That's the opposite of what we need to do.
Maybe, just maybe, I've mentioned before how much I love the band The Avett Brothers. HaHa, I know I've mentioned it a million times. Their lyrics speak to me; their music moves me. And y'all, their concerts are THE absolute highest energy, best concerts that I've ever been to. Ever. I see them as often as I can.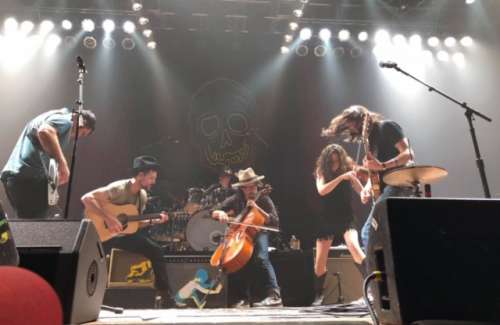 Anyway, they wrote a song with this lyric:
"Give me strength to leave the sad and the wrong…Buried safely in the past where I've been living."
The Avett Brothers
Those guys are right. It takes strength to leave the sadness behind you. It takes willfulness and action. Powerful.
We must stop ourselves from living in the past. The past is not a healing place to live. Rehashing and reliving the past keeps you from your true living place. The living place is where we live in the now and in joyful hope of a bright future.
Now, maybe you counselors out there are cringing about what I'm saying. Counselors say things like, "Face your problems! Talk about them! Explore them! Think about the whys and the wherefores!" I say no. Understand them to the extent that you learn and grow and then move off the sad and the wrong and the bad and the guilt. Leave it in the past as you move towards the present.
Focus on fresh paths. Look towards the future. Don't meditate on what happened and why. Instead, ruminate on the possibility of the good. Seek it out. Keep your mind forward thinking. Certainly, don't ignore the crapola you are dealing with, but don't carry it around with you every second of every day.
3
Get outside more. Outside helps everything. Take in all the spectacular stuff around you. Notice what you see: the color of the sky, the shapes of the leaves, the wildflowers, the moss. Take some stress-less walks. Observe the beauty and miracles all around you. Everyday, it's there, just waiting for you to notice.
Lay in your ENO with someone you love.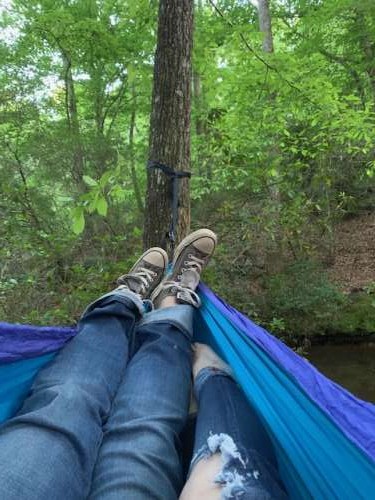 4
Don't complain and complain and complain and complain. It negatively affects both you and those around you.
Lily Tomlin once said, "Man invented language to satisfy his deep need to complain."
Have you ever lived with or had a good friend or roommate or spouse or parent who was a complainer? OMG, I have. Complaining does no good. I say, "Don't sit around and complain. Get off your butt and do something about it!" It's hard to keep your head above the angry waters of negativity, discontent, grumbling when you are surrounded by it. But you must learn to do it. For your own happiness and the happiness of those around you. I not only try to limit my interactions with complainers, but I also try not to be one.
This saying is spot on:
A thankful person is thankful under all circumstances.
A complaining soul complains even in paradise.
Ain't that the truth? Ain't that the honest-to-goodness truth.
Be the thankful person who is thankful under all circumstances. Count your lucky stars. Literally. One, by one. Think about the ways you are lucky and blessed. Consider what you have. Ponder all the goodness that surrounds you.
Dr. Seuss has a point: "When you think things are hard, when you feel sour and blue, when you start to get mad…you should do what I do…Just tell yourself, Ducky, you're really quite lucky! Some people are much more…oh, ever so much more…oh, muchly much-much more…Unlucky than you."
You never have to look very far to see how your situation could be worse, how other folks' situations are more trying and difficult than your own. Just look around and notice. You'll see how lucky you really are. In so many ways. Lucky. I know I've shared my Grandma Teal's quote before, but here's what she used to say, "Sometimes it's hard to tell our good luck from our bad luck." I always think of that in instances that feel like bad luck.
The key is gratefulness, appreciation, perception.
5
Let go of the things you THOUGHT were supposed to be, to happen (or not happen) in your life. When Plan A fizzles or explodes, move on through the alphabet, Plan B, Plan C, Plan D. There's always another plan, idea, method, way. Find it. Be ready to pick yourself up and come up with Plan B. And when that doesn't work out, go right into Plan C. Be flexible, bendy.
If you are too stuck with Plan A, if Plan A is the only way you view things, then things are going to be harder for you than they have to.
Rejection? Failure? Obstacles? Find a NEW plan. Sure, you may have had all your eggs in Plan A, but the time comes when you might need to carefully take your eggs out of the Basket labeled Plan A and put them elsewhere. Don't feel sorry for yourself too long about these unexpected happenings. Instead, rework your life.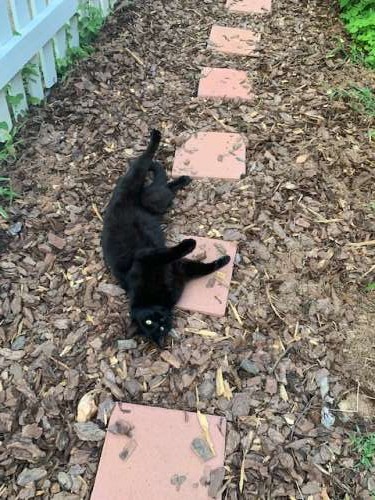 This is a found cat. His name is Mayor Hayes. He creates many obstacles when one is trying to walk. He just plops down in hopes you'll bend down and pet him. What should one do? Jump over? Go around? Move him out of the way? Or reach down and pet him?
and a bonus one,
6
Bake cookies for the neighbor's children. Well, mostly for the neighbor's children, for also for you. I recommend peanut butter, chocolate chip, or gingerbread shapes with frosting (my all-time favorite cookie.)
Doing something for someone else during your time of crisis tends to change your point of view. There's something magic in the giving to others when you're feeling beat up, lost, hurt, whatever. Your focus is redirected.
Wish I had a photo of cookies to insert here. (Actually, more than that I wish I had some cookies. ha.)
But since I don't, here's a conversation with Siri. You know Siri? The computerized voice on iphones? Here, Siri is asked what 0 divided by 0 is. Her response:

Won't you share your thoughts with us? What have you learned in life when you were getting tossed around? How do you brush yourself off and pick yourself up?
Love y'all!
Until next time, My Friends, savor the flavor of life!
Lots of love, Rebekah, The City Farmgirl