You know a post that has "Turn, Turn, Turn" in the title is surely about there being a season to everything, a time to live, a time to die. You're right on that.
It is a stark, unfortunate truth, there is a season for everything.
Yes, death is a part of the circle of life. And sure, I can sing that song too. ("from the day we arrive on the planet…")
But knowing the words to the songs doesn't mean that I can deal with it. And being able to quote Alfred Lord Tennyson's "'Tis better to have loved and lost than never to have loved at all" doesn't make it so.
I am faced with the "turn, turn, turn/circle of life/loved and lost" concept much more frequently since I moved to a farm. And, quite frankly, I don't like it. I'm not so happy about that part of farming. (I keep saying that I should just stick with turnip farming.)
You have heard me talk about one of the sweetest, most friendly chickens ever hatched, our Sicilian Buttercup we called TyGee. She was the tiniest in the flock. She was also the most loving in the flock. She'd rather be held by me or my daughter than to eat.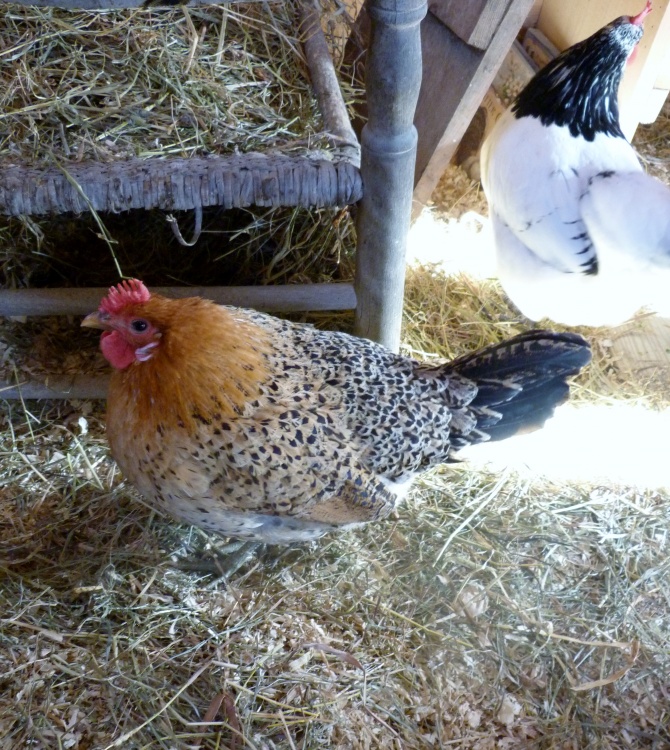 She was sick last week. I did my best to nurse her back to health, but I failed. Epic failure.
One morning I went out to the coop and our sweet TyGee had passed in the night. Her little head was tucked up under her wings, her eyes were closed, so I believe that her passing was a peaceful one. When I had locked the flock up the previous night, she was snuggled up beside our big beautiful rooster. What a champ he is.
I dreaded sharing the news with my daughter. TyGee was the chicken she always scooped  up and cuddled. I went to pick my daughter up from school and decided to wait until we got back home before I said anything to her about TyGee. I'd put on the tea and get out the Girl Scout cookies (of which we have tons) and we could hug and cry together. I could show her where I buried TyGee under the ancient apple tree. I could explain how I had carefully chosen and carried each rock on top of her grave from the mountain stream in front of our house. We could mourn together.
But. There. In. The. Car.
My daughter tells me about a nightmare she had the night before: "In it, TyGee died," she said, still shaken by the dream. "It was terrible!" she said.
I couldn't believe my ears. I just blurted out right then and there that TyGee had indeed died during the night.
Now, how can you explain that? So strange.
We are sad. Being new to a farm, we haven't learned to compartmentalize our love of farm animals. We love them just as much as we do other animals. Which is a ton. We don't know how to do otherwise. Has anyone figured that out? Help us learn to do that.
My daughter won't eat eggs since TyGee died. There could be a baby TyGee inside? she asks. I guess so, but they couldn't be incubated at this point. They've been in the refrigerator.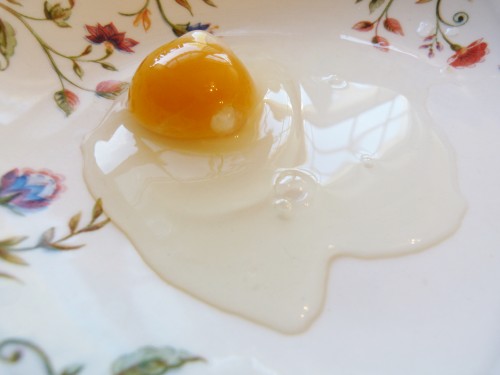 So she won't eat eggs until she's sure that they aren't TyGee's eggs. Have I mentioned how "farmers we're not."
Ug. These are the things you don't think about when you order those cute baby chicks.
This is TyGee in my daughter's arms when she was a baby. The pattern and color of the top of her head is how she got her name. We thought it looked tiger-y and somehow we began using a fake sing-song accent: "TyGee."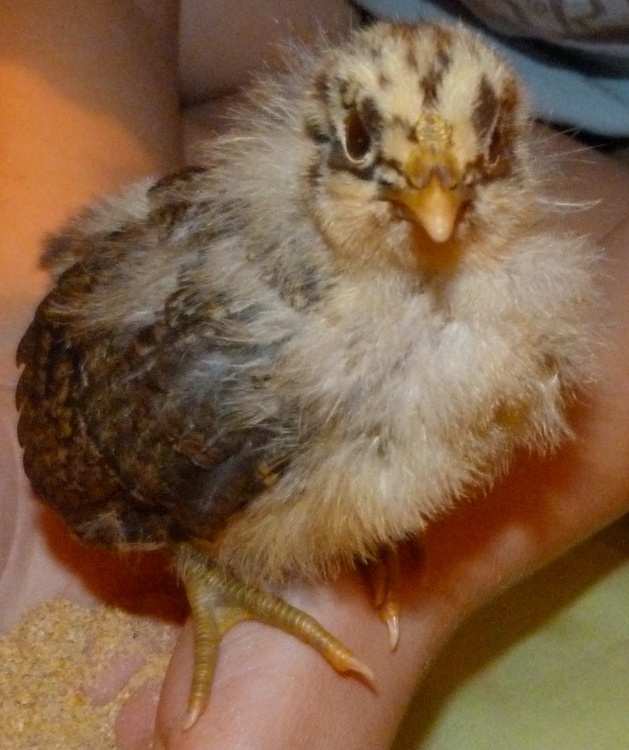 As a baby chick, we'd pick her up and seconds later, she'd fall asleep in our hands. Precious.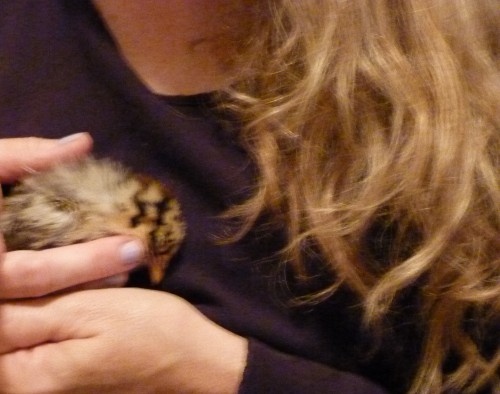 One friend told me that this just happens to chickens: they're fine one day and gone the next. I tell you that so you'll know. Order the chicks, but know that they are more fragile than larger, sturdier farm animals. There will be losses. And it will hurt. Do your best to insulate yourself and your heart.
Someone offered me free goats the other day. You know what I said? No.
Someone else wondered if I'd take a guineafowl that needed a home. You know what I said? Nope.
Another person wanted to give me a miniature donkey. You know what I said? No thank you.
The local horse rescue asked me if I could foster an older horse for the rest of the winter. You know what I said? I can't.
And that's what happens. You shut down. You close up. You put up the wall. You don't want to be hurt again.
Until.
THEY SAY. That one day you feel stronger and better.
Waiting on that.
As I wait, I'm trying to use up my supply of eggs in the refrigerator, so all TyGee's eggs are long gone.
Here is one of my favorite egg recipes for breakfast or brunch.
Use 'Em Up Egg Casserole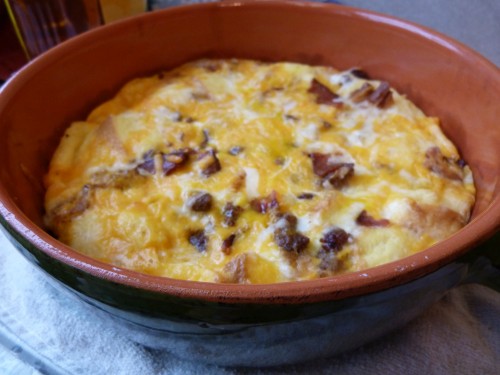 6 slices, white (or other) bread, torn into bite-sied pieces
1 lb. bulk breakfast sausage, cooked and drained (optional)
1/2 lb. bacon, cooked and drained (optional)
1 cup shredded sharp cheddar cheese
6 eggs
2 cups milk
1 tsp salt
1/4 tsp pepper
Heat oven to 350 degrees.
Place bread pieces in a baking pan (13×9 or similar size), sprayed with cooking spray.
Top with sausage and/or bacon, if including meat. The add cheese.
Beat eggs, milk, salt, and pepper with a whisk. Pour over ingredients in pan.
Bake 40 minutes or until casserole is set in the center.
NOTE: This is great with veggies instead of or in addition to the meat. Broccoli, asparagus, red peppers, black olives, mushrooms, onions, oh you name it and it's good in there! 
Yummy Crustless Quiche
2 TBSP butter
1/2 onion, chopped
2 cloves garlic, chopped
4 mushrooms, chopped
10 asparagus stalks, chopped
6 eggs
1/2 cup milk
2 tsp Dijon mustard
salt
1 and 1/4 cup shredded Colby-Jack cheese (or other kind of cheese)
Preheat oven to 400 degrees and spray your pie plate or similar pan with cooking spray.
Melt butter over medium high heat and add onions. Sautee for 5 minutes and add other veggies. Add garlic last.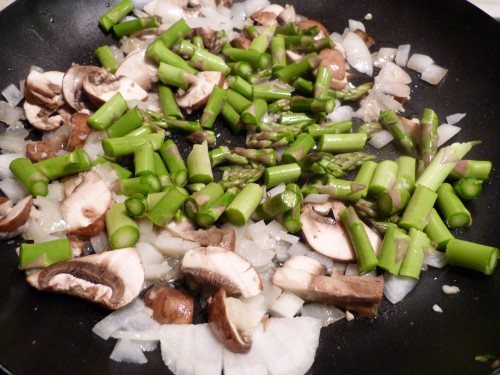 Mix together eggs, milk, mustard and salt. Whisk.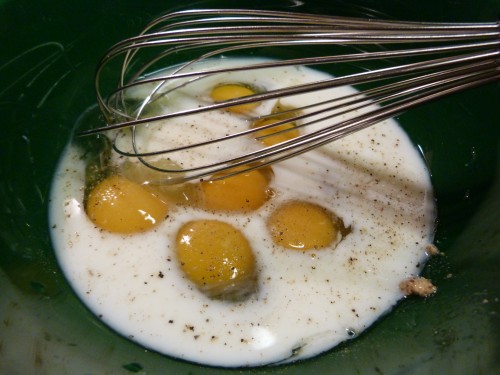 Put veggies in prepared dish. Pour egg mixture over. Add cheese last. Carefully mix to blend.
Bake about 20 minutes until set.
Again, any kind of vegetables are excellent in this dish.
We had it tonight with salad and bread. So good.
And yes, you're right, that's my favorite pan.
Talk to me.
Until next time, Friends, savor the flavor of life!
Lots of love, The City Farmgirl (Learning to Live in the Country), Rebekah