"I can never remember
whether it snowed for six days and six nights when I was twelve
or
whether it snowed for twelve days and twelve nights when I was six."
Dylan Thomas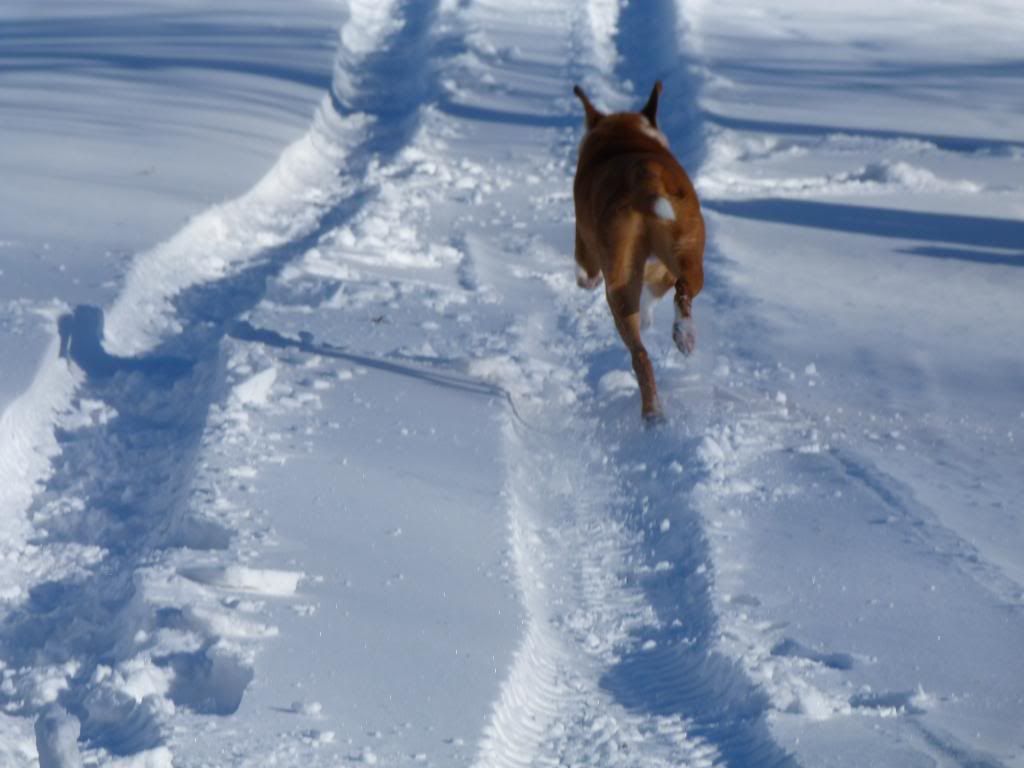 Blue running in the snow

I love me a blizzard.
At least I think I do.
When I saw "blizzard' on my weather forecast for today I thought, "a what?!"
I told my husband about the word that appeared on my weather screen written in all red-letters.
And he said, "what IS that exactly? a blizzard?"
And I said, "I don't know. But I know that I love ME a blizzard and I can't wait 'til it gets here!"
We're such winter newbies.
I kissed him goodbye and headed to the store.
Grocery List
milk
bread
toilet paper
coffee
cat food
It's the same as everybody's else's, right? Except for the eggs. I don't need eggs, I've got 15 egg factories.
Well, the blizzard didn't come. Or it isn't here YET.
Although we're winter newbies, though, I must say that I've figured out SNOW. And negative numbers in temperatures. Yes, I've got this.
It's all about layers. layers. layers.
I start with my "Cuddly Duds," something I'd never heard of until I moved here. "Cuddly Duds" are pretty long johns.
Then, my flannel lined blue jeans, a long-sleeved shirt and a plaid flannel shirt on top. My winter farm uniform.
I looked in the mirror the other day and told my husband that I looked like Earl from "My Name Is Earl."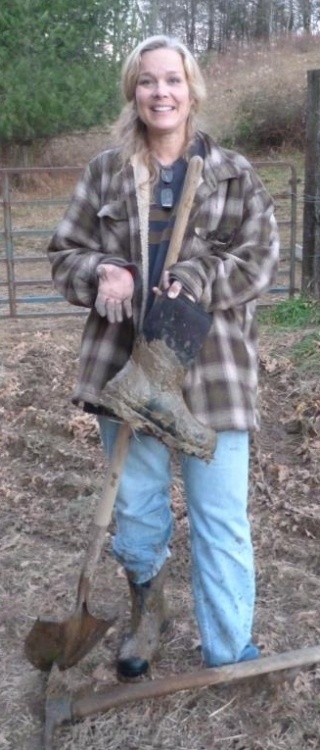 Anyway, next come the fully-lined Carhartt overalls. When my outdoorsy, horsey friend told me to get some Carhartt lined  overalls, I thought, no way. Well, Folks, WAY! You just slip them on over your clothes. They get snowy and muddy and wet and your clothes stay warm and dry. When you come back inside, you just pull them off. Fabulous-ness. Cute? no. Fabulous? yes.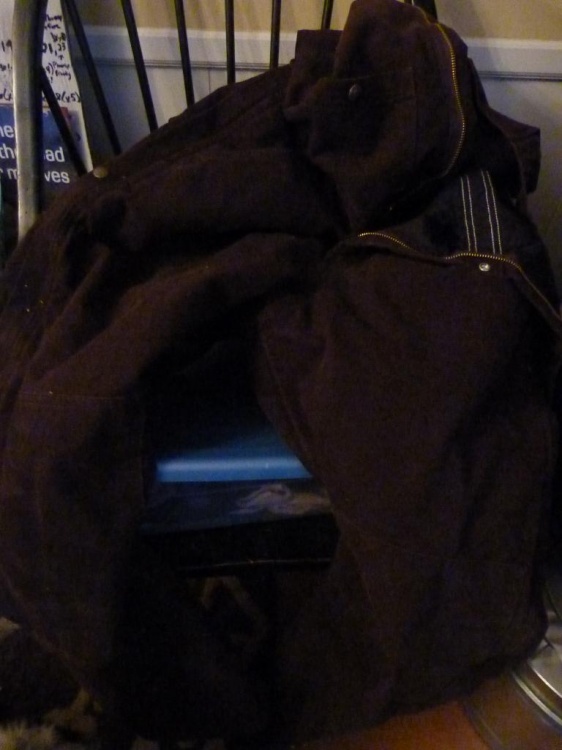 Lately, since the temps dipped below zero, I've been enjoying a combo of hat plus earmuffs. Before that a hat was fine.
Then, two pairs of gloves from the glove box. Thin knit ones for the first layer and work gloves for the second layer.
Yes, these gloves are dirty and smell like a farm. We use them ONLY for outside work. (I will wash them when my water pipes are repaired and I have a washing machine again. Oh, didn't I mention? Our pipes froze. And then burst. Hmm, maybe I'm fooling myself and don't have the grasp on cold weather that I claim to. Nah! Can't be. But it is true that I learn something new every day on this farm.)
Okay, back to the getting ready to go outside. Two pairs of socks. One is a thick, wooly wool.
Pull on the muck boots–here's a blurry photo of my favorite pair, a gift from the real estate agent who helped us buy this farm–you can't imagine the hours I've spent with my feet in these boots.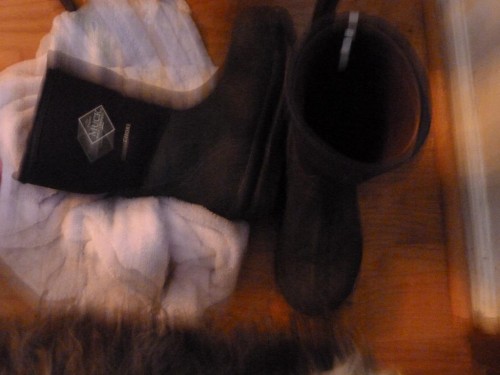 Now I'm ready to GO and take care of whatever needs to be taken care of out in the frigid, snowy weather.
At the moment, it's my chickens and horses. I'm headed out to do the morning routine.
Wait, wait, wait. Put something on your lips. Always protect your lips.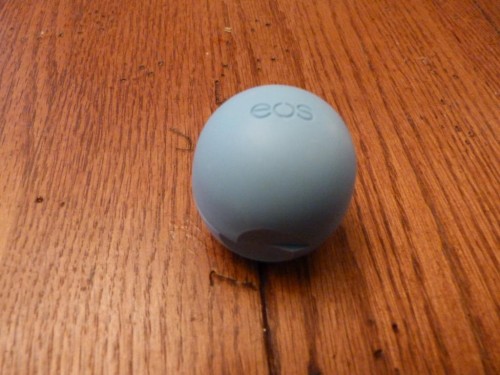 I borrow my daughter's blueberry EOS.
I've got a duplicate water-er that I keep in my house. The chicken water freezes often, so I have to keep one in the house to fill up and switch it out.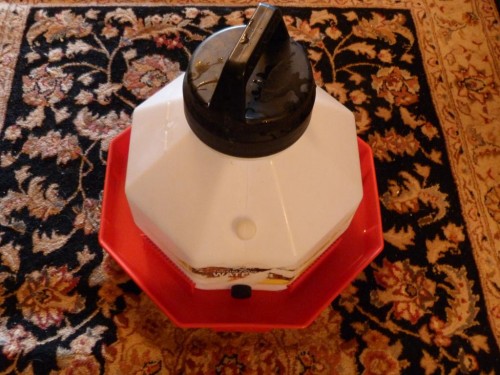 Here's the side of the chicken house, inside their run. I'm getting ready to let them out.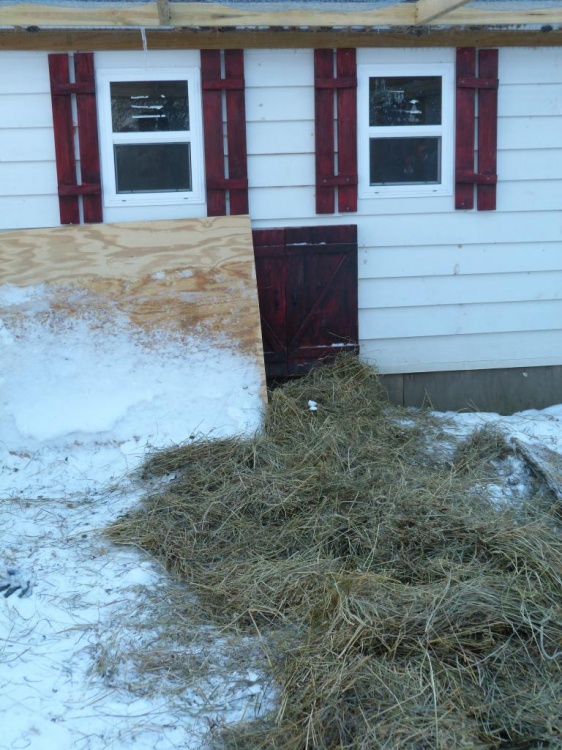 I accidentally discovered in our first snow that chickens like to cuddle in hay. So, every morning I sweep them a path in the snow and put down dry hay on top of the newly fallen snow. No matter how cold it is, the chickens will stay outside most of the day if they have dry hay in their run. Before I made this discovery, they'd stay in their house if snow was on the ground.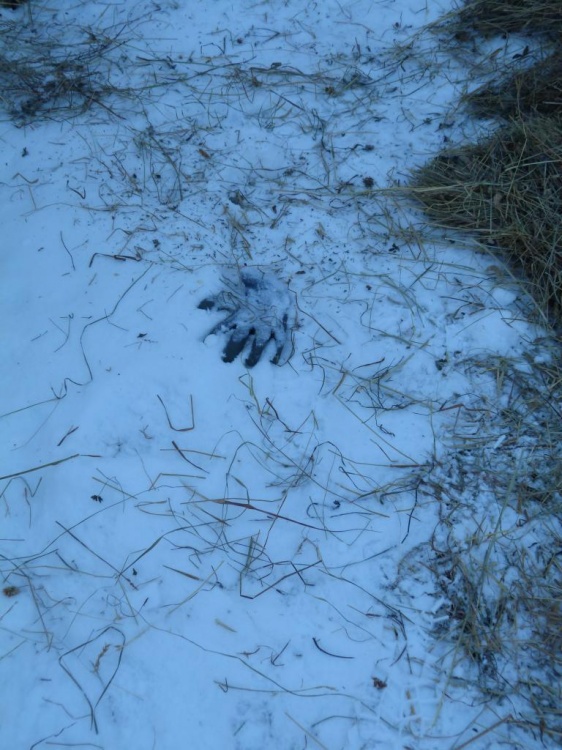 I hate it when that happens. Lost a glove. Now a wet,cold glove. Good thing I have a spare one in my pocket! Oh yeah, I've learned!
When I open the door to the chicken house, I see several chicks in the nest boxes.
Here's Poppy, who has a seriously crazy hair-doo. She's busy being an egg factory at the moment.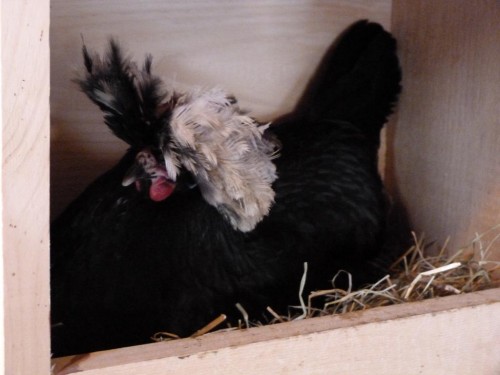 I let them out….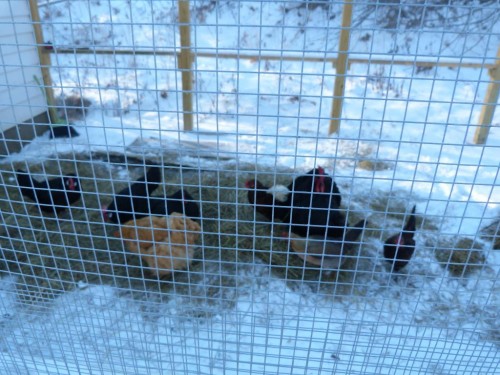 My girls are still laying. I read that they slow down and sometimes stop laying in winter. These are keeping us FULL-UP in eggs. Definitely not the case in my flock right now.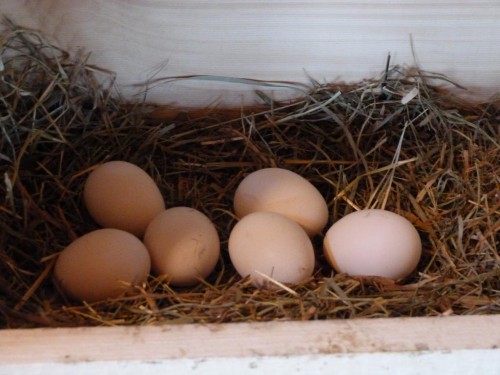 Okay, now let's go take care of the horses.
Hubs is headed out to the pasture with some hay. Oh! Did I tell you? We finally got a 4-wheeler. Wow. We NEEDED that 4-wheeler. You all were right. Necessity on a farm. He uses it for everything.
And has a lot of fun with it.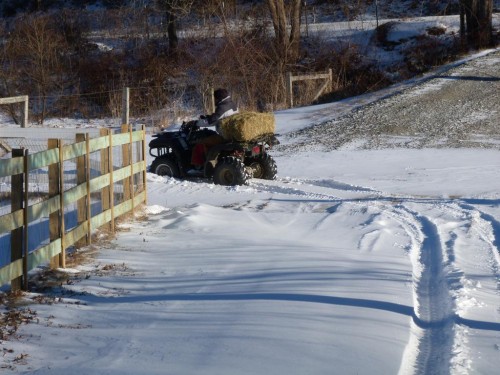 Our mountain stream froze (just like our plumbing pipes), so we have to come out every day and break up the ice for the horses so they can drink.
You'll note that I've taught my Hubs how to dress.
His Name Is Not Earl. But he rocks the Earl look. That black hat is an Elmer Fudd hat. He wouldn't have been caught dead in that hat in Atlanta. hahaha. Here, he loves it! It used to be mine, but he always gets to it before me.
You should have seen him in shorts, a cowboy hat, and work boots this summer. Super Q-T-Pie.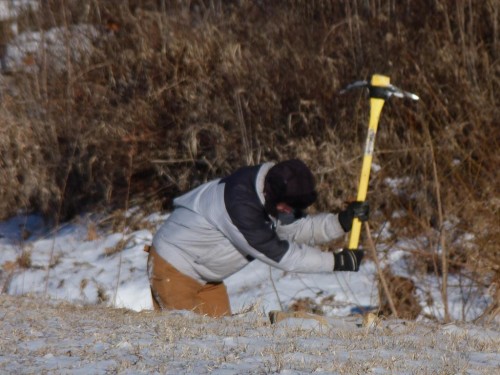 Although the horses have water in a bucket in their barn, 3 of them prefer the mountain stream. Merlin, My Great and Mighty and Magnificent White Horse, is still afraid of the water. That little darlin' prefers to drink from the bucket in the barn. One day he'll realize just how magnificent and and courageous and mighty he really is. (sound familiar? I know, right.) Until then, he drinks from the bucket in the barn.
And I accidentally discovered another trick. Use your big tail-gating cooler with the handles. Fill it up with very warm water in your bath-tub. Wheel it out to the barn. It will take a good long time to freeze. The cooler maintains the warmth of the water just as well as it maintains the cold of your ice-cold-brew. You don't mind the horses drinking from your cooler, do you? I don't. Keeping non-frozen water in the barn is a very difficult task.
Hey-Here he is now. The Mighty. The Magnificent. The Magical. The Merlin.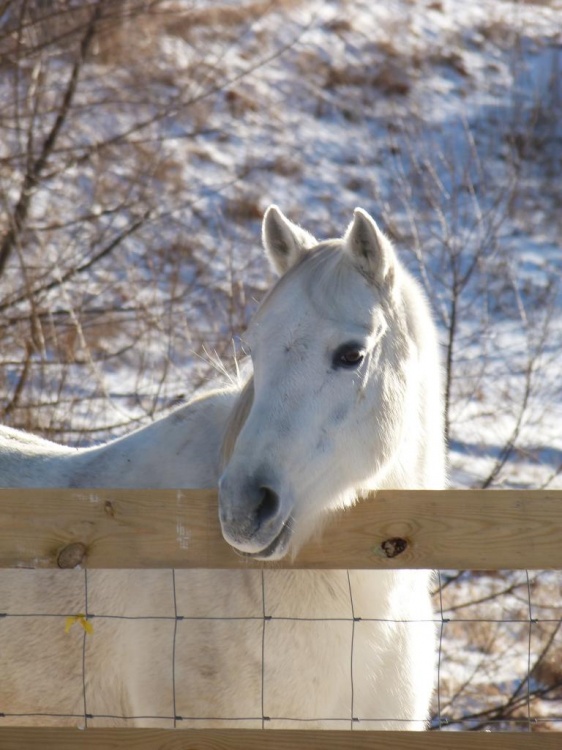 While Hubs works to break up the ice today, I photograph hay and shadows.
A woman's work is never done, you know.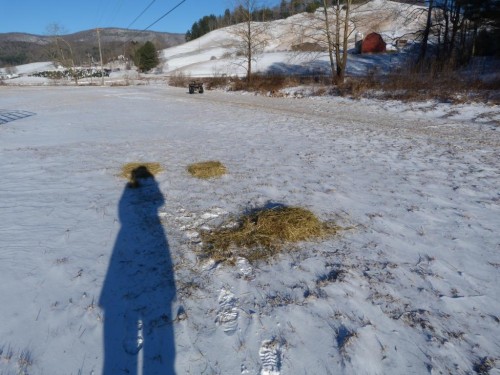 Now listen closely: I want to make you aspiring farmers aware of something important.
REAL farmers save the hay twine that comes off the bales of hay.
I am no REAL farmer. I can't, for the life of me, figure out what to do with all those pieces of twine I saved last year. So this year? I'm discarding them unless and until somebody convinces me not to.
(They do make a really good fire starter.)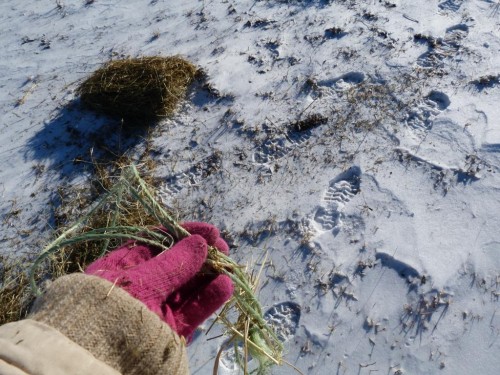 Now for your information, THIS is what REAL farmers do.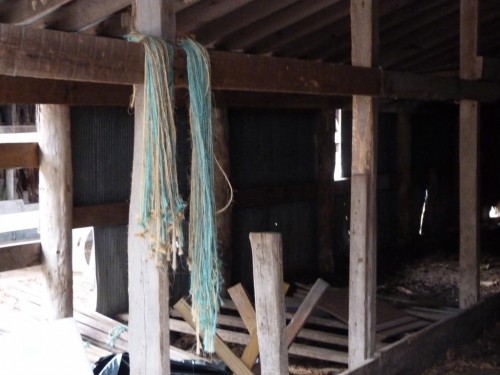 I know because these we had many of these hanging in our barn when we moved in.
REAL farmers lived here before we did.
Notice how the twine is cut right at the knots. That way you can use more of the twine again. If you can come up with a reason to use it, that is.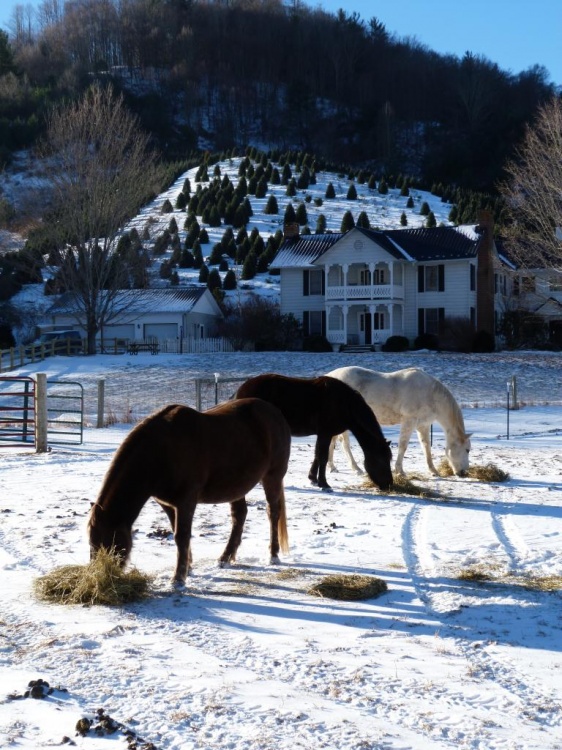 Snickers (brown), Jessi (black), and Merlin (white)
Gollly Jeepers, where did Blue go while I was photographing, I mean, feeding the horses?
Here's a clue that I wouldn't have had back in the summer….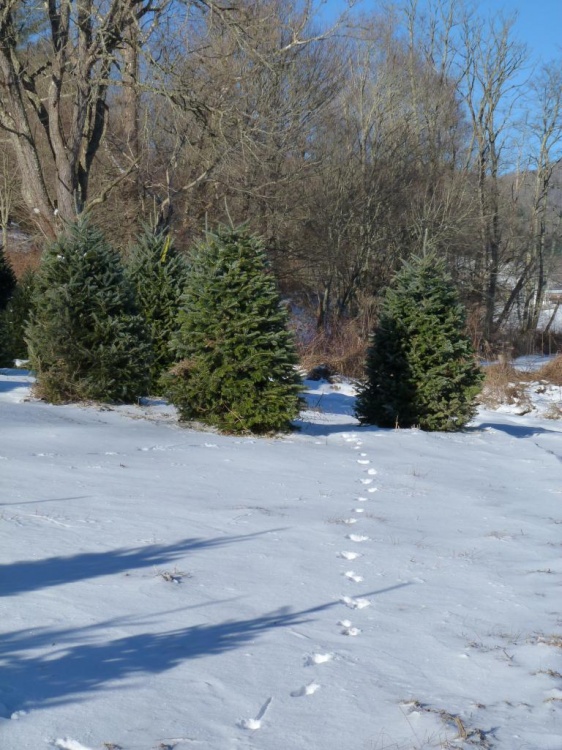 Blue's tracks.
Found him!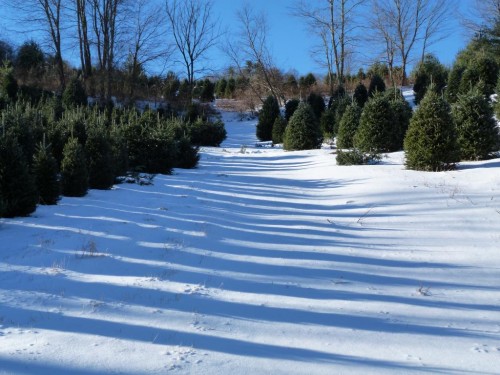 Isn't it beautiful the way the sun threw the Christmas tree shadows down this path on winter mornings? I want to be a kid again and jump down the lane, hopping from shadow to shadow.
So I do. Blue thinks I've lost my mind.
You can't tell, but it was uphill doing that. Whew. I'm tired and out of shape.
Oh and here are some bunny tracks.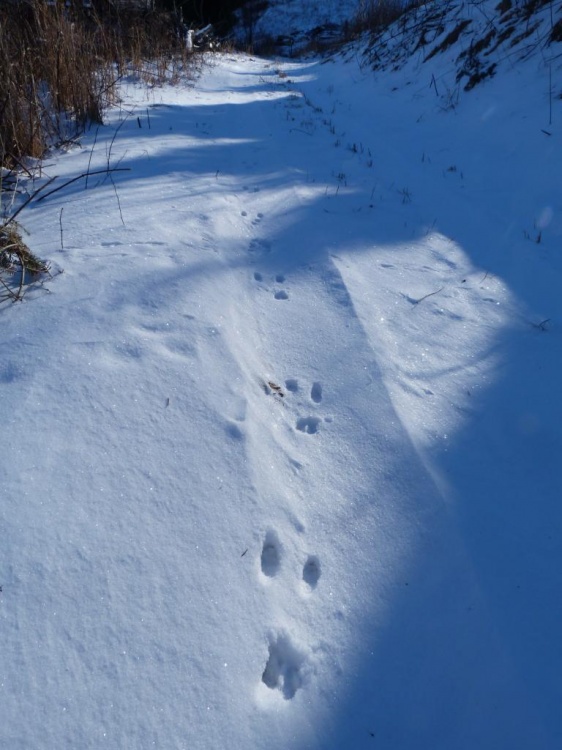 Keep a low profile, Little Bunny FooFoo. Hop through the forest only ON my property where you're safe.
It's rabbit season in our neck of the woods.
Now here's when the farming in a winter wonderland happens. I'm back inside. I've taken off all the layers except the last one. I'm waiting on that blizzard. The fire is going and the kettle is hot for tea or hot chocolate. Soup's on; bread is rising. Blue is napping with his head in my lap; his foot flicks and I think he's dreaming of Little Bunny FooFoo. I've got a seed catalog, some graph paper and two very sharp pencils. Gardening books are spread around me, one about bio-dynamic farming (which is interesting me big time these days.)
Planning and studying and waiting, now that's winter farming.
Until next time, Friends, savor the flavor of life!
Lots of love, The City Farmgirl, Rebekah
Oh, P.S. Yes! I'll be glad to post my recipe for home-made pizza. When I make it next, I'll take photos. Thanks for requesting it!