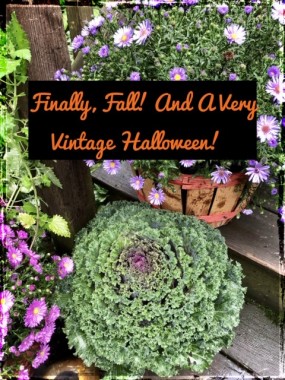 Happy Fall, Y'all! What a long, hot summer it was! I usually adore the hot weather, but this year was extremely humid, hot, rainy and uncomfortable. I felt as happy as Linus in a pumpkin patch when Autumn "officially" arrived, and we had our first cool fall day here in New England!
I've been cleaning out the garden and flower beds, and adding color outside with mums, asters, decorative kale and pumpkins. Fall is my favorite time of year, and I especially love Halloween!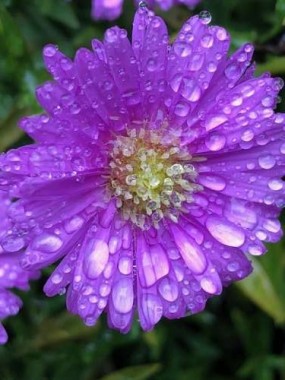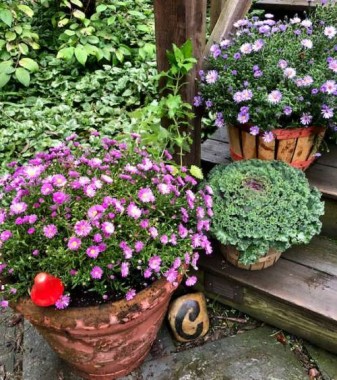 New England is just so pretty and cozy this time of year; it's at its best.
My daughter is a junior in high school now. I don't have a little one anymore, but I still (and always will) like to decorate the house for Halloween. My Halloween decor is a nod to the old, vintage Halloween of generations past. Jolly, spooky, but never full of gore.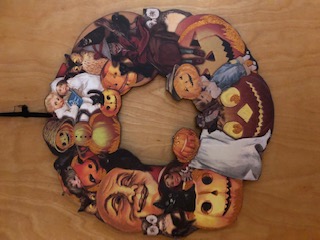 Most of my Halloween decor is found in my kitchen and in the family room, where we spend most of our time together.
I think vintage treadle sewing machines look a bit "steampunk" cool, and I like to deck the "Red Eye" out for the seasons, starting with a few fun Halloween touches.
A few years back, I found Ellen Clapsaddle themed fabric, which I sewed into throw pillows.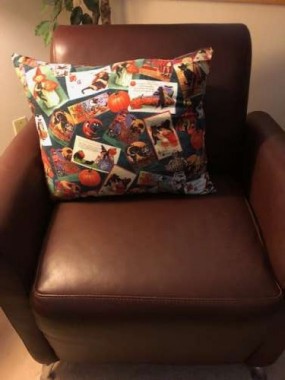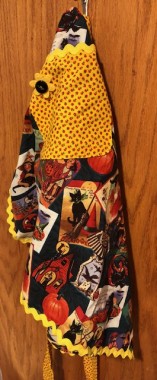 I used the rest of the fabric to sew up a cute Halloween apron to hang in the kitchen, using some vintage flour sack fabric for the ties and pocket.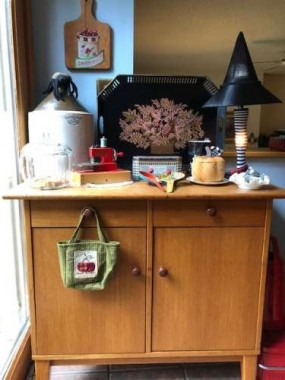 My kitchen sideboard takes on a different look each season. The first thing that comes out in fall is my Anchor Hocking glass pumpkin. My mom had one on her sideboard when I was growing up in the seventies; when she pulled it out in October, I knew Halloween wasn't far away! A classic, I've had mine for over twenty years. I love that you can still find them on store shelves, like at Target.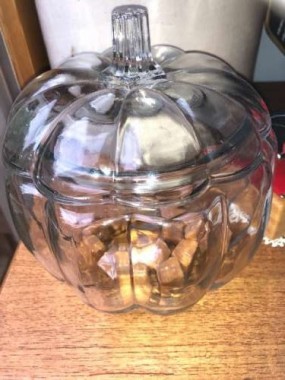 My aunt also shared a love of antiques, vintage and Halloween. We always sent each other Halloween cards. She sent me the "Wizard of Oz" leg lamp and coffee cup several years ago. Sadly, she passed away this past December, but I will always think of her and giggle when the lamp comes out each year.
Recently, my daughter and I had a rainy day together on the sofa while she had a bad cold, so we made some cocoa and watched a few horror movies. We both decided that modern Halloween has taken such an in-your-face-gory turn, and that the spookiest flicks are the classic, original ones…"The Fly", even the original "Halloween" movie with a young (now still so cool and beautiful) Jamie Lee Curtis…more psychological spooky than all-out bloody.
I think we are lucky to live in a small town. While it has grown so much, especially in recent years, we still have a great Halloween tradition: Main Street.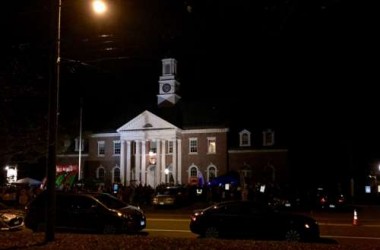 Every year, our town shows a classic Halloween movie at our historic Edmond town hall. This year, it's a double feature: "The Bride of Frankenstein" from 1935 and "The Beast with Five Fingers" from 1946.
By Halloween night, all the houses and businesses on Main Street are decked out in all their Halloween finery, and hundreds of trick or treaters take to the sidewalks.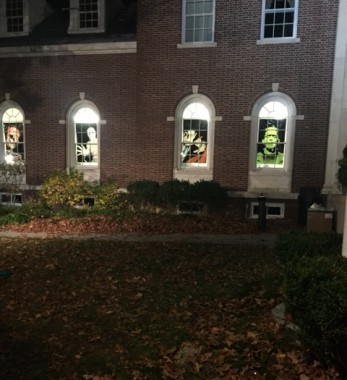 The great thing about it is you see all ages – from little ones in their first costumes to teenagers from the local high school (and no one seems to mind). Not all teenagers are wild and partying…many of them are big kids at heart! Even for adults, taking a stroll on Main Street at Halloween is a treat – seeing all the decorations and the kids in costume. The tradition has gotten so large, that the police block off the street, and to help defray the enormous cost, there are drop boxes all around for folks to donate bags of candy.
We have a Halloween tradition at our house, too. I hostess an "Open House" for our friends. After trick or treating, after everyone is off of work, friends come over every year for a big pot of my "famous" Pumpkin Chili. It's a delicious, cool-weather treat!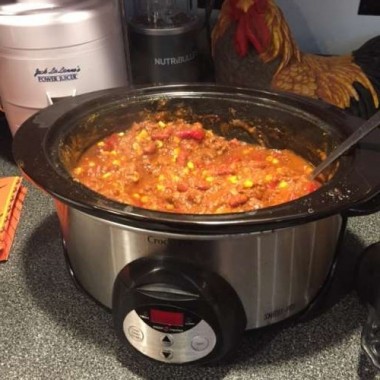 Suburban Farmgirl Halloween Pumpkin Chili
1.5 lbs ground beef
1 onion, chopped
2 cloves garlic, minced
1 sweet peppper, chopped
1 can of tomatoes (do not drain)
1 can of dark red kidney beans, drained
½ cup corn kernels, can use canned drained, fresh, or frozen kernels
1 can of packed pumpkin
1 Tbsp. Chili powder
½ tsp. Salt
¼ tsp. Cumin
½ tsp. Sugar
¼ tsp. Cinnamon
¼ tsp. Cloves
¼ tsp. Allspice
Brown ground beef, onion, garlic, and sweet pepper in a large cast iron skillet or Dutch oven. Add remaining ingredients. Stir well and simmer on low, for at least one hour before serving. Can also be put in a crockpot on low heat for six hours. The trick with this chili is to let it simmer before serving , so that the pumpkin cooks down and the flavors meld. Serve with a dollop of sour cream or Greek yogurt, and grated cheddar cheese.
ENJOY…HAPPY HALLOWEEN!
Don't be ghostly and just read…leave me a comment so I know you stopped by!
Until Next Time…Farmgirl Hugs, Nicole