[Previous Rural Farmgirl, June 2010 – January 2012]
Merriam-Webster defines "almost" this way:
ALMOST: adv.; very nearly, but not exactly or entirely.
And what does this have to do with this particular farmgirl and the past while? Well, go get yourself a cup of tea, sit down in a comfy chair and I'll tell you a little story…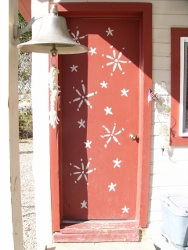 …the door that is "almost" finished…
Over the past few months I have been mulling over what has caused me, so many times in my life, to ALMOST finish things, ALMOST be on time, ALMOST do the job right, and ALMOST be the gal I know I can be. Has anyone else struggled with this strange sort of "almost-ness?"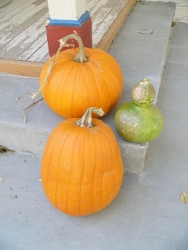 …the pumpkins that "almost" got carved for Halloween…
I have been pretty discouraged over the past little while with how things have been going in my life – farm, home, finances, attitude… the whole shebang. I've been looking, reading, meditating, journaling about why that is, and why, really, I never actually REACH the lovely goals that I set for myself, be they for (ahem) blogging or for gardening, or even for taking a daily walk, for that matter. I seem to start out with a bang, and then somehow fizzle before I reach the finish line. Some folks call this kind of behavior "self-sabotage," but I don't like that term, it sounds somehow too extreme, or unkind, or something like that.
A month or so ago, my good friend and neighbor, Mrs. S, gave me a homemaking book from the 1960's to peruse. I just love things like that. Anyway, this particular book (The Art of Homemaking by Daryl Hoole, if you're interested. It's religion-based, and I'm not necessarily, but she had written EXACTLY what I needed to read.) had a concept in it that hit my personal nail on the head. The idea of an "almoster." Here's a rundown of what her definition of an almoster is:
"…then there are the 'Almosters.' They just don't quite make it, like the car brakes that almost worked or the man who almost caught the train. Their intentions are good, and they almost make it. They spend lots of time and energy, but they don't quite reach their goals, they don't quite get the job done. Their houses are never quite clean, their ironing is never quite caught up, they are never quite ready, or quite on time. This results in frustrations, wear and tear on the nerves, damage to the self-respect and failure to meet important goals and opportunities.."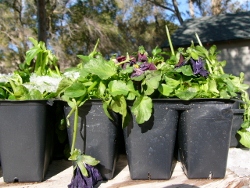 …the pansies that ALMOST got planted before the first really cold snap…
Yikes. Is that me? If it is… (drumroll…..) WHAT THEN?!?!?!?
Well, after reading that, and recognizing myself in parts of the definition (although my house IS quite clean usually and I tend to be on time), I was sufficiently disappointed that I have wasted so much time just, well, ALMOST getting to where I want to be. Dang. I just turned 40 on November 3. Have I spent 40 years like this? Do I REALLY want to spend my next (and possibly last) 40 years ALMOST living the life I truly crave?
No. No, farmgirls, I do not. It's time to take the leap – or at least babystep my way right up to the edge and throw across a ladder.
But then there's the concept of perfection. I say "concept," because I really believe that perfection is reserved for the divine. So, when I'm making my goals, I think I need to examine what constitutes a goal achieved. When is something "good enough?" When does something fall short? I think these sorts of questions can be mostly answered by that ephemeral thing called the "gut feeling." I imagine that I will be able to "feel" when a job's been well done, and I'll be able to "feel" when I haven't measured up to what I can do.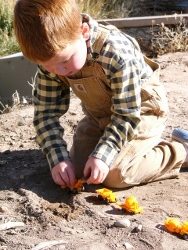 …and one of the two boys that are totally, COMPLETELY loved…
Whew. So, that's what's been on my mind, and I'm ready and rarin' to go as I (an maybe even "we"?) examine what it's going to take to move toward being the kind of farmgirls we know that we are.
What's it going to take for YOU all to be just who you are? And, hey, I KNOW that some of you have this figured out already – and I can't wait to hear what suggestions you have…
Big farmgirl hugs and happiness…
Libbie