[Previous Rural Farmgirl, June 2010 – January 2012]
The time has finally come for shearing the sheep. Come on over with me to the corrals and let's see what our shearing operation looks like this year. Bring your muck boots and good humor!
Shearing is a big thing in our little town. It's a real community activity. When the shearers come through town all of the people who have smaller flocks of sheep gather at the "Hansen Brothers" corrals for shearing day. We're lucky – so very lucky – to be able to use the Hansen's corrals for lambing as well as for shearing, and they are just down the "block" from us on the canal road, so it's really close. Normally, you would be lucky to see one pickup at the corrals – two or three, maybe, at lambing time (and then you know that they are either Hansens or us), but they're lined up along the road on shearing day!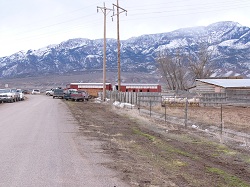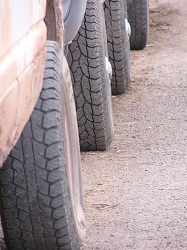 So, the first thing that we do when we arrive for shearing, after meeting the shearers, is to get the flocks organized and into the chute. It's somewhat chaotic, and definitely a group effort. The sheep are so funny to see – they are all fluffy and at this point they barely fit through the gates.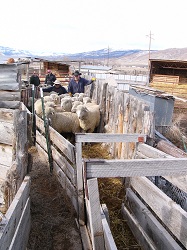 Then, after they all get into the "entry" chute, they are guided up to the entry of the shearing trailer. This "guiding" usually entails some poking and prodding, and the sheep tend to give some pretty funny expressions (see the very first photo!). Af,ter a certain point, however, the sheep get all resigned and just go in.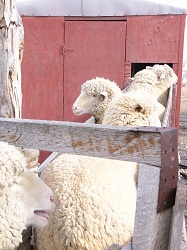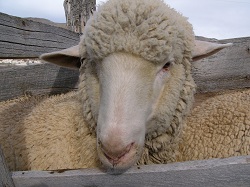 So, now the woolies are in the trailer getting sheared. It all happens so fast! These shearers were really quick this year. It's incredible to me how many sheep they can get done in a day. We have around 35 ewes this year – we scaled back last year, but I'm hoping we can keep the ewe lambs and get back up to around 60 ewes for next year. Anyway. Back to the shearing trailer. Here's what it looks like from the side that the sheep exit from, and what a newly sheared sheep coming out looks like.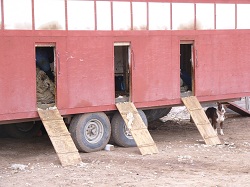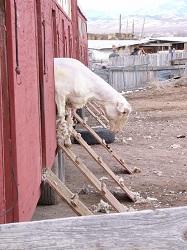 So, now we have sheared sheep, but what happens to the wool? It gets taken by hand out of the trailer on the other side and placed on a big tarp.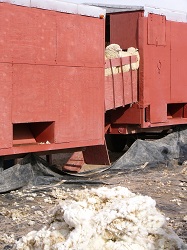 From there, the wool is separated very carefully – NO black wool in with the white wool!!!!! White wool fetches the highest prices, and if you "contaminate" a wool bag with colored wool, it's a big problem to sell. From there, we sell our white wool, and we keep the colored wool for me to spin and knit with. I got to label my own big bag this year: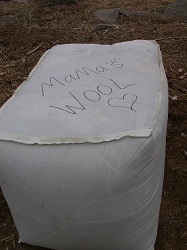 And, of course, I have to put in a photo of my farmboys on shearing day. It is so much fun to see them being part of the "production!"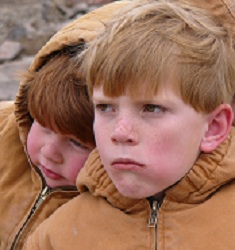 YAY! We how have comfortable sheep – AND lambing is scheduled to begin any moment. It's always nice to have the sheep sheared pre-lambing rather than post. It makes it SO much easier for the little lambs to find milk!
So, farmgirl sisters, stay tuned for the next episode – LAMBS GALORE!!! I can't wait to share it with you. It's my very favorite time of the year with sheep. The lambs are Soooooo sweet!
So, tell me, what's happening around YOUR place?
NEWS FLASH: We have a few new lambs already. Here's a photo of things to come!: