[Previous Rural Farmgirl, June 2010 – January 2012]
Now, there's one cold-weather (or warm weather, too, really!) activity that I'd like to bring back year-round, the "visit."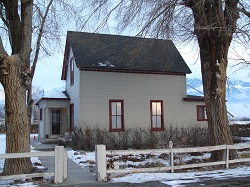 When I was little, I remember so vividly my mother saying for us to do something to keep busy while she and a friend were "visiting." Or, someone would come by for no other reason than to "visit." My mom still says that – if I call her and she's busy, she'll politely tell me that she and a friend are visiting, and she'll call me back when they are finished. What a wonderful thing. An actual WORD that means to stop by and chat, for no other reason, really, than to have company. Visiting can be done while dinner is being cooked, over tea or coffee, while knitting or other such activities – it's not really well-suited to really strenuous activities. One doesn't go on a run with a friend and call it a "visit," and one certainly doesn't "visit" by talking on the phone to a friend while running errands. "Visiting" is an intimate time between friends – a sort of farmgirl "sister" time, if you will.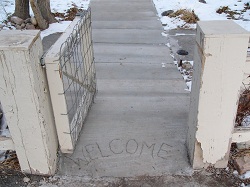 So, if you were to drop by for a visit with me lately, here's what you'd find, and perhaps some of the things I would talk to you about.
First of all, come on in! My husband is at work, my oldest boy is at school, and my youngest boy is doing a big puzzle of Utah on the floor. Coffee's on, but if that's not your "cup of tea," hot water's on, too, for hot cocoa or tea for you, too. The fire's revved up in the woodstove, and this morning, frost still paints the windows – on the INSIDE of the kitchen, even!
So, grab your mug and come with me into what we call the "stove room." It's the room with the woodstove, and aside from being enclosed in down comforters on the beds, it's the coziest room in the house right now. Sit down on the sofa and grab your handwork – you brought some with you, didn't you? No? Well, then, pick up the "community scarf basket" and pick up the knitting needles that come with it. The "scarf basket" is just a long knit scarf – 20 stitches wide – that is in a basket with needles and various balls of yarn. Visitors can pick it up and work on it whatever way they want while they're here if they have busy hands… Oh – here's a blanket, too – slip your shoes off and curl right up on the sofa.
Let me tell you about what's going on around here. Evelynn the milk cow is still out to pasture with a neighbor's herd. He has a small Angus bull, and I'm hoping that she's bred by now, but I won't be able to get her back for another month or so. I'm really starting to miss her. Truly, I was ready for a break in milking when she left to get "a husband," as my little ones say, but now I miss her. She should be due to calve around May or June.
The horses are doing well, too. Doc, the old boy, is making it through the winter like a pro. He is very, very old, and we are grateful for every day that we have with him at this point. He's too old for adults to ride, but he has this special relationship with my 7-year-old, and they ride around all over the place and get along famously. I SO hope that he thrives through the rest of winter and at least through next summer. Kate, my pinto, is a spitfire. I'm not sure quite what I'm going to do with her. She's doing well, but she is a handful. I'm spending the winter trying to decide if she needs to stay or find another home with a more experienced horse trainer. I just love her so, and still, she frightens me a bit. I'm not generally scared of horses or riding, and I'm fairly experienced, but she has a couple of bad habits that scare me. We got her from a rescue, and I can maybe see why…. Anyway, I won't decide for sure until at least summer, when I have a chance to ride her and work with her in a steady way.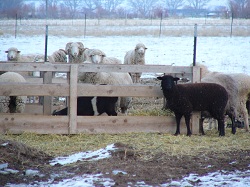 The sheep are fat and fluffy and in with the rams right now, so the most interaction I have with them is feeding them and giving them water, but they look great – no weird coughing that sometimes comes with winter. Their big wooly coats look so wonderful this time of year!
And the chickens? They are very happy and doing their chickeny things every day – we received a few new hens from a friend, and they are integrating into the flock really well. Not too many eggs, though, this time of year. We decided not to do a light this winter because we had a new flock and they were so young that we thought we'd let them just "be" during their first winter without the stress of extended light hours for laying.
Let's see – the dog and cats. All's quiet on that front, too, thankfully.
But what's really been on my mind? My boys. The loves of my life. My youngest one, Arthur, is four years old now, and he's a little ball of redheaded fire. What fun to be around! He has a temper, however, and it's really interesting as a parent to not cater to the tantrums, but at the same time, be ultra-sensitive to his needs, so he doesn't feel the *desire* to throw one. Right now, he is full of life and as spunky as can be.
My seven-year-old, William, holds the fire of life in a different way. While Arthur sparks with life on the outside, Will holds a steady fire inside. He is reserved, sensitive, innovative and active. Oh, how I love these boys. Right now, we are working with an issue with William's heart. He was born with a case of what they call "tricuspid valve regurgitation," which is basically a leaky valve. We found out a couple of weeks ago at his yearly check-up with a cardiologist that it IS going to have to be "fixed." I can't tell you how difficult this was to hear. I was holding out hope that his wonderful little heart would somehow miraculously mend itself as he grew, but the leak is "moderate to severe," and in the opinion of his cardiologists, it will need to be fixed. I'm not sure if this mean's repaired or replaced, but we will know after he has an MRI in a couple of months. When I first heard this, I almost passed out – you know that feeling where your head gets sort of bubbly and your ears sound fuzzy and all – and then I re-realized that my little one was sitting there on the doctor's exam table watching me. What does a mother do? You get it together, and fast.
I am still reeling, still gathering information. We knew about his heart problem from the day he was born. That's not the hard thing to deal with. The difficulty for me is thinking about possible dangers of surgery, pain for my little one, and the general fear I have of anything happening to my boys. He is such an amazing person – so stoic and accepting in so many ways, and so young and innocent in others. I wouldn't wish this uncertainty on any mother – on anyONE. I have to think of the old prayer by Julian of Norwich that I love: "All shall be well, and all shall be well, and all manner of things shall be well." And yet there is still the part of me that ventures into the wasteland of "what if…"
There are so many mothers, so many PEOPLE, big and small, dealing with such difficult truths right now – on the Farmgirl Connection and throughout the world – that I feel like it's almost an indulgence to say how worried and scared I am, but I still am. And I have a measure of compassion and empathy for others in similar positions that I didnt' have before.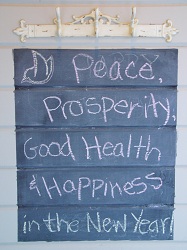 So, my farmgirl friends, peace, and plenty – health and happiness – and all that is good…
And now, tell me, what would YOU like to visit about?
Love,
Libbie