[Previous Rural Farmgirl, June 2010 – January 2012]
It's that way this autumn on the farm. Delicious. The weather, harvest, the sunlight… the whole lot of it. In addition to being my favorite time of year, it's the time of year when things are busiest – lambs to market, garden (or what little of it there is this year) to preserve, school begins, a cow to breed, horses to ride. Come with me as we take a look around…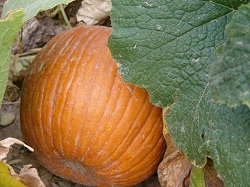 "Delicious autumn! My very soul is wedded to it,
and if I were a bird I would fly about the earth seeking the successive autumns."
– George Eliot
It's finally, "officially," autumn on the farm. The time when we literally and figuratively see the "fruits of our labors." The light during the day just has that "autumn-ness" to it. I know there was a poet who wrote about the "certain slant of light," and that's just what I mean.The way it meets you across a field instead of shines down on you, I guess… And the crispness in the air – that little nip of cold, even in the warm light. OH, how I love it!
Come and take a walk – let me show you around…
One of the most colorful things around are the little amaranth flowers that didn't *ahem* get nearly enough water this year. They are in bloom. Small, but lovely all the same. And while we're looking at the flowers and garden, I'll tell you a little bit about what's been going on around here. The boys and I were sick for a while – and then my little "cold" grew into pneumonia – which set me back for a little while, but, now, all's well. Evelyn, the fabulous milk cow, has gone to, as Arthur says, "get a husband," and she'll be back as soon as we're sure she's bred (or at least as sure as we can be without a test. I miss her mooing around here. She's such a fixture.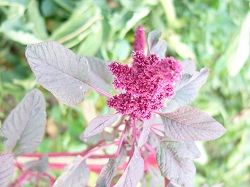 And watch out for these two boys – getting muddier and muddier during the last water turn on the pasture. I let them take full advantage of the mud, and, as you might imagine, they did. This was one of the few times that they have actually needed to be hosed off outside and carried straight to the tub.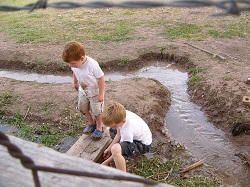 Come around to the garden part of the "yard" and check out the firewood fence that we've built up over the years. We heat mostly with wood, and so it's important to have at least one winter's supply, if not two, on hand. The "fence" is full and long for the upcoming winter. I feel so warm inside just looking at it. It's really quite large- it goes around our driveway and lines a section of the yard. My photo really doesn't do it justice. It's beautiful, and Justin has put so much work into it. I LOVE it!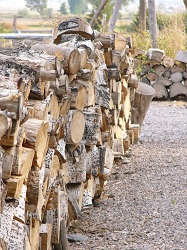 Speaking of the garden area, the green tomatoes are still ALL OVER my plants. I am just wondering when I should start picking and pickling them instead of waiting for them to ripen. I pickled some last year and we loved them – definitely a thing to try if you have a bunch of small green tomatoes sitting around.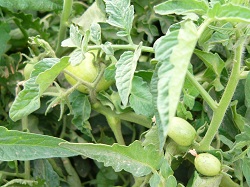 Our big "seedflowers," as my boys call the large sunflowers, are hanging their heads, ripening and drying. I always think it's amazing that the sunflower stalk can hold flower head that large. It seems almost physically impossible – sort of like a bumblebee flying.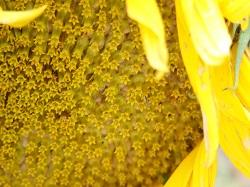 Across the path, the grape leaves are turning such pretty colors. Our little vineyard is just getting started, and we have a lot to learn – there isn't a season of the year, however, that I think a grapeving isn't wonderful to look at.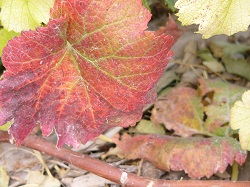 Over there is this year's garlic harvest, all cured and ready for sale. Aren't they lovely? We had a very good year with the garlic – it grew well, and we planted plenty of it. What an amazing crop. One of things I love about it is that it's planted in the late summer/autumn. That way, when we're so busy in the spring with lambs and planting, it's already starting to grow, as if by magic! I got the seedstock from our very own MaryJane, and it hasn't let me down. This is its fifth year growing for me.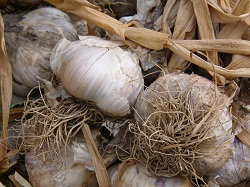 Here are the handles of all of the hand tools around here, oiled and ready to be put away for the winter. Well – I'll bet we will use them a bit more before they go into their final hibernation, but they're all set to go! I forget just how nice newly oiled wood looks. In fact, I do believe that newly oiled old wood looks as good (if not better!) than brand new wood.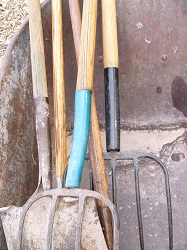 Now, then, come into the kitchen so I can show you what I've been working on. The kitchen is the busiest room in the house regularly, and in the autumn, it bumps up a notch to "crazy-busy." In addition to doing my best to make the most of farm-fresh meals, I've been going nuts with canning beans, pears – now peaches – and tomatoes. This is my first year pickling garlic, however, and I'll report back when I open the first jar.
Thank you all so much for coming over! I can't wait to hear about autumn at YOUR place.
I hope that your entry into this autumn is easy as the dropping of a leaf, as exciting as the snap in the air and as comforting as your favorite sweater.
Wishing you good health, happiness and a great big farmgirl hug…
Libbie