[Previous Rural Farmgirl, June 2010 – January 2012]
Do you think that giving someone a genuine compliment or holding the door for the next guy can change your life? What about listening quietly and peacefully to an important story someone has to tell? Or maybe it's just giving a big smile to the person who's directing traffic during road construction… These situations all have something in common – a kind response. Kindness. It's a way of looking at life that requires changes that are so little yet the rewards, for everyone involved, are so big…

NOTE: This blog posting was going to be about my cheesemaking adventure yesterday. Let me just tell you this – DON'T use ultra-pasteurized milk. It just doesn't work. Read the labels – we were using "boughten" (I know, it's not a word, but everyone in town uses the phrase!) milk to see exactly how it would work for the gal I was teaching when she used it at home, and I didn't read the fine print on the milk before we used it. Total failure. HOWEVER… there were lessons learned:
Don't use ultra-pasteurized milk (did I mention that before? It's IMPORTANT! I'm completely blushing in embarassment over this one).
The hot water bath method beats the microwave method (for me anyway) in making 30-minute mozzarella.
I'm a full convert to raw milk from Evelynn. It's not failed me yet!
And so, I will give y'all a cheesemaking demonstration later, with milk compliments of my very own cow.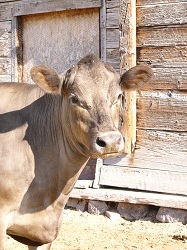 But for now, on to a subject that has been in my thoughts very often over the past couple of weeks. Each other.
So, over the past few weeks, I've been re-reading MJ's "Lifebook…" for some inspiration, and I keep coming back to the "Each Other" section. I love the section – I love the idea. It's also sparked a new way of relating to the world for me. It's a fairly fresh insight for me, so bear with me as I try my best to describe it.
I suppose (and I hope, really) that I'm not the only one who can get wrapped up so tightly in my own little life that I can't see the big picture – I can only see a to-do list, a too-tired child, an underweeded garden… I've started to complain, if only to myself, about feeling like I can't ever get things finished. Dishes? Always more. Laundry? More. Garden? Same. Cow? Same. Cooking? Same. Then, as I was thinking about the concept of living in the "shelter of each other," the truth of that saying lodged somewhere in my psyche, right up front.
What if I looked at what I do as an opportunity to "shelter" others? Even an opportunity to shelter myself from daily chores that can seem mundane and even somewhat meaningless if I let them. I kept thinking about sheltering people and all of the forms that could take. "Shelter" is such a lovely word – sanctuary, refuge, protection, provision, safety…
As I thought more and more about shelter, an inner change started to take place. What if, instead of, "milking the cow," that task instead became "providing safe, healthy food for my family while spending a half an hour sitting and tending to an animal I really care about?" What if, instead of, "waiting in the checkout line," that time was spent really paying attention to the person at the cash register and coming up with a genuine compliment by the time it's my turn? I have to tell you, it has really changed my attitude – and in the process, is changing my life and, I believe, the lives of those who I come in contact with, for the better.
Have you ever been around someone who is kind and positive and who really, truly wants the best for you? It feels a little bit like plugging into some sort of "line" of enthusiasm and confidence, at least for me. When I am around these sorts of people, and I genuinely believe them, I feel as if I've been turned on like a lamp – it's a reflection of the confidence that we all need in order to be who we truly are – magnificent human beings. Now, how cool is it that we can do this for other people, too? VERY.
And my children? I've always thought that I've been a good mom, and I still think that, but when I focus on what I can do to bolster up my little ones with kindness, instead of hyper-focusing on what needs to get done, they blossom. Just a quick statement like, "Hey – I noticed that you built that bridge over the irrigation ditch – it looks sturdy enough for a horse to cross!" is answered with a big, new-permanent-front-toothed smile. It can't be beat. Another time, I might be busy and rushing around and a little one seems to need me immediately and I just don't feel like I have time to address him. If I take a deep breath, there somehow is always a little time for, "Wow – I'm running around like a crazy chicken – maybe we both need a hug, c'mon over here. I love you." It changes the entire scene. 'Turns out that most of the time, I am the one who benefits most from the step back, the kindness, and yes, the hugs of my little boys. And if you want to make a mother's heart beat faster and tears come to her eyes, be kind to her little ones – wink at 'em at the market, tell them they are such good kids, whatever is real and appropriate. I'll bet everyone involved has a big smile by the time the short interaction is over.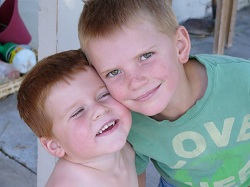 And the value of kindness is not limited to little boys, either. I've not found anyone yet who didn't respond well to what I really, truly sent out as a kind gesture. If they've ignored me or otherwise rebuffed what I've said or done, I just imagine that maybe that little seed of kindness and positivity will stick to them and sometime will sprout, grow and blossom. Now, that might not be the response I *wanted*, but it's still worth it. Not everyone has extra energy to give, but most of us have a little bit. There is a quote I love,
"Be kind, for everyone you meet is fighting a hard battle."
– Plato.
You can never truly know the heart of another person, I don't believe, and we all have our own "battles" to contend with. Why shouldn't we shelter each other, if only for a few minutes (or seconds, even!), with kindness? Do you have some extra sunflowers in your garden? Wrap those babies up in a waxed paper cone, tie it with some string and leave it on the neighbor's doorstep. You never know what it might mean to them…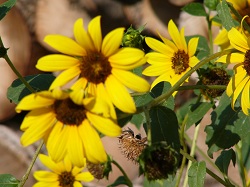 If you've ever had a bit of trouble genuinely being kind to someone who, ummmm…, isn't able to be kind back at the moment, try a little prayer, good energy and/or wish for "good health and happiness," for them. Now, if they had that, they'd perhaps be in a position to act kindly toward you. And if they don't have those things, then, as fellow human beings (and FARMGIRLS, really!), don't we have a sort of responsibility to shine a light on part of their day if we can?
"It is in the shelter of each other that people live."
– Irish proverb
A great resource for ideas and inspiration is www.kindovermatter.com . I posted one of their "free compliments" posters on our town bulletin board and the next day found it lying on the ground, torn into a couple of pieces, and the thumbtacks I used to tack it up with had been "pirated" to hold up another notice. First off, I was sort of angry, then I was hurt, THEN, I thought – well, maybe tomorrow I'll post another flyer… and stick some extra thumbtacks in the bulletin board with a little note that says, "thumbtacks just for you – use 'em if you need 'em!" See, it's the attitude thing again…
So, the one little thing that can change lives? Kindness. Yep, just kindness. It really, truly DOES matter. Give "shelter" to folks, in whatever way the situation warrants – and I can almost guarantee you'll get it back in spades.
Lastly, I would just like to thank you all who leave comments for me – I read each and every one of them, and love that you're sharing your world "back" with me. For those who might have missed my "edit" to the previous post about my "auntie" Margaret and riding horses, I would like you to know that I've taken your very good advice and gotten a nice helmet – for everyone who rides here. WHAT WAS I THINKING?!?!?! Thank you for taking the time to tell me that you care…