[Previous Rural Farmgirl, June 2010 – January 2012]
It's the main summer holiday in our valley – the Fourth of July. Now, we in Utah have Pioneer Day on July 24th, but that's another story for another day. "The fourth," as it's known around here, is full of all things fun and wild, and at our farm it's no exception. We had a bit of everything – the good, the bad, the ugly, the fun, the hospital, the racetrack… Pour a glass of something cold (green tea with mango is my current fave), have a seat and join my world – who knows? Maybe you'll find a bit of your world here, too!
The Fourth of July weekend around here is a crazy one. Every year we invite a few families – and their kids galore – down to the farm to celebrate the holiday the old-fashioned, small-town way. It all started on Friday night, when folks began arriving from "up north." That's what we call anything north of our town, but still in Utah. By the end of the evening, we had ten adults, eight children and 5 dogs, a couple of four-wheelers, bicycles, motorcyles and three tents, in addition to the "regulars" around here – kids, dogs, cats, horses, sheep, cows, chickens… Since our guests didn't arrive until after dinnertime, the order of the day was to set up "camps" on our lawn and then move on to a bonfire and s'mores. Our home is small, and the weather was good, so it was a "bring your own sleeping setup" adventure. I can't tell you how fun it is to see cars and trucks arrive, the doors fly open and all sorts of kids "explode" from the vehicles like they'd been shot out of a cannon. There weren't any fireworks or anything on Friday night, so we all spent the evening relaxing and getting settled in for the weekend. Now, keep in mind that in our farmhouse, there is a bathroom. One. With no shower. It's always a little bit of a zoo around the bathroom here when we have company, but after a day or so, everyone settles in, and most of the boys just stay outside unless it's absolutely necessary to come in (if you know what I mean), and that leaves the indoor facilities free for the gals. It ends up working pretty well, even if we DO have to hose off the kids or send them swimming every day or so!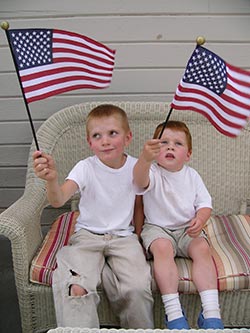 That night, we had the largest bonfire I think we've ever had here. For a week or so, my husband and boys have been gathering wood for the fire, and stacking it up in the fire pit. I don't even dare say how high the flames went for fear of incriminating myself, but trust me – it was BIG. After the flames burned down a bit, s'mores were the order of the evening. I have to say, those things are so very good, that if you haven't tried them, now's the time. Don't put it off one more year. We made them with cinnamon sugar graham crackers, too – a "keeper" for sure! Another campfire treat taught to me by one my friends who was here that you should all know about – campfire breadsticks. Take pizza dough, or store-bought "canned" roll dough, flatten it out and cut it into long strips. Brush the strips with melted butter and sprinkle sugar and cinnamon on them, then wrap them spiral-fashion around a dowel – then cook over a campfire. They are so darn good! So, when you can't think about eating (or cooking) another s'more, move on to this one. Perfect with coffee in the early morning, too, if you can rev up the fire before it starts to get hot outside. Yum!
Saturday was filled with boating down parts of the irrigation canal, taking rides in the hills on ATVs, riding horses, eating, resting – and then, the highlight of the day, the Rodeo. It's in a town about 40 miles north of us, so we all packed up and caravaned to the rodeo grounds just in time to see the presentation of the flag and the  first session of bull riding. Every time I see the flag presentation at this particular rodeo, it chokes me up. It's the "salt-of-the-earth, people-from-our-towns-have-gone-to-war, we-love-our-country, America-can-be-a-GOOD-country" feel of being part of a community that I love. It seems like somehow when all those people who have differing belief systems and different opinions all are able to stop for a moment, put their hats and hands over their hearts and acknowledge that we're all in this together, I truly can feel like we can be kindred spirits. And hey, if we can get that feeling for only a moment – that still tells me that it's POSSIBLE to get that feeling more often. I think it was Emily Dickinson who said, "I dwell in possibility." Well, that's where I would like to live, too.
I have to make a book recommendation here – it's one that I always bring out every Fourth of July – for laughs and for real, both. It's called the "Good Citizen's Handbook," and it's a collection of essays and photos from the 1920's-60's era illustrating "good citizenship." Now, it's really "campy" and funny in some places, and it's quaint and darling in others – and in all places, it has some good to gather. If you want to take a look, here's the link: http://www.amazon.com/Good-Citizens-Handbook-Proper-Behavior/dp/0811830667 to it on amazon.com
And then, on to the rodeo itself.  I tell ya' – that bull riding just makes my heart almost beat out of my chest. I love the excitement, and I'm scared for the riders, and I feel for the bulls – and all of that combined is too much for me to do more than once a year. But every Fourth of July weekend? I love it. Then there are the saddle broncs and the bareback broncs. I am so very glad that my horses can't see that. I don't think they know that sort of movement is possible for them to do, and I want to keep it that way. I would be on the ground so fast nobody would know what happened – not even me! After all the rodeo excitement, there was a fireworks show – and it was amazing. This year was the first time I haven't had to cover at least one of my boys' ears, and they both enjoyed it, instead of being scared of the noise and craziness. They're growing up. William turned 7 the end of June. I can't believe it. Arthur will be 4 the first part of August. Boys must be a little more daring sometimes than girls – at least mine are more daring than I was. I had to nestle into either my dad's or mom's arms for fireworks until I was about ten, I think!
Sunday was another easy day – lounging around, riding horses and watching kids chase chickens and run free on the farm was the order of the day. Just my speed for a holiday weekend. Now, during all this time, I've had an infected finger. Sounds like no big deal, huh? Well, it all started out as a sliver last week. A hay sliver, of all things. I really do wear gloves almost all the time when I feed or anything outdoors like that. This one time, I didn't. Wouldn't you know, I got a sliver, got it out (I though)t, and went on with my business. A few days passed, and it was getting funny-looking, so I went to the doctor, who took one look and said, "Hmmmm…it looks like you've got some cellulitis going on in there, and some necrotic tissue." Can I just mention how much I dislike, okay, hate, the word, "necrotic?" So, I've been on heavy-duty antibiotics and my finger is this disgusting shade of gray…Enough, I know. I'll stop talking about it, but it made it really hard to just have a good weekend because I kept thinking in the back of my head, "Oh my gosh – I'm going to have to have my finger amputated." And yes, it's finally responding to medication and soaking and massage, and I think I'm going to make it through with flying colors, AND a fingertip, but GEEZ.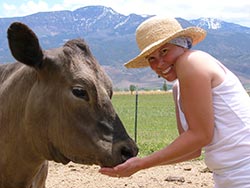 And for Sunday's food tip, I'd like to tell you about another little snack-treat that I made that was so yummy – anyone with any sense of…ahem…good taste will love it – I'm going out on a limb here, but I think it's true. I made raw whole-milk mozzarella balls, then stuck them on toothpicks with a home-grown basil leaf and a grape tomato. Serve that with a nice white wine or white grape juice, and they'll be gone in about 10 minutes. For all you gals who think that you might even consider being interested in cheesemaking – GO FOR IT! It's addicting. Somehow I get so darn proud of the cheese that I make. Okay, that Evelynn and I make. I love that cow. She continues to be the cow of my dreams.
And then there was Monday. The guys headed out to do some fishing on a closeby "pond," and, a little while after they left, I got a call saying, "Hi, Lib, would you meet me in the emergency room? It's Arthur…" at which point I think I almost passed out, because I stopped hearing what my husband was saying for a few seconds and had to ask, "Arthur? What happened?" So, my baby almost cut his toe off on a piece of broken glass. His foot got stuck in the mud, and he raised it up – the mud sucked off his shoe, and when he put his foot back down so he could bend down and get his shoe unstuck, he stepped on broken glass. Ugh. So, some skin glue and steri-strips and a tetanus booster later, we were off to the races. Literally.
From the hospital, we went straight to the horseraces that come once a year to the nearby city of Richfield. I love those horseraces. You can't "bet," per se at them, but you CAN "donate" to a horse, and if that horse wins or places, you have the option to "share in his/her winnings." It really is so much fun. The horses are gorgeous – and so very fast. It's a small track, and you can get really close to the running horses. They actually rumble the ground when the group gallops past. It's amazing. And, no, we weren't in a position to "share" in any winnings, although I did "donate" to a few horses with high hopes (that were soon dashed upon the rocks – how can a person pick the LOSING horse twice in a row?!?).
So, all-in-all, we had a great weekend. Nobody fell out of the treehouse or broke any bones, most people tried something new, everyone went home smiling, and I have a renewed sense of faith in community, friends and the goodness of the world. It really is the small things that can make the world great: a three-year-old learning to put his hat over his heart for the flag, a six-year-old proudly riding his horse around the block "all by himself," friends laughing around a bonfire, and then me,  flopping down on the sofa with a smile when it's over – happy that everyone had a good time, and happy also that things can get back to our "normal" around here (whatever that is)!
Before I go, I wanted to thank all of you gals who have been reading my blog and leaving such fun and helpful comments – I read every single one of them, and I love to hear what you have to say. I feel sort of like we're all sitting down together chatting, and I love it.
Much love and farm-style goodness to you all… And tell me, what Fourth of July holiday traditions do YOU want to keep going on your place?