[Previous Rural Farmgirl, April 2009 – May 2010]
Maybe it is the time of year, or maybe it is just me needing a rest, but I have been noticing chairs and benches lately, each of them coaxing me to come on over and sit a spell. I cannot even say that I am thinking while enjoy their respite; at least I cannot recall anything that I was thinking about while there. It is rather magical to be able to plant yourself in the middle of a scene and contemplate, well, nothing.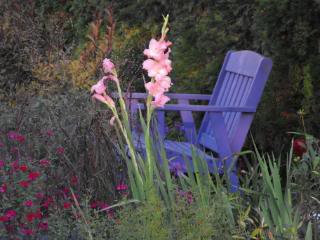 I am particularly attracted to outdoor chairs and benches that seem to be a little "weather-worn". They are akin to how I can feel from time to time. You know the old saying "rode hard and put away wet"? Those old benches seem to say, "I have weathered the storm and I am still standing strong." Who wouldn't want to rest in their care and keeping? It is as if they have a story to tell me. Sitting there is somewhat reminiscent of sitting at the feet of an elderly loved one; no words exchanged as they simply pat your head in a knowing fashion.
I am not particular about which benches I gravitate to, feeling rather like a little birdie hopping and bopping from one resting place to another, anticipating the magic of having my mind completely shut down while I am there. Allowing my mind to quiet completely is not something that happens often, which is why it seems so magical to me, I suppose. My mind is one of those things that NEVER seem to stop; I can operate on very little sleep and can spin several plates in the air at a time. Therefore, when it happens, I have learned to go with it…even if it happens in a public park.
In this season of gratitude, there is much that I am grateful for things like my husband who puts up with all my eccentricities, my children, and our family's health .I am also grateful for those magical places that give my mind respite.
I often wonder what others think as they pass by and see a middle-aged woman curled up on a public bench, lying in a fetal position or on her back watching the clouds pass by. What crosses their minds as she giggles when she sees a cloud that looks like Daffy Duck or Odie (my favorite cartoon character) pass by? Yet the thought does not stay with me too long, since I do not usually lend myself to worrying about what others think. I have also noticed that I do not worry about what others think while I am there lying on the bench—it usually happens later, when I get home and recall the experience.
Although I have never been a photographer, I feel compelled to honor these spaces by taking a photo, even though capturing these places in a photo is a little like trying to catch a firefly in a jar. Even once captured, I can never really bottle the magic that comes with them.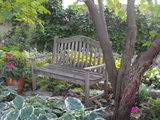 After the holidays, I am planning to revamp my office space, adding many of these photos to the walls in an effort to recapture their relaxing atmosphere. I also plan to add a couple Adirondack chairs with great pillows to my office as a reminder to slow down and let my mind just sit a spell.