[Previous Rural Farmgirl, April 2009 – May 2010]
Family has been on my mind a lot lately. Perhaps it is because my two oldest sons, who have been out of country, are home for their first visit in nearly a year. Maybe it is because the holiday season seems to be approaching like a runaway locomotive that no one can slow down. Or just maybe it is the farm tours and the pumpkin patches and apple cider festivals that I have attended on the last few weekends that have me feeling all warm, fuzzy, and reflective.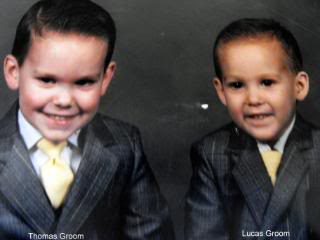 (Thomas now 22, Lucas 21)
This week as I took a walk through the great little rural community where I live, I strolled down the street by the local park, kicking leaves as I took my mind for a walk, blowing out the cobwebs that seem to have taken residence there.
I could not help but take notice of all the young families that had their little ones bundled up, out in the fresh air enjoying the beautiful fall day, too. I love the scene and the sounds of such an outing. I haven't forgotten how hard the simplest chore can be when you try to accomplish it, with a little one attached to each leg, and so I could appreciate the effort that I know went into getting them to this place. I can still remember the days of praying that I could sit down with a cup of coffee and a magazine and not end up wearing the coffee or somehow "eating" the magazine, as little ones rushed onto my lap or made me "base" for their game of tag. And don't get me started on the task of getting them bundled up for an outing. I find myself smiling both inside and out as I watch the little ones with their hats, snowsuits, and gloves waddle towards the slide too stiff to bend, needing assistance to get to the top.
 I remember, too, thinking I would never see the day when caring for the physical needs of a young family was my only daily accomplishment. Yet, here I am—the boys are now 22, 21, 18 and 12. And while on occasion I am still dubbed "base," it is hard to believe that these men are those same little people. However, they can still get my eyes to light up when they walk into a room. Where does the time go? I regret at times that I was so wasteful with it, wishing it away or thinking that there was an endless supply of it. I also wasted a lot of time being hurt and angry. For me those emotions are time stealers and they leave you living in the past unable to enjoy the present. In addition, since I feel that I have already lost so much time, I refuse to give anymore to such things.
I feel fortunate that family is a legacy that we get to pass down to our kids. Both my hubby and I come from large rural families where the cousins in every generation are close…more friends than cousins. We are active in their lives. My husband's family owns a family cabin nestled in the Blue Mountains that has served as "family central." For more than 100 years, the family has been hosting events on the same weekends every year up there. People from each generation show up, sit out on lawn chairs and share about what is going on in their lives.
 On my side of the family we have a great big family reunion at Sun Lakes State Park every five years, and the women have taken to hosting a "ya-ya" weekend once a year. Aunties, grannies and young marrieds all head for a beach house on the coast and spend the week keeping those family bonds tight. I cried when I missed this trip this year, since it took place while I was busy watching pigs fly (see post below). The group is filled with amazing women, including my grandma Doris, who is the woman I want to be. I have never met a woman more talented, more giving or more warm-hearted. My grandma Doris cannot see wrong in others. No matter what kind of scoundrel the person may be, you will hear my GG say something like, "But, she has the most beautiful eyes…" What's not to love about that? Then there is my Aunt Betty, who is not really an aunt but is my mom's cousin. This is a woman who appreciates my "wild side." She and my mom's sister, Aunt LeRae, were godsends early in my life. While I was still an awkward teen and young adult trying to find my way into this family that had adopted me, they made me think that I would somehow be okay, that in time the rebel child in me would settle herself down. While they were wrong, of course (tee hee), back then I needed to know that it was at least a possibility. I was a gypsy girl in the land of no-gypsy people. Of course, the list goes on and on, but you get my point. These are the people that when you look into their eyes it is like holding up a mirror to my soul. They are my gauge showing me where I am and where I need to be. They are the group that "knew me when" and know each of my battle scars and hurdles.
This week I was given a very precious gift. While the boys were home, my mom and the boys hosted a surprise 25th wedding anniversary party for my husband and me. Boy was I shocked. I had been told that it was a dinner party for my grandparents, and since I have missed so much time with them this year, I was determined to get there, which of course made the boys' job easier. I even stayed up late hand stitching a pillow for my grandparents. As people began to file in, I thought it odd that my in-laws were there, but on second thought…why wouldn't they be? It didn't dawn on me until I saw the cake that the party was for us. The gift I spoke of is a group of pictures of ALL the parental figures for Tom and me on their 25th wedding anniversaries:
a reminder of the legacy of love that we come from and that our boys come from. It still touches me, and is without a doubt the most sentimental gift I have ever been given. It is true that a picture says a thousand words.
The boys will all be back home for Christmas, and we will find our way to the mountain cabin where there is no electricity, or phones, or cell phone or internet service. We will drag out the board games and the cards, and if we are lucky, we'll get Lucas to play his guitar as we grab hold of great grandma's old hymnals. We will find time for snowboarding, and visiting friends and family, and doing some Christmas caroling.
In my aging years, I am learning that family is what we make it. Very few families are a whole series of Norman Rockwell paintings…but we can all have one Rockwell moment, even if we have to create our own families or put on the rose-colored glasses in order to see it. Family has not always been easy for me, but with time, I have been able to grasp a few truths like, "it isn't the job of others to make me happy" and "people can't give what they don't have." I have also had to acknowledge that others have to give me as much grace as I may feel that they require. Not all family situations are in our control to mend; I know this from personal experience. But for those that are, my prayer as we enter the holiday season is that each of us will till the soil in the ole' family plot. That we will pull up the dead weeds, rid it of the seeds of discord, lay down a couple layers of grace and forgiveness, plant the seeds of inclusion, then stand back to see what grows. You never know…your winter garden may be the biggest bounty of the year. Oh, and be sure to grab the camera for your Rockwell moment.