[Previous Rural Farmgirl, April 2009 – May 2010]
On a recent trip to Wisconsin I saw one of the most amazing scenes. It was one of those things where I longed to reach for the camera but I knew that out of respect for those involved I just couldn't do it.
I was in Wisconsin for a work weekend at Organic Valley's Kick-a-poo Country Fair. I was traveling with a Farmgirl friend named Linda. We had left Washington State at 'o dark thirty on Friday morning. In Washington, we had been enjoying 100-plus degree weather, and summer was certainly making itself known. In our little corner of the world, we have two weather cycles: hot and dry or cold and dry. We don't really get a lot of sympathy for our weather since its dry heat and the cold is still more mild than in some parts of the US. We have it pretty good to say the least.
When we arrived in Minneapolis, our connecting flight was grounded due to severe lightning storms. Once we landed in Wisconsin, the news report informed us that we were under some sort of storm warning that included hail. And in a few more miles, we learned that we were now in a tornado warning area. Good grief! The rain began as we continued toward our destination, and by the time we arrived in La Farg,  it was raining buckets. As we darted to find the event organizers we were as drenched as two little drowned rats. Then, out of nowhere, a loud siren sang out. With the recent tornado warning front and center in my mind, I dove for the car…only to learn that it was the six o' clock dinner siren. With my pulse pounding and the giggles starting, I knew it was time to find dinner, muck boots, and a hot shower. We found all three. During dinner at a local diner, the locals made us feel right at home by sharing their stories of a lifetime spent in Viroqua, WI.
By morning the weather was a beautiful 70-plus degrees, although, we remained grateful for our recently purchased boots since the ground was still plenty soggy. The rest of the event went as planned—what a great time! We met some of the most amazing people. As we folded up the table on Sunday evening, we were reminded of a conversation we had with an area historian that morning. He had shared that there was an Amish funeral that morning, and while on their way to the fair they were blessed to see all the buggies as they arrived to the home of the gentleman who had passed. The deceased was, it was told, an important elder in the local Amish community. I have to admit, I wasn't aware that there was an Amish community in Wisconsin, yet I was intrigued by the prospects of seeing them. There is something so captivating to me about the Amish, their lifestyle and craftsmanship. I find it all so very charming as someone who is on the outside looking in.
After loading our car, we set out to take the country drive down County Road D, hoping at the very least to see a buggy. As we drove down the winding roads, enjoying the beautiful landscape, barns and old farmhouses, we were suddenly surprised by the view ahead. There it was—the home of the beloved elder. Outside his home at least 150 of his fellow Amish folk had gathered, the men in black suits and hats and the women with long black dresses and black and white bonnets. Women sat on one side of the lawn while the men sat on the other. At the barn there were at least 30 buggies awaiting the long ride home.
The writer in me kicked into full gear, wishing that I could "steal" a snapshot of the event, but knowing full-well that this somber occasion shouldn't be disturbed by such a thing. I had learned that while some of the youth in the Amish community can be photographed, it is a sign of disrespect to photograph the elders. Knowing this was a remembrance of one of their most beloved elders, I couldn't bring myself to steal even a moment of this breathtaking scene with my camera.
Still, I pulled the car over to let the vision take hold in my mind. I knew that I may never see that particular scene again, and I was thankful for the opportunity. As we continued our trip down the winding roads, we were delighted by the many road-side signs announcing Amish bakeries and quilt shops and furniture makers. I wished that I had known we were visiting Amish country, as I would have come earlier or stayed longer so I could actually visit them. I loved driving by and seeing buggies in the barn and the beautiful working horses that lined the fenced pastures.
Remembering a horrible, hateful comment that I had heard earlier in the weekend, I found myself wishing that we could all find commonness in the journey of life and not focus so much on our differences. Like the difference in the landscapes that I have seen from state to state, there is a beauty in the diversity of people if we are willing to see it. Whether it is a beautiful young mom with dreadlocks and henna tattoos, an Amish woman in a bonnet, a cowgirl with her Stetson, or a rural farmgirl with her garden hat or bandana…we each have lived, laughed, loved and lost, and to the heart I would guess it all feels the same.
Thumbing through a magazine on the plane ride home, I noticed two very lovely pictures of floral bouquets. One was filled with perfect long-stemmed yellow roses—my favorite. The other was a beautiful bouquet of all different flowers, including my beloved yellow rose. While you would have thought that I would gravitate to the bouquet that contained all yellow roses, in truth I loved the one with the diversity. It was more interesting, more pronounced and colorful, and there was a very special perfection in the imperfectness of it all. It kept my gaze longer as I tried to identify the flowers and drank in what each brought to the arrangement.
I chuckled to myself as I recalled the many times people have commented to me about the eclectic nature of my group of friends. I know that I am a better person for them. They challenge me to look at life from different angles and views and lenses. I don't fret that they will weaken my beliefs but rather I know they strengthen them, helping me to prove theories either right or wrong. Still, I don't challenge others who would choose the bouquet of all yellow roses, as it is equally as beautiful and elegant, enough so that it makes you pull over to breathe it all in.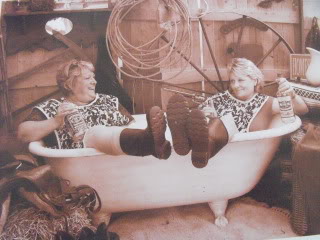 Linda and I had this photo taken at one of those old fashion photo booths at the Organic Valley's Fair. What fun.