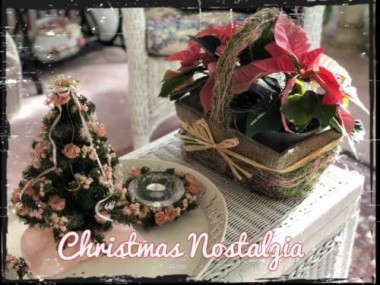 It's my favorite time of year, Christmas! Fun with friends and family, holiday baking, decorating…such a joyful time, full of magic. Come share a wonderful, nostalgic holiday season!
Since I was a child, the official "start" to Christmas for me happens when Santa rides his "sleigh" through the streets of New York City. Being in the Connecticut suburbs, we're not far from the city, so this year, my family and I decided to do something we've dreamed of – seeing the Macy's Thanksgiving Parade first-hand! My hubby, Kim, mapped out where we'd stand, paid parking in advance (discounted!), and made dinner reservations. I'm not big on crowds, but the city's so big, it absorbs extra visitors easily.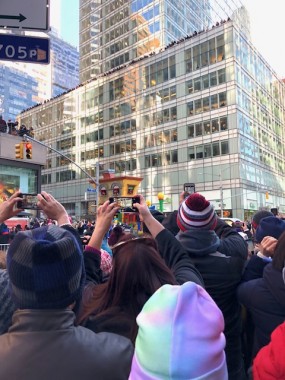 I was so excited to see those gigantic balloons coming down the street! My favorites were Olaf, Charlie Brown, and of course, the turkey first introduced when I was a kid.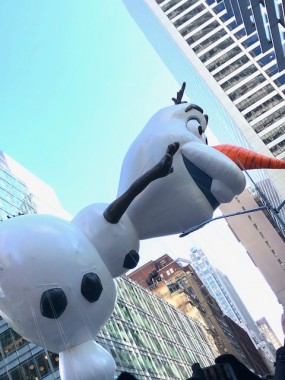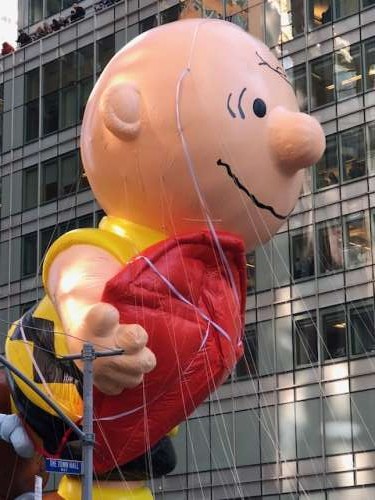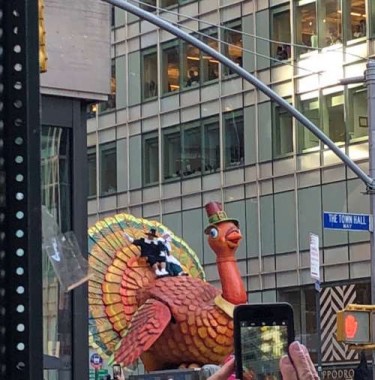 We then dined at Carmine's in Times Square. Opened in 1990, this restaurant's all about nostalgia, with big, family style dishes, golden-age decor, and swinging-forties music playing. I thought I'd be sad not cooking my traditional fare, but when that 18-lb. turkey feast came to our table, I forgot all about my oven!
Growing up, my parents made sure Christmas was magical.
My dad had a workshop in the backyard. It was his hobby to make things. Playing outside, I'd pop into Daddy's shed as he worked to say hi or grab a hug. One day, the doors were locked! I wasn't allowed in. For weeks, Daddy spent all his free time in that shed, doors closed tight. When I asked why I couldn't come in, he'd smile like an elf, telling me I'd find out soon enough. Being a curious imp, I squished my face against the doors, peeking through the tiny crack where they closed together. Inside was a HUGE DOLLHOUSE! Daddy was building the dreamiest dollhouse!
That Christmas Eve, I couldn't sleep. Tucked in my bed, the multi-colored lights from the tree in our family room reflected onto my walls, casting the shadow of the dollhouse above me. It was so hard to stay in bed until morning! That dollhouse my daddy worked so hard on was the best present ever. A saltbox style, it had shutters and a brass-hinged door, real carpet and linoleum. Daddy had hand-carved a chimney, painting thumb tacks to look caps. He even repurposed his cuff links that looked like streetlamps as porch lights.
Santa brought furnishings…not plastic but real wood with life-like details, and a family of dolls made in Germany. Sometimes Mama and Daddy would take me to World Toy and Gift shop, in the Houston village, to pick out something to add to my doll house. That was the same toy store my grandmother had taken my daddy as a child.
I played with my doll house for hours on end! I only have one photo of it, with my then-teenage brother making a funny face in the window, which makes me laugh to this day. As a teen, my parents divorced, and we moved. My beloved doll house was accidentally left by the movers in the garage. (Sometimes, I still check eBay to see if someone has it somewhere). Though it's been long gone, that Christmas magic has lasted a lifetime.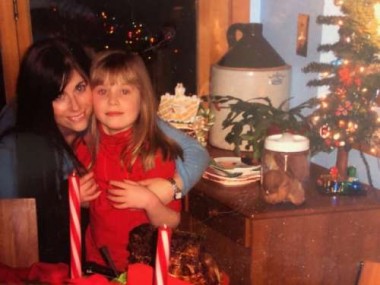 We tried to create the same magic as my daughter grew up. Santa would leave sooty footprints on the floor by the fireplace, and those messy reindeer would drop half-eaten carrots from the roof onto our deck!
I love Santa's magic, especially the cheer emitted from vintage versions. This year, I found a giant, antique cardboard Santa in an antique dealer's barn. He had folds and a nail stuck through him, but his colors are bright. I bought him for $2.00, framing him with an old poster-frame we had in the garage. He hangs by the kitchen, greeting us every morning! Score!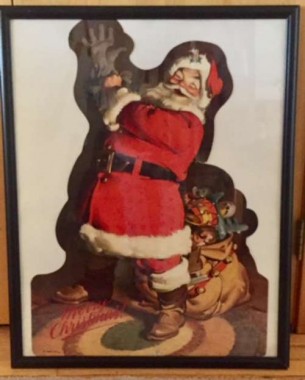 The illustration was done by Haddon Sundblom, who created the jolly depictions of the "Coca Cola" Santa from 1931 to the 60's. Though I haven't personally had a soda in years, vintage Coke illustrations make me happy. My Grandpa Ray painted signs for Coca-Cola for years. They also remind me of the dearest neighbor and family friend who lived across the street when I was growing up. Lucy, who was very talented and creative, was like a grandmother to me. Often, she'd have me over for a treat – a frosty Coke in a glass bottle. At Christmas, the bottles were decorated with Santa. She always told me she believed in Santa, even though she was grown up! Every child should have a "Lucy". We stayed in touch through the years until she passed away after a very long life, when my daughter was a baby. I still have all the letters she wrote me after I moved up North. Lucy loved Christmas, always sending out Christmas cards hand-signed with "love and blessings". Christmas cards also remind me of Lucy!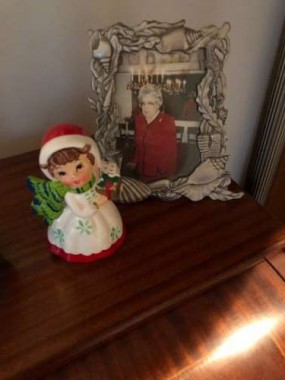 This year, our cards feature a vintage Santa and a vintage camper on them!  If you love farmhouse/vintage camper style, this year is your year, as the decor trend is HOT right now!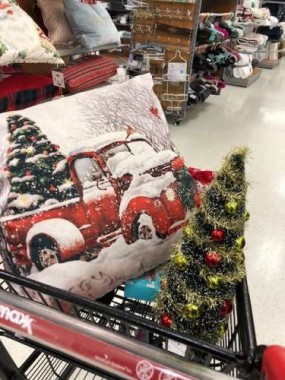 Speaking of vintage campers,  we glamped "Gidget" out for the holidays, using vintage and vintage-inspired decor.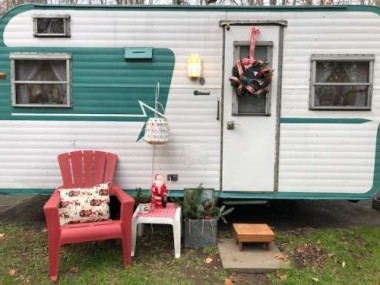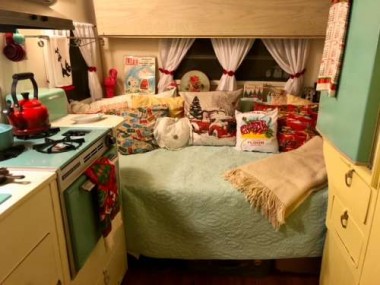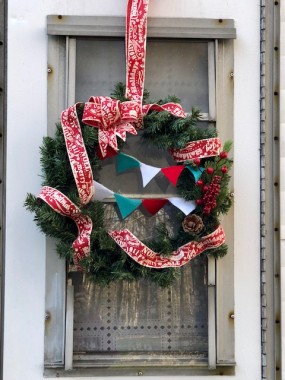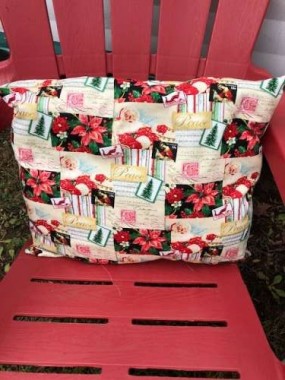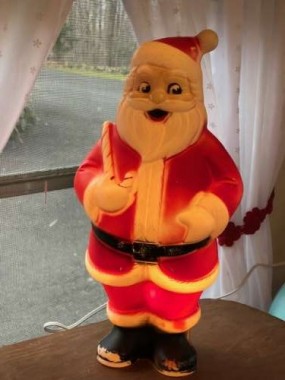 Vintage, retro, nostalgic – whatever you call it, period pieces and decor bring us to a simpler, more peaceful time.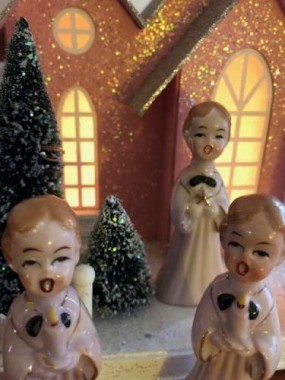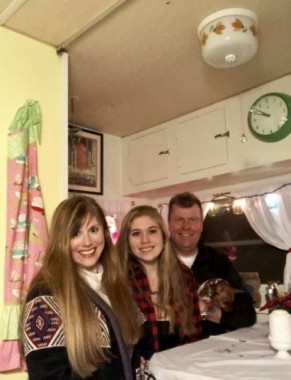 From our home to yours, wishing you and yours a holiday season filled with joy and magic.
Until Next Time…Farmgirl Hugs, Nicole