[Previous Rural Farmgirl, April 2009 – May 2010]
I genuinely love watching kids be kids. There is a sweetness and innocence in their inquiring minds. I love that they are not bound by the restrictions of time and don't feel the need to worry about what someone might think; they aren't willing to carry the weight of the world's politics. As parents, having a little girl with a pink sundress stained with Kool-Aid, piggy-tails undone and misplaced shoes exposing dirty feet are the best testimonies to a great day and time well-spent.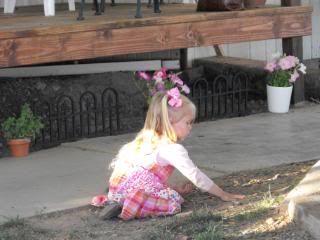 I love those fun family outings where everything in nature becomes a playground. The kids climbing the trees, hiding behind stalks of wheat and potted flowers…nothing

safe

, all of the "great outdoors" becoming a witness to the time spent together. Those emotions stay etched in our hearts, something even a photographer can't capture.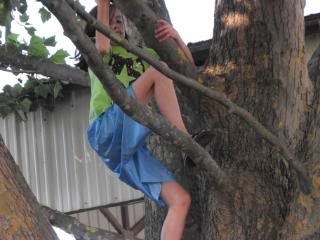 To me, summer has a special rhythm to it. I grew up in a household where my dad was (and still is) a teacher. Anyone that knows him knows he has never, ever taken time off. There is no one more dedicated to children and to developing life-long learners than my dad. Even in the summer months after a long day in the field, you could find him tutoring someone in our home. The mandatory change that came every June with the ending of the school year always brought a welcome relief for me. I wasn't a great student and to my dad, teacher extraordinaire, that had to have been frustrating. That,coupled with the fact that I didn't particularly like structure, put my dad and I on the opposite ends of both of those issues.
It wasn't that I didn't love learning—I did—but the weight of the world had caught up with me early in life. Having to deal with some of life's harder issues didn't leave a lot of room to add more into my already-confused mind. I was adopted at the age of eight. And by almost anyone's standards the first eight years of my life were tragic, so I don't recall ever really being a child, at least not one whose days were carefree. (Many of my friends today would say I have made up for lost time, as I tend to be more mischievous then I ought to be. I have since learned to laugh and to breathe and to be…)
Even today, as my own children anticipate the last day of school, my mind sing-songs the old rhyme…

no more learning, no more books, no more teachers' dirty looks.

I find myself giddy with anticipation of the possibilities for the next three months.
I loved the freedom that was ushered in, come June. As the last bell rang, announcing summer, I knew that change was at the door. I knew Dad would trade his dress pants and tie for bibbed overalls and plant himself behind the wheel of some farm vehicle. It was during those summer months in the wheat fields that I was able to connect with my dad…not the teacher and mediocre student but rather the two creative souls. Then, the writers in us seemed to come out and provide common ground on which to build an understanding. We found a common thread. To this day, during the summer you will still find my dad sitting on a tractor or swather or driving a wheat truck. And I still love to go and spend time riding shotgunand comparing notes. He has been my biggest and best cheerleader and I his.
I have come to believe that summer has to be in partnership with the free spirit. Everything lends testimony to it…summer romances, life-long friends you meet at junior high camp, making friends with someone that you may not even notice in the halls or down main street, road trips, skinny dipping and back yard barbecues. Summer seems to scream, "Bring on the changes."
It is never too late to let that inner child go—to try something new to break out of the mediocrity of everyday life. No matter how your life started I know that it can be amazing until the end. If you don't know how, go to a family BBQ and park your chair under a tree, or sit in a city park and watch the littlest among us. You will discover that in their world it isn't about titles or possessions, or even about what happened the day before. It is about being in the moment, free of time, space and judgment. It is about the freedom to just be.
I don't know about you, but I can hear the school bell just about to call in summer, and I can't wait. Kids (no matter what age), will be kids.