Last May when we came to the end of the YOU CHALLENGE, many folks asked for another round later in the year. The YOU CHALLENGE is such a special time of fellowship, encouragement, sharing, and walking together every day. So here we are! It's time for our Rock-tober Challenge. This one is a little bit different than our spring challenge.
For October, you are challenged to do something THAT IS GOOD FOR YOU, THAT YOU ENJOY for 30 minutes every single day of the month. That's 31 days.
We're not just going to welcome autumn, or enjoy autumn, we're going to ROCK autumn.
Maybe you'll get up 30 minutes early and do yoga. Or enjoy a special time of prayer or meditation every morning. Perhaps you'll decide to write every day. Or sketch. Or engage in random acts of kindness. What would you like to do? Give up sugar or salt? Drink more water every day? Eat 5 fruits and veggies every day? Or, of course, walk like we do in May?
What will you do just for you? Maybe you'll take a bubble bath every evening. Or work on your knitting or some other craft. Paint? Journal? You could add one thing every day to a "to be" list (rather than a "to do" list).
Check this out, you could go outside every day and forest bathe. I like the sound of that! (https://spiritualityhealth.com/articles/2017/09/18/how-forest-bathing-can-improve-your-health-story)
Or visit someone every day. Perhaps you'll volunteer at the local school or nursing home. Or bake every single day. Maybe you'll go to your barn to visit your animals. Maybe you'll start that exercise program you've been forgetting to start for 20 years or so. It is up to you!
If you're not sure what to do for yourself for the 31 days of October, think about it for awhile. Focus on what do you need most right now? Is it quiet time? Calm? Or is it adventure? Or nesting? Or organizing? Or…?
Ask yourself what you need and listen to the answer you give yourself. You are the one who knows what is needed right now in your life. For you heart; for your soul. This autumn.
Share your Rock-tober Challenge! Post what you decide to do in the comments or join our Facebook group and post it there.
I've definitely been looking forward to the coming of October. It's one of my favorite months of the whole year (even before this YOU Challenge, which is surely going to take it over the top!) October means leaves of yellow and orange and red. It's pumpkin spice EVERYTHING. My coffee was pumpkin spice this morning and so was my toast. Even my dog's treats are pumpkin flavored.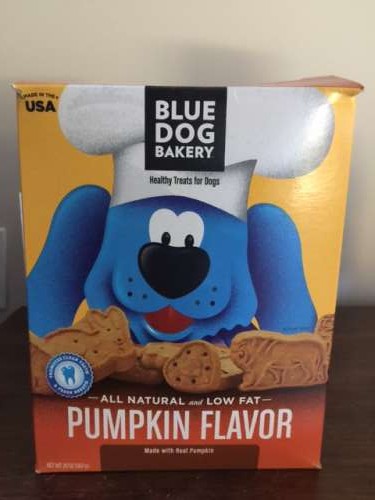 October is cool nights and sweaters. Hay bales and pumpkins. Chilly air and the first fire of the season. I love that wood smoke aroma of a fire burning.
I am told we have already had one frost, though I can neither confirm nor deny the veracity of that frosty fact. I missed it if it was here.
It's only just beginning, but autumn so far has been fabulous.
I went out to the corn field and cut down some corn stalks to make some fall decorations.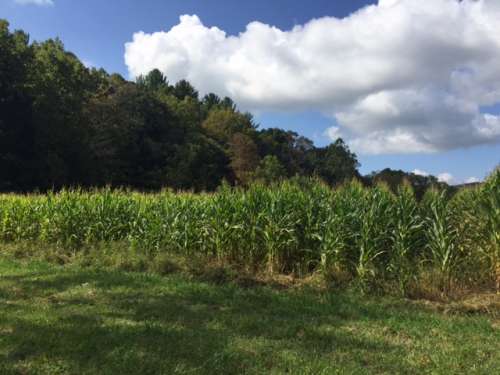 I drove Elvis the Blue out there. Good ole reliable Elvis the Blue. Rusty, raggedy, road hard and put up wet Elvis the Blue. My 1989 Nissan that I've had since 1991.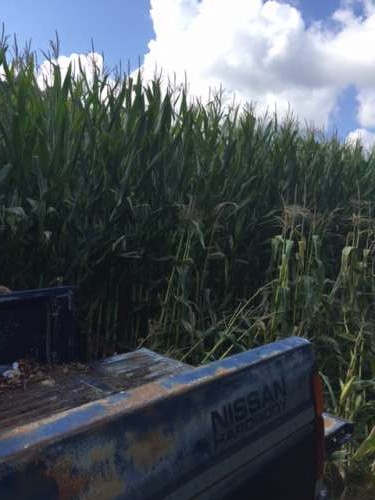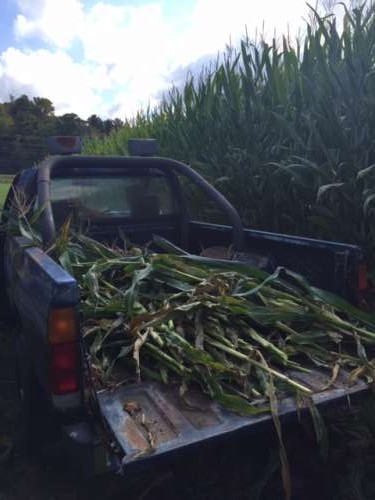 I don't really know how to do it, form those cute corn stalk cones. I've admired them from afar in other folks' yards. I bet I can get the details on Pinterest. Maybe just tie some twine around the stalks?
Speaking of Elvis the Blue, I got him a new bumper sticker the other day.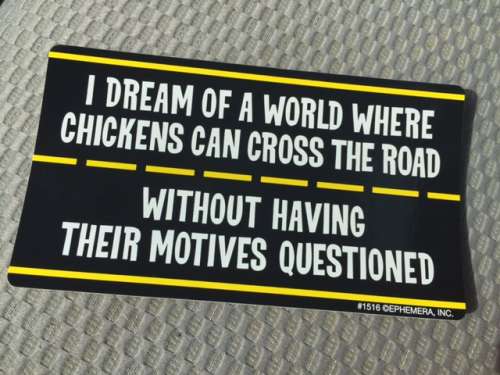 Can't wait to add it to his others.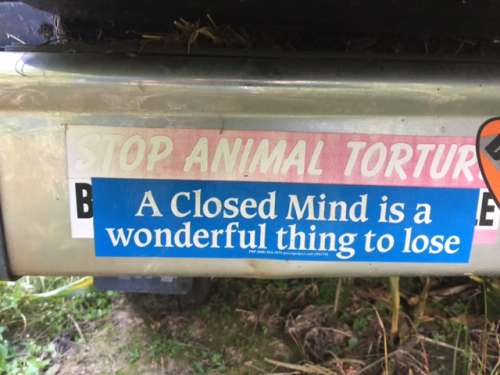 Elvis also has some signs on the interior. The door handle has broken off, so I have to remind myself (and others) not to roll up the window. The sign has gotten a bit wet through-out the years, but is still hanging on.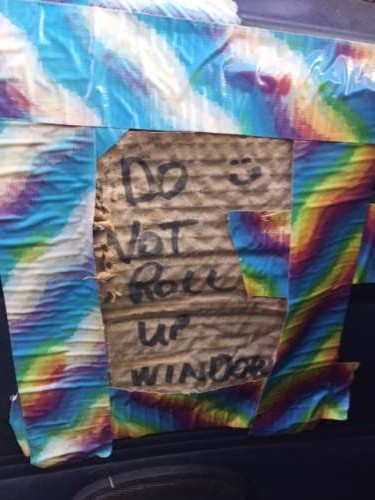 I bought some punkins at the grocery store. And an interesting HUGE squash at a roadside stand. That's Oreo, the dog, being nosy, as always.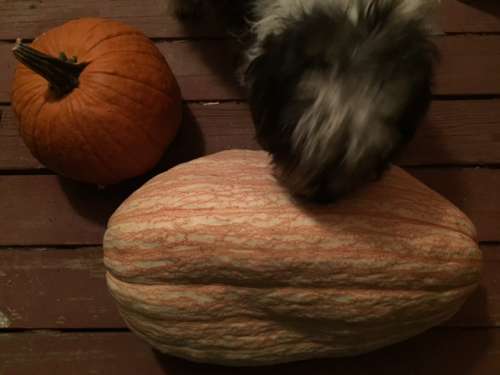 Fall is also the time to harvest black walnuts. I've seen many people under their trees, picking up nuts. I've got to get out in our black walnut grove to see if we have any this year. Most years, the worms beat me to them. If I can find enough, I'll bake a black walnut pound cake.
I'm actually not even sure which ones I harvest. I have black walnuts in the yard that look like this (good thing I didn't see that little dude when I leaned so close to snap this photo. I don't enjoy spiders…I don't kill them, but they freak me out a little…)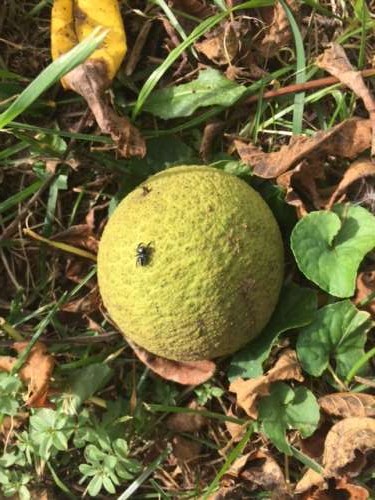 and like this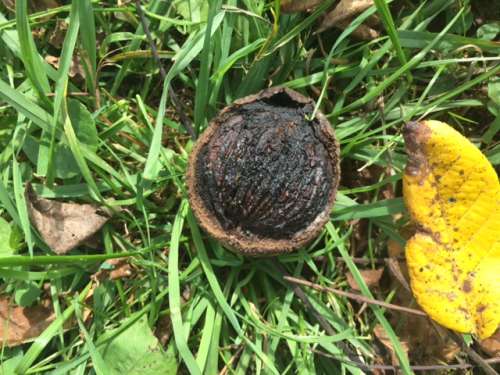 (And for a public service announcement, keep your horses away from black walnut trees. They are toxic to horses. I had one cut one down in my pasture when I learned about this. Horses are so sensitive.)
I also walked by a tree in a park (not on my property, sadly) and saw this nut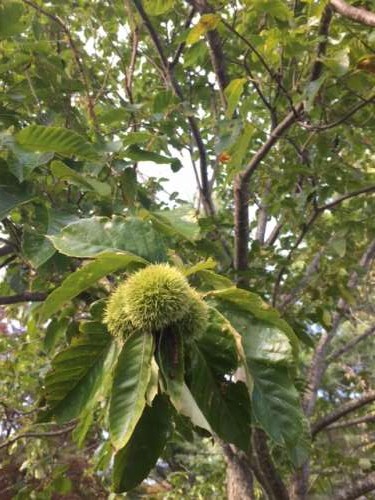 Anybody know what that is?
It's a chestnut!
And BIG NEWS. My parents came to visit us! It is so nice to have them here. I really want them to move here, but so far, it's no go. We enjoy them so much.
My father gave me another lesson on the 1951 Chevy truck. He's taught me many times before how to drive it, but it never sticks. (What is that saying? Old dogs, new tricks?) I get nervous and don't want to pull out of the driveway. So when my Dad comes, he always helps me. My father taught his three kiddos how to drive when we were teenagers. He has the patience of Job. Perfect teacher.
This truck was my grandfather's, then my father's, now mine. A friend who was working the day my father took me out in the truck talked about how monumental it was. "Your father is teaching you to drive 'three on a tree' in his father's truck. In-cre-di-ble!" It really is. In this part of the country they call it "three-on-a-tree" when there are 3 gears on the steering wheel. We hadn't heard that term before. In Georgia we just called it "hard."
Now, I can drive a stick, no problem. I learned to drive a stick shift years ago in Atlanta traffic. Crowded, busy roads where you'd back up lots of traffic if you stalled. Where people would shoot you a bird and cuss you if you blocked traffic or couldn't get going quickly enough again after stopping for a red-light. I don't have that pressure. These are country roads filled with nice neighbors. But. The "three-on-a-tree" freaks me out a little. Or maybe it's the old dog thing.
So my Dad pulled it out into the street and gave me a lesson before I took the wheel.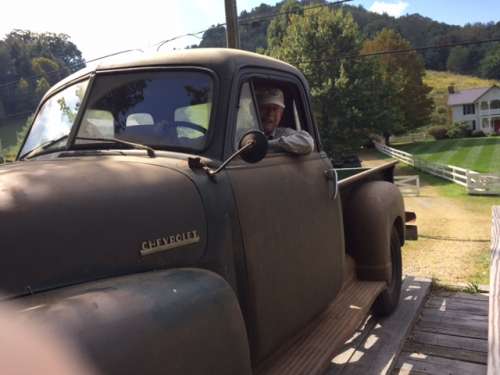 I tooled around the country roads a bit and then when I was trying to down-shift going up a hill, the truck stalled. I gave my father the wheel again, but he couldn't get it running. So he rolled it off the road.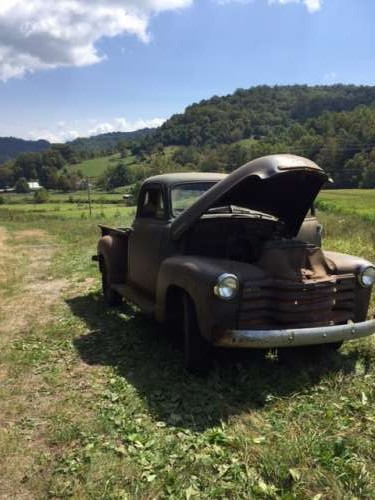 In no time at all, a neighbor happened by and stopped to help. That's the place where I live now. I could be on the side of the road for hours in Atlanta and no one would stop. But here? Five minutes and we've got help. He and my father worked on the truck to get it going. It was out of gas! (Which is funny because we were headed to the gas station. That's my farm in the background.) The filter was full of gunk because the gas I had in there was so old. Like 3 years old. So we got some fresh gas and got the truck going again. And we took it out again the next day with no problems. I think I'm ready to go it alone???
I took this photo when I was behind my Dad's truck in another car. That's my farm on the right. The shiny thing is the roof on Merlin's barn.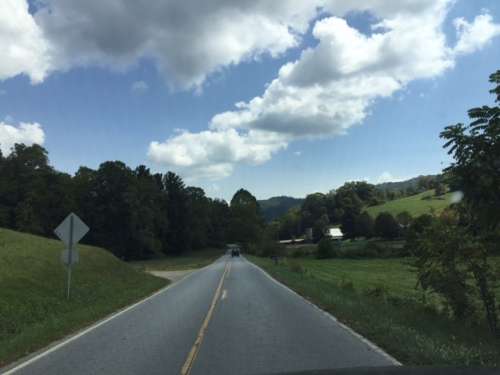 Another thing I enjoy about autumn in this sweet community is the ATV rides. This past Saturday we went on a community ATV ride that the local church leads. Here I am about to head out. All autumn'd up with my sweater poncho and my favorite hat.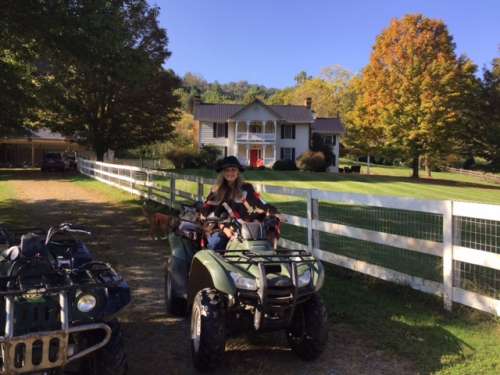 It was fantastic. We went through woods and up mountains and down rocky roads. We ate a picnic together. I loved every second of it.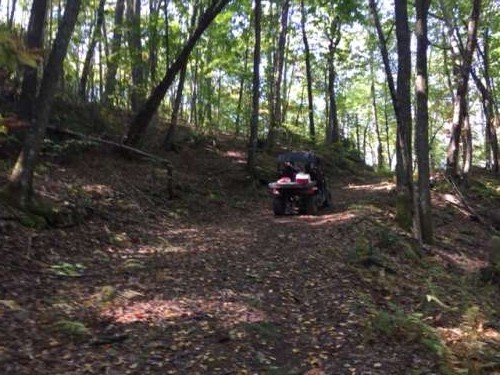 We had to turn around because a tree had come down and blocked our path.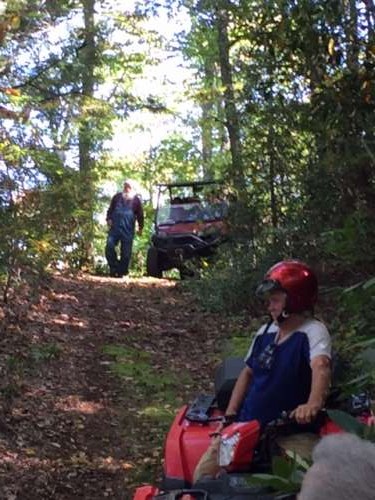 Here's a group shot one of the riders took. This group of people are some of the nicest people I've ever met.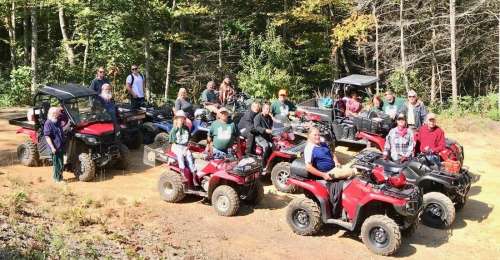 And then I went for an autumn walk on my farm. I love this particular combination of colors. I need to do a room in them. Golden yellow and purplish blue.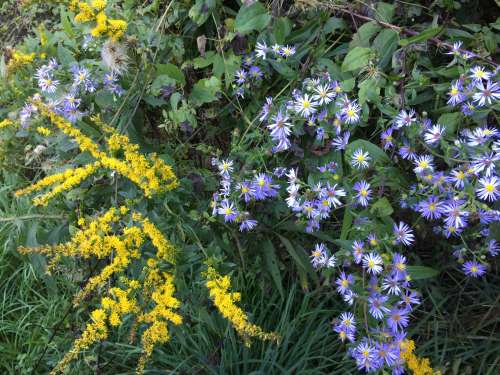 When I haven't walked down this path in a while, it's always covered in webs. So I pick a flower and let it catch the webs and spiders instead of my face. This flower leads the way.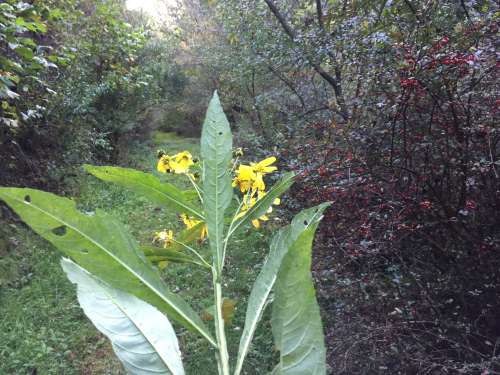 Here are  my woods, with the sun shining through.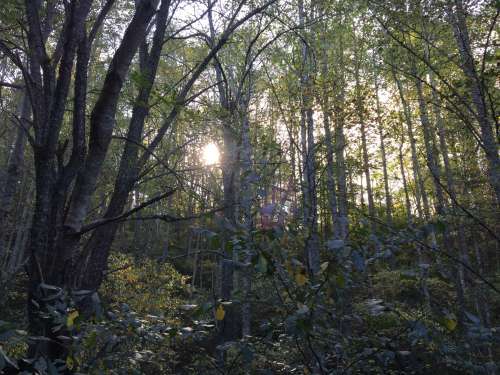 And here is the old chimney stack from a one room cabin that fell down long ago. I keep thinking about what I'm going to do with this….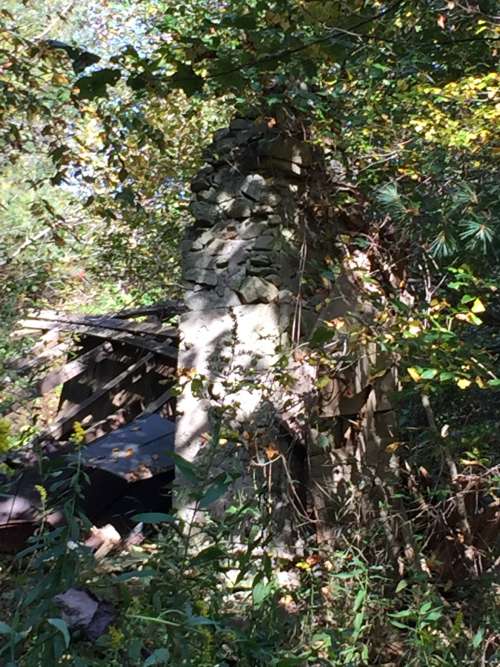 We interrupt this blog post about autumn to show you my autumn barn cat in my autumn plaid chair. This barn cat now spends 23 and 1/2 hours in my house, 0 hours in the barn. He loves lounging in chairs, sleeping in my bed, snuggling with us on the sofa. As you can see, he has a hard time relaxing. Jude is not. a. barn. cat.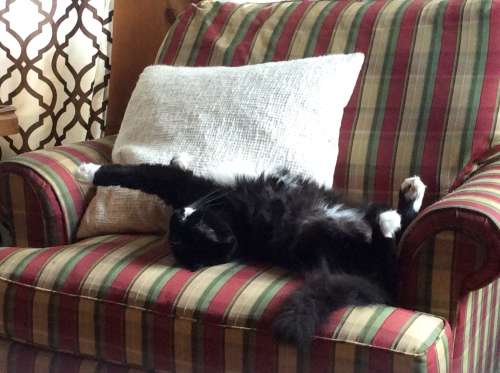 Another thing that happens on crisp fall mornings is that my farm is covered in cob webs wet from the dew. It looks so magical.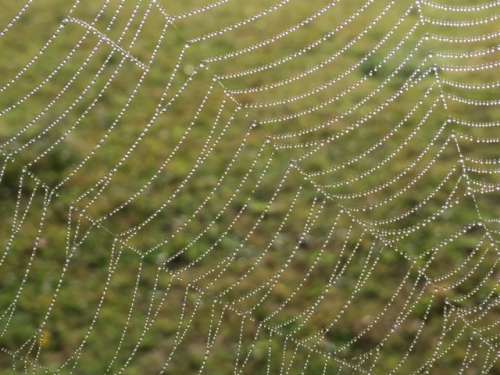 Merlin says he can't wait until cooler weather when the flies GO. AWAY.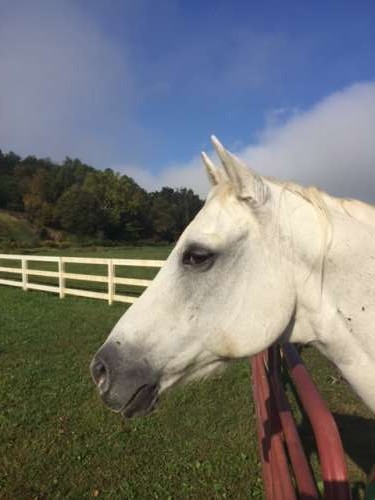 I love him.
Have I ever mentioned that before? haha
I also have an addition to my farm.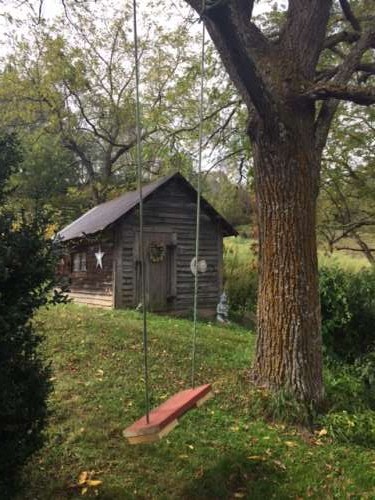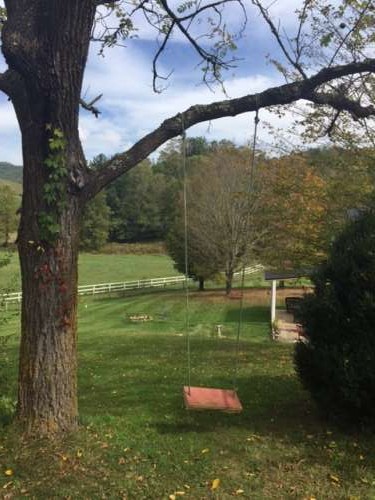 A swing! Our friend made it for us out of an old stair thread. How cool.
Okay, so now it's time for me to pick the thing that I'm going to do for myself for 30 minutes every day in October. 31 days in a row starting this Sunday. I'm leaning towards a gentle yoga session every morning. But I might decide to do a nature sketchbook. Or wouldn't it be cool to write a poem every day? Or even just swing in this swing and SWANG. Or write a chapter in the booklet I'm working on about the history of our little farming community.
What'll it be? What'll be? What'll be?
Myself tells me that the answer is yoga. Yoga it is!
What'll it be for you? What's your answer?
Until next time, Friends, savor the flavor of life!
Lots of love, The City Farmgirl with hay in her hair, Rebekah